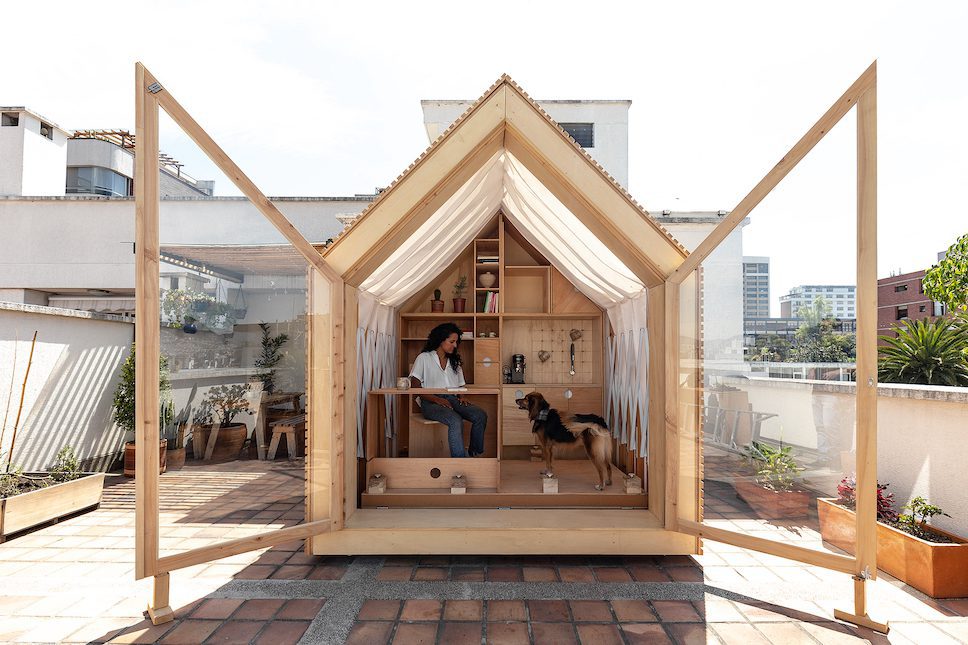 Architects Juan Ruiz and Amelia Tapia have designed IWI, a modular living solution that compresses and expands to adapt to users' lifestyles and needs.
The architecture duo used CNC milling (Computer Numerical Controlled technology) to build the wood structure, which has been developed in Quito, Ecuador. Two wooden modules are designed to form the front and back of the compact living space, and these are connected with a folding canvas-wrapped structure that unravels like an accordion.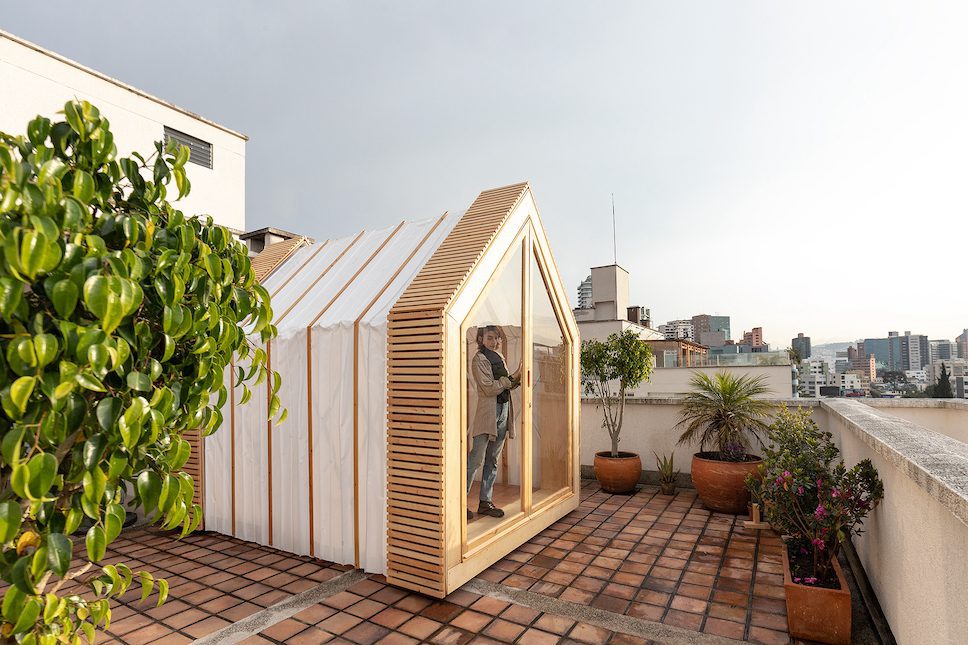 "We've created IWI as an industrialised product that allows its universality mass production, and easy assembly and disassembly," explain architects Juan Ruiz and Amelia Tapia.
In this way, IWI can be used on or off-grid, depending on where it is located, and the space can be modified as needed. When compressed, it behaves like a piece of furniture or a shelf, and when extended it becomes a living space that contains all that's necessary to fulfil its different functions. From a study space or yoga studio to a workshop or guest room, it is truly flexible and respectful of its surroundings at the same time.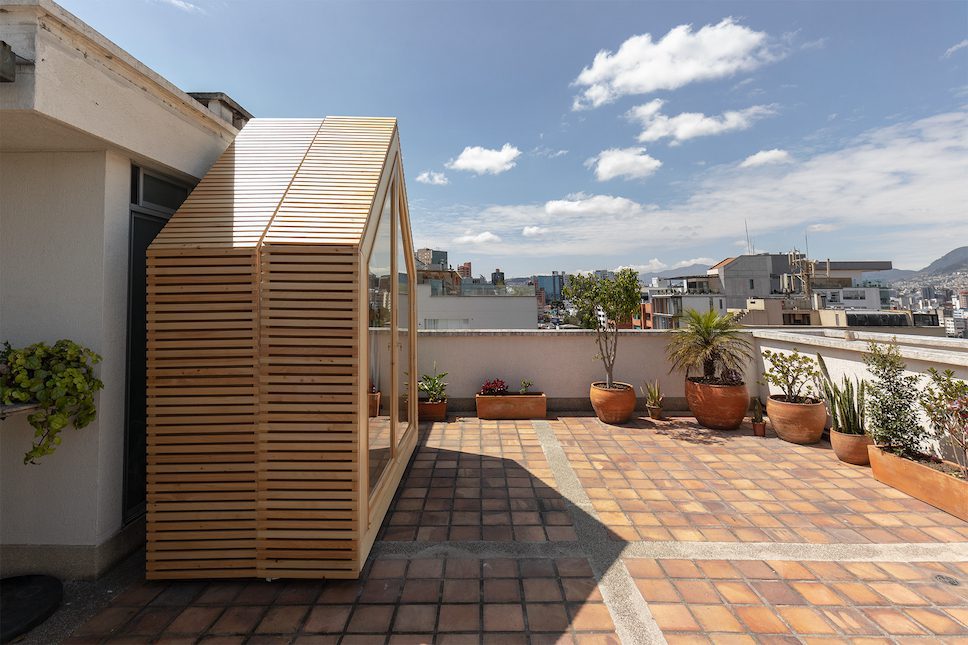 IWI is meticulously designed to the millimetre to ensure optimal usage of space and to create a comfortable living experience. For example, the architects have created the back module to act as a "shelf", a fixture with all the essential furniture and facilities such as lighting and electrical outlets and switches.
The front module, which slides on wheels, forms the entrance to the space and can extend to the desired length. When the cabin-style module is fully extended it can comfortably fit up to four people.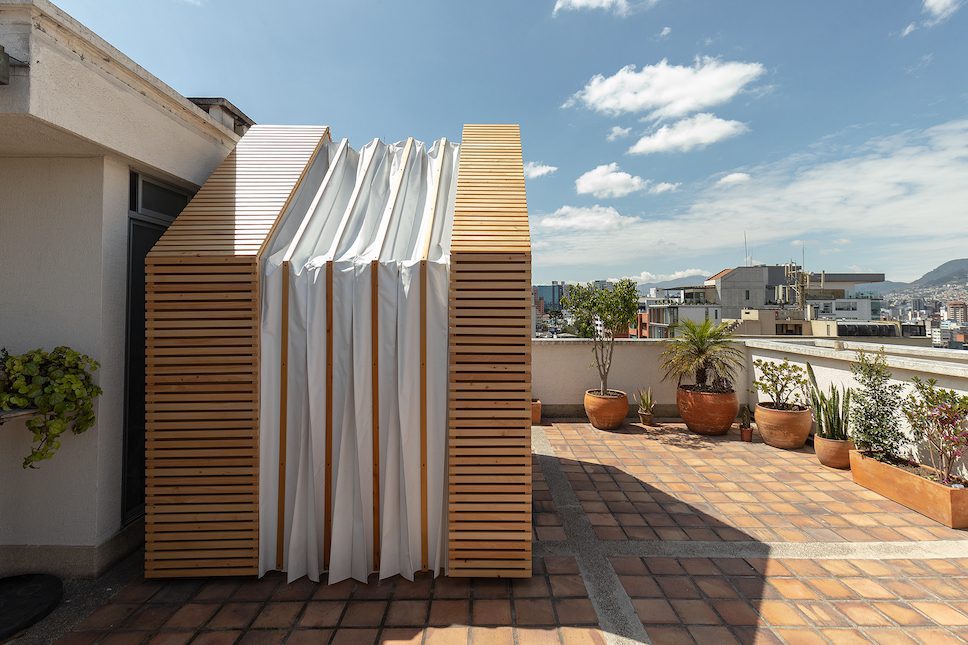 Ruiz and Tapia have designed and patented IWI in Ecuador, where the original module resides on a rooftop terrace for use as a studio or workspace. Its interior is outfitted with everything needed for two people to work, including tables and chairs, storage space, and a compact kitchenette.
The project shows how thinking outside the box can achieve creative and flexible solutions to modern-day living where people are seeking more affordable housing and working to make the best of more compact spaces.
"Our architecture seeks to provide efficient solutions through knowledge of traditional construction techniques and new technologies,' Ruiz and Tapia summarise, and IWI proves to be an innovative idea that encompasses this approach and opens up new possibilities.
Project details:
Project name: IWI
Location: Quito, Ecuador
Architects: Juan Ruiz and Amelia Tapia, IWI Design
Construction duration: 1 month for this first prototype. IWI can be manufactured in two weeks and built-in two days
Building area: 8.5 square metres extended and 2.4 square metres compressed
Construction price: From 7,950 USD
Materials used: Cypress (cladding, front door frames and accordion ribs); Plywood (furniture, back and front modules); Glass (front door); Sheep wool (floor and walls insulation); Cork (envelope water barrier and heat insulation)
Photography: JAG Studio and Joel Heim (drone photo)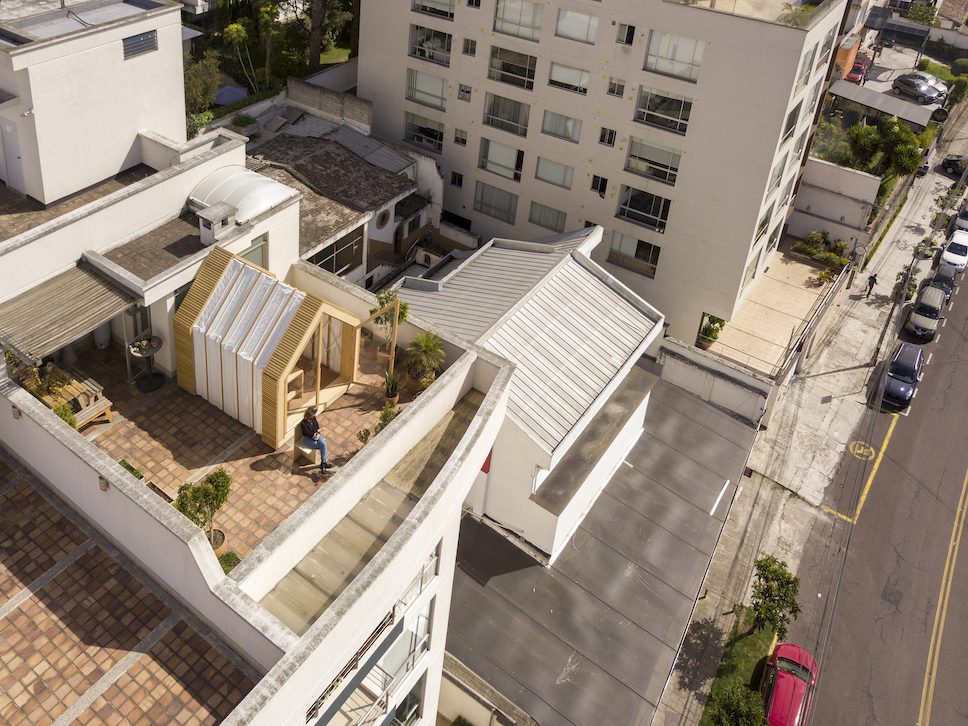 Discover more about IWI, the design project by architects Juan Ruiz and Amelia Tapia.
Read all of the latest architecture news here on enki, including the off-grid, fully assembled hideaway Natural Shelter and a 19th century London apartment renovation with a conservation approach by TYPE Studio,