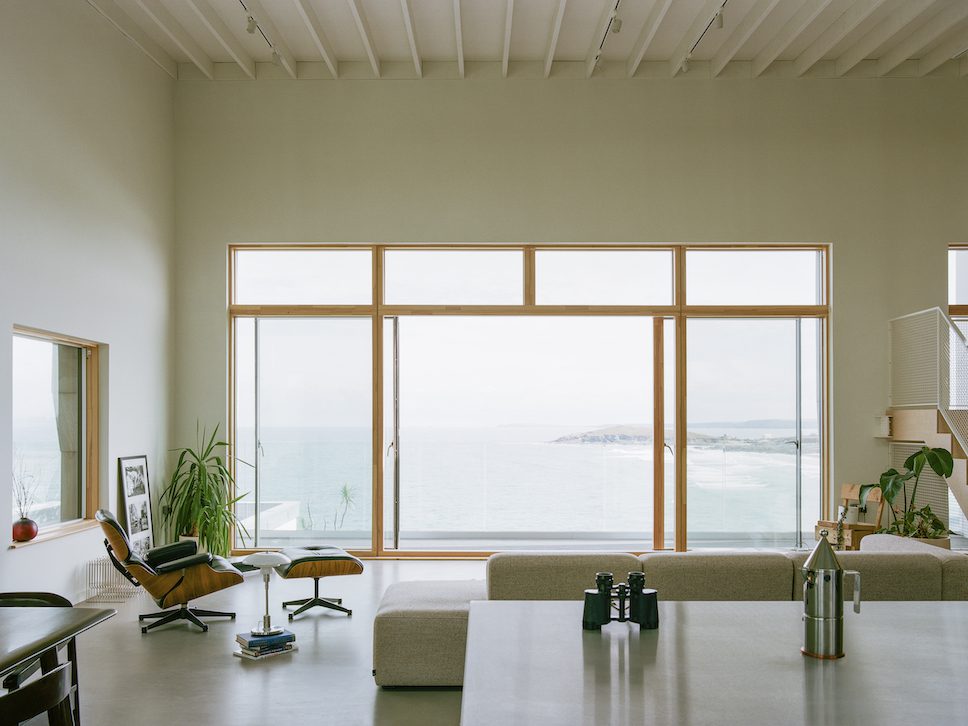 Finding new ways to be inventive with a minimal palette, Of Architecture has created a pared-back home for a creative couple in the seaside town of Newquay in Cornwall.
Esplanade House meets the brief from the owners, a surfer and an artist, who requested a fuss-free space and a place where they could not only work creatively, but relax and unwind too. So the task was set with a focus on bringing the concept of 'less is more' to life.
"The brief was to use everyday fixtures and objects to create something special – instilling the quality of the utilitarian and industrial aesthetic into a domestic setting," says James Mak, Of Architecture co-founder.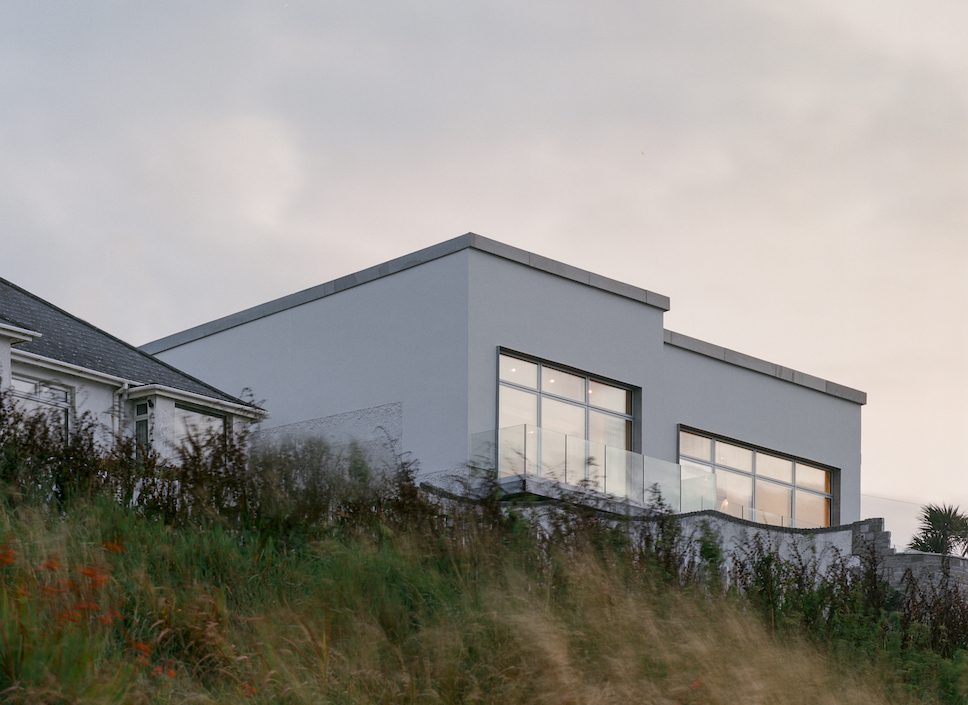 Described by the architects as "a refinement of British seaside architecture", the three-storey residence is perched on top of a tiered terrace, clifftop garden and overlooks the serrated coastline of Fistral Bay.
Externally, the building is characterised by a single-pitch zinc roof, which is untainted and bright-rolled, and a textured lime render with silver metals. This finish offers a hardwearing, waterproof layer to protect against the coastal weather.
The unassuming façade is demarcated by a staggering horizontal 'plimsoll' line, which pays homage to the former roofline, separating the roughcast render at lower levels with the smooth render above.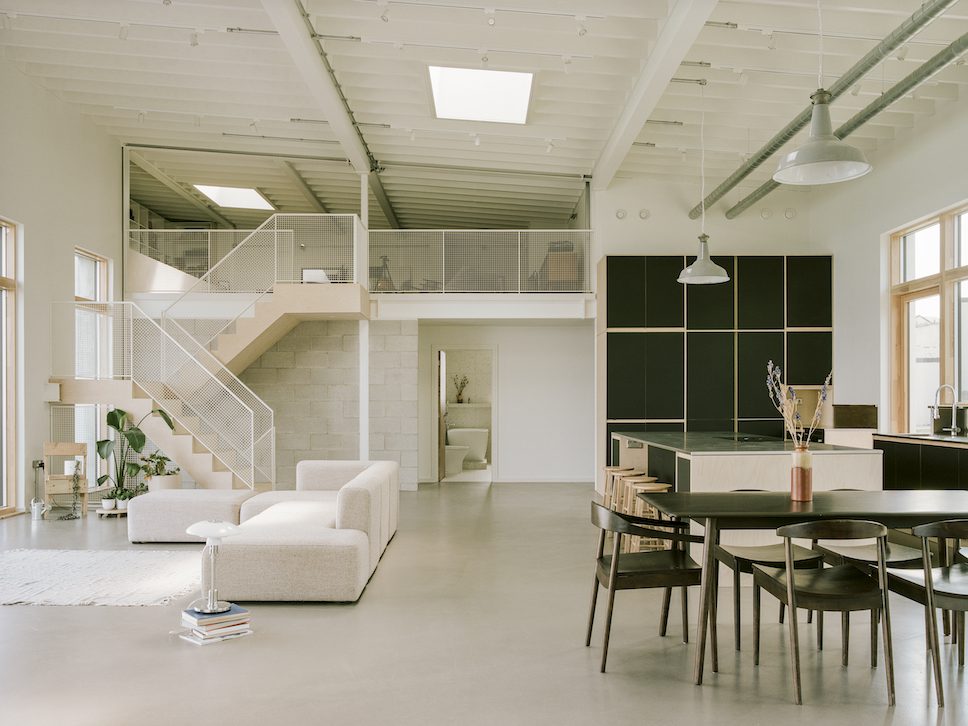 Challenged by the cliff-side terrain, the architects had to carefully consider how they would transport materials up the steep driveway. "We had to work with materials that could be carried by a small vehicle or by hand," explains James Mak. "For instance, the size of the steel members needed to be a certain length or spliced for a small crane to install the structure."
In terms of celebrating local materials and focusing on sustainability, Mak says: "We used Cornish Lime render where we could and chose Cornish Concrete Products for all the concrete, blockwork structures."
"Stonemasonry is a well-known Cornish trade, so we worked with very good stonemasons and bricklayers who built the majority of the project with an exposed finish internally. We have aimed to create a well-insulated, airtight house that could compare to Passivhaus standards."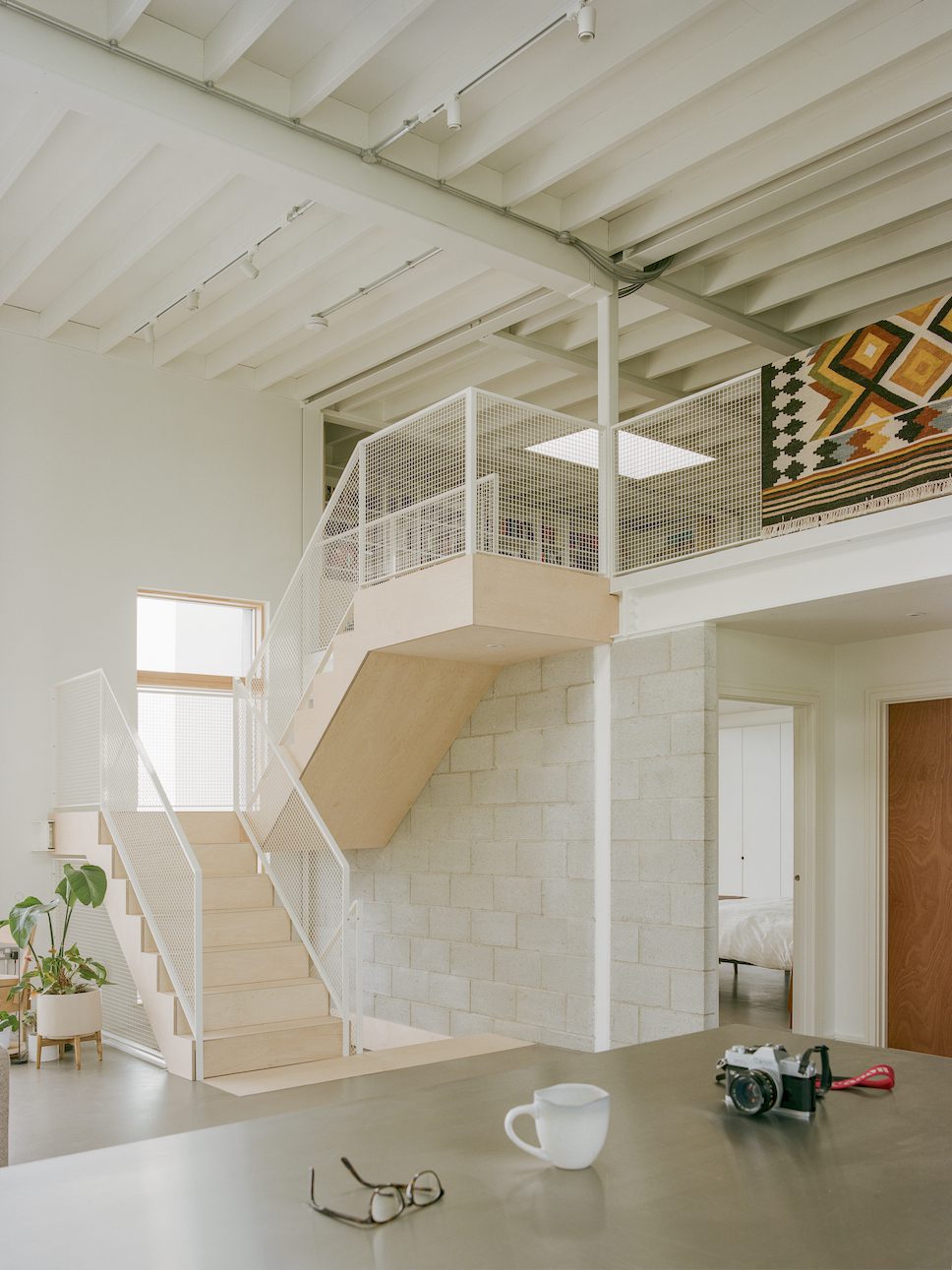 With the framework in place, the architects looked to bring their creative touch to the interior spaces. Materiality was important in forging a connection to the coastal surroundings, with focus placed on finding beauty in the small details and the craftsmanship.
Natural and pared-back materials and colours create a cohesive living space and ensure there's a sense of flow and connection throughout the rooms. The floor plan, which has been strongly informed by the sloping terrain of the site, features open-plan living spaces spread across the first floor with a plywood kitchen built on one side.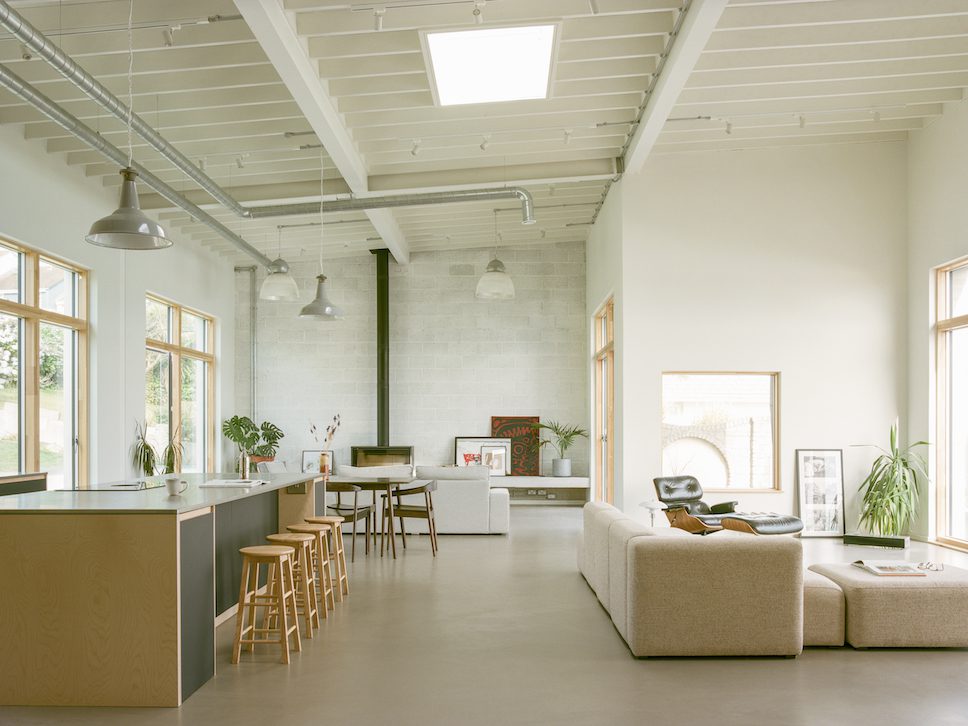 In keeping with the minimal crafted aesthetic, prefabricated plywood stairs lead up to a mezzanine level, where natural light is drawn in through a skylight. This area is designed to be a cosy retreat and a more private area away from the social zone of the home.
Adjacent to the kitchen lies the sitting area, which enjoys direct views across Newquay's picturesque Pentire Steps beach – a view not to be missed.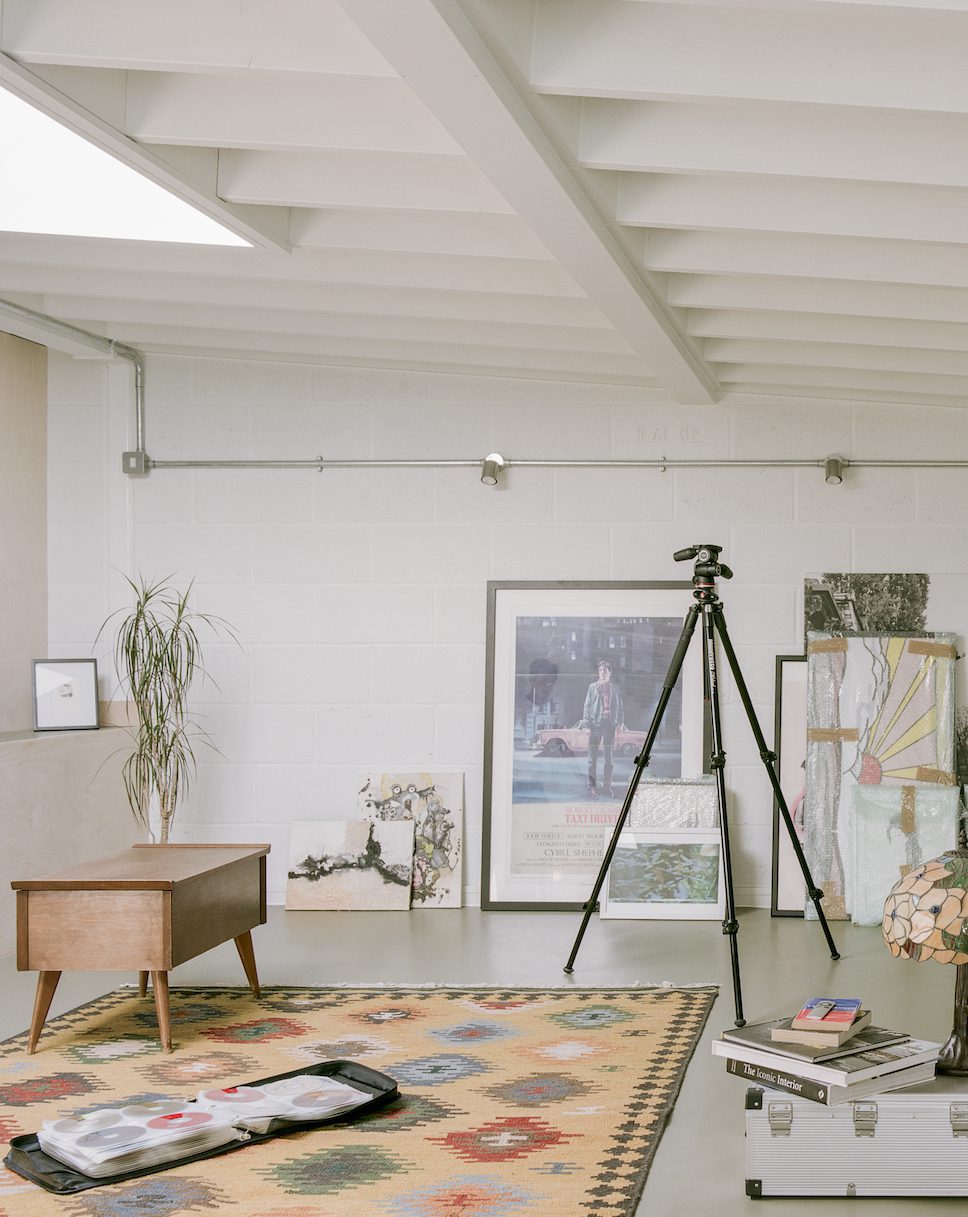 Project details:
Location: Newquay, Cornwall, UK
Area: 360m²
Architecture and construction: Of Architecture
Quantity surveyor: Tim Hall Quantity Survey
Structural engineers: Martin Perry Associates
Contractors: Westward Roofing Services (roofing); Sprayrend (flooring); LIWA (painting)
Suppliers: IdealCombi (windows and doors); Reinzink (standing seam roof); Fassabortolo and K-Rend (render); Concrete (Cornish Concrete Products)
Manufacturers: Sum of All Parts (internal joinery); AC Fabrication (architectural steelwork); Hewaswater Steel (steelworks)
Photography: Lorenzo Zandri; Drawings: Of Architecture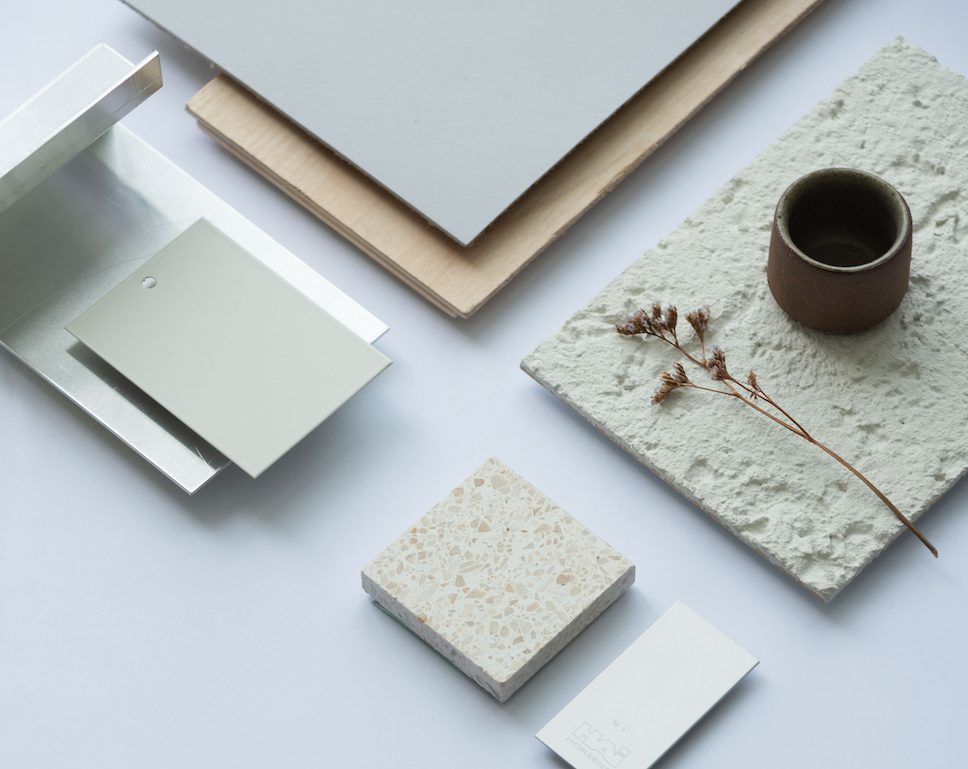 Discover more material-rich building projects by Of Architecture.
Take a look at more residential architecture case studies on enki.