For those who dream of sleeping under the stars in comfort, the sustainable and low-impact Natural Shelter is a fully assembled hideaway for use in the countryside or in an urban garden.
Sustainable bedding and mattress makers Naturalmat and cabin-makers Out of the Valley combined their expertise to design this beautifully crafted outdoor sleep space, made from eco-friendly materials and built with refined carpentry skills.
Each oak-built, pitched-roof shelter is covered with canvas, a durable material that is used on tipis and yurts around the world, to offer a sheltered space in which to relax and reconnect with nature.
Drawing similarities from the form of a bird's nesting box as well as tipis and yurts, the Natural Shelter's circular cut-out entrance punctuates the wooden retreat, which appeals to adventurous adults and children alike.
As designer and Out of the Valley founder, Rupert McKelvie explains: "Spending time in structures that reference some of our earliest forms of human habitation brings us closer to the natural world."
"The happiness we feel when we sleep under canvas and spend time outside is a testament to this idea, removing everything we don't need and valuing what we have at that moment; protection from the weather, warmth, and the sounds of life all around us."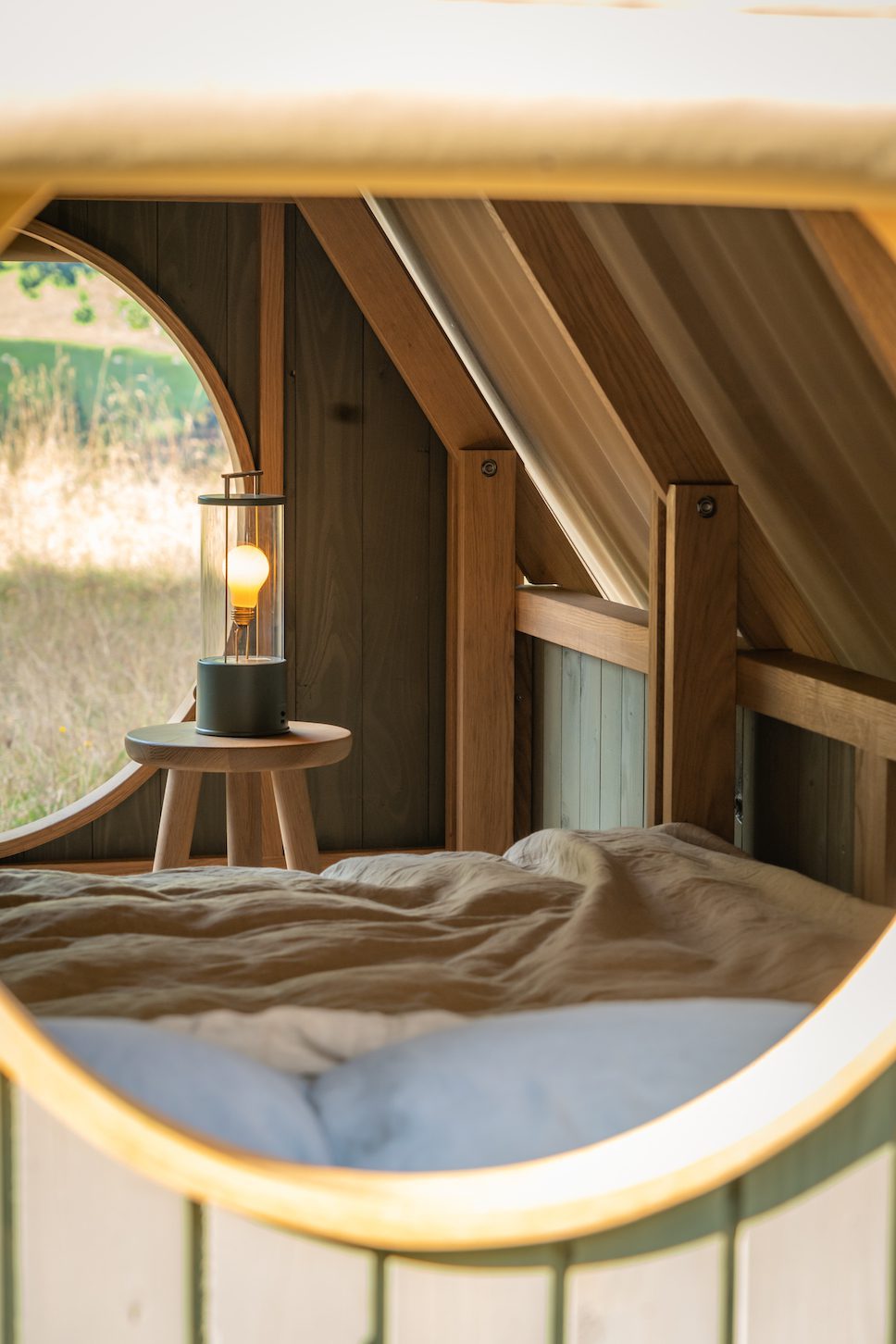 Modern construction methods and detailed craftsmanship shape the eco-friendly shelters, whilst inside comfort is of utmost importance. Under the single pitched roof an organic Naturalmat bed and mattress awaits, with an upholstered headboard that frames the rear window.
There's a choice of either a pocket sprung or 100% natural fibre mattress, and the headboard is available in an array of natural and organic fabrics – or you can supply your own.
Made to order to reduce any unnecessary waste in production, the cabin is designed and made to be placed wherever you see fit, whether that's in an urban garden or on a countryside estate.
The Natural Shelter comes fully assembled and is delivered by Out of the Valley and prices start from £15,000.
Read more sustainability news here on enki, including a round-up of modernist garden ideas from the 2023 Chelsea Flower Show and the story behind the passive design of Gurdau Winery in Czech Republic.