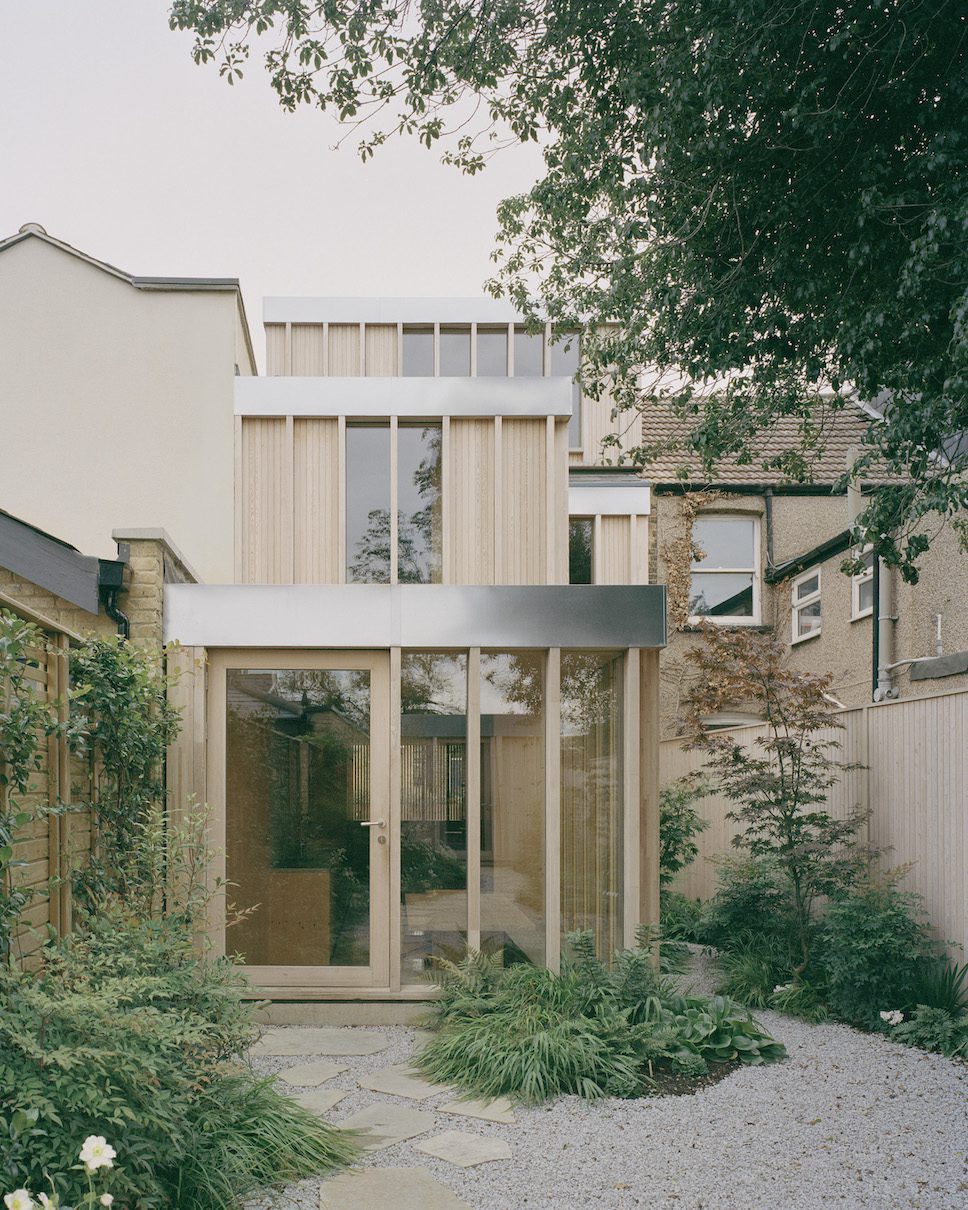 Focused on constructing an infill home with a minimal carbon footprint, architecture practice Ao-ft has used slim, prefabricated timber battens and mullions for the facade of Spruce House and harmoniously embedded the building into its environmental context.
Spruce House is inserted into a conservation area in Walthamstow, East London, and is nestled between terraced houses on what was once the village high street. The two-story home occupies a wide plot and replaces an existing 1960s infill, which was in poor structural and material condition.
In reference to the area's history, Ao-ft has reimagined Spruce House has a contemporary shop front. The repetition of slim timber battens and mullions creates a vertical rhythm, designed to form a contrasting façade of patterns at the ground and first floors.
After thorough investigation into several building methods, the studio chose to design the main structure in cross-laminated timber (CLT) as its boasts excellent environmental performance and is aesthetically pleasing as an exposed internal finish. This design aesthetic is also mirrored in the standalone garden studio, which sits at the rear of the home's 12-metre deep garden.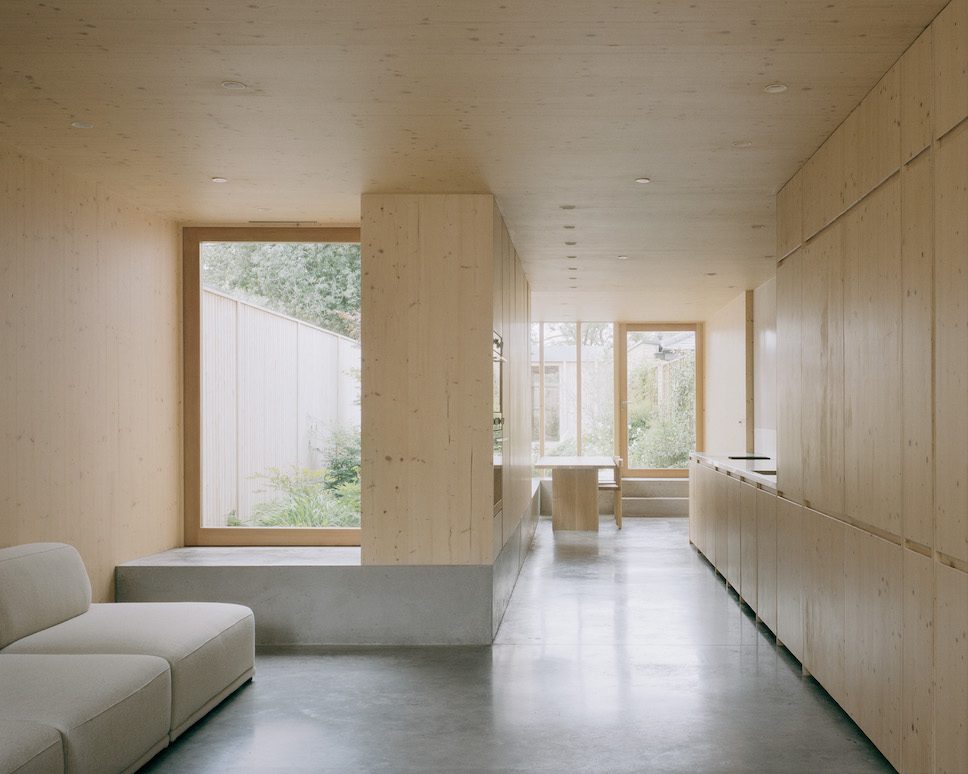 "Spruce House and Studio were designed to fit gently within their streetscape and site, but to add interest and delight too," explains Ao-ft founding director Liz Tatarintseva.
"The custom-milled prefabricated panels sequester and store 37 tonnes of carbon dioxide, and were assembled on site in just five days. Leaving the panels exposed inside reduces the need for other building materials like plaster or paint, also ensuring the home features as little plastic as possible," adds Tatarintseva as she explains more about the sustainable construction.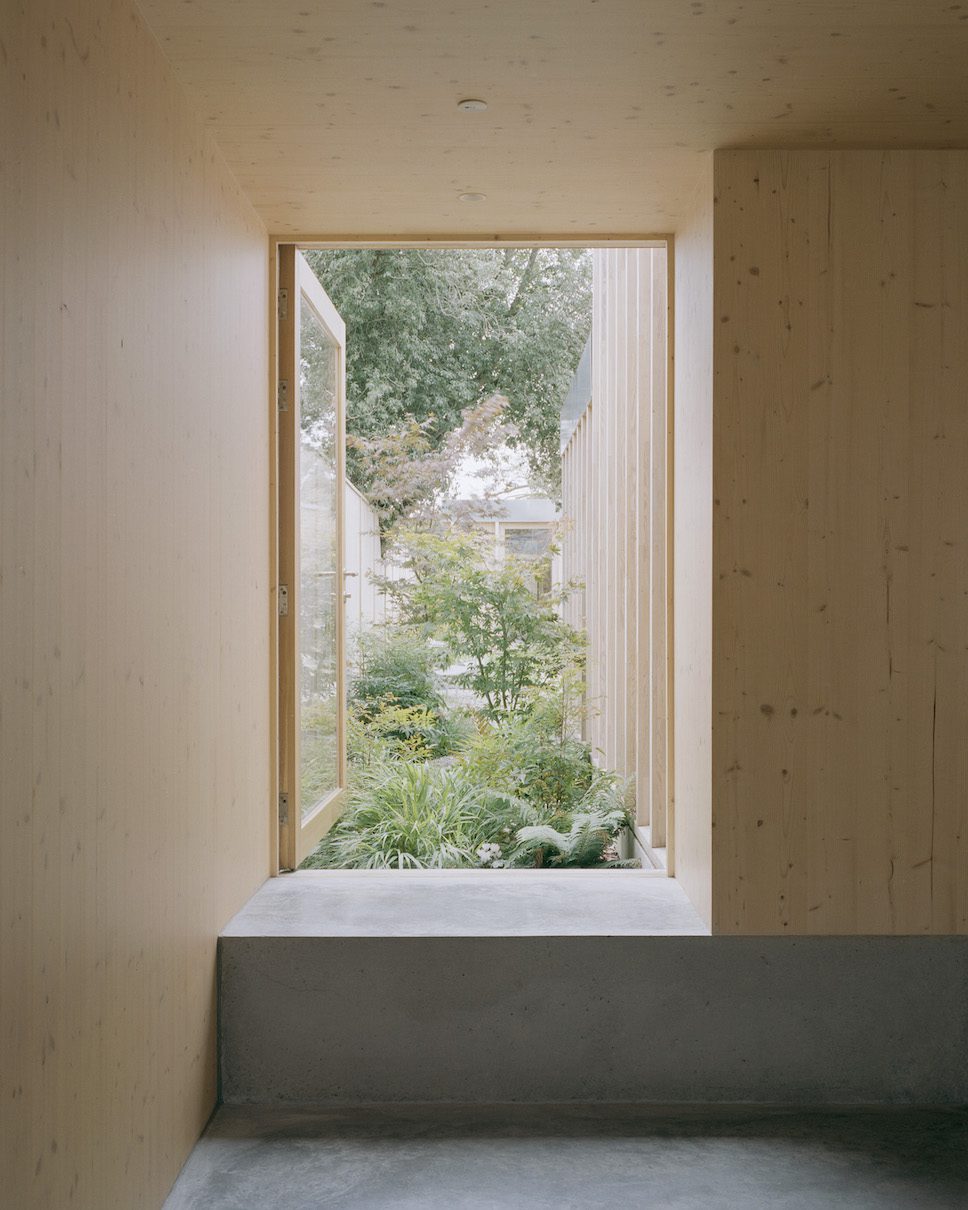 A slim, tall front door cut out of the façades wooden screen leads into an entrance area, which is steps down half-a-metre from street level into an open-plan, sunken living, kitchen, and dining space. This embedded floor plan allows the interiors to feel closely connected to the same-level garden.
The living space is bordered by cast concrete windows seats and floor-to-ceiling glazing which frames views out to the lusciously planted garden area. Ao-ft continues the use of light, verticality, and layering throughout to create a subtle and understated interior.
For example, raw structural materials such as timber, stainless steel, polished concrete, and white perforated steel, are all deliberately arranged to transfer light and catch shadows.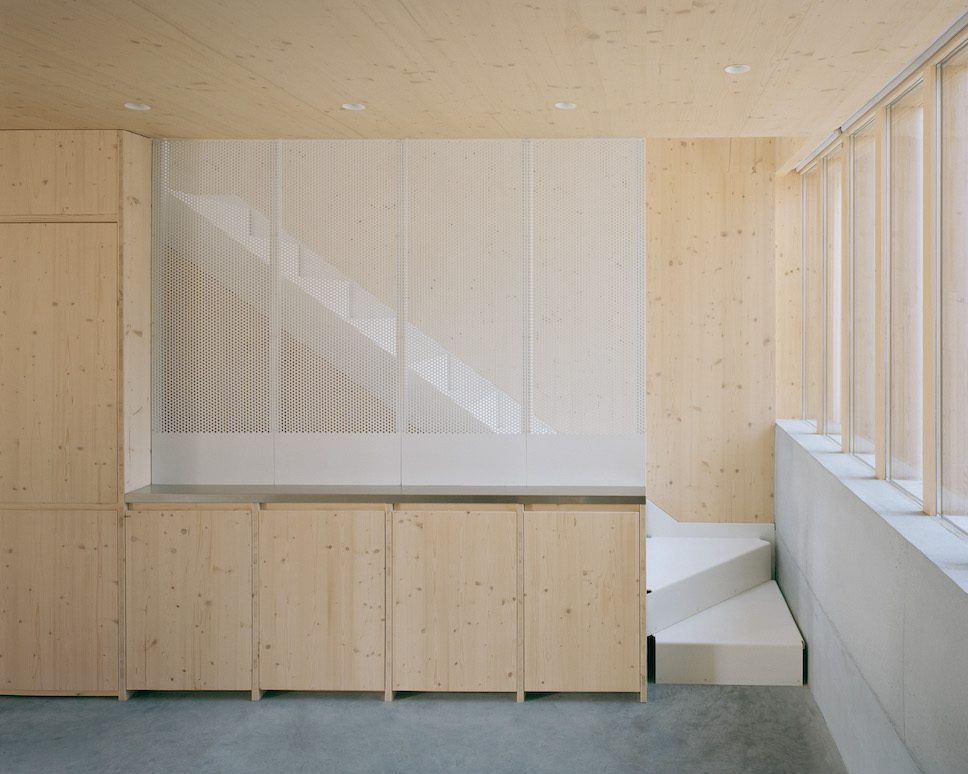 A white laser-cut steel staircase is a kit-of-parts design, made to be assembled and disassembled as and when needed. It is semi-concealed by a perforated metal screen and leads up to the first floor, which consists of two bedrooms and a family bathroom. The main en suite bedroom is located on the second floor.
Revealing the technical detail, Tatarintseva says: "The 24 individual interlocking treads act as the spine of the house and allow light and air from the large overhead skylight to pass through the perforations."
"The 5mm steel was laser cut and robotically folded to millimetre precision before being craned in and measure tested, removed and powder-coated off-site before final installation."
This attention to detail carries through to the standalone garden studio, which is built using traditional timber framing with larch glulam beams on the outside, and spruce on the inside. The tranquil garden retreat is somewhere for the owners to work and find some peace, with generous views out of the clerestory windows.
So, how does this project set a precedent for infill sites and demonstrate the beauty behind eco-friendly and flexible construction?
"The ideas at play in this project can be translated into larger scale buildings," summarises Zach Fluker, Ao-ft founding director alongside Liz Tatarintseva. "We used the project as an exploration of materials, bringing fabrication into the design process, and sustainable construction, examining how we can build places that are beautiful and have minimal environmental impact too."
Project details:
Project name: Spruce House
Gross internal floor area: Main house: 118 sq.m; Studio: 14 sq.m
Construction cost: £410,000
Architecture and interior design: Ao-ft
Structural engineer: MES Building Solutions
Fire consultants: IFC Group
Landscape consultant: Meeuwsen Muldoon
Main contractor: PSS London; CLT contractor: ConstruktCLT; Groundworks contractor: Axel Keating; Staircase contractor: Industrial Projects/James Green
Photography: Rory Gardiner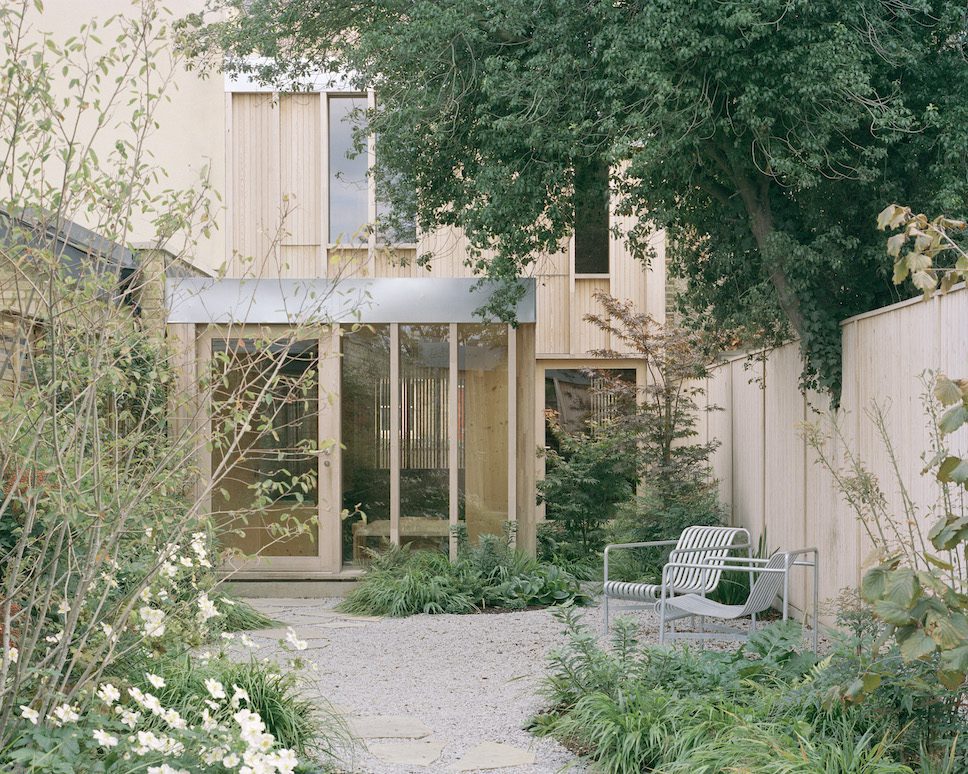 You will also find this project featured inside our Summer Special 2023 issue (Volume 55).
Discover more about London-based architecture practice Ao-ft, which is making its mark with the Spruce House and Studio – its first completed project.
See more architectural case studies on enki and take a look at another exemplary urban infill project, Corner House by Whittaker Parsons.