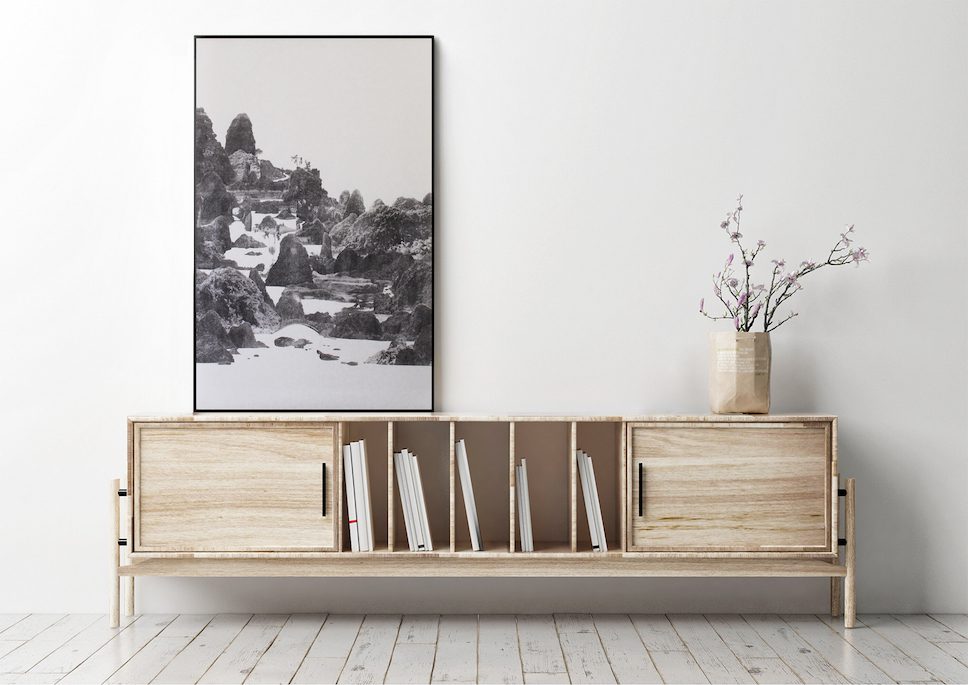 "My artworks are imagined landscapes that begin by taking photographs out in nature, whether on my travels or my doorstep." Sherrie-Leigh Jones, artist and printmaker.
Focused on creating a sense of escapism, Brighton-based artist and printmaker Sherrie-Leigh Jones designs limited edition and original prints of imagined natural landscapes.
Her creative process involves the assembling of collages using her travel photographs and photos taken on walks in the English countryside, which are then used to inspire her paintings. The finished compositions are taken to the print studio to be exposed on screens and hand-pulled as screen prints, bringing her beautiful artworks to life.
We took the opportunity to speak to Sherrie-Leigh to learn more about how Chinese and Japanese aesthetics influence her work, she reveals the other artists and printmakers that inspire her, and what materials and techniques she'd like to experiment with next. Read on to find out more…
Can you tell us a little bit about yourself and what inspired you to start your own business?
I'm a printmaker from Brighton, East Sussex, and I create limited edition and original prints of imagined landscapes inspired by nature and the changing seasons. I moved to Brighton 15 years ago and studied fine art printmaking. I had always wanted to be an artist, so when I graduated I decided to just go for it and pursue my practice as an artist and printmaker.
How did you learn your craft and get into printmaking?
I've always loved art and wanted to be an artist for as long as I can remember, so when I left school I went straight to art college where I experimented with a lot of different processes including printmaking. I then went on to do a foundation degree in fine art where I continued to try out different ways of working and started printing again, this is when I really got into screen printing and completed a degree in fine art printmaking.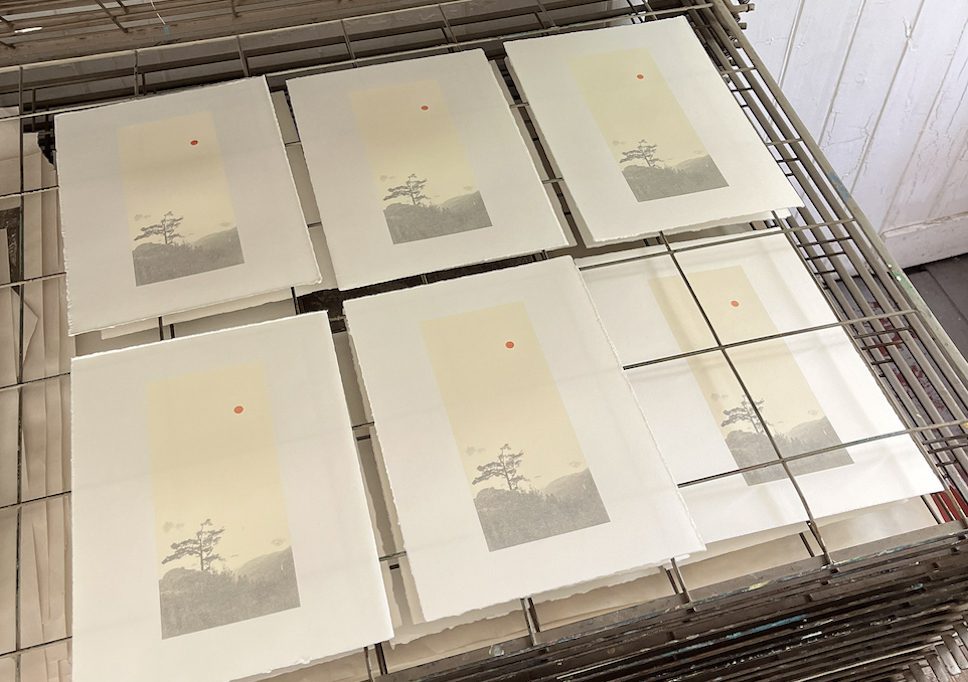 What is your favourite printmaking method and why?
Screen printing is naturally what I became drawn to after lots of experimenting. Printmaking in general is quite a process led art form and I really enjoy the different stages of screen printing, from coating and exposing screens, mixing inks, and pigments, to pulling the squeegee and seeing my creations come to life on paper.
Are there any other print techniques, materials, or ways of working that you're keen to try?
I'm trying to make more time for experimenting with different ideas and materials. Printing on wood again is something I would like to do. I'd also like to try printing on linen and play around with the idea of prints on fabric, which I see as an extension of my hanging scroll pieces.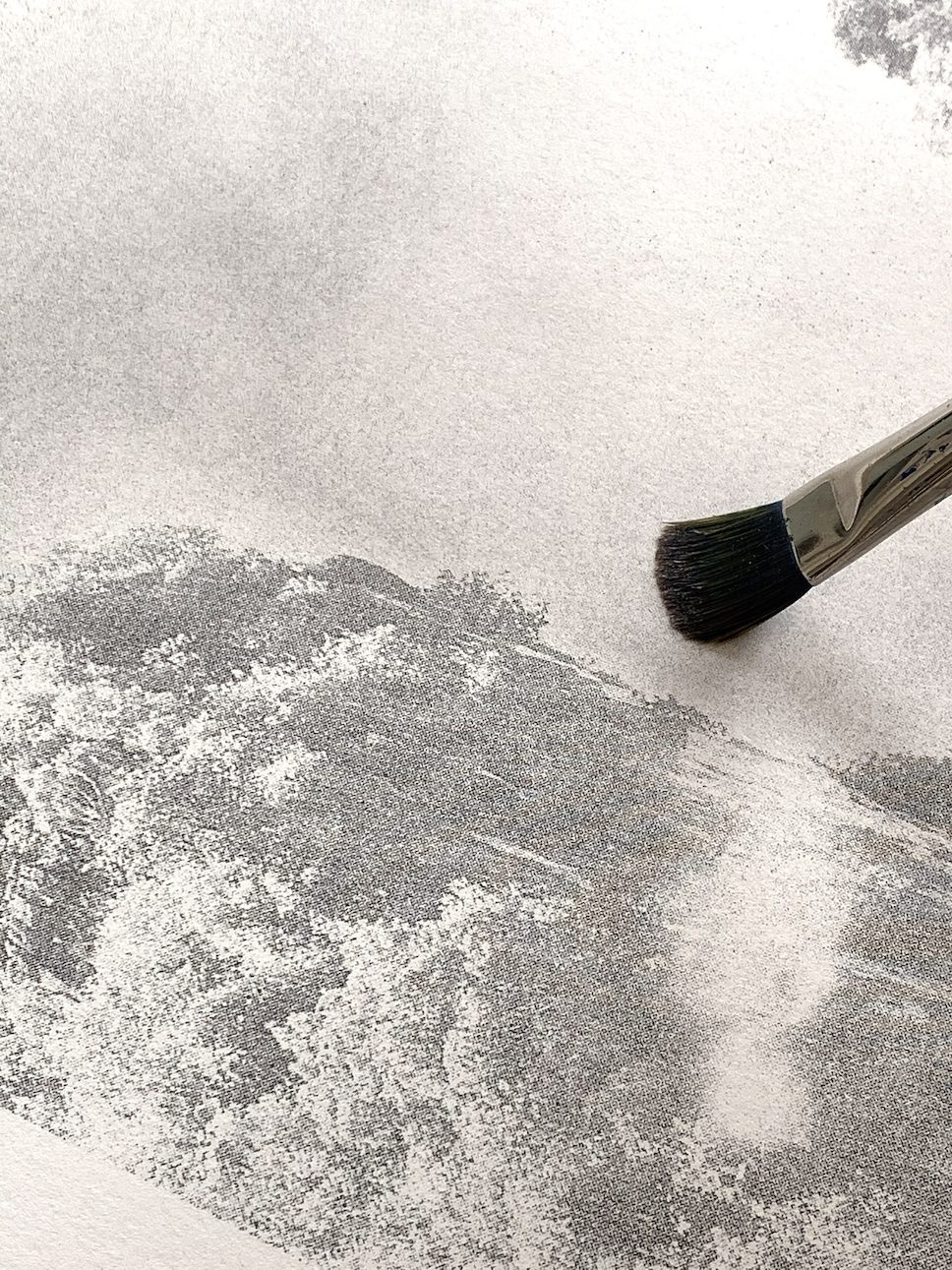 Your work has some Chinese and Japanese influences. Can you tell us more about what inspires your designs, and is it your travels in particular?
I'm inspired by lots of things, but nature, travel, and the outdoors are big inspirations of mine. My artworks are imagined landscapes that begin by taking photographs out in nature, whether on my travels or my doorstep – I'm lucky to live by the sea and the South Downs. The Japanese woodblock printmaking movement known as Shin-hanga (new prints) and Sansuiga (Japan) or Shanshui (China) paintings, which depict an idealised landscape using the forms of mountains, rivers, clouds and mist, also inspire my prints.
You can easily get lost looking at all the different elements and tiny details in the landscapes, the different qualities of techniques with painting and printmaking from the softness of the brush strokes bringing a calmness. For me, they create the sense of escapism that I hope my work brings to people, so I naturally feel a connection to Chinese and Japanese aesthetics.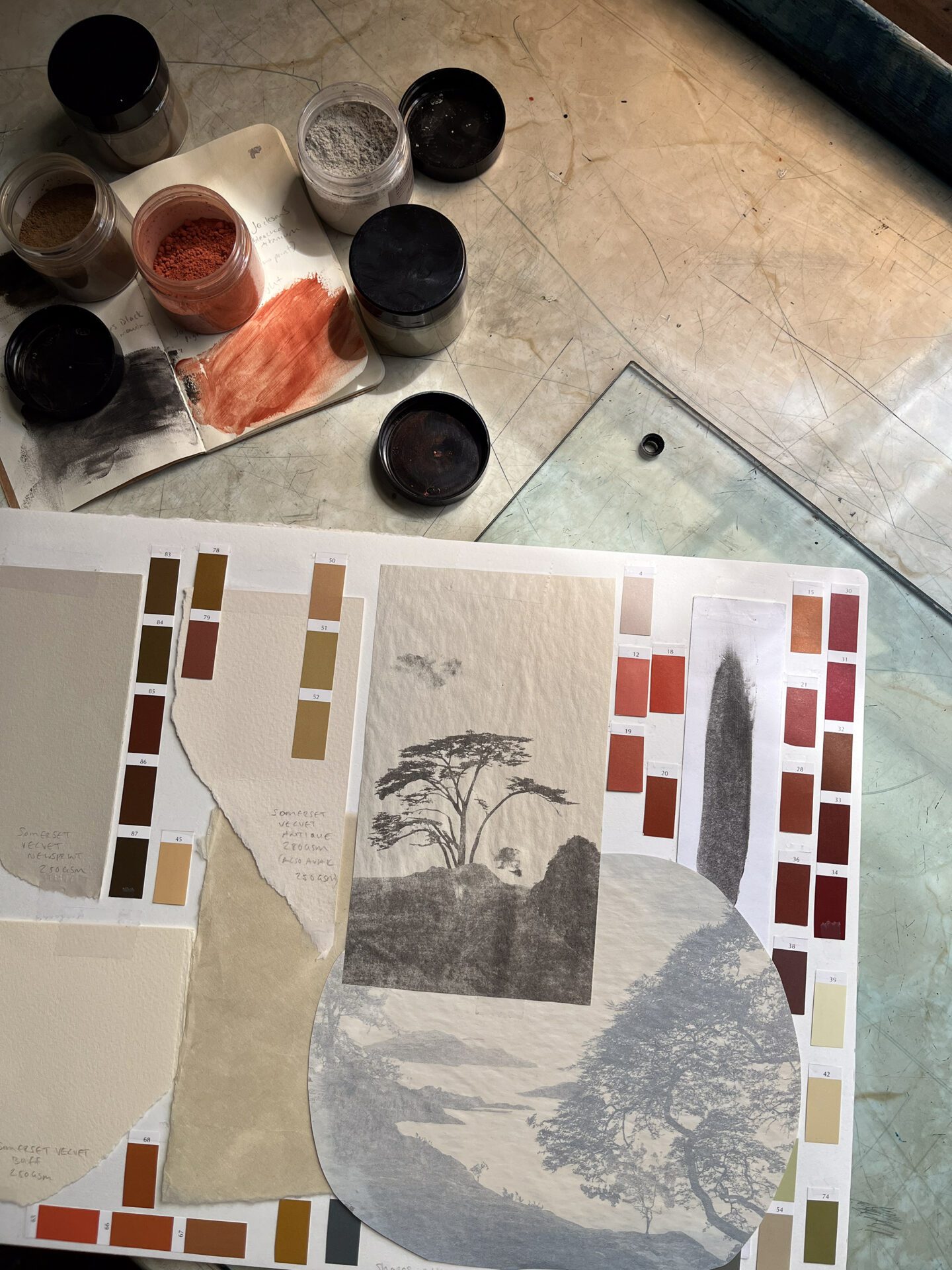 Can you tell us about your studio and what a 'typical' day here might involve?
I split my time between my home studio and a printmaking co-operative studio. It tends to differ each day but usually I will start by checking in with emails in the morning, then I will pack any orders and head to the post office or couriers. I try to get in a good amount of time collaging before I do any more admin in the afternoons – emails, ordering materials or packaging, updating my website etc.
If I'm at the print studio, I'll be stripping, coating and exposing screens before sorting paper, mixing inks and printing my collages. Then I'll come back later on and reply to emails, pack prints, arrange couriers etc. Some days and weeks are more creative in a 'hands on' way than others. Sometimes I will be photographing and editing prints but it's all part of the process that I enjoy.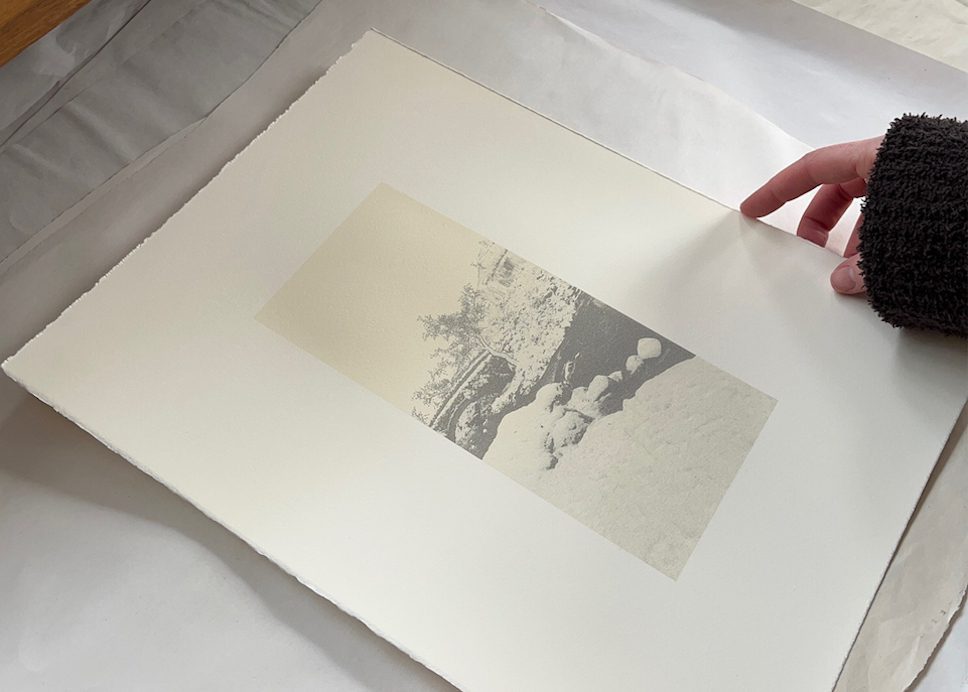 What other artists and printmakers inspire you and why?
Hasui Kawase and Koho Shoda are probably my favourite printmakers of the Shin-Hanga movement. I can really appreciate their skill and they also took inspiration from nature and the landscape, so their works share similar subject matters to mine.
I'm also a fan of conceptual art and have a long-standing obsession with astronomical objects, so a couple of my favourite artists are Katie Paterson, who has created works where a telephone line was connected to a melting glacier and maps of dying stars, and James Turrell who creates skyspaces to observe the sky and he uses light to change perceptions. I also love Romanticism, so I'm drawn to Caspar David Friedrich and The Hudson River School artists.
What are your hopes and plans for the rest of 2023 and beyond?
I'm currently working on some bigger prints, which has been an aim of mine for a while now and is something I'd like to continue pushing myself to experiment with more. I'd also love to travel more, perhaps do a residency somewhere and generally keep creating artworks that I hope continue to bring a sense of calm to others.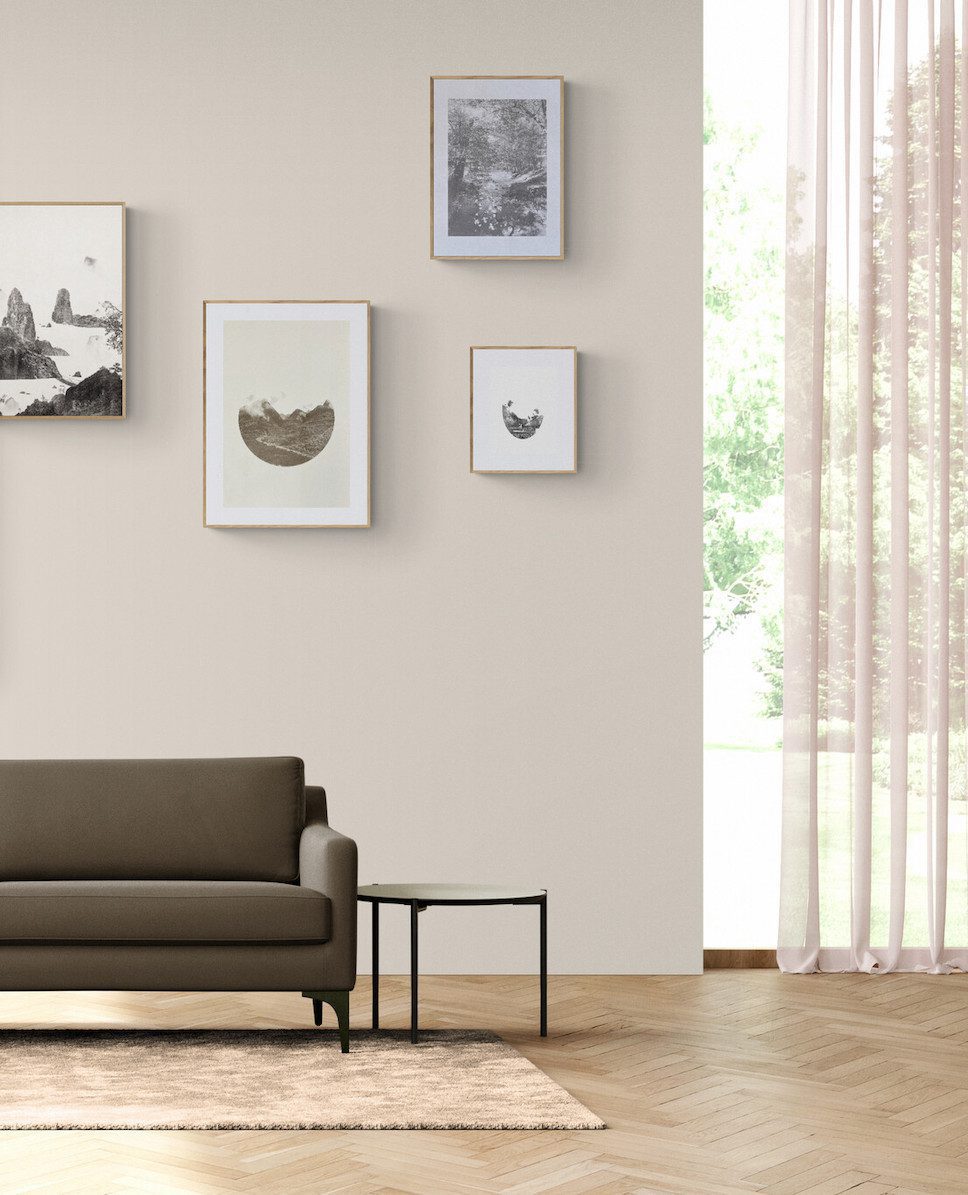 Photography courtesy of Sherrie-Leigh Jones.
Discover the full collection of artwork and print-making projects by Sherrie-Leigh Jones, all available online.
Read more Meet the Maker interviews here on enki, including our conversation with Amy Wright, founder of Londe Botanics, as she reveals more about the role of botanic oils in self-care rituals and how she supports British growers.