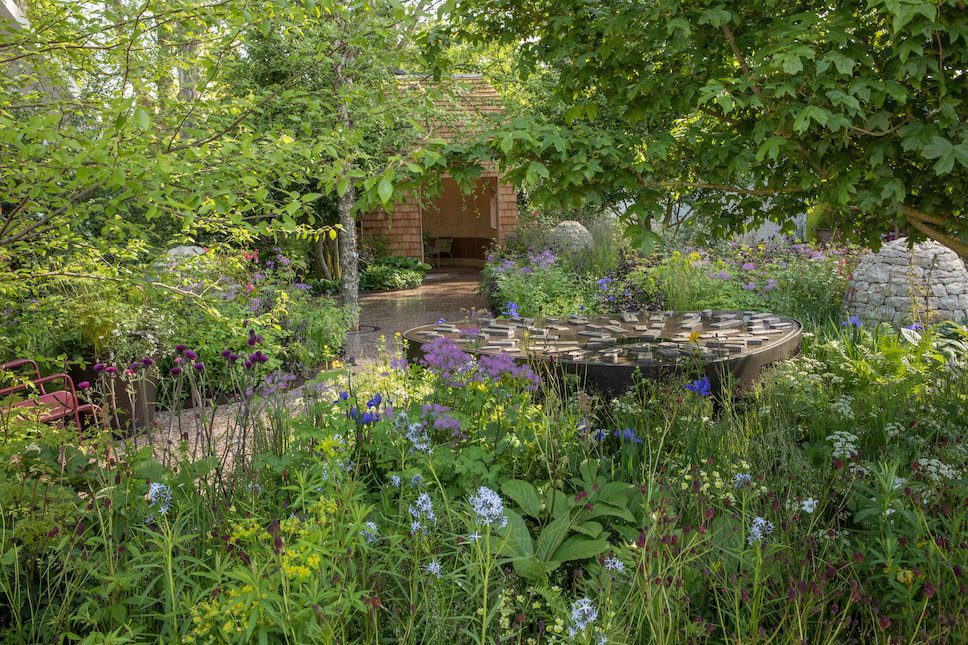 One of the world's most prestigious gardening events, held in the grounds of the Royal Hospital Chelsea, the RHS Chelsea Flower Show 2023 has delivered 36 bountiful gardens this year, each of which delight and inspire.
Landscape designers and founders of Kit Peel Gardens, Kit and Megan Peel took the opportunity to visit the Chelsea Flower Show this year, which they describe as "a window into the latest design thinking from the world's top garden designers."
"In recent years, the landscape at Chelsea has changed considerably," Kit and Megan Peel explain. "Project Giving Back, founded by two anonymous altruists, has funded 42 partnerships between top designers and charities to create gardens that convey a meaningful message."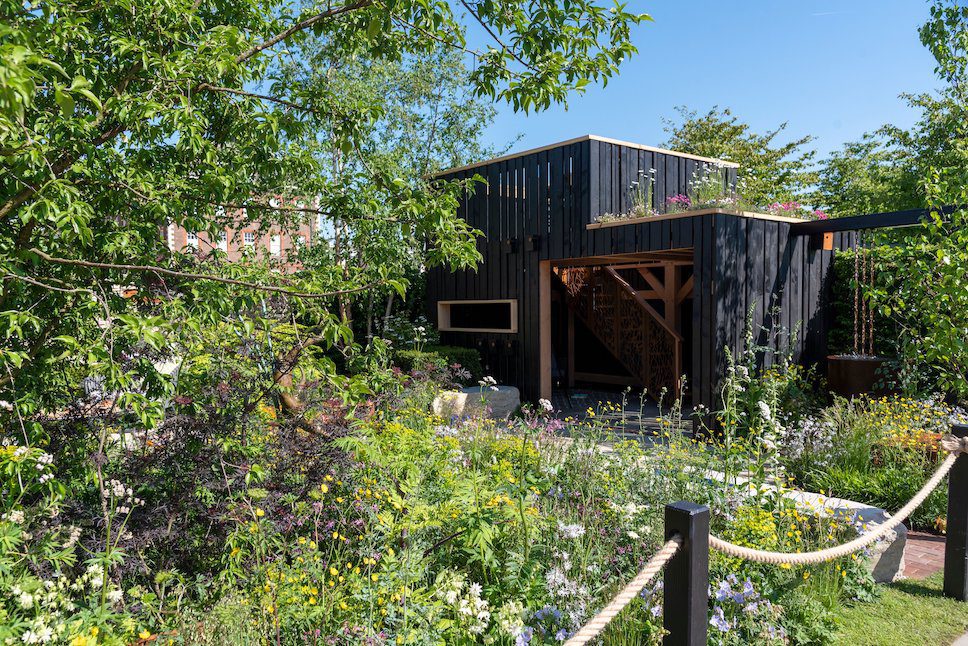 "The previous sleek set pieces of high-polish design and manicured ornamental planting, sponsored by investment companies and champagne houses, have largely been swept aside by naturalistic planting, reclaimed materials, and the kind of conceptual thinking that used only to be seen at sister flower show RHS Hampton Court."
"Whilst we may be used to seeing modernist architecture set against a minimalist backdrop, the swing towards a wilder naturalistic style is in fact very much in keeping with key Modernist, Frank Lloyd Wright's philosophy of 'organic architecture': the belief that the natural life that exists in a space should visually flow into and joyfully coexist with whatever is constructed there."
Kit and Megan have curated five ideas from this year's Chelsea Flower Show to help inspire your very own modernist garden design project. Read on to find out more…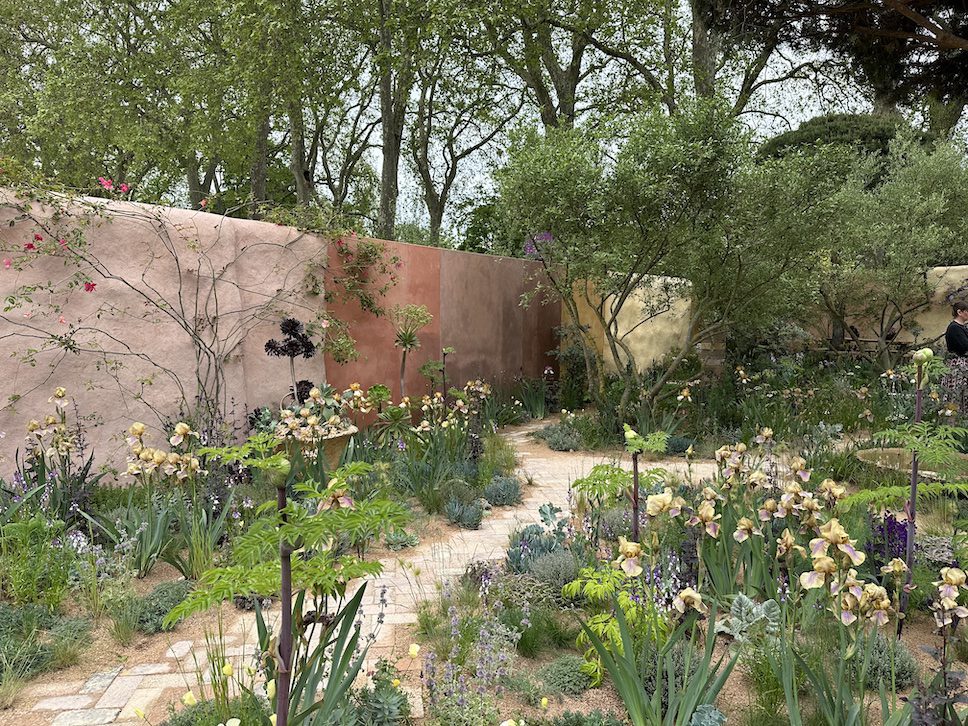 1. The Wonder of Waste
Everywhere you look at Chelsea, designers have been experimenting with the alchemical possibilities of waste material. Many of the gardens have used crushed concrete to mulch planting beds.
In Sarah Price's standout Nurture Landscapes Garden (pictured above) this technique is elevated to the level of art form. Sand excavated from a reservoir at Crocus has been combined with leftover red oxide from the steel industry and reclaimed aggregates to create planted bowls, bricks, and water features, and a monolithic slab table, of the most beautiful patina. The hard material palette was created in collaboration with innovators Local Works Studio and Guy Valentine.
Darren Hawke's Samaritan's Listening Garden (pictured below), is created from 85% reclaimed materials, including an old farmyard floor which has been honed by hand into monumental hanging sculptures.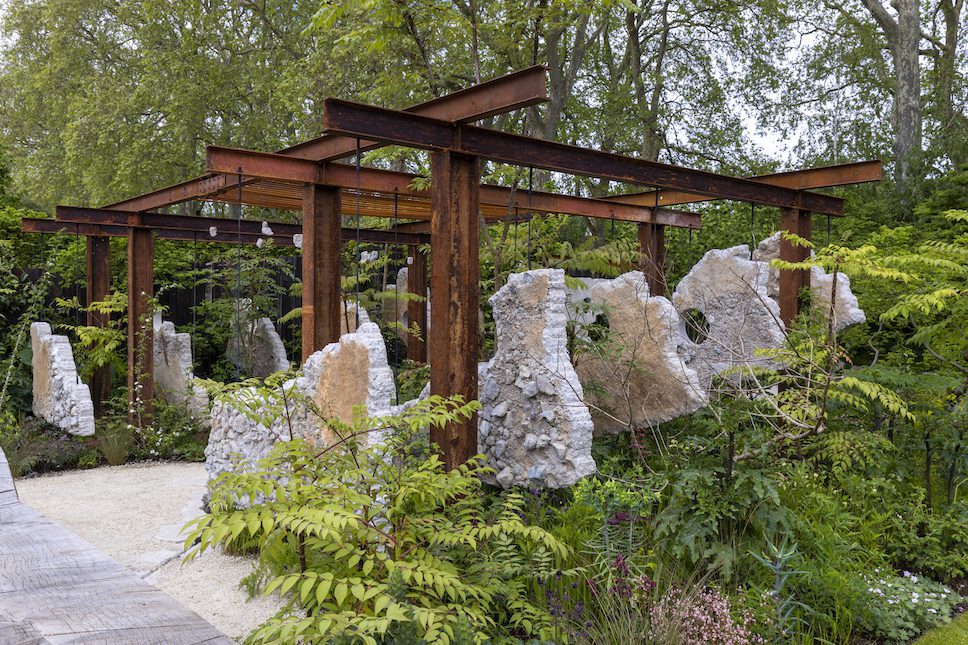 Winner of 'Best in Show' 2023, Harris Bugg Studio's garden for Horatio's spinal injury recovery hospitals (pictured below) is a fully adaptive garden with sustainability and wellbeing at its heart.
The beautifully designed space features an innovative eco-terrazzo paving made from cement-free, ultra low-carbon concrete and unusable crushed terrazzo and aggregate waste, which would otherwise be sent to landfill. It creates a perfectly smooth and free draining surface and provides a joint-free smooth surface with no bumps or dips.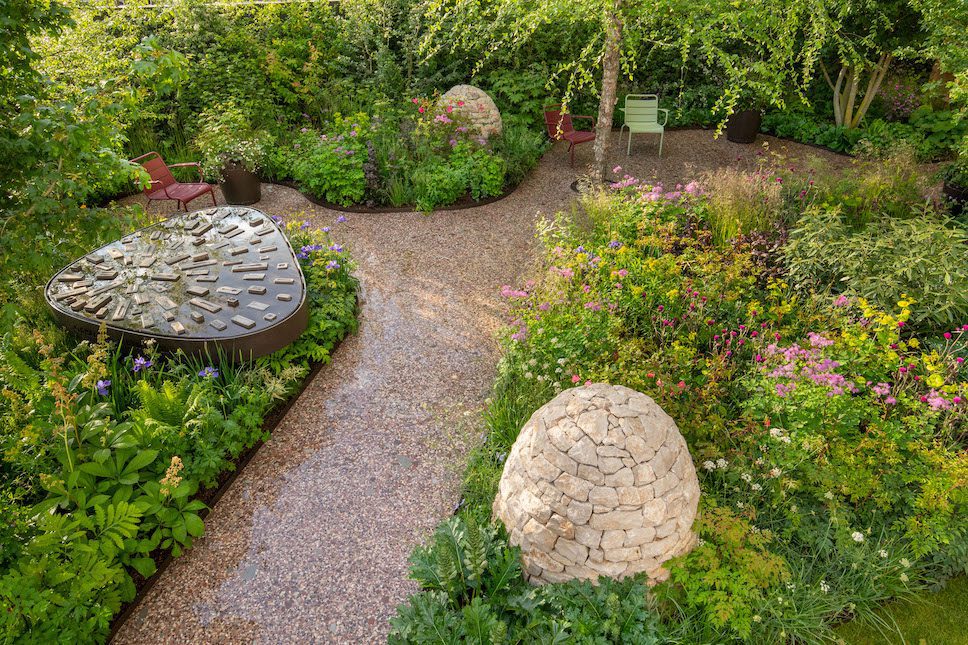 2. Shadow Play
The most obviously modernist design at this year's show is the stunning Transcendence Garden by McWilliam studio, a partnership between leading garden designers Gavin Williams and Andrew Wilson.
Speaking at the show, Andrew Wilson said: "One of the key features of modernist design is the contrast between the vertical and horizontal lines, and here we have taken that design language out into the landscape space. A sense of openness is also key in modernism, and so we have used only filtered screening to create intrigue and manipulate the light in the space."
The clean lines of the monumental cantilevered structure are juxtaposed against airy planting, including fragile white poppies, to create exquisite plays of light and shadow across the pale hard surface.
3. Weeds are welcome
While native plants have been cropping up at Chelsea for a while now, this year designers are really making a statement. Four out of 12 of this year's main avenue show gardens feature plants previously known as weeds: dandelions, brambles, and thistles, have been rightly rebranded as 'resilient planting'. Nowhere is this shown to better effect than in Cleve West's moving garden for youth homelessness charity Centre Point (pictured below).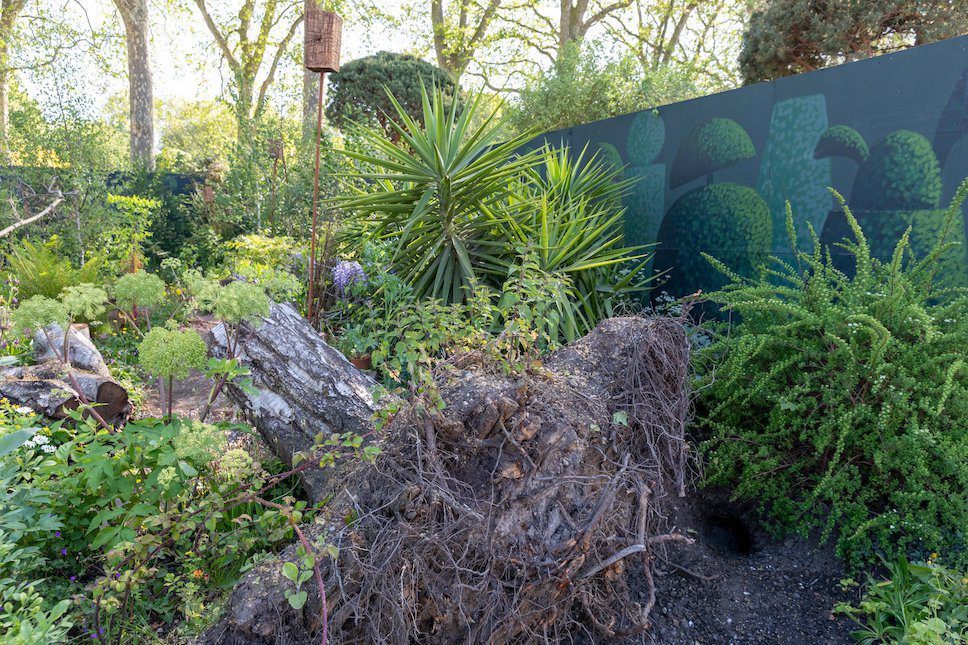 The Centrepoint Garden is built around the shell of a derelict Victorian townhouse around which native saplings and wildflowers jostle amongst ornamental survivors, Cordyline australis and Yucca gloriosa from the house's imagined original garden. The resulting planting conveys a great sense of optimism about nature's potential for renewal.
In keeping with the idea that modernist architecture should benefit the natural eco-systems that surround it, Tom Massey's garden for the Royal Entomological Society (pictured below) highlights the benefits for insect life of including a mix of native and non-native planting to extend the season of nectar.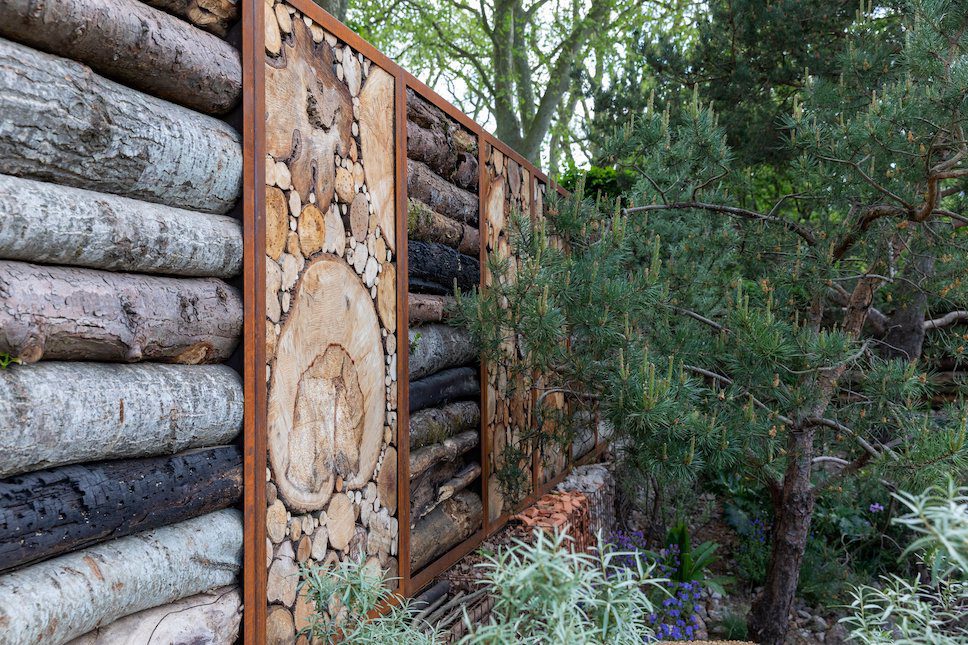 4. Sculpted Nature
Anyone looking for inspiration on how to incorporate sculpture into the garden, could look to the Saatchi Gallery's immersive show garden (pictured below) created in collaboration with artist Catriona Robertson and veteran garden designer Dave Green.
Inspired by an artistic residency in the Lake District after Storm Eunice, city dweller Robertson has created three giant worm-like forms, sculpted from recycled London newspaper pulp and reclaimed corrugated metal scraps, which emerge from a mass of native wildflowers in perfectly toned hues. Robertson intends for her work to highlight how easy it is for city dwellers to become disconnected from nature.
5. The Power of Painterly Colour
It's become something of a truism in garden design that colour is secondary to form and texture. Sarah Price's Nurture Landscapes garden, which draws its inspiration from the paintings and garden of Cedric Morris, gives the lie to that statement.
Nobody who sees Sarah Price's 'Nurture Landscapes Garden' can fail to be moved by her ethereal use of colour, which feels like the freshest thing at the show this year. From the burnt umbers, ochres, and terracotta hues of the walls and pigmented earth, to the sumptuous golds and lilacs of the Iris Benton Olive woven throughout the garden, to the glaucous silvery blues of the Aeoniums and Eleaganus. This is colour as pure visual ecstasy; it would provide a fresh take on planting for a modernist courtyard or a walled garden.
Photography courtesy of Kit and Megan Peel, unless otherwise stated in the captions.
With many thanks to Kit and Megan Peel for this feature on the Chelsea Flower Show. Take a look at their elegant gardens designs online at Kit Peel Gardens.
Keep up to date with all the latest architecture and design news here on enki.
For lots more inspiration, don't miss our Home & Garden special issue, which features an exclusive interview with Kit Peel Gardens and an abundance of beautiful landscape and architecture projects.