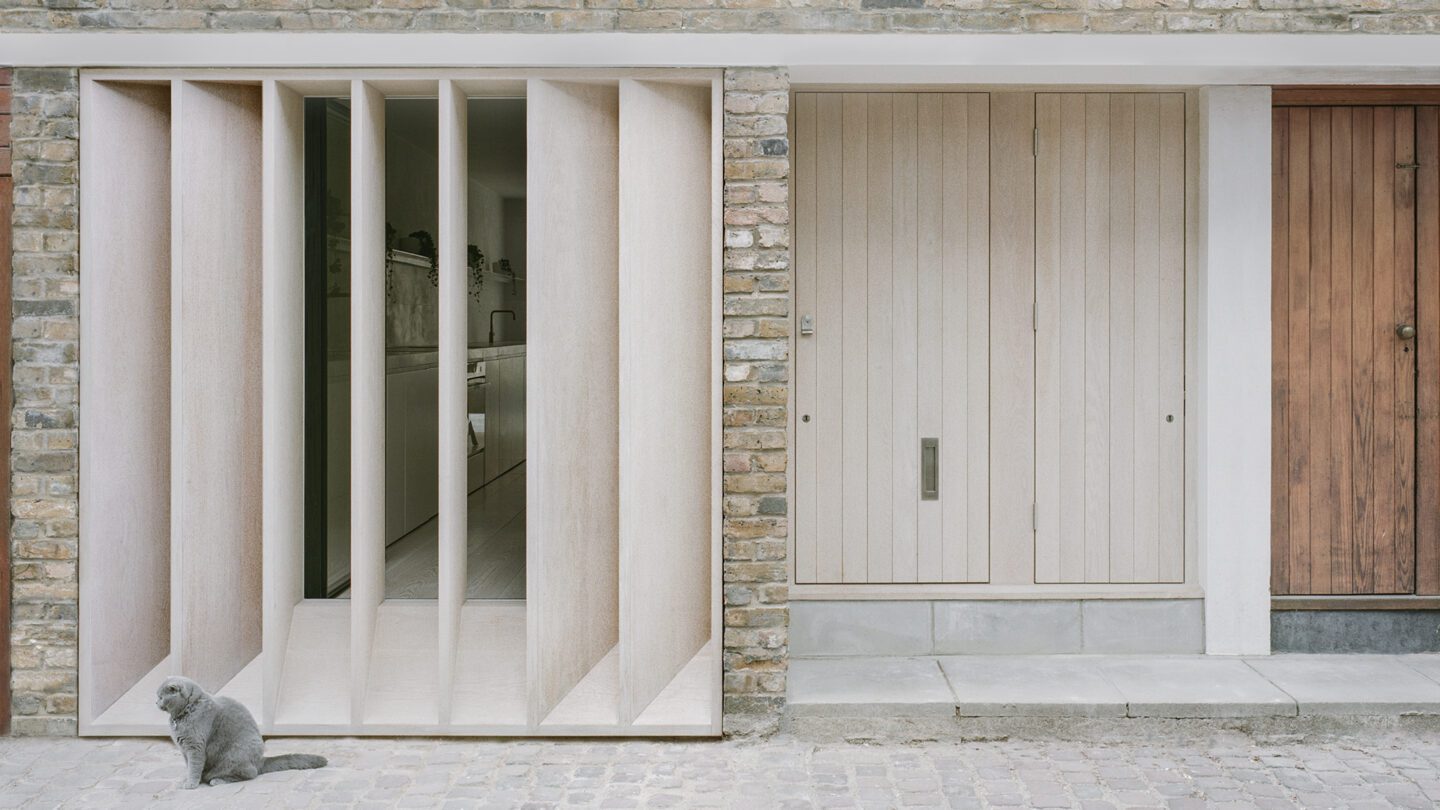 The Secret Garden Flat, a unique renovation and remodelling of a small London flat, has been named Home of the Year 2023 in the Don't Move, Improve! Awards.
Selected from a 15-strong shortlist that tied in with this year's programme theme of 'Green Ambitions', The Secret Garden Flat by Nic Howett Architect was praised by the jury for demonstrating "how a very high standard of craftsmanship can be achieved with a low budget."
Alongside the Home of the Year, the expert jury panel selected seven special prize winners from the shortlist, all of which showcase innovation and creativity in the realm of domestic architecture.
The Don't Move, Improve! 2023 prize winners:
• Home of the Year: The Secret Garden Flat, Nic Howett Architect
• Environmental Leadership Prize: Low Energy House, Architecture for London
• Materiality and Craftsmanship Prize:  Brückenhaus, R2 Studio Architects
• Unique Character Prize: CLT House, Unknown Works
• Urban Oasis Prize: Kitchen in the Woods, A Small Studio
• Compact Design Prize: Lubetkin Apartment, Studio naama
• Best Project under £100k: Colour Casing, District. Architects
• Transformation Prize: Elizabeth Mews, Trewhela Williams 
Home of the Year: The Secret Garden Flat by Nic Howett Architect
What was a disconnected, awkward ground-level flat and garden, is now a cohesive space, providing an outdoor living area and a quiet studio sheltered by trees. The Secret Garden Flat, as it is aptly named, was a self-build project that architect Nic Howett embarked on for his own home and family of three.
With a palette of simple and modest materials, the new scheme maximises space and shifts the focus of its primary living areas from the busy road out to the garden.
"The Secret Garden is full of surprises," said Don't Move, Improve! 2023 judge Marie-Louise Schembri, Sustainability Director at Hilson Moran.
"This beautiful home in a very busy and dense urban part of London feels like an oasis and has consolidated existing neighbourhood and family communities. The transformation process tells a story of vision, perseverance, collaboration, and organic growth."
Revealing the other special prize winners at the Don't Move, Improve! 2023 Awards: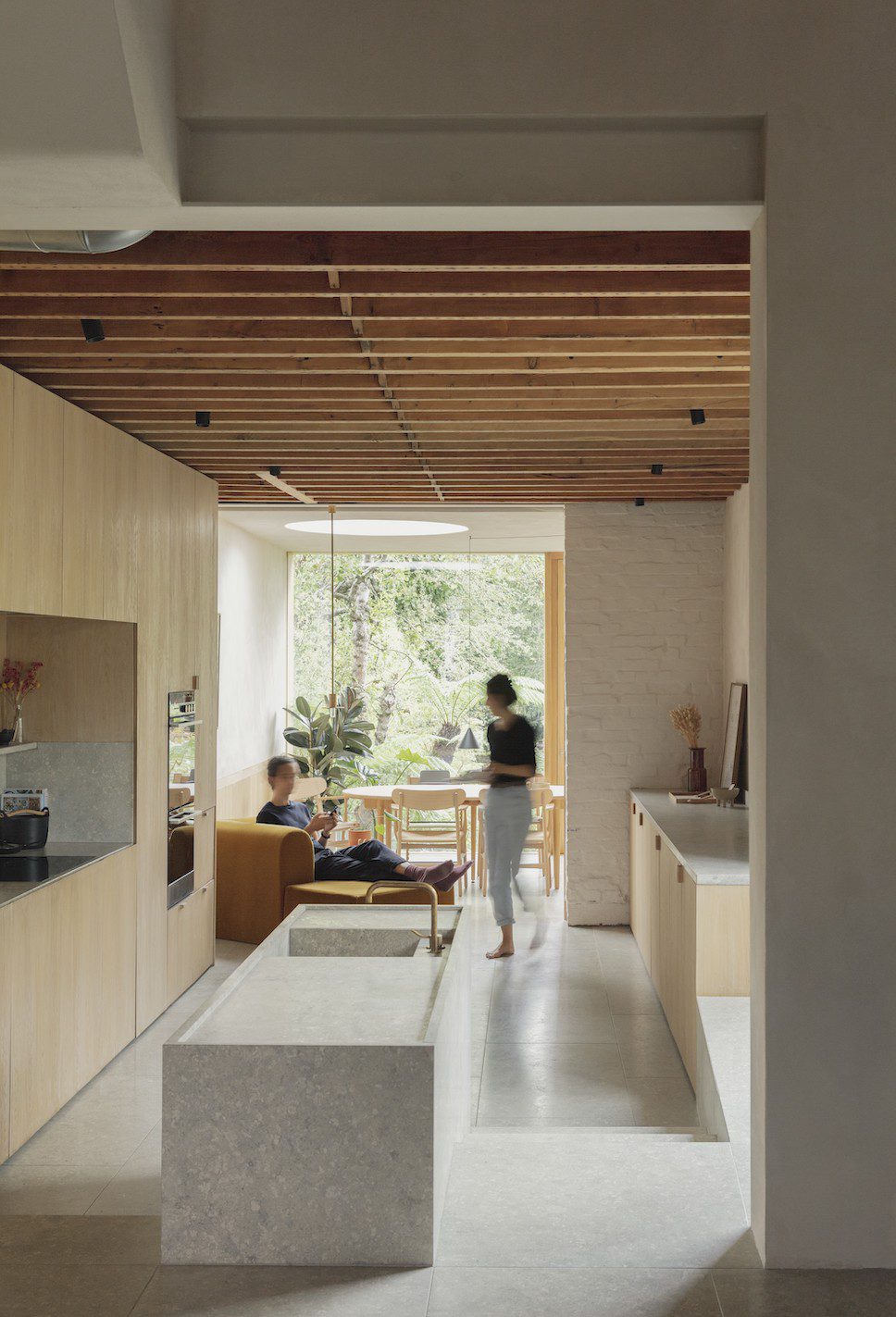 Low Energy House by Architecture for London: Winner of the Environmental Leadership Prize, this Edwardian terrace in Muswell Hill is an exemplary sustainable extension and refurbishment of a typical terraced house in London.
"Both embodied energy and energy in-use have been considered in depth," explains Ben Ridley, homeowner and director at Architecture for London. Natural materials such as wood, stone, and lime plaster ensure the design of the home is breathable, energy efficient, and on-budget.
Brückenhaus by R2 Studio Architects: Awarded the Materiality and Craftsmanship Prize, this reworked South London home offers a newly opened-up ground floor with visual connections to the front and the back of the house and series of interconnected space.
Attention to detail is evident in the rebuilt rear wing that provides space for a first-floor wellness area comprising a private roof terrace, sauna, and outdoor shower.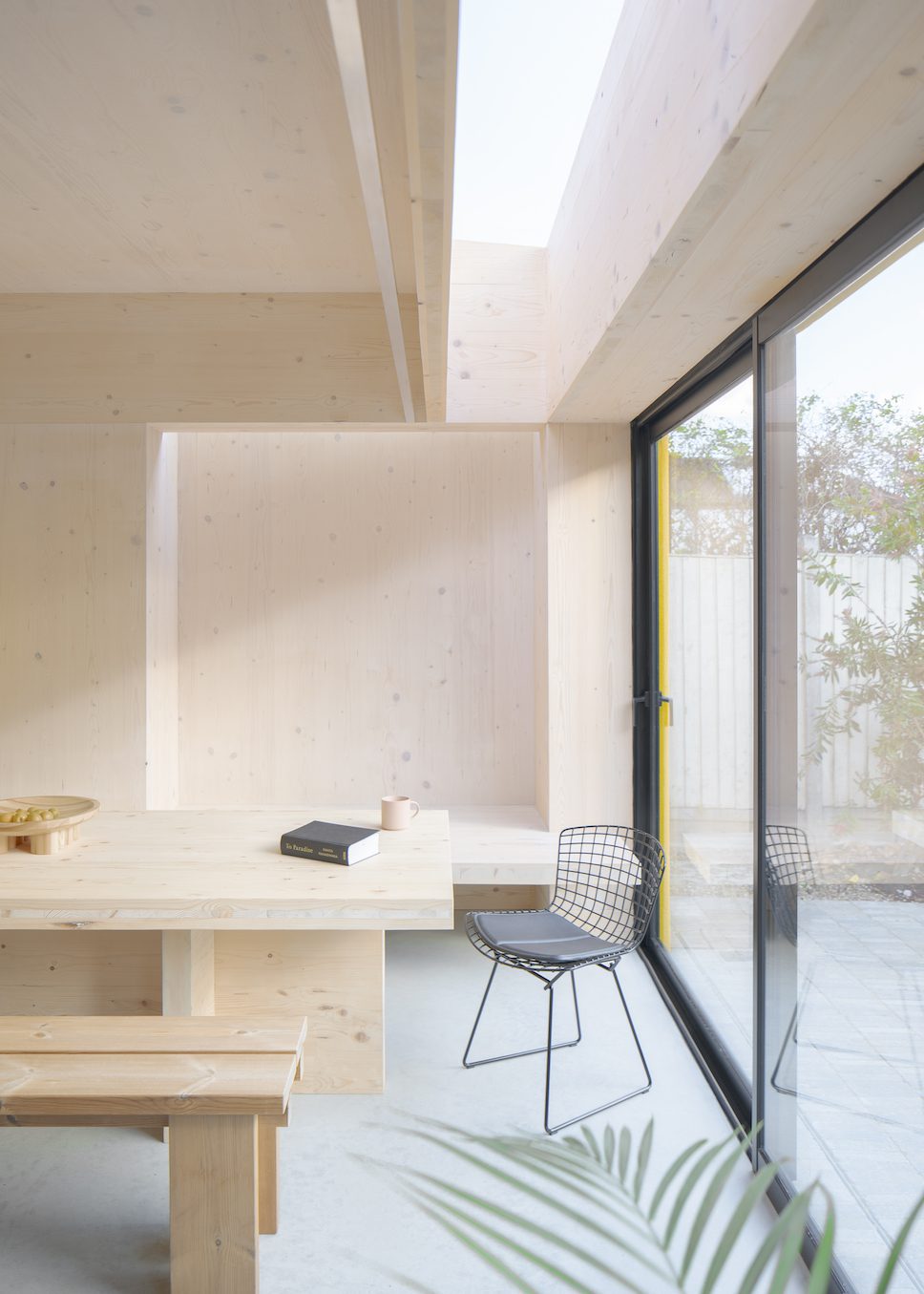 CLT House by Unknown Works: This transformed mid-century terrace has been recognised for its unique character, with its extensive use of prefabricated cross-laminated timber (CLT) construction. Its interiors are embraced by the warm, natural finished wood and the home's staggered form is a creative response to the site's planning constraints.
"The CLT structural grid above is punctured with skylights, bringing focused daylight from above to shine onto intimate reading nooks below," describes the team at Unknown Works.
Kitchen in the Woods by A Small Studio: Nestled within protected woodland in South London's Dulwich Estate, this eco-friendly extension puts environmental concerns at the forefront of its design.
The new addition takes care to avoid disrupting wildlife and flora, creating a high-quality, light-filled family home with a generous kitchen that opens up into the woodlands.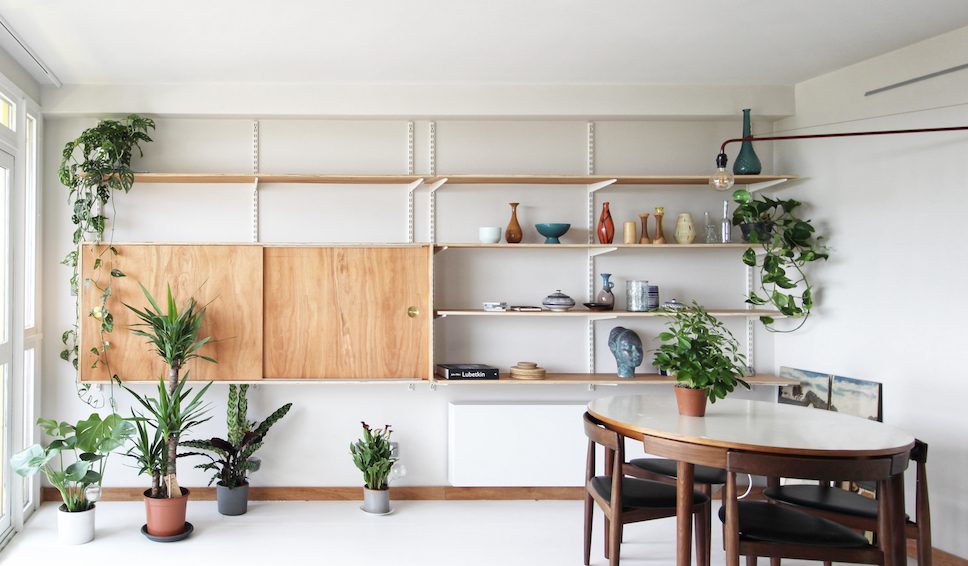 Lubetkin Apartment by Studio naama: Making the best use of a compact space, this is one of the few apartment entries in this year's competition. Its interiors, designed by emerging architects Studio naama, celebrates subtle embedded framework and uses craft and expression to reimagine an existing 65 square-metre apartment.
"The apartment is imbued with tactility, colour and light," explains Studio naama. "We used timber throughout, stripping back areas to reveal the original concrete beams, punching through the bedroom and living room partition wall."
Colour Casing by District. Architects: Named as the best project under £100k, Colour Casing creates the flexibility of a three-bedroom two-reception house within the footprint of an original small one-bedroom flat.
A new wrap-around extension is highlighted with punchy green windows frames, and colour-blocking is used within the the interiors to define the living and dining spaces.
Elizabeth Mews by Trewhela Williams: This compact mews house in North London has been beautifully transformed into a tranquil, minimalist haven.
"The playful choreography of planes, volumes and edges recalls the wood sculptures of the artist Donald Judd," explains emerging architecture practice Trewhela Williams. Clean lines and a pared-back palette let the finely crafted details do all the talking.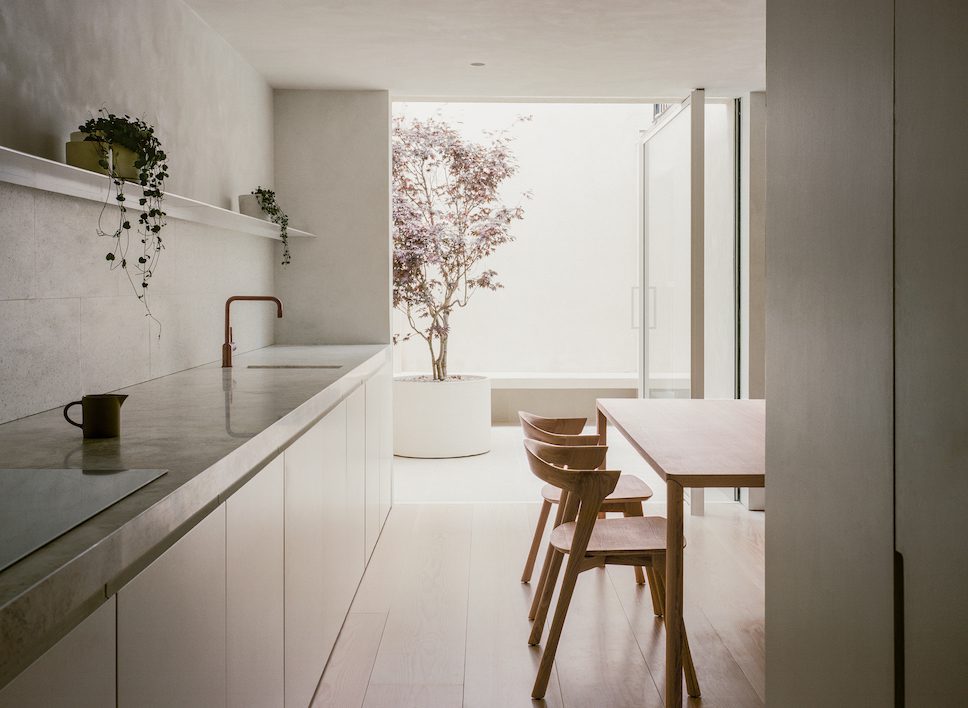 The 2023 jury included Anna Beckett, Associate, Buro Happold; Phil Coffey, Director, Coffey Architects; Marie-Louise Schembri, Sustainability Director, Hilson Moran; Ellie Stathaki, Architecture Editor, Wallpaper* magazine.
Find out more about the Don't Move, Improve! 2023 Awards, organised by New London Architecture (NLA).
Read all the latest architecture news on enki.