Seeking to forge a symbiotic relationship between architecture and nature, Aleš Fiala has designed Gurdau Winery with an extensive curved green roof to harmoniously embed the building into its undulating landscape.
Situated among the fields and vineyards in Kurdějov village in Czech Republic, the winery has a deeply rooted connection to the region's rich winemaking heritage. The first vines where first planted in 2012 and the plans for the winery have been carefully considered, with the finished building being both purposeful and poetic "wave in the landscape", as the architecture studio describes.
Constructed with reinforced concrete, the two-storey building appears to naturally submerge into its environment, with its green roof disguising the structure amongst the surrounding vegetation.
The area immediately encompassing the structure has been planted with 150 shrubs and mature trees, many of which are able to grow through the 'perforated' roof design. Over time, the full impact of this new green landscape will be revealed, as the architects hope it will create an optimal microclimate.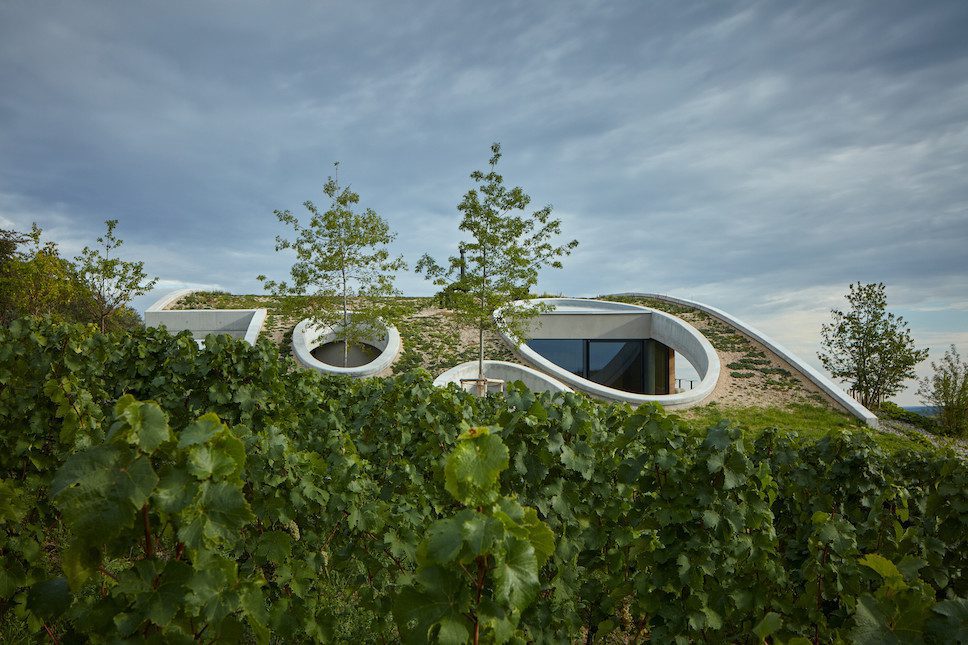 Designed to fulfil various functions, Gurdau Winery features a subterranean level which hosts a cellar that serves as a hub for wine production, storing, and preservation. The open and light ground level houses areas dedicated to wine tasting, dining, and sales. Additionally, two apartments are available for those seeking overnight accommodation in a truly unique spot.
"The building's in-ground setting is traditional for the winery, and its concept is utterly contemporary and timeless," explains the team at Aleš Fiala.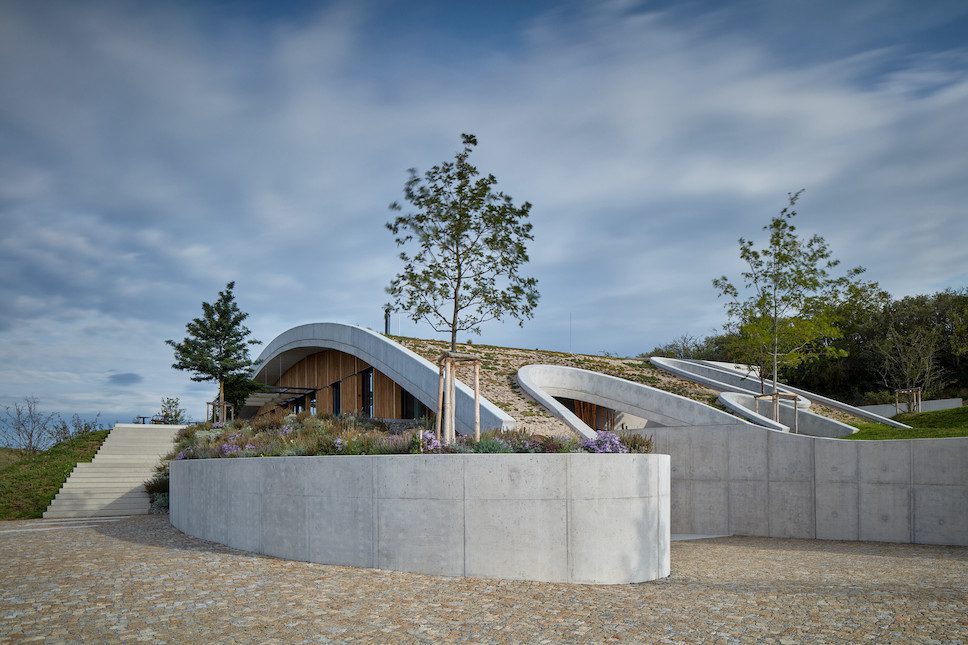 "The location of the building right in the vineyard minimises the transport of raw materials and workers within the winery," explains Aleš Fiala. "The production areas are located under the terrain, while the customer areas are open to the sun through a glass façade, thus making use of passive energy."
Sustainability and energy efficiency, as well as minimal environmental impact, were naturally all important considerations. To achieve an atmosphere that is based on "an experience of beauty, refinement, and comfort", as the studio describe, they focused on materials that would complement the organic form of the building.
Exposed concrete, glass, metal, as well as oak and acacia wood, all come together with meticulously crafted details and precision engineering. Thanks to expansive glazing, generous outdoor terraces, and an undulating roof, the winery establishes a direct connection with its countryside setting.
To prevent overheating during the hot summer months, the winery employs thermally insulating triple glazing with wooden oak slats, maple roof overhang, and pergola shading with tarpaulins. These measures are put in place to ensure optimal temperature regulation while maintaining a comfortable indoor environment.
In addition, rainwater is collected in a storage tank and used for irrigation of the vineyard and an air-to-water heat pump is used for heating.
Project details:
Location: Kurdějov 300, 693 01 Kurdějov, Czech Republic
Client: Gurdau Winery
Architects: Aleš Fiala
Dimensions: Built-up area: 1,260 m²; Gross floor area: 1,141 m²; Usable floor area: 997 m²; Plot size: 43,099 m²
Collaborators: OK ateliér (statics); Projekce TZB Prokeš (MEP); Daniela Hradilová (furniture design and interior details); BELEVEY – Ladislav Sedláček (wooden floors and terraces)
Landscape design: Zdeněk Sendler
Photography: BoysPlaceNice; Plans: courtesy of Aleš Fiala
Project sourced from: Linka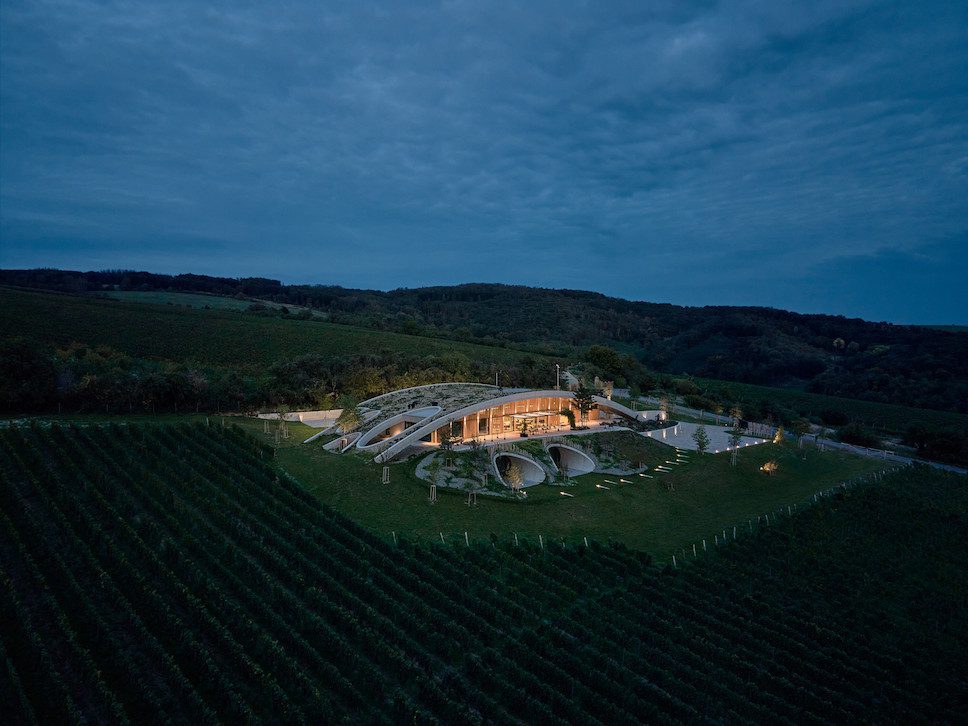 Discover more contemporary architecture, such as the Gurdau Winery, by Aleš Fiala.
Read more architecture stories and sustainability news here on enki.