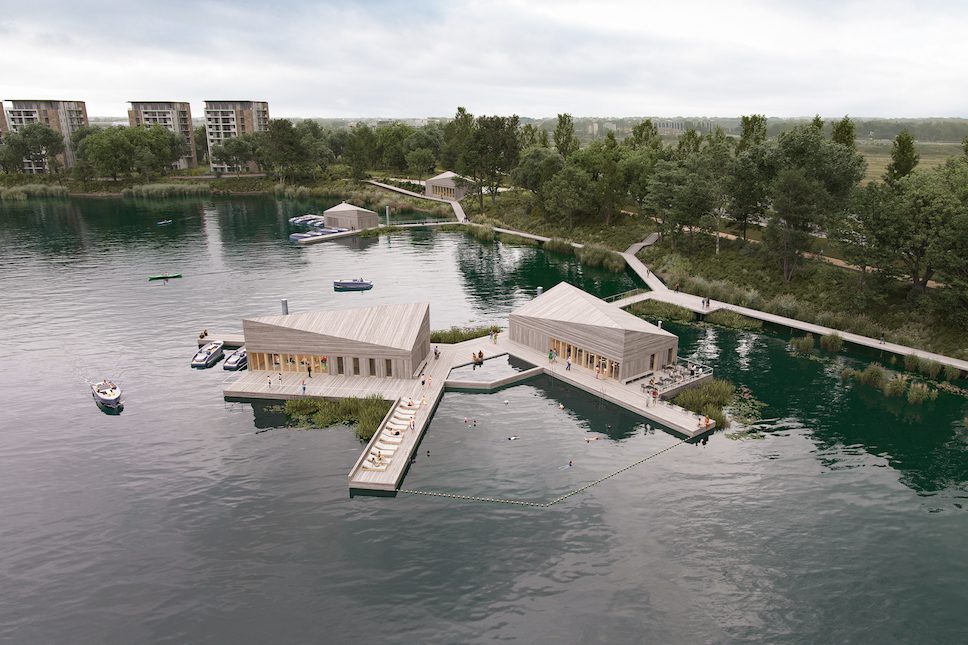 An abandoned, 60-metre deep sand quarry in Milan is set to be repurposed by MAST, creating a nature retreat comprised of floating buildings and islands called Centroparco.
Located at the centre of the Segrate district on the outskirts of Milan, the quarry has been inactive for years, leaving behind a distinctive landscape surrounded by industrial remnants and overgrown vegetation. To make better use of the site, Milan's Municipality of Segrate called on floating architecture experts MAST to create a new wellness destination for the city's residents.
"The project represents the first of its kind in Italy, an innovative development that unlocks access to the unique natural setting, says MAST co-founder Marshall Blecher.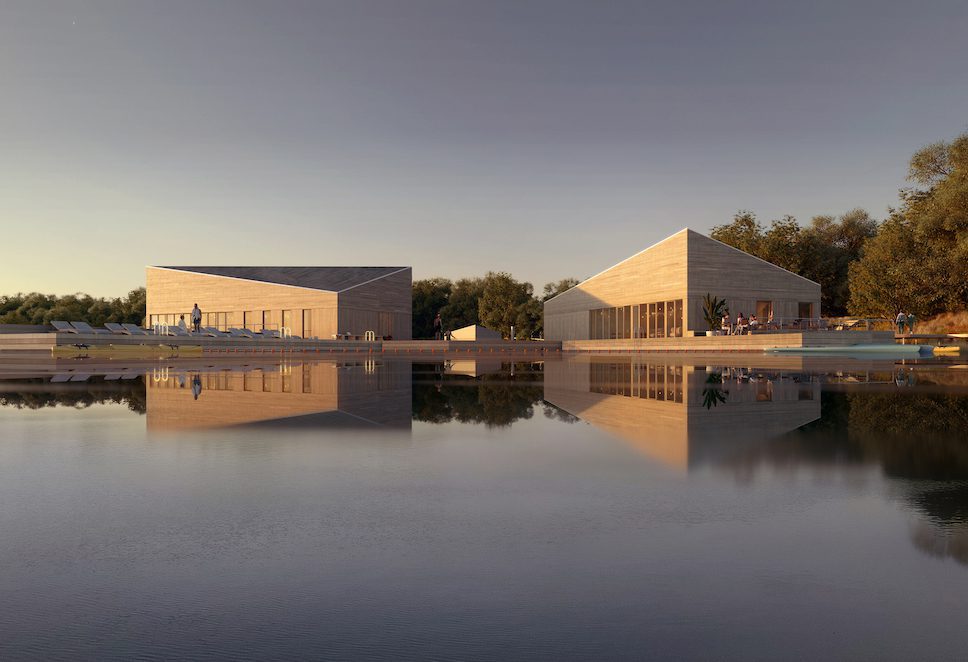 Early renders of the Centroparco project reveal MAST's vision for the site, which involves a series of buildings set along the perimeter of the site's one-kilometre-wide lake, with a connecting public walkway that forms a bridge across the water and leads out to a series of floating islands.
With the aim to connect the disparate surrounding neighbourhoods, the destination will form new connections with pedestrian and bicycle links and it will attract visitors who want to relax and unwind with its restaurant, spa, and boat rental station. Low-power electric boats will let visitors navigate around the lake and discover the floating forests.
The largest of the trio of islands will include a protected swimming area, encompassed by a raised wooden walkway that encircles the island to create an elevated amphitheatre. This space will offer a unique location for performances and public events.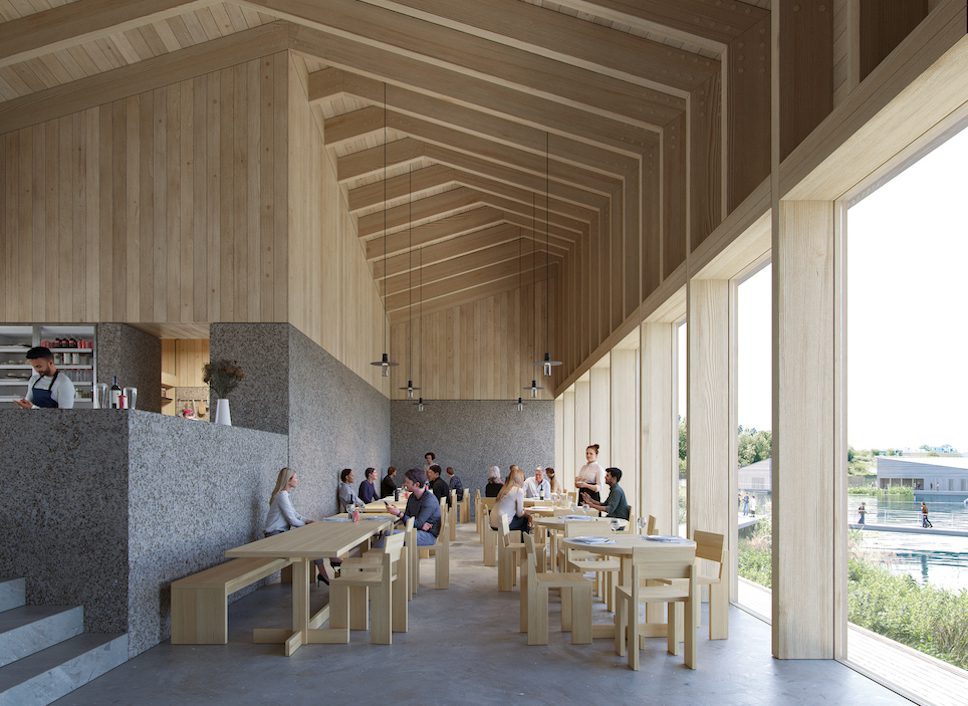 The smaller islands, which are moored to the lake bottom but able to drift within a limited radius, provide a place for picnics and private events.
"The spa and boat rental station will be built on floating foundations providing access to the crystal clear lake water, despite the fluctuating water levels, which can vary by up to two meters depending on groundwater levels and rainfall," explains Blecher.
To forge a meaningful connection to the water and to work with the challenges that come with building on uneven sandy terrain, the park's building's are designed to float. The flexible architectural structures, which are prefabricated using timber portal frames, are resilient to water level change and cause minimal impact to the environment.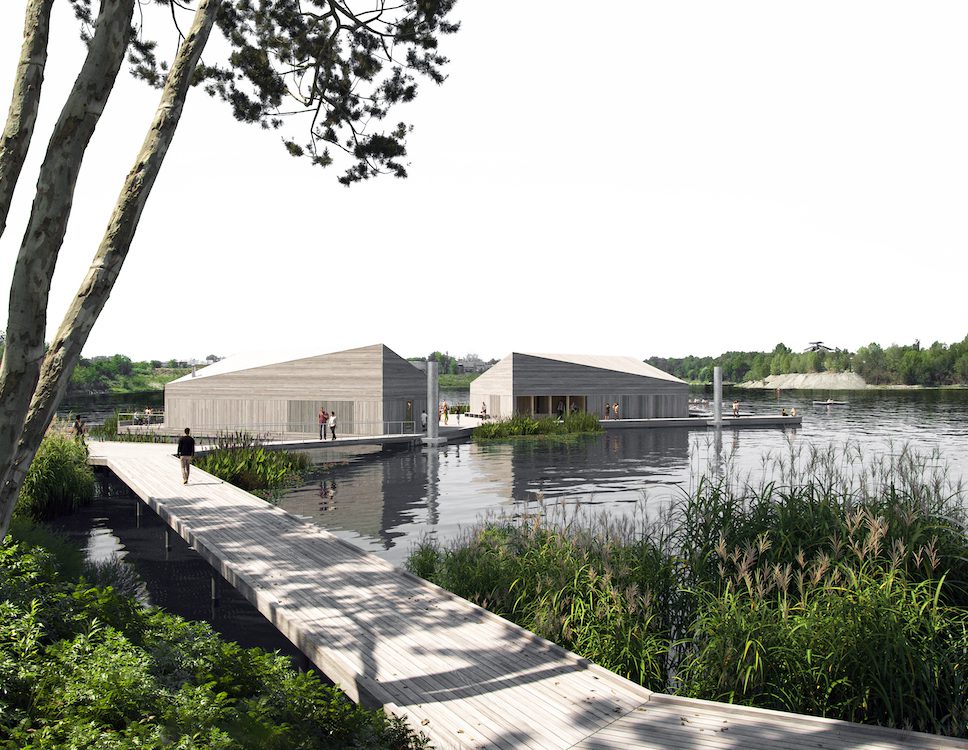 Natural materials will be used through the design wherever possible, with the modular buildings set to be built from locally sourced timber an clad with untreated wood that will patina over time and settle into its natural environment.
Reflecting this sustainable ethos inside as well as out, the project's interiors embody a Scandinavian aesthetic with airy, wood-lined spaces offering a cool and calm vibe.
Once completed, Centroparco will be a recreational oasis and it's expected to become a landmark destination – a pioneering natural retreat set in a city context that can and should inspire the future outlook for sustainable urban renewal.
Project details:
Project title: Centroparco
Location: Milan, Italy
Architects: MAST
Visualisations: Slim Studio, Aesthetica, and MAST (drawings)
Discover more innovative and sustainable architectural projects designed by MAST, including the recently completed Land on Water project, an adaptable and climate-resilient system for constructing floating buildings (this was also featured inside our January/February 2023 issue).
For more architecture and sustainability news and design inspiration, subscribe to enki magazine.