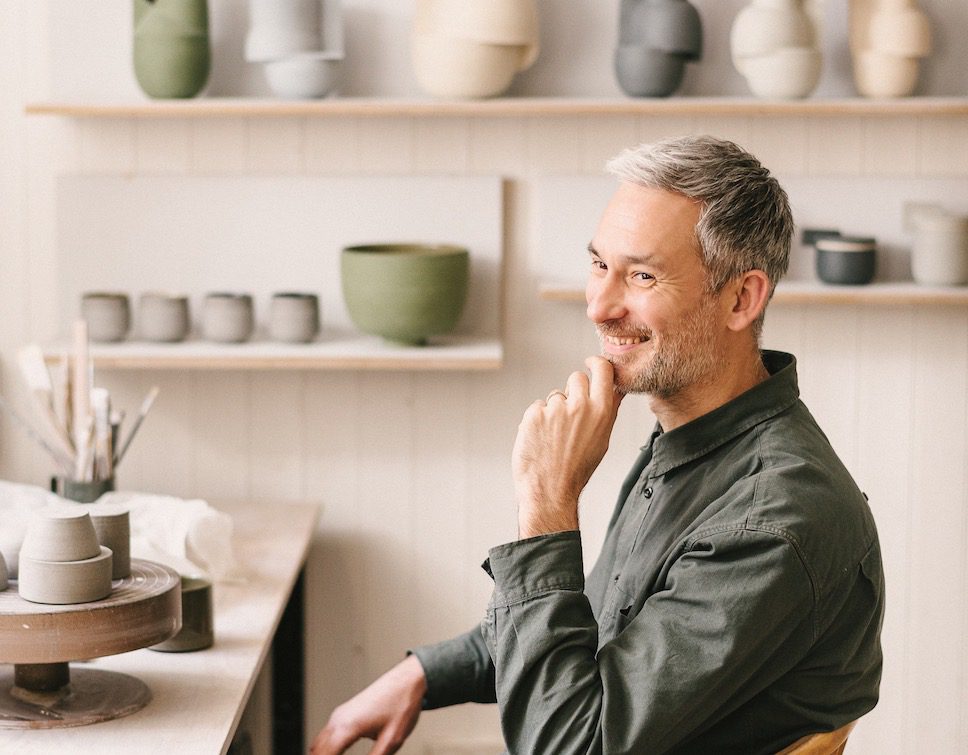 "Having always had an interest in minimal forms, I am drawn to numerous art movements such
as Modernism, Russian and British Constructivism, and Bauhaus." Derek Wilson, ceramic artist
and founder of Derek Wilson Ceramics.
Belfast-based Derek Wilson describes himself as a hybrid of a studio potter and conceptual artist and his work, although produced using traditional craftsmanship, is focused on contemporary abstract sculpture.
While most of his ideas begin with a sketch, Derek will start work at his potter's wheel to create his ceramic objects and sculptures, which are characterised by restraint and subtle surface treatments.
After graduating with a Masters in Fine & Applied Arts from the Belfast School of Art in 2007, Derek found his creative niche and learning to throw on the potter's wheel meant he could bring his ideas to life. With his work firmly anchored in simplicity and repetition, he creates clean lines and abstract forms that walk the line between functionality and artwork.
We took the opportunity to talk to Derek about the way his interest in architecture and the built environment, and his love of mid-century British Constructivism, feeds into his designs. He also tells us how he aims to challenge his discipline, he reveals the most memorable place he has exhibited and more…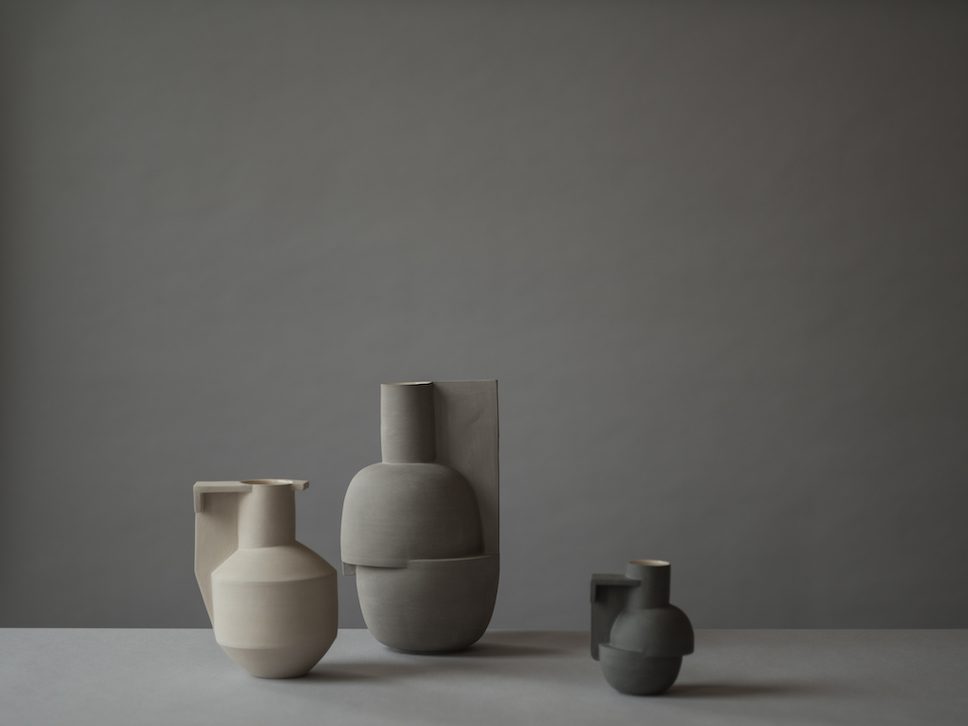 Can you tell us a little bit about yourself and what inspired you to start your own business?
I originally set up a business producing hand-thrown porcelain tableware after completing a Master's degree in 2007. Having always been interested in functional objects and design, my initial idea was to produce tableware in order to sustain my practice and allow myself time to work on sculptural objects.
Initially, within my practice the tableware became popular and I struggled to find time to focus on the sculptural objects. Gradually I was able to reduce the tableware production, and at the moment work on the sculptural objects dominates my time in the studio. It has taken a long time to get this balance right!
How did you learn your craft?
My first introduction to clay was during my foundation studies at Bournemouth and Poole College of Art, and this led me back to Belfast to do a degree. After graduating I enrolled upon the Design and Crafts Councils of Ireland Ceramics Design course. It was an intensive year of learning traditional ceramic production skills which allowed me to gain the skills to work in some production potteries.
Although I became frustrated producing other people's designs, I knew it was an incredibly valuable opportunity to hone my skills. I returned to the Belfast School of Art to do an MA; this provided me with the opportunity to return to focusing on sculptural objects and to explore new ideas and processes.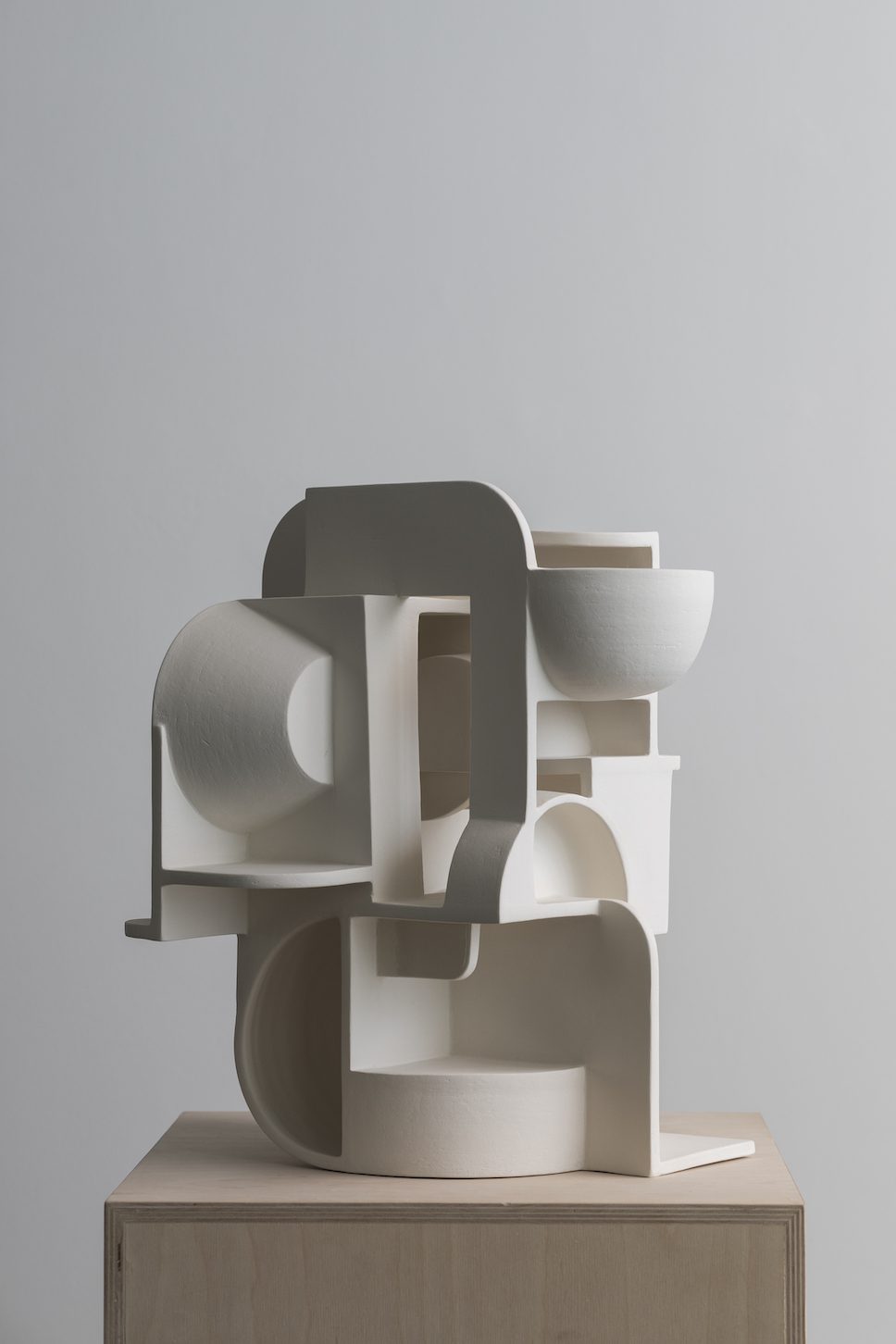 You've described yourself as a hybrid of a studio potter and conceptual artist. Can you tell us more about how this defines you and your work?
At university I was always more interested in sculpture and the fine arts, drifting between the different disciplines. I specialised in ceramics as I could see its material potential and the endless possibilities of using it to execute my ideas. Throughout my Bachelor's degree, my work was sculptural and at that point I was never interested in functional objects, or throwing on the potter's wheel. However, after graduating I felt I lacked skill, which drove me to learn traditional production techniques, such as throwing on the potter's wheel and the general production skills necessary to run a studio.
After a few years of training and working in potteries I returned to do a Master's degree. During this period, I focused on sculptural objects, but used the craft-based skill I had gained to produce these objects. This balance of pushing my ideas conceptually within a sculptural perspective whilst using traditional craft-based skills are at the very core of my practice.
Can you tell us about the process from coming up with the initial design through to production?
Drawing and sketching is imperative within my creative process; most ideas will begin with a sketch. This evolves to then using the potter's wheel, which I see as a quick tool to execute my ideas and allows the objects to evolve three-dimensionally. A process of making variations follows experimenting with different clays, ceramic surfaces, and eventually methods of firing.
How does your work fit into your everyday life and what does a typical day in the studio look like for you?
Every day is different and I constantly work on different projects. This can be design projects, private commissions or producing a body of work for exhibition. I work every day in the studio and when under pressure I will also work late in to the evenings. The sculptural work is slow to produce and can be labour intensive, so a lot of time is spent on finishing the forms. I tend to usually try to create and work on pieces in the morning and then sand and apply engobe in the afternoon. For the first time in years, I am currently scheduling time to experiment and concentrate on new ideas.
How would you explain your aesthetic?
Having always had an interest in minimal forms, I am drawn to numerous art movements such as Modernism, Russian and British Constructivism, and Bauhaus – all of these sources generally filter through to the aesthetics of my practice.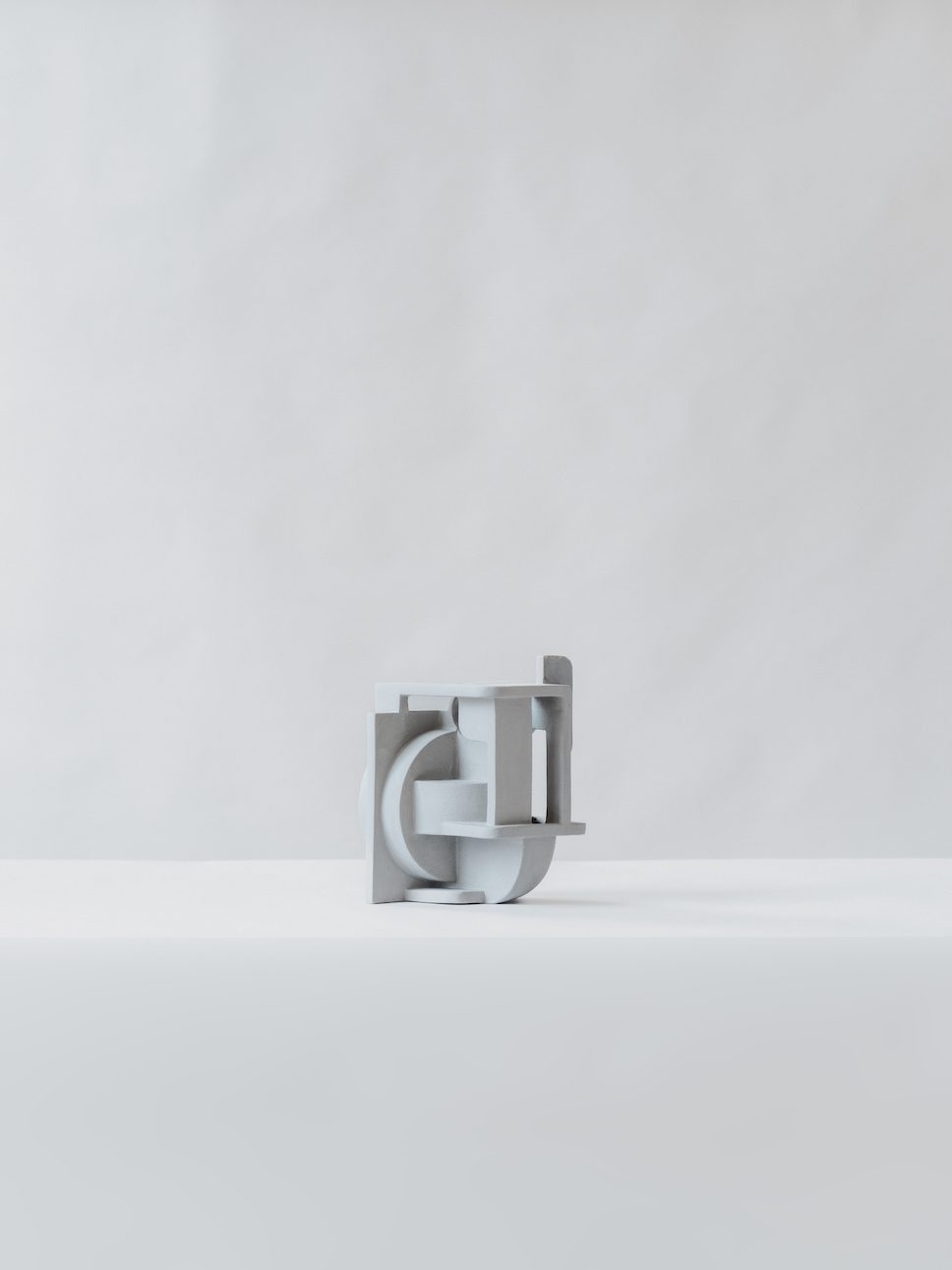 How do you aim to challenge your discipline?
Challenges regularly appear within producing complex ceramic forms and I am constantly pushing my creative practice. There is always a sense of developing the forms technically to see how far I can push ceramics as a medium. Sometimes this doesn't work, however every now and again I am surprised at what can be achieved.
Where do you draw inspiration from when creating a collection or a singular piece of work?
Ideas generally evolve and develop organically whilst creating. I tend to work on a series of pieces and each piece will be inspired by the previous. Sketching and drawing has always been a starting point, and continues to be an important element throughout the process of creating. Although often I will usually produce something three-dimensionally and then use sketches to develop it further.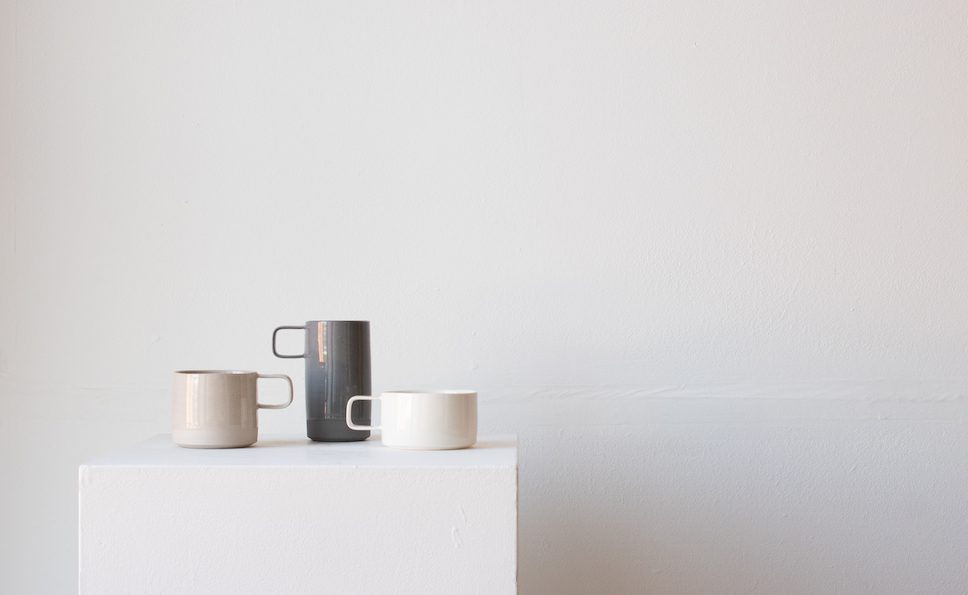 What does craftsmanship mean to you and how do you put attention to detail into your designs?
I have always appreciated well-made objects, and I value skills in craftsmanship. Material knowledge and understanding has always been imperative in my practice. Working with ceramics, there are constant challenges and I feel that I am always learning. Experience within my discipline allows me to continue to push my ideas and to refine work.
In what ways are you environmentally conscious in your work?
I recycle and reuse all of my clay; the recycled clay tends to be mixed up into coloured clay bodies that I use to produce some of the tableware ranges.
Where is the most memorable place you've exhibited and why?
One of my first exhibitions in Tokyo, with Curators Cube gallery where I had the opportunity to first visit Japan during the exhibition. It is a country I have always greatly admired culturally, through their history of ceramics, craft, and design. They have such an understanding and appreciation of handmade objects.
What are your hopes and plans for the rest of 2023 and beyond?
It has been such a busy few years, and I am currently enjoying having some time to research, to experiment with some new ideas, such as a range of colour and surface tests. I feel within any creative practice it is important to take a step back every now and again to allow time to focus and develop new ideas.
There are always so many things that I want to achieve in the future, such as exploring larger scale pieces and the possibility of experimenting with different materials. I would also like to find new ways of producing the functional pieces and will possibly look into manufacturing or working with industry.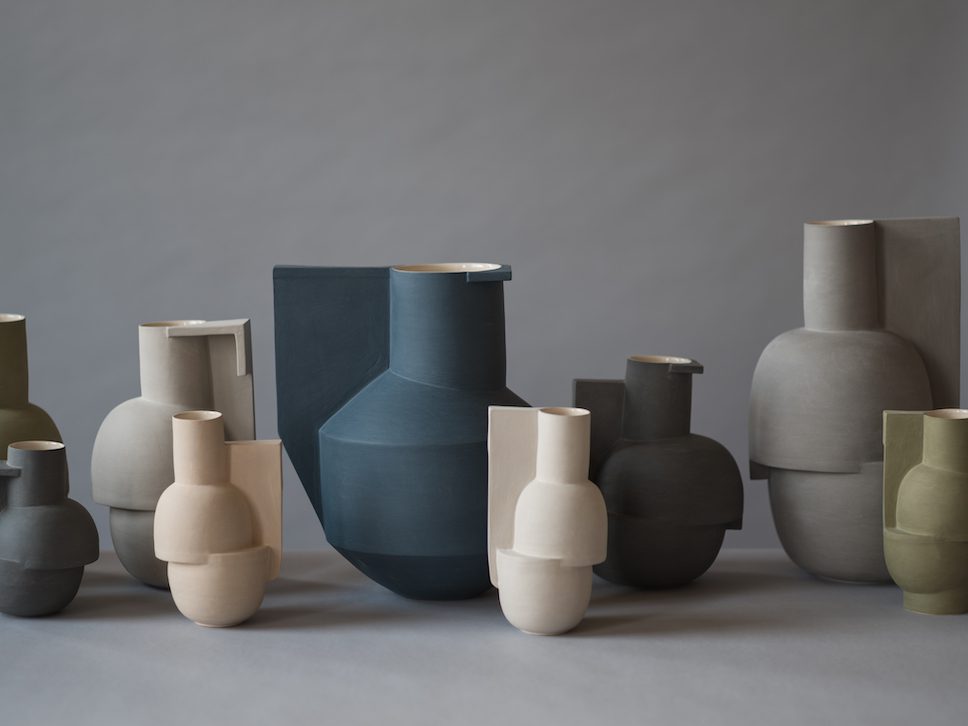 Portrait of Derek Wilson by Tim Millen and all other photography is by Chris Martin, Oppositepage.
Discover more about the sculptural ceramic works and exhibitions by studio potter Derek Wilson.
Read more Meet the Maker interviews here on enki, including our conversation with print-maker Sherrie-Leigh Jones as she reveals how Chinese and Japanese aesthetics influence her artistic prints.