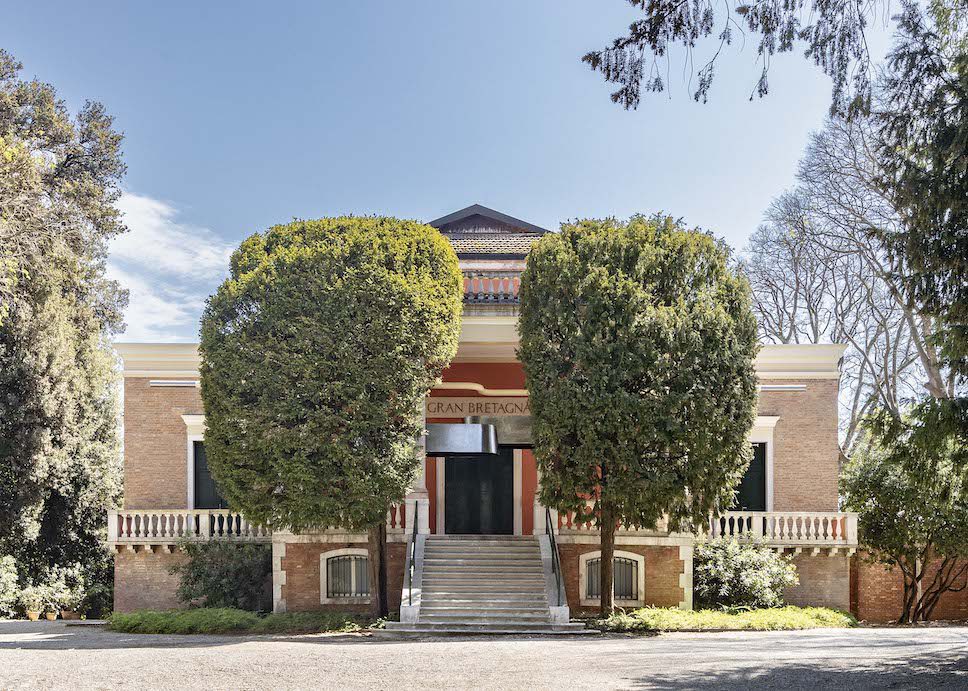 At this year's highly anticipated Venice Architecture Biennale, the 2023 British Pavilion exhibition, 'Dancing Before the Moon', explores the importance of everyday rituals in establishing communities.
Curated by Jayden Ali, Joseph Henry, Meneesha Kellay, and Sumitra Upham, the exhibition brings the pavilion to life with a series of new art installations on an architectural scale, alongside a new film and soundtrack.
Everything visitors experience in this space is driven by the notion that architecture is intangible, and there's a clear message that our built environment needs to look beyond buildings and towards everyday social practices, customs, and traditions.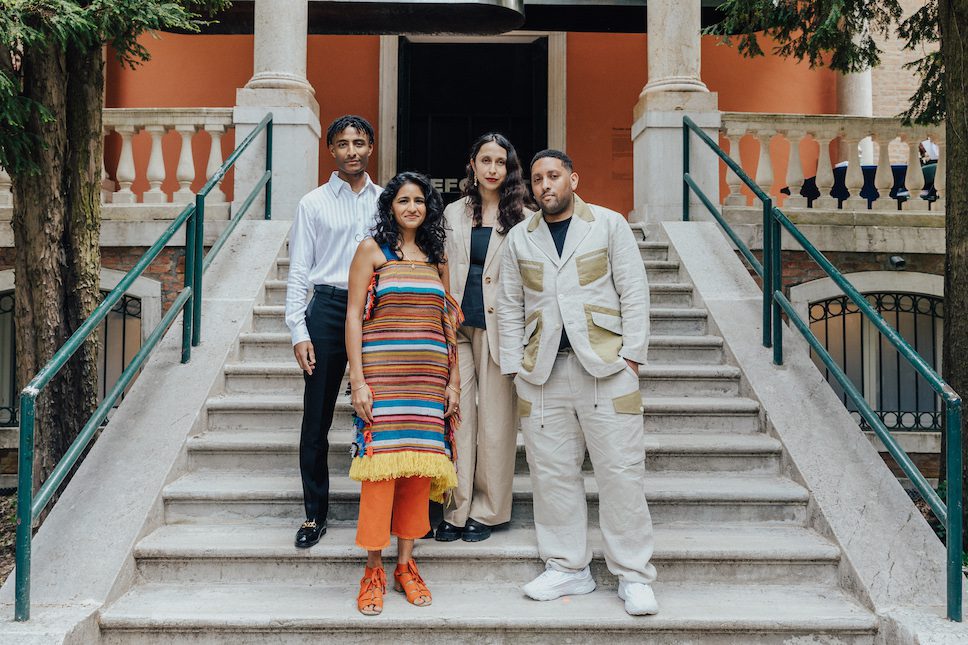 2023 British Pavilion: Dancing Before the Moon
The British Council and the commissioned curators were selected to represent the UK at the 18th International Architecture Exhibition, which is under the curatorship of Ghanaian-Scottish architect Lesley Lokko.
"Dancing Before the Moon takes a look at the rituals of UK diaspora communities to gain an understanding of how built spaces are used and aims to inspire the debate that will challenge and influence the future of British architecture," summarises The British Council.
The curators take visitors on a journey of new work by six UK-based artists and architects from diaspora communities. Through the use of film and and objects, they invite us to reflect on our individual, familial, cultural, societal, and ancestral rituals, and how those rituals use the built space around us.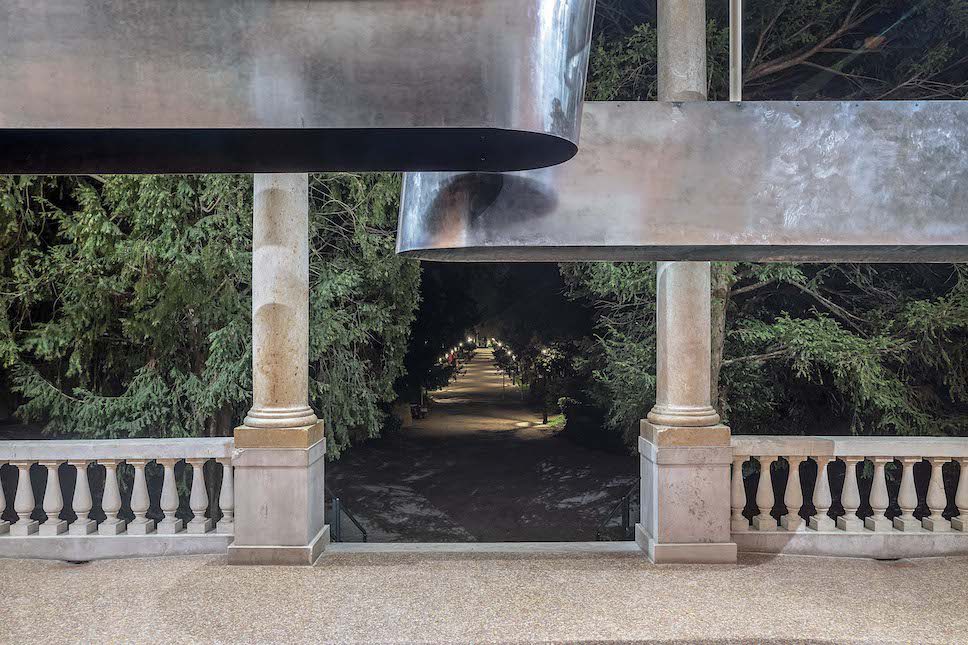 The poetic title 'Dancing Before the Moon' comes from a quote by the American writer James Baldwin: "There is a reason, after all, that some people wish to colonise the moon, and others dance before it as an ancient friend." Reflecting on this, the curators assembled the though-provoking exhibition that we see today, featuring a series of meaningful and imposing installations by creatives who are interested in materials and making.
"Scale was really important from the beginning," says London-based artist and architect Jayden Ali, who not only took on the curatorial role, but who also created the large-scale steel pan-inspired sculpture Thunder and Şimşek at the British Pavilion's entrance (pictured above).
Ali explains how the overhead sculptures represent both the pastimes of Trinidadian steel-pan playing and Cypriot cooking; these were rituals that became critical to the descendants of these colonised islands claiming space in the UK.
The main hall of the Pavilion immerses visitors in a large cinematic installation with a film made by the curators, highlighting the various rituals that play a central role in British life. From dance and carnival to worship and procession, for example, there is a real sense that we are all capable of inventing and transforming what's around us.
Wandering through the galleries, guests explore the works of the six artists and architects and discover new ideas and stories. Firstly, interdisciplinary artist Shawanda Corbett's A Healing is Coming (pictured above) showcases eight vessels that have been inspired by African and Indigenous American ceramics. The community of ceramic vessels symbolise eight imagined women embarking on different spiritual healing paths.
In the next room, Nottingham-based designer and artist Mac Collins presents Runout (pictured below), an imposing, futuristic-style wooden object made from ebony and polished ash timber. Its ambiguous form references an abstracted domino and sits on an upholstered plinth.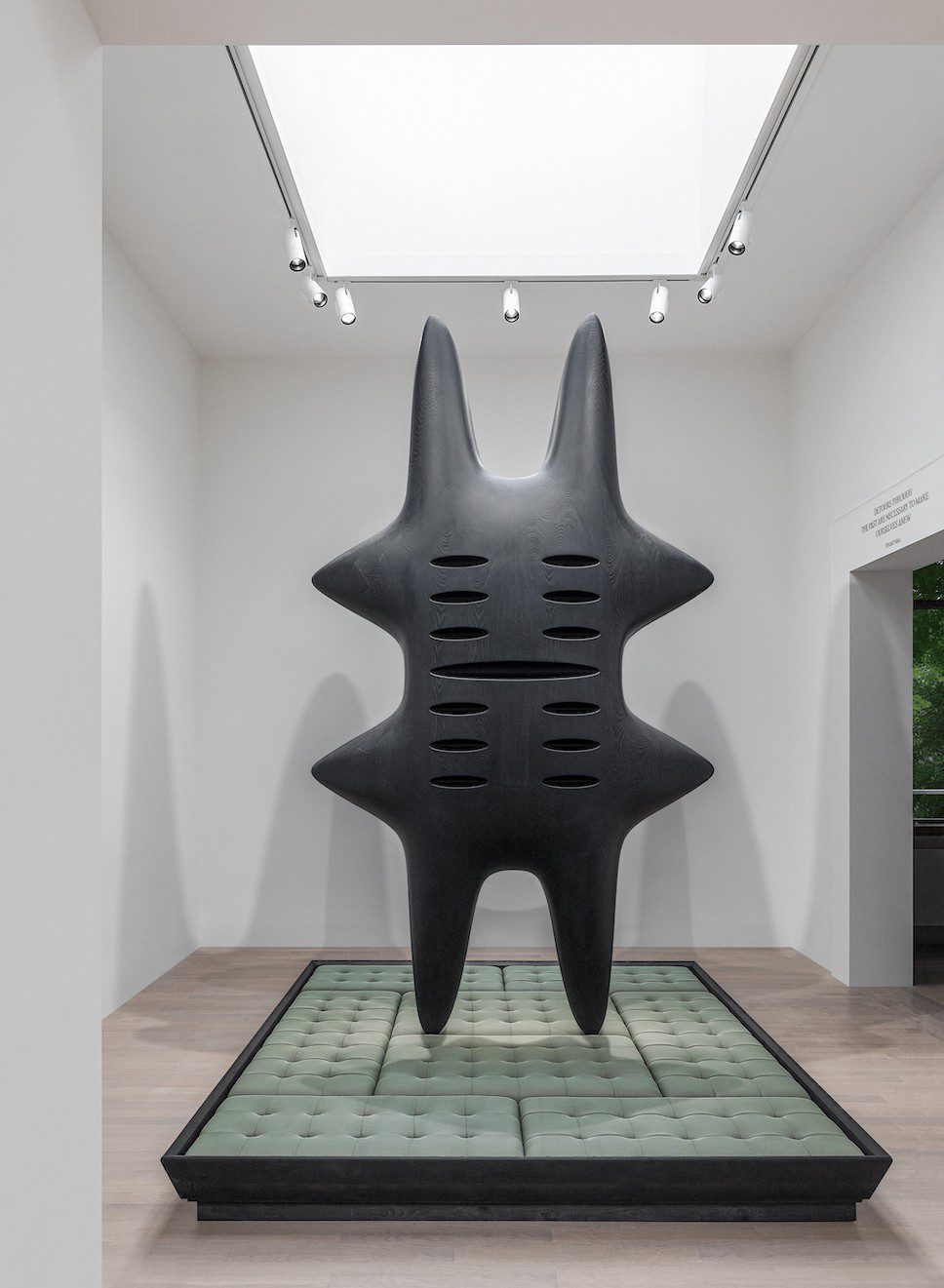 "Collins investigates how the material culture and performance associated with dominoes and other cultural rituals have become tangible links to the Caribbean for the Jamaican diaspora in Britain," explains The British Council.
Interestingly, Bardo by artist Madhav Kidao (pictured below, left) has been made by melting down and recasting his 'Between Forest and Skies' pavilion, designed for the V&A in 2021, to create an altogether different form.
The large aluminium 'wall' explores the rituals surrounding the transitional states that exist between birth, life, and death. Kidao was inspired by his own heritage of Hindu and Buddhist philosophies, and he has championed circular thinking in this piece that also considers architecture's temporality.
Exploring and celebrating the earth's unique ability to create life through decay and reincarnation, artist Yussef Agbo-Ola's presents Muluku: 6 Bone Temple (pictured above, right). A 'temple' made from organic cotton which is woven together on a frame using pineapple fibre, it evokes the nomadic animal skin structures of the Cherokee culture and traditional Yoruba architecture.
In her work Sãbao Azul e Água (pictured below), Sandra Poulson shares her interest in cleansing rituals and their connection to space, heritage preservation, and labour. She showcases a blue soap-coated assemblage of objects that reference the architectural vernacular and social traditions of Luanda, including a concrete washing tank and a traditional Angolan costume.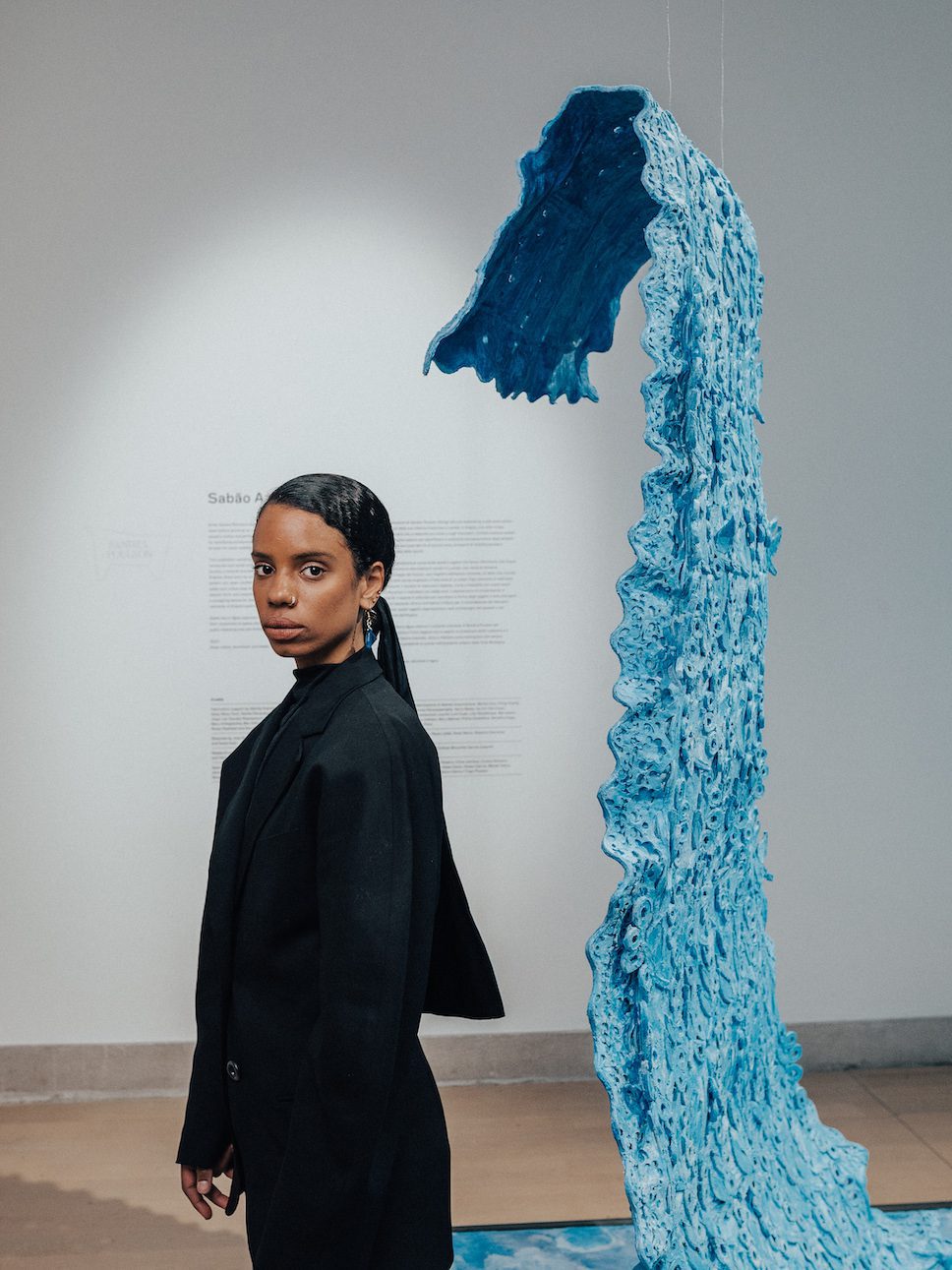 Photography by Taran Wilkhu (unless otherwise stated in the caption), all courtesy of the British Council.
The British Council presents Dancing Before the Moon at the British Pavilion for the 18th International Architecture Exhibition – La Biennale Venezia, running until 26th November 2023.
Read more design stories and architecture news on enki.