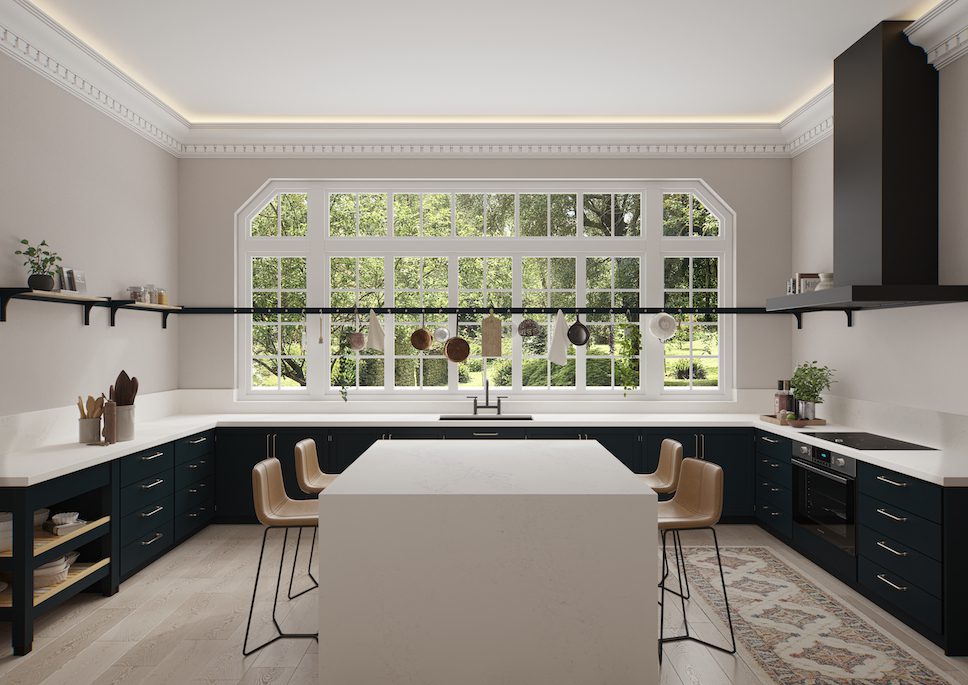 An attractive palette of earthy tones and organic textures brings together a well-designed collection of Caesarstone surfaces that fit with a sustainable approach to interior living.
Whilst natural stone can seem appealing, quartz and porcelain surfaces offer the same organic and textural beauty but can ensure timeless beauty, resilience, and low maintenance where the former cannot. Since pioneering quartz countertops, Caesarstone has introduced porcelain to its collection and crafts each material to meet the highest demands.
"Consumers want to surround themselves with products that make them feel a strong connection to the outside world, which in turn helps them give more attention to it, to embrace the simple things and love nature the way it is," explains Mor Krisher, Head of Product Design at Caesarstone, of the notable shift towards natural materials in the kitchen.
We take a closer look at the collection of natural surfaces and moodboard ideas by Caesarstone to help inspire your new kitchen project…
Soft and warm: 5212 Taj Royale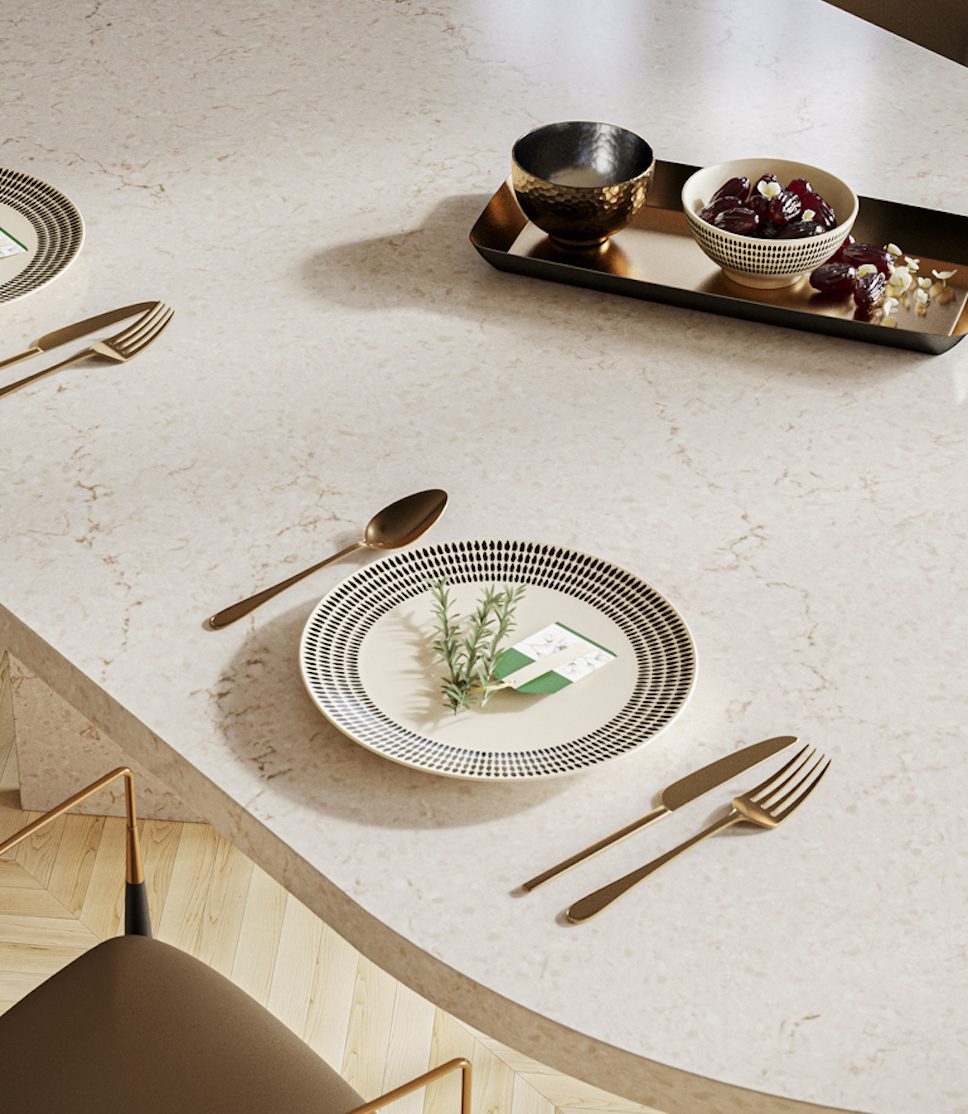 The latest addition to the Caesarstone quartz surfaces collection is 5212 Taj Royale, characterised by its warm beige tone and delicate dark brown veins. With a polished finish, this new colourway brings a luxurious and organic feel to the kitchen and a textural depth with its marble-inspired patina.
"We've seen huge success with the Pebbles collection (pictured above, top), a suite of neutral and lightly veined, pebble-inspired colours that we launched last year, so it's great to offer more options when it comes to organic, earthy colours," adds Krisher.
"Taj Royale has a creamy-tan base colour that is enhanced further by the light brown veins that weave softly across its surface, so it is the perfect choice for anyone wishing to add warm beige tones to their kitchen."
Dark and earthy: 303 Metallic Brown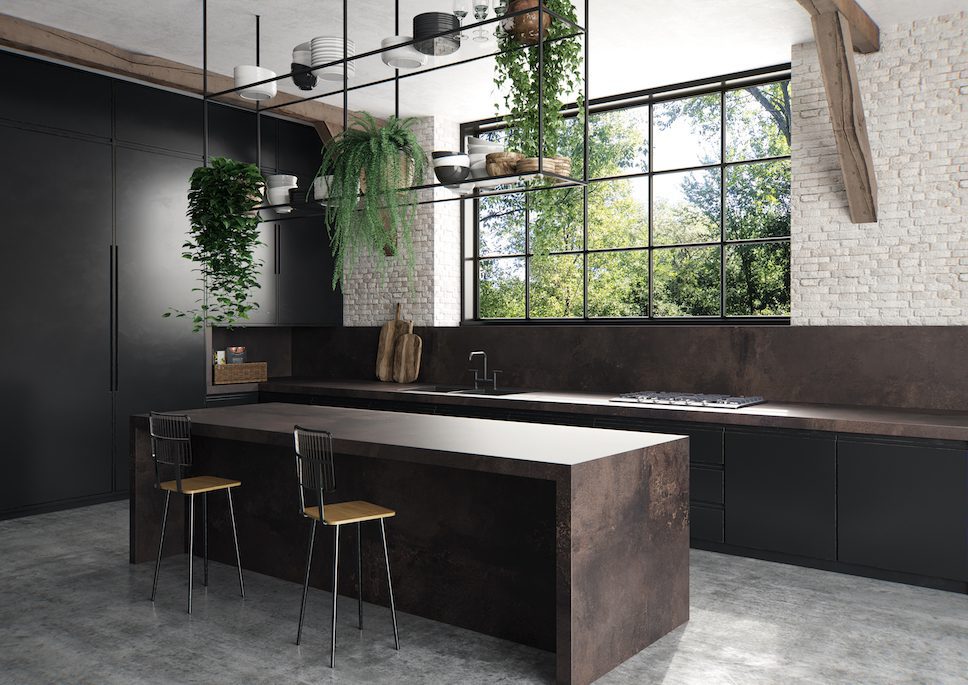 Choosing dark surfaces in a deep brown shade can create a bold statement, but it can also create a warm and inviting feel. The 303 Metallic Brown porcelain surface can be admired from all angles with its patinated weathered look, which draws its influence from industrial-style loft apartments.
The russet brown and tarnished red tones of its honed finish gives it a raw and edgy aesthetic that lends itself to urban architecture and busy kitchens, where its patina and durability make it a perfect choice.
Organic texture: 4004 Raw Concrete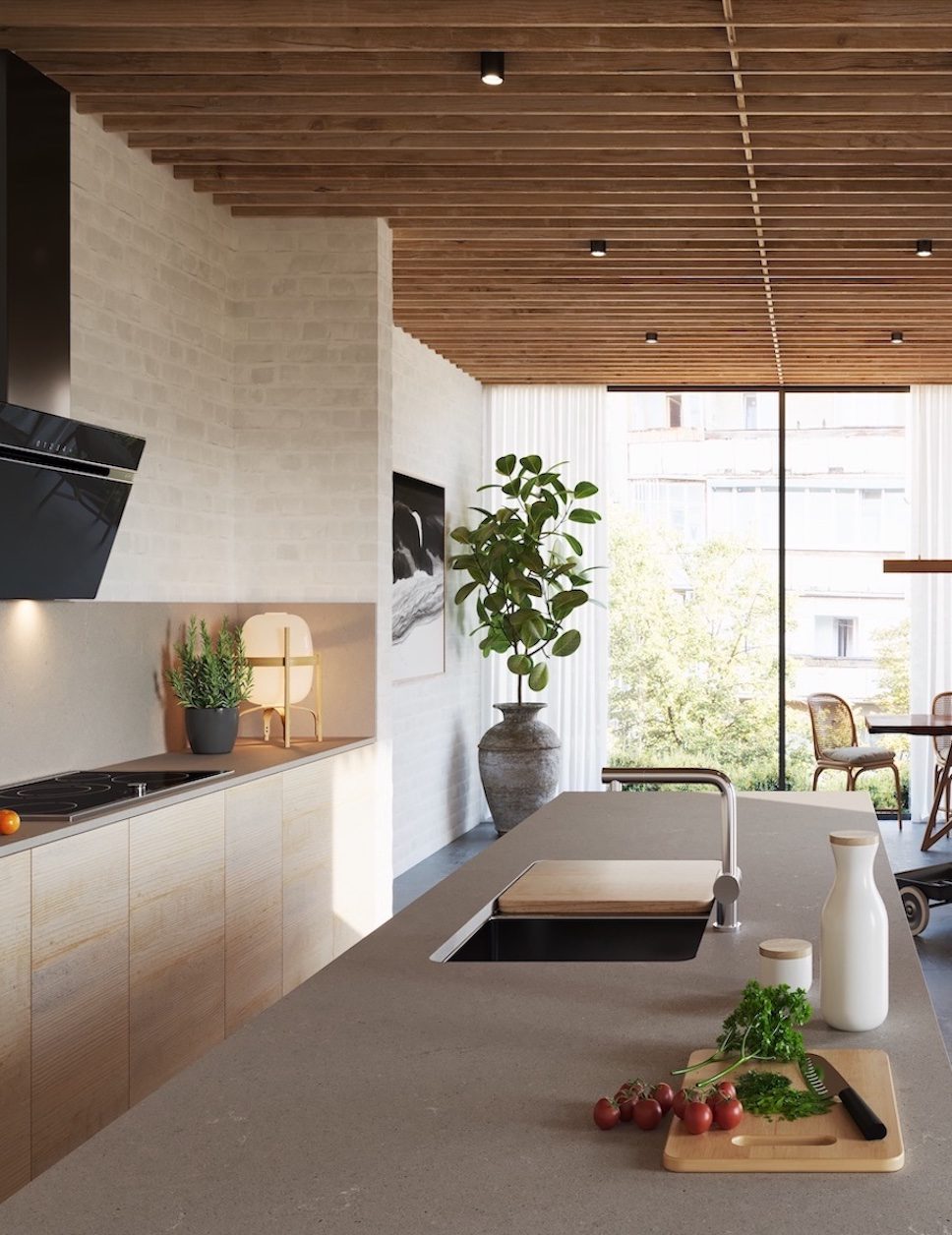 Designed to reflect the authentic patina of industrial-style concrete, this distinctively textured quartz surface has a soft grey base mixed with textured flecks of black and white.
It showcases the inherent beauty and authenticity of rough and raw and, as the material moodboard by Caesarstone shows (pictured, above right), the contemporary greyish tone can be complemented by cooler white-grey surfaces. Delicate wood tones and touches of greenery can be introduced to add a warmer touch.
"It's incredibly impenetrable, dense, and resilient, the worktops are heat resistant, and both stain and scratch resistant," says Krisher, and this applies to all Caesarstone surfaces.
A natural beauty: 6046 Moorland Fog
Defined as a classic marble-style quartz, Moorland Fog is described by Krisher as "a densely rich, creamy, light-coloured canvas, flushed with a touch of taupe and swirly veins in foggy browns and greys."
The luxurious surface has an intricate and distinctive rose gold tone that provides a refined aesthetic. Where natural stone, such as marble, is highly susceptible to staining, these quartz stone surfaces are low maintenance, easy to clean and long-lasting. It pairs well with brushed metallic tapware and earthy toned paint colours.
This is a sponsored article, created as part of a partnership between enki and Caesarstone
Discover the full range of Caesarstone kitchen surfaces made from high-quality quartz and porcelain.
Read more design news including Enki's September Eco Edit, which is our round-up of the best eco-friendly brands, shopping ideas, things to see and do and places to visit.