Architecture practice Studio Mutt and developer Neighbourhood have won the 2023 Davidson Prize with Helping Hands, a design concept to support young homeless people in Liverpool.
In response to the Davidson Prize's 2023 theme of 'Somewhere to Call Home', Helping Hands addresses the urgent need for temporary homeless accommodation and support services in Bootle, Liverpool, and focuses specifically on the needs of young people leaving the care system.
Studio Mutt and Neighbourhood's winning design proposes new ways to improve existing community infrastructure with a nurturing communal landscape that could be developed by residents, neighbours, and specialist support organisations.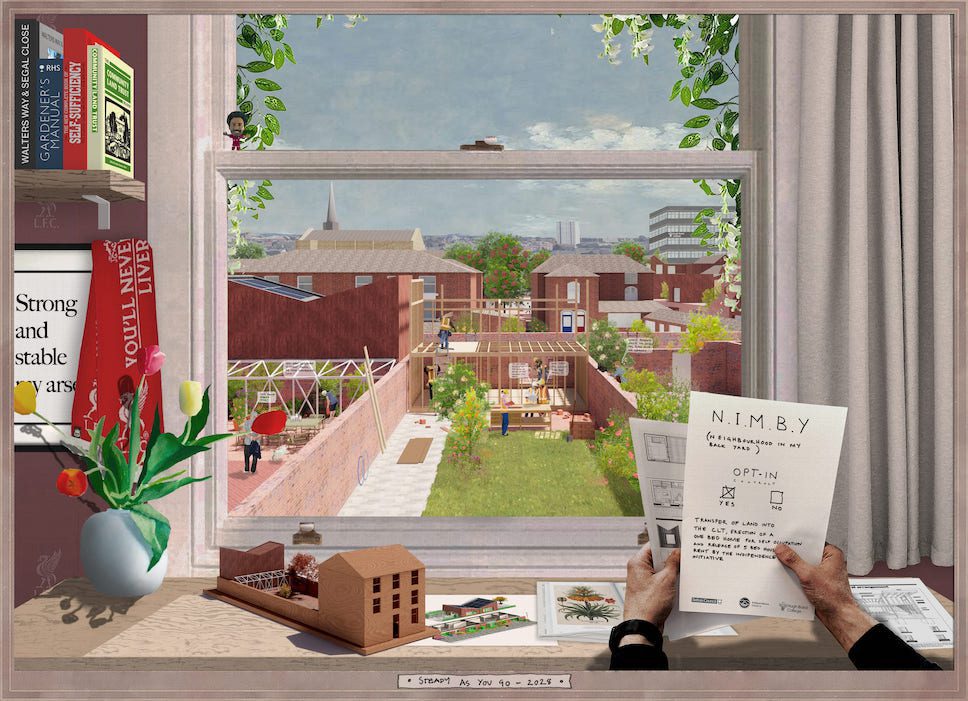 The Davidson Prize is an annual design ideas competition which explores and recognises transformative architecture of the home. This year, 47 teams entered and a longest of 16 projects was decided upon, then it came down to three finalist projects. After presenting their initial proposals and a two-minute film, the project Helping Hands was announced by the jury as the recipient of the £10,000 prize.
The two other finalists in line for the prestigious prize were the Re-Group team for More Not Less – a proposal for national design codes to improve quality of life in temporary housing – and Wild & SNaB for Home Building – a straw-bale, self-build solution addressing issues of homelessness in rural contexts.
Standing out from the crowd, Helping Hands is exemplary of how communities can come together to design a project with impactful human benefit. It proposes the use of a site adjacent to Hugh Baird College in Liverpool and incorporates shared accommodation alongside individual homes.
A notable feature of the design is a repeated garden wall that is described by the team as "a reassuring and recognisable presence, creating spaces of varied character and incorporating small-scale social and civic areas."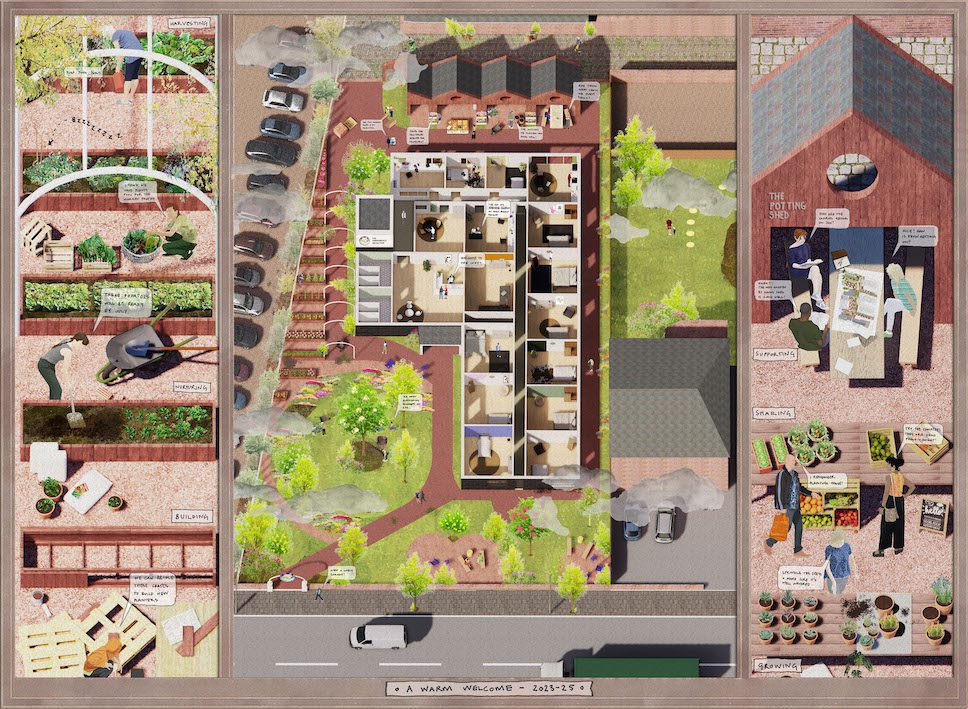 Architect and chair of the 2023 Davidson Prize jury Sadie Morgan explained that Helping Hands was awarded for the way it puts emphasis on "building on existing community infrastructure and taking collective responsibility for a better future."
"The idea of homelessness is unsettling to all of us, but the care and creative thought behind this year's submissions to The Davidson Prize has helped push the debate forward with innovative and workable solutions," Morgan continues.
"Collectively, this year's entries show the value of multidisciplinary design thinking to a subject that needs tackling now."
Helping Hands was developed by Studio Mutt and Neighbourhood in collaboration with homeless services provider The Independence Initiative and teaching institution Hugh Baird College. Accessibility consultant Peter O'Neil, filmmaker Amber Akaunu, Dead Good Poets Society, and Polly Wootton of Islington Hostel Outreach also contributed.
Visuals are courtesy of the Helping Hands team.
Learn more about the work of winning teams Studio Mutt architects and research and development firm Neighbourhood.
Read more architecture and industry news here on enki, including MAST's plans to repurpose an inactive sand quarry and create a floating visitor attraction in Milan and the global environmental campaign by Patagonia to Protect our Oceans.