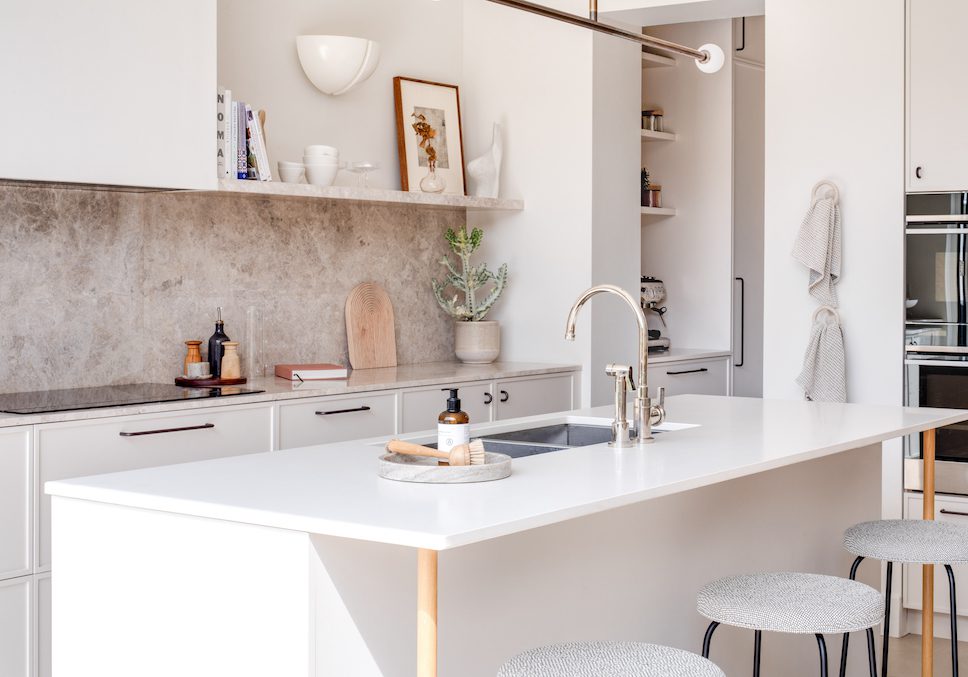 After eight years of living in New York, interior design studio founder Sheena Murphy and her family returned to London, fell in love with a post-war property, and worked with Sustainable Kitchens to bring her love of pared-back modernism into her newly renovated home.
Sheena, founder of nune, initially worked with architects deDraft to reorganise the footprint of the house, rather than increase it. They dug down into the area where the new open-plan kitchen is now to level it with the garden, increase ceiling height, and maximise light. Seeking a planet-friendly kitchen, Sheena came across Sustainable Kitchens who worked collaboratively on a classically timeless design that meets the family's needs.
Walls and floors were ripped out, windows were replaced with energy efficient alternatives, and the kitchen found a new sense of belonging and purpose at the back of the house. The utilitarian style home now has a contemporary lightness in its design, with the interior detailing doing all the talking.
Sheena Murphy and Zoe Holland, head of marketing and creative at Sustainable Kitchens, both share more insights into how this kitchen came together, talking about the material choices, hidden storage, and how less is definitely more…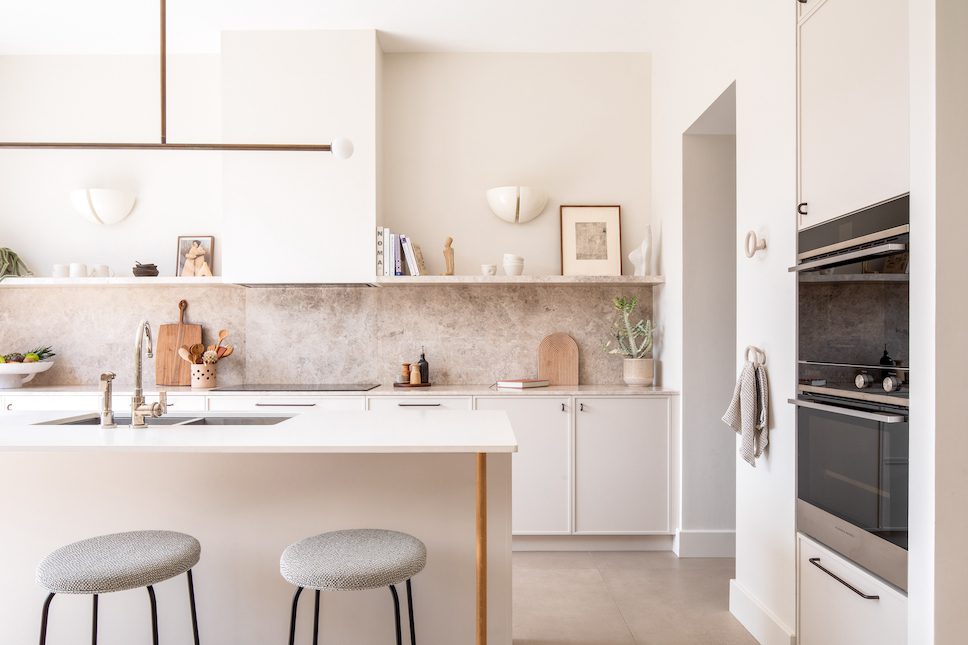 Can you tell us about the property and what made you fall in love with it?
Sheena: The house was a bomb site in the 1930s and rebuilt in a very utilitarian style in the 1950s, so it doesn't have a lot of conventional curb appeal relative to the Victorian homes that surround it. However, as a lover of paired-back modernism, I was drawn to the house's humility and lack of decoration, which was largely rejected in architecture across Europe after the war.
It was also built really well and the large steel windows with their horizontal mullions let in tons of light and are reminiscent of mid-century warehouses, more commonly seen in East London, which I love.
It had four bedrooms when we bought it, however we lost one bedroom in favour of more storage and a larger primary bathroom. We didn't increase the existing footprint of the house but we dug down the area where the kitchen now is to level it with the garden, increase ceiling height to maximise the light and better define it as it's own space since the whole of the ground floor is open plan.
How did your collaboration with Sustainable Kitchens come about and how do your brands align?
Sheena: I was relatively new to the UK market at the time, having recently relocated from living in New York, and was looking for an authentically planet-friendly option for our kitchen. As is the approach with most of our projects, I wanted to avoid the typical chipboard carcasses (which are even used in a lot of "high-end" kitchens) and toxic glues and work with a small company with aligned values. I loved working with Sustainable Kitchens for both the quality of their product, ability to design something custom for our home, and the level of service throughout the process.
What was the brief for this kitchen and were there any challenges you had to overcome?
Zoe: The main challenge for Sustainable Kitchens was the new door front as this was a style that we had not yet manufactured in our workshop before.
Once designing the space and getting the layout correct, Concept Kitchens (our range of new styles and materials) go through a level of R&D via our engineering team where they look how to best manufacture the product for both quality and functionality. The prototypes are then fed into the worktop for the final seal of approval. The finished design is stylish, contemporary, and works beautifully in this minimalist space.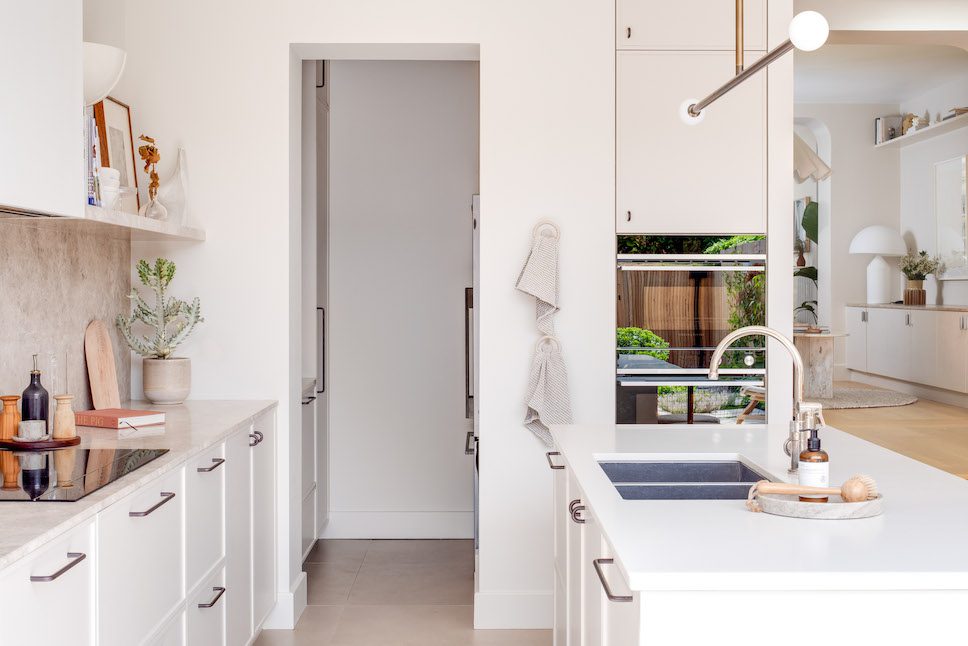 What inspired the neutral palette and how does the materiality shine through?
Sheena: As a studio, we almost always work with a restrained colour palette but keep things interesting with playful shapes, materials, and textures. We love looking to the natural world a lot in our work, and as urban dwellers with a busy family, we love the sense of calm and quiet it creates when we come home.
This quiet backdrop allows the materials to have their moment, and while it is still pretty low drama, the white tundra stone on the worktop and splashback adds the right level of interest without being distracting or too specific. Due to it mid-tone and dense movement, it is also incredibly forgiving when it comes to stains and marking.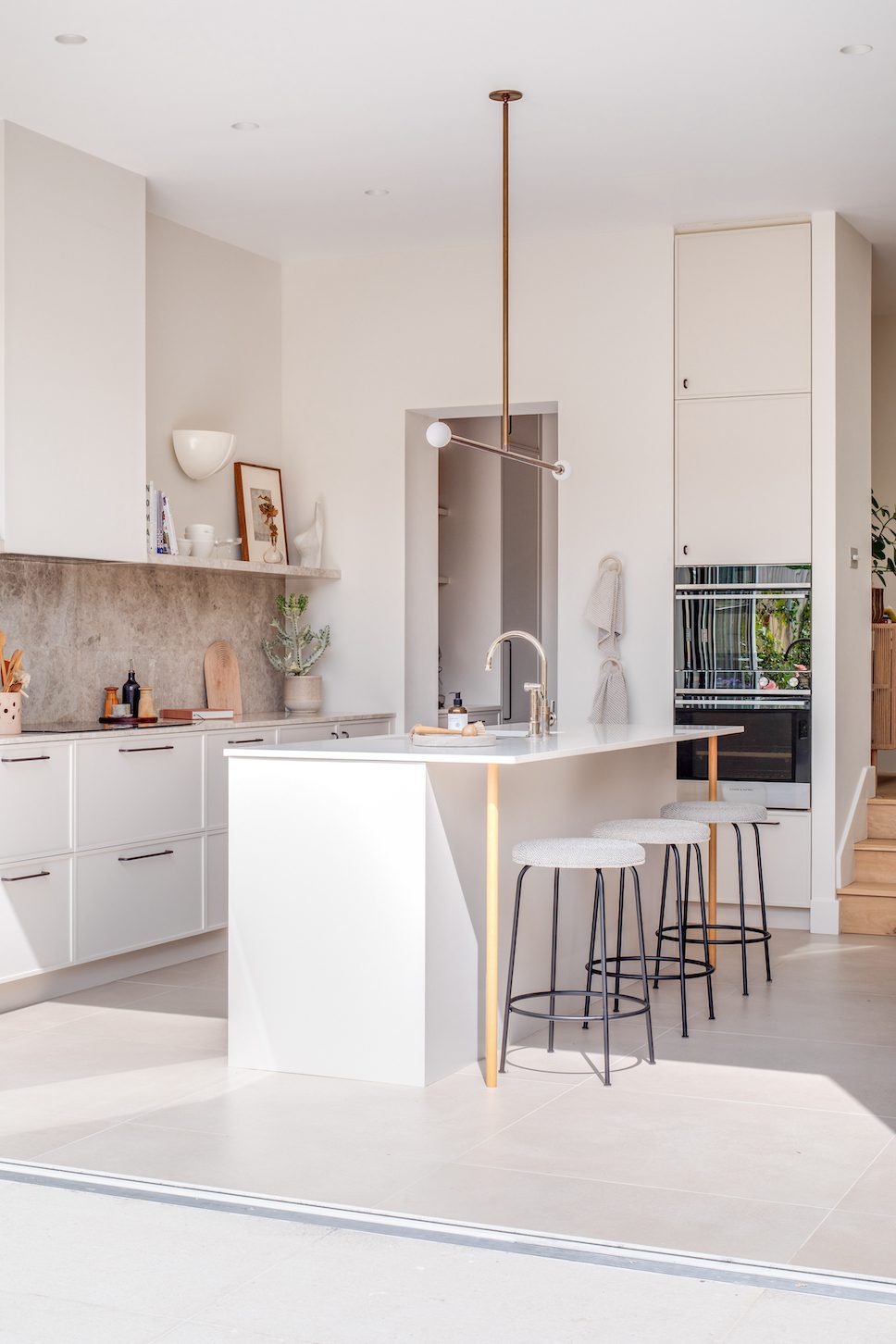 How have you incorporated storage and are there any hidden elements that we can't see from the images?
Zoe: With no wall cabinets, it was key to ensure that the storage in the floor cabinets worked hard. We designed space for plates, bowls, mugs within the drawers, using a pegboard system to ensure that everything had a place and didn't wiggle around when opening and closing drawers. On either side of the hob there are two bespoke drawers with dividers for both cutlery and utensils. Bin storage can often be overlooked, the bins sit on the back of the island and are split into sections for recycling and composting.
The pantry area is also a great space for storage, this houses the fridge-freezer, a single larder complete with spice racks and drawers. The pantry has a worktop space with a coffee machine hidden away meaning that the rest of the worktops in the kitchen can be kept clutter-free, which is hugely important for such an open-plan space.
We also completed under-stairs storage and a utility room to create extra storage throughout the house. The space is so beautifully designed with calming aesthetics that it was important to create a place to put everything away.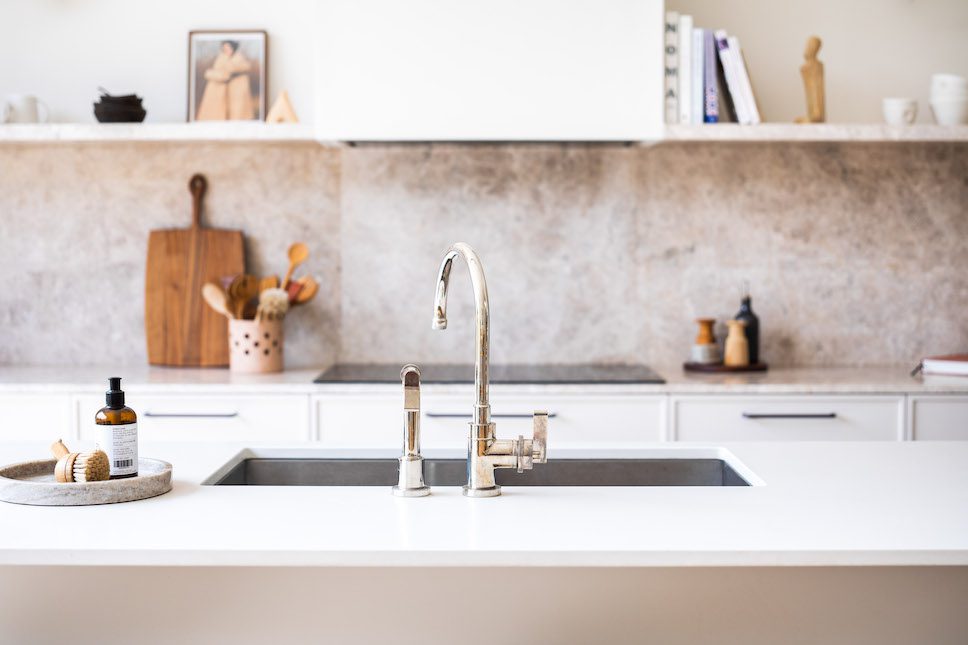 What inspired the design of the shelving on the back wall?
Sheena: We have a relatively small family and created ample storage in the kitchen and little pantry area, so we didn't have a need for additional overhead storage. I also love to display utensils, crockery, and accessories, so this was a great way to keep things visually light but still create a surface to store and display pieces we love.
Can you tell us about the unique features of this kitchen, particularly the wooden standing poles that hold up the kitchen island breakfast bar overhang?
Sheena: The wooden legs on the island are actually entirely decorative! I wanted to include an additional material since we opted for a Lapitec worktop on the island instead of the stone, and so it felt a little flat and one dimensional. The overhang wasn't deep enough to require extra support, but we provided it anyway and it was a nice way to tie in the warmth of the oak on the kitchen table and dining bench on the other side of the kitchen.
We also love the dining bench because it elongates the width of the room and provides tons of seating for guests – the little ones particularly love it. The pantry area is also great because it's a little hidden and therefore it can get messy without anyone really seeing it.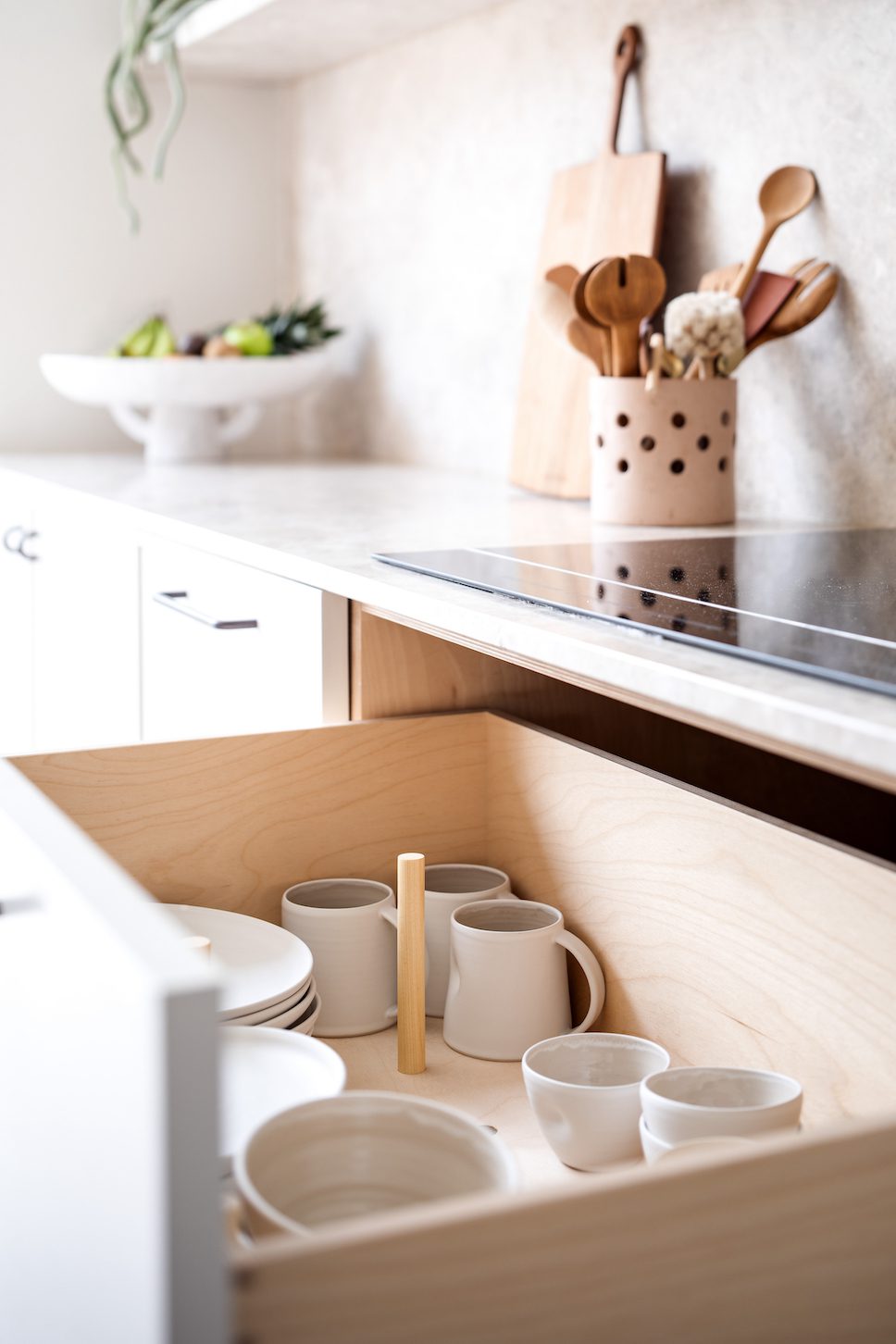 What inspired the choice of the white tundra marble stone and what makes this material ideal?
Sheena: I love a warm, softly veined stone because it's surprisingly forgiving in a kitchen and because of it's lack of specificity, it doesn't date like a more dramatic stone might. I never shy away from using or recommending natural stone in a kitchen, though you have to be a little more careful with those bright white marbles if you're prone to spilling! I now wish we used it on the island too because it adds more visual interest and has actually proven to be a more resilient material!
How does the utility area differ in terms of cabinetry and material choices?
Sheena: We used the same eco-ply carcasses for the cabinets in here, and throughout the house, and wrapped the fronts in it too. The material choice reflects the more utilitarian nature of the space and what it is used for, which is essentially just laundry and folding!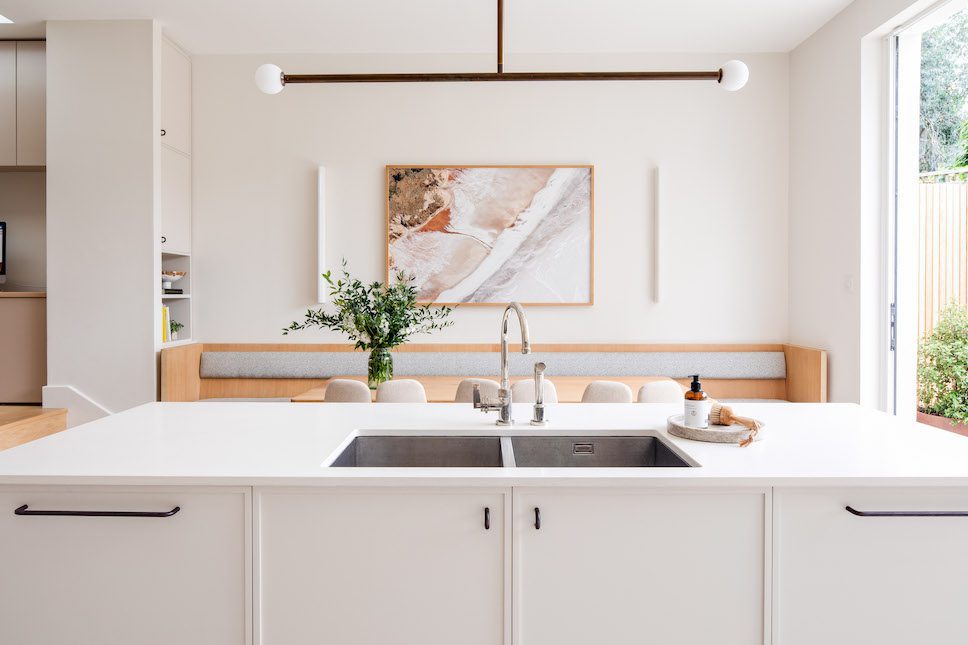 Project details:
Location: North London, UK
Size: approximately 1,800 sq. ft, set across three floors
Architecture: deDraft
Interior design: nune
Kitchen: Designed by nune, fabricated by Sustainable Kitchens
Ovens: Fisher & Paykel
Flooring: Hørning hard wood flooring; Natural Wood Flooring Co
Windows: Schneider; Steel Window Surface
Furniture, fixtures and fittings: Tap by Studio Ore; Island lighting by Allied Maker; Vintage kitchen wall lights from Beton Brut; Dining artwork from Brooke Holm; Dining wall lights from Michael Anastassiades; Flooring from Reed Harris
Photography: Charlie O'Beirne, Lukonic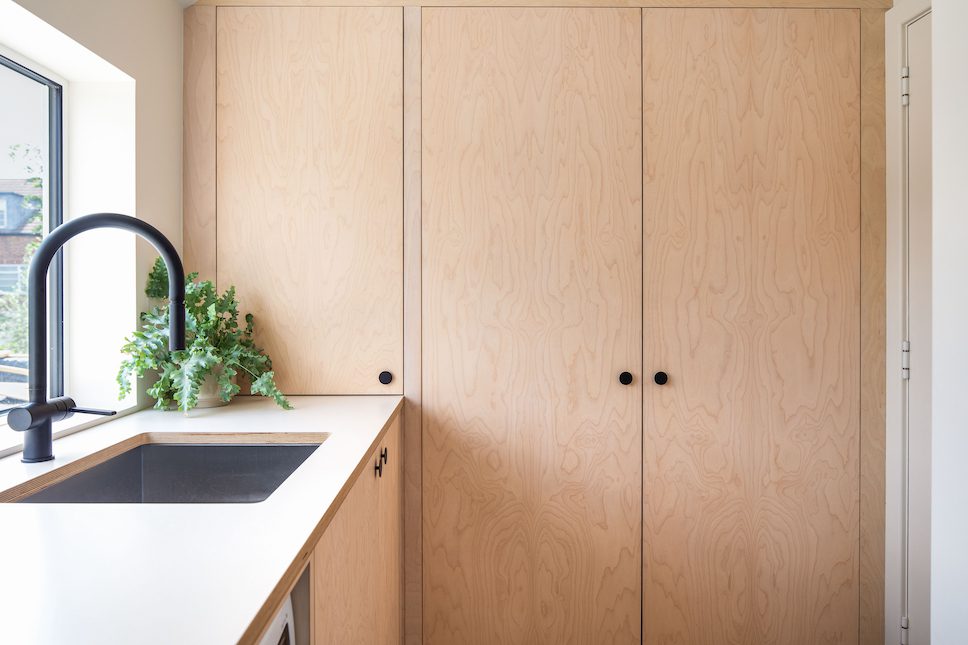 Take a look at more bespoke handcrafted kitchen projects by Sustainable Kitchens.
Read more of the latest design news here on enki, including the brand-new Another Country showroom in Dorset and Sally Conran's revamp of organic wine bar Wilding in Oxford.
You can also find this kitchen project featured inside Volume 41 of enki (Winter Special/December 2021 edition), along with a whole host of inspiring and beautiful pared-back, minimalist architectural homes and design ideas.