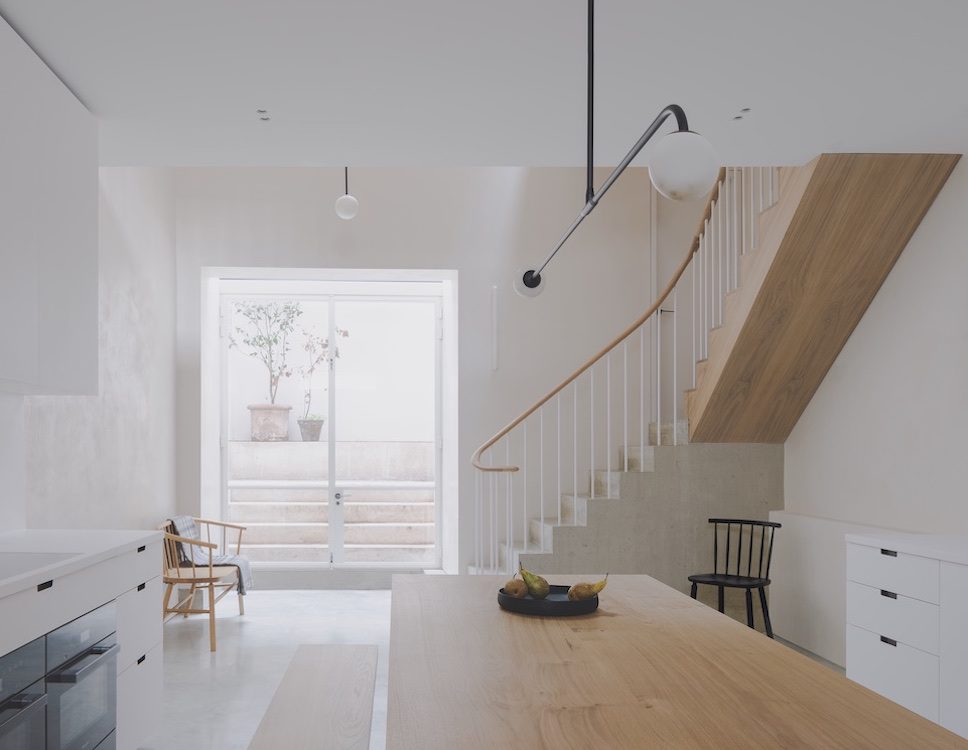 Bindloss Dawes has remodelled a Chelsea mews house, breathing life into the once dark and dated space with a full-height lightwell and feature staircase, which maximises the space and creates a sense of volume.
The small terraced house, set across three storeys, has a trapezoidal plan with angular walls and junctions providing a challenging layout to reorganise. At first, the owners commissioned Bindloss Dawes to design a more spacious kitchen and living area on the lower ground floor in order to improve its relationship to the garden.
However, as the project progressed, the architecture studio was asked to extend its scope of work throughout the entire residence. This opened up the opportunity for a more holistic design throughout the 105 square-metre property, elevating it with the injection of a sense of volume and theatre.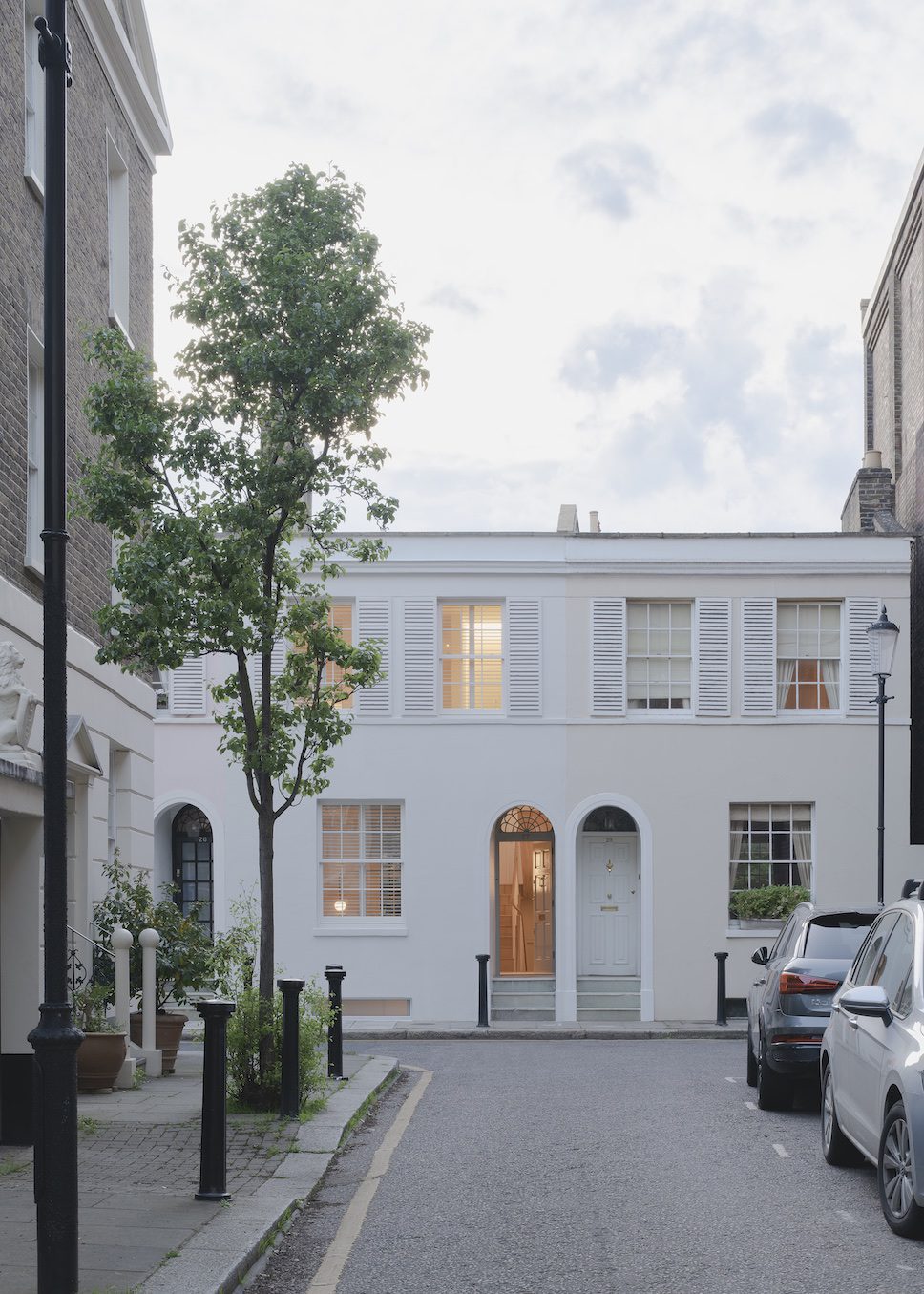 "Retrofitting an existing house and giving it a new identity is a wonderful way of future-proofing it for many years to come," explains George Dawes, director at Bindloss Dawes.
"Chelsea mews house is a example of taking something that didn't work, and transforming it into a home that is both pragmatic and beautiful."
Working within the planning constraints of a conservation area in the Royal Borough of Kensington and Chelsea, the architects dropped the lower ground floor by 50 centimetres to form a more generous volume.
"The original basement ceiling level was 2.15 meters high, which meant that the kitchen space was both pokey and dark, with only a small north-facing window looking up at a sunken rear garden," adds Dawes.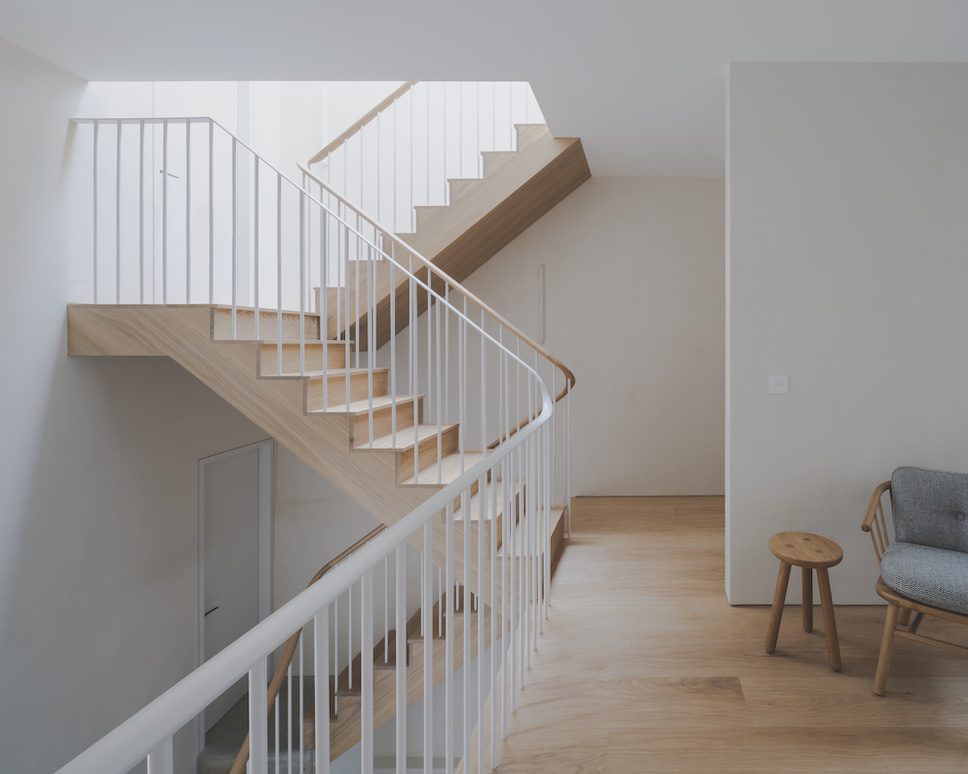 "Digging down allowed us to achieve a 2.65m ceiling, and in tandem with the larger rear opening and carved out ceiling, the natural daylight is now able to breath, bouncing around the house and giving a sense of brightness and generosity."
This newfound volume is accentuated by the addition of a full-height void at the rear of the home, which draws in soft overhead light deep into the basement. The lightwell cuts through all three storeys, connecting them via a custom oak and steel staircase.
Through a sense of movement and journeying through the home, Bindloss Dawes has balanced the flow of generous and confined spaces whilst adding a touch of finesse with detailed craftsmanship.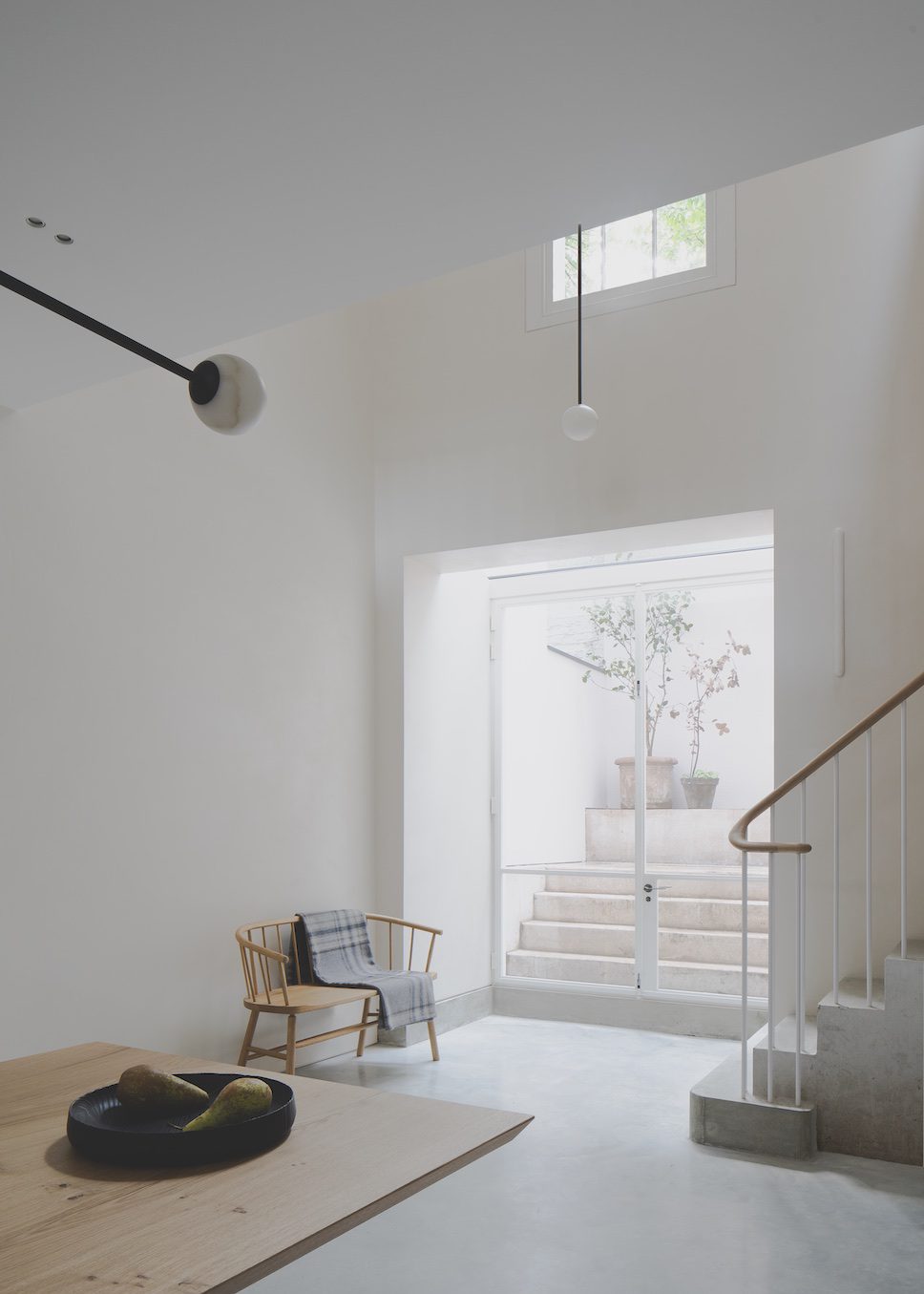 Describing the staircase as an important architectural intervention in this space, Dawes says: "It is designed so as to be a simple timber form that snakes up the house. The balustrade is then intended to 'disappear', by being slim and slender, and painted in an off-white paint to match and blend into the walls."
"This means that the timber handrail, located on the inner side only, acts as both a visual and tactile guide, drawing occupants vertically through the house."
A minimal and natural material palette brings a serene feel into the city home, balancing functionality with elegance. Venetian polished plaster adds a touch of tactility to the walls and expressed concrete grounds the basement level. A concrete skirting extends as steps up into the small courtyard garden, forging a seamless connection between indoors and out.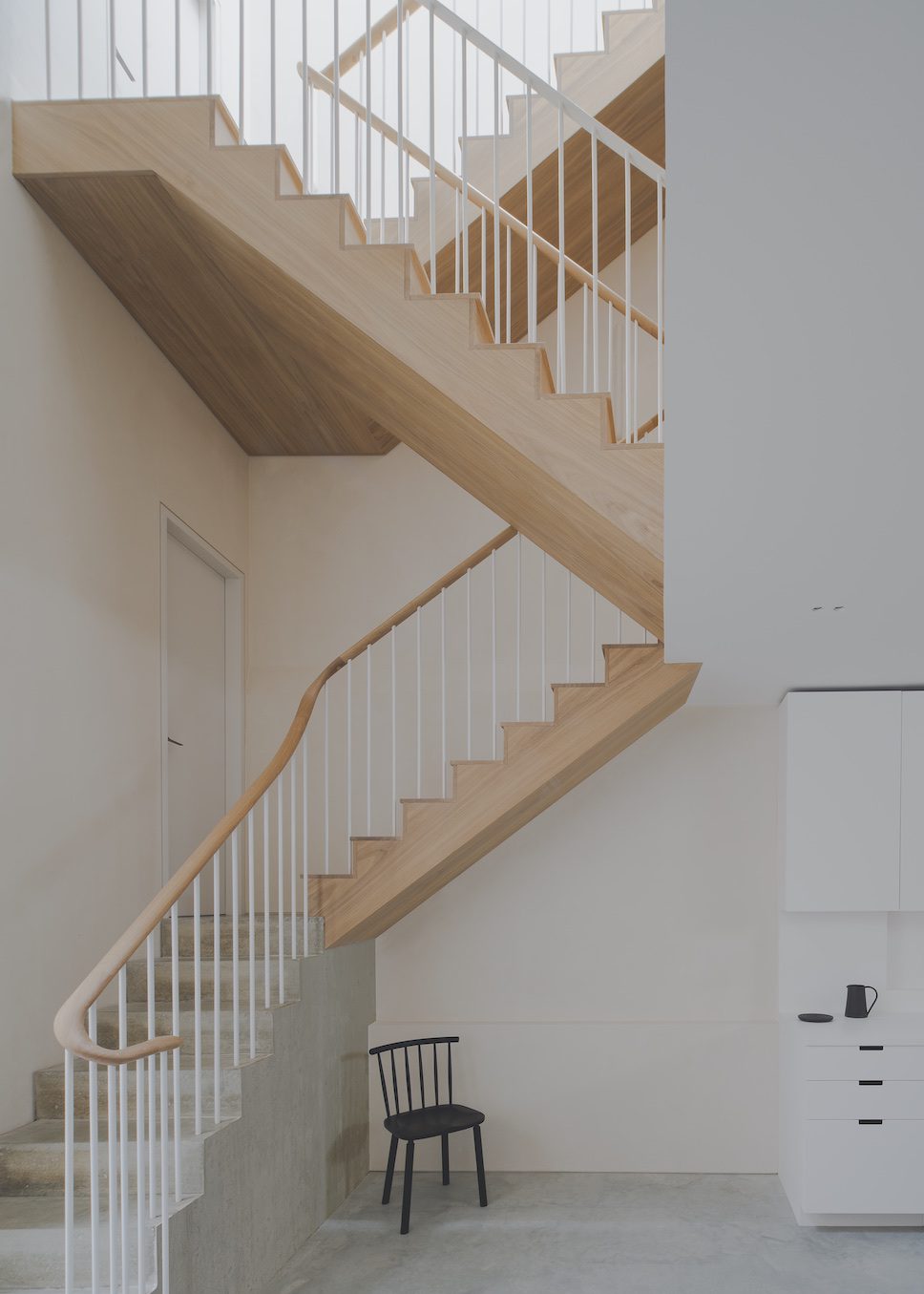 Concrete is also used for the first section of the striking new staircase which emerges from the lower ground floor. Counterbalancing the cool and industrial-feel of the concrete, accents of warm oak and white-painted steel balustrades add a softer touch.
Beyond the aesthetics, the overall thermal performance of the property has been improved, with the upgrade from single to double glazing and the implementation of full insulation throughout.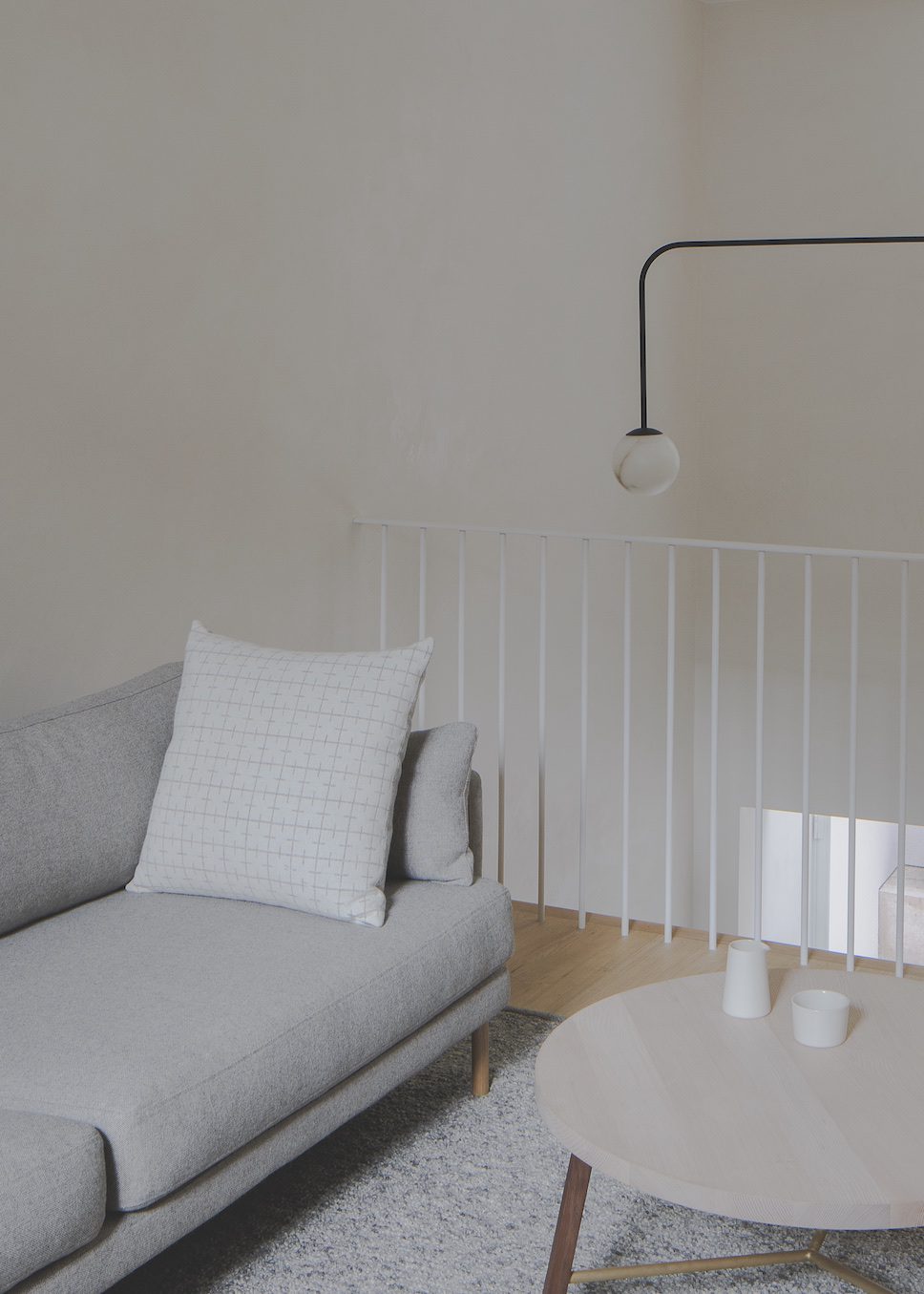 Project details:
Location: Kensington, London, UK
Project size: 105 sq. m
Architect: Bindloss Dawes
Design team: Oliver Bindloss and George Dawes
Structural engineer: Structural Design Studio
Contractor: Charles Alexander
Photography: Building Narratives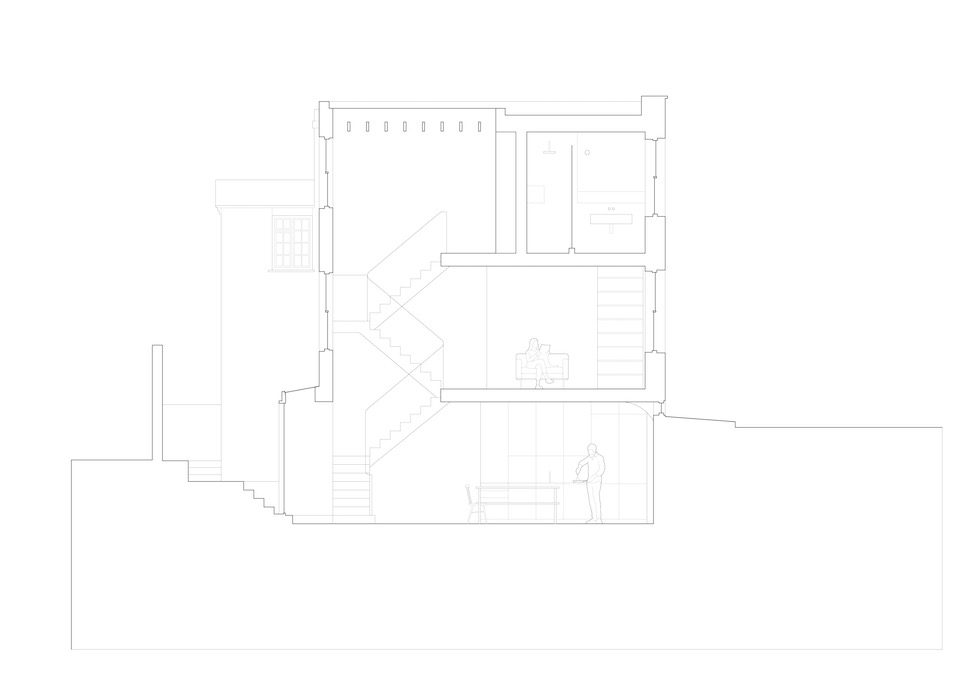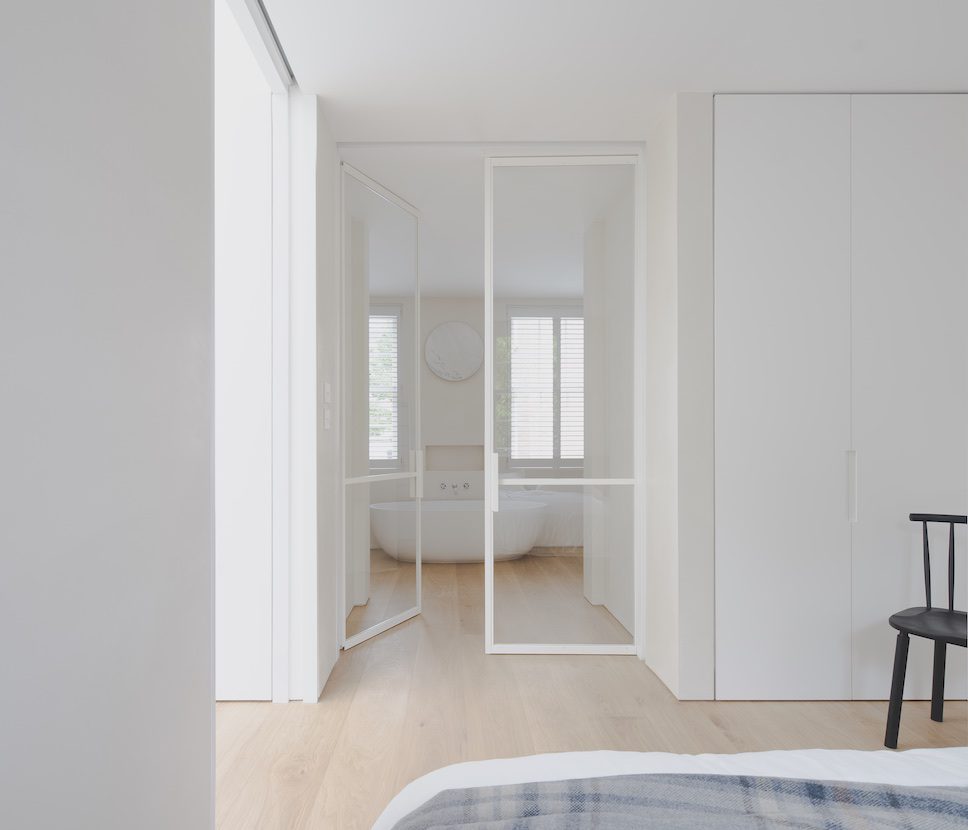 Discover more innovative architecture by Bruton-based practice Bindloss Dawes.
Take a look at more inspiring residential case studies, including Willow House – a 1960s modernist home that has been given a new sense of arrival with an iroko-clad extension by OWA.