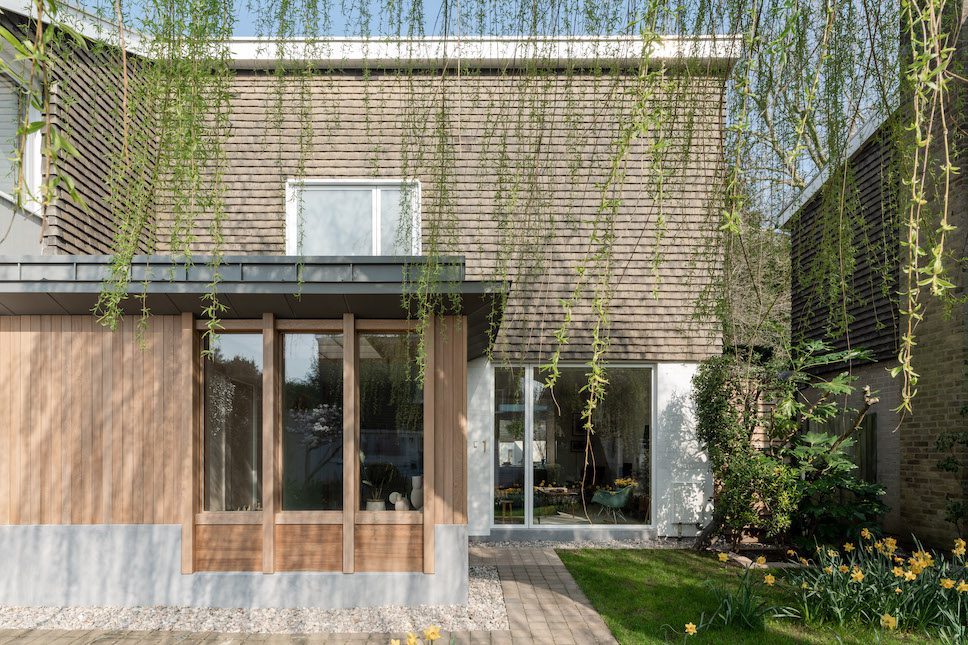 A series of ground-floor alterations, involving a hallway to establish a sense of arrival, have allowed OWA to work with scale and orientation for the revival of a 1960s modernist house.
Set within a small cul-de-sac in London Highgate's conservation area, Willow House was functional but lacked a sense of connection. A narrow hallway originally served the entrance to the building and created a compressed and unflattering impression of what is a generous and well-proportioned space.
For OWA, it was about finding an architecture that felt familiar with that of what was already in place, whilst expanding its language. The architects took a sensitive and sustainable approach to the small, front-of-house extension and focused on the resourceful reuse and adaptation of previously enacted works and considered material choices.
"Our approach was to introduce a language that would co-exist with these buildings in a verdant environment, taking influence from other architectures that do so successfully, such as the projecting canopy and elevated plinth condition distinctive to a Japanese tea house," explains Owain Williams, founding architect of OWA.
A large willow tree in the front garden influenced both the material palette and the structural strategy. When in full leaf, the tree blocked out a lot of light and its current root area needed to be protected. It was from these challenges that a creative solution sprung.
The completed iroko-clad extension 'floats' on a concrete plinth with a hidden roof light, which allows daylight to filter deep into the house. Expressed externally, a prefabricated timber frame is mounted on the concrete ring beam and clad in a sustainably sourced iroko.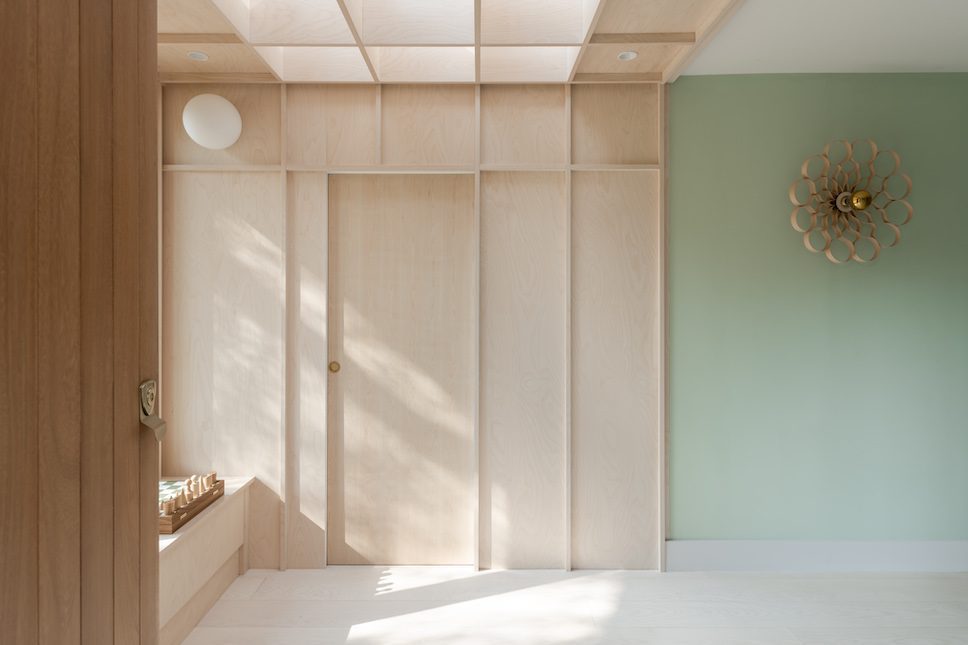 Prefabricating the frame and bringing it onsite in a near-complete state as a series of cassettes limited the work required on site and also protected the willow tree. "Visually, the tree brings a seasonal green curtain which draws across the front of the house and adds to the material context," adds Williams.
Internally, the alterations were simple in their objective and centred on forming a series of differently scaled and orientated rooms that could easily be partitioned or opened up to accommodate the family's lifestyle and needs.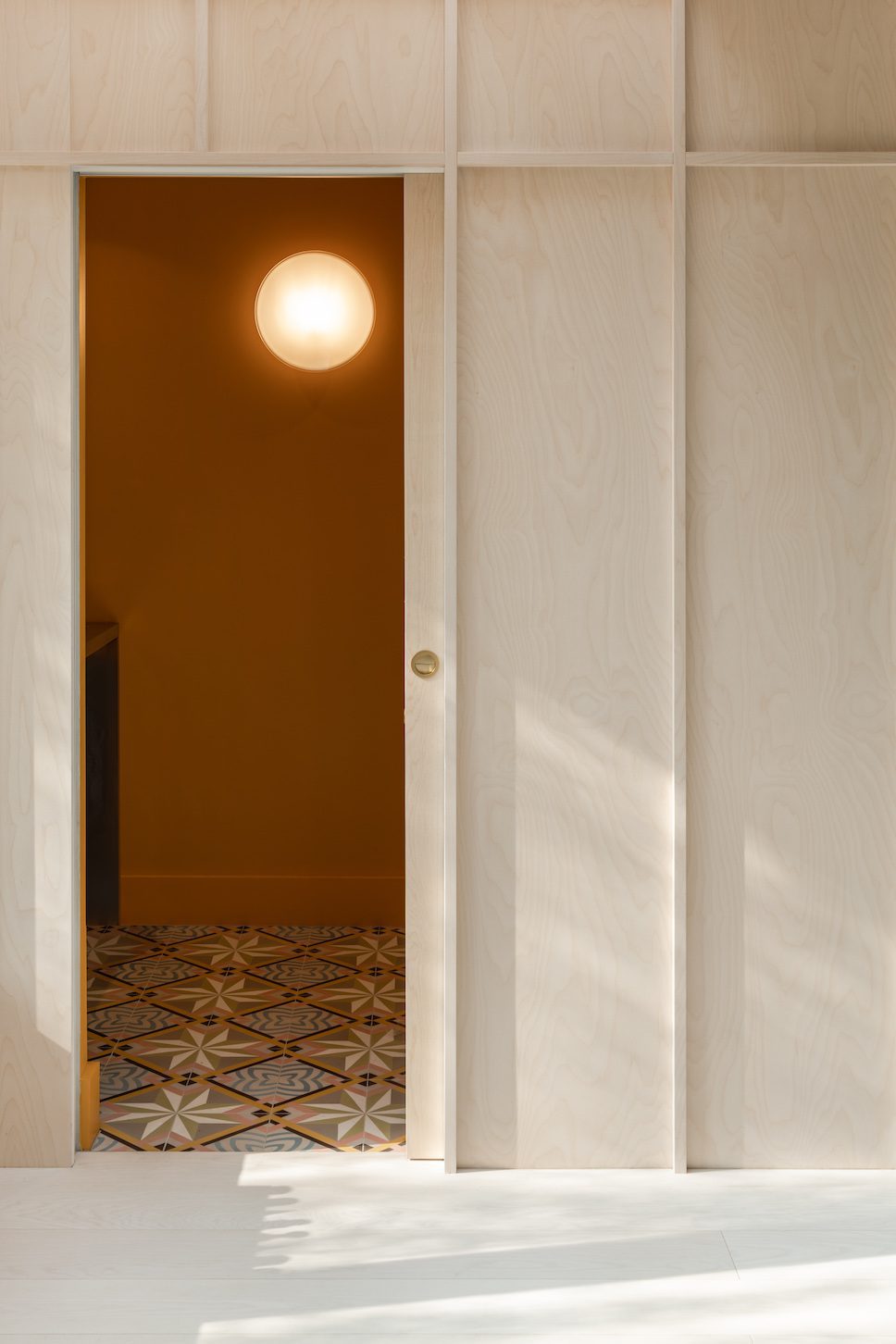 Using a principle of generosity of space and light, there's a renewed sense of circulation throughout the ground-floor spaces. This is achieved with a series of adaptable living spaces all organised around intersecting T-shaped hallways, which allow the family to experience the full width and depth of the house.
The distinct living spaces with contrasting, scales, orientations, and qualities are accessible through doors of varying scales. These openings act as "soft partitions", as OWA describe, that can be adapted to suit the combination of uses taking place in the house.
Attention to detail brings a flourishing touch, with bespoke plywood panelling on the walls and ceilings playing an integral role in the design. Where the hallway is traditional a place in the home where storage is needed, here the focus on a sense of arrival took the lead and inspired a new definition for the space. A built-in bench seat offering views out of the windows is designed to make the hallway a destination, somewhere to dwell rather than simply pass through.
Keeping the overall aesthetic as natural as possible, the space is completed with pale wood flooring and steam bent lighting by craftsman Tom Raffield – in the same birch plywood as the cladding. The pale woods are complemented by the walls painted in the Palm Green shade by Farrow & Ball – a calming and pleasing aesthetic that lets the architectural detail do the talking.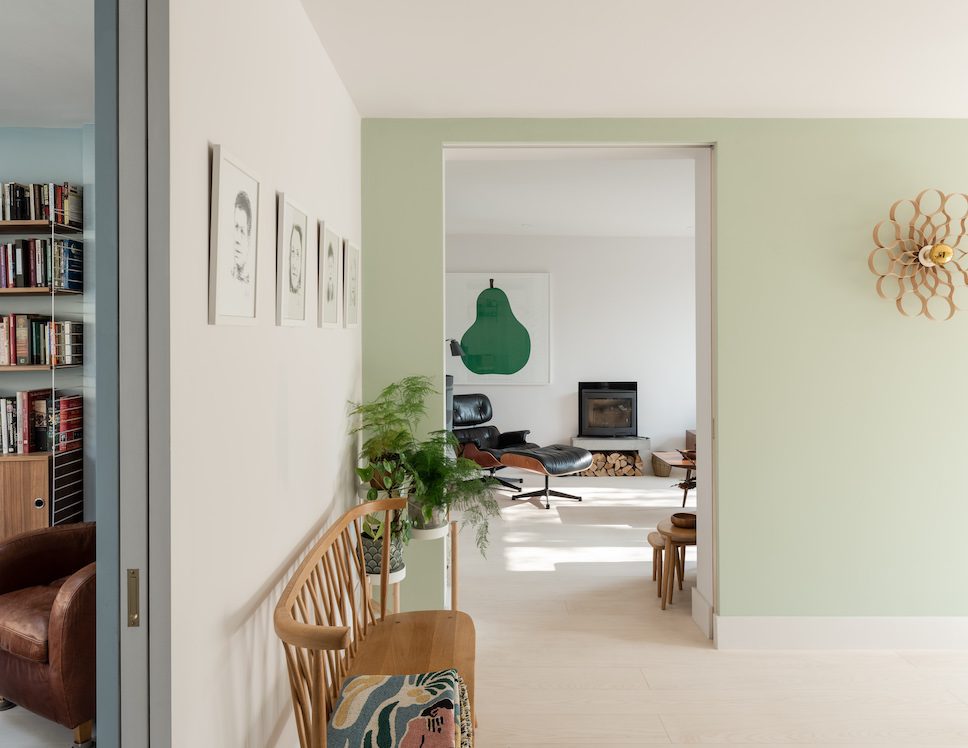 Project details:
Project name: Willow House
Extension size: 17 sq. m
Location: Highgate, North London
Architect: OWA
Main Contractor: Havenley
Structural Engineer: Blue Engineering
Materials: Concrete plinth, iroko cladding and zinc roof (external); Birch panelling and engineered wood floor (internal)
Products: Engineered wood floorboard by Kahrs; Steam bent lighting by Tom Raffield, and Palm Green and Salt White paint from Farrow & Ball
Photography: French + Tye
Plans and drawings: Courtesy of OWA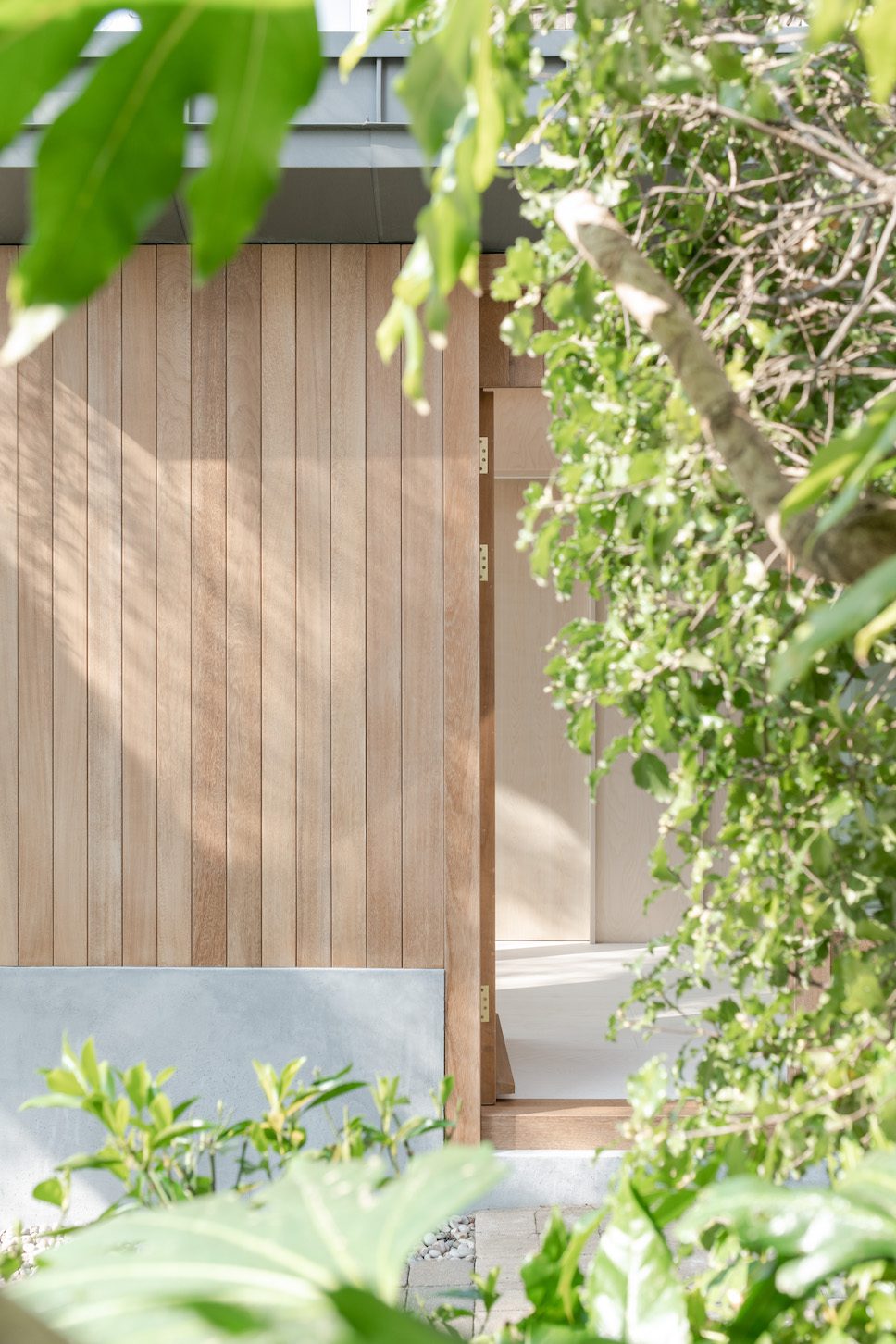 Take a look at more sustainably conscious and thoughtful architecture projects by OWA.
Get inspired by lots more residential case studies here on enki, including a modern coastal home with a material-rich design by Of Architecture and an impressive all-marble clad extension on a Victorian terrace house by ConForm Architects.