Exploring construction and architecture in the age of climate crisis, the new showcase How to Build a Low-Carbon Home at the Design Museum in London explores three ancient materials that are vital for our future.
This new display takes a closer look at how architects are turning to wood, stone, and straw and shows how these sustainable resources are vital in designing future-proof homes.
Through a carefully curated selection of models, samples, tools and photographs, alongside full-scale installations and newly commissioned photography by Oskar Proctor, the showcase depicts a future in which low-carbon construction a mainstream effort.
"With almost 30% of global emissions caused by the construction and running of buildings, there is a need to radically rethink the materials we use to build our towns and cities," explains lead project researcher and architect Dr Ruth Lang.
"The display demonstrates how designers and their collaborators are already rethinking resources, design processes, supply chains and architectural aesthetics. The three materials on display propose a more positive future that is already open to us," Lang adds.
Visitors can explore the different sections of the How to Build a Low-Carbon Home display, each one dedicated to the three resources and tracing its journey from raw material to building material to architecture. For instance, the versatility of straw is portrayed through full-scale models of building sections using straw-based materials, with a focus on the resurgence of thatching in Western Europe.
Wood has been championed, especially in recent years, as a sustainable alternative to concrete and prefabricated structures along with engineered timber elements have been used more favourably in construction. At this showcase visitors will see a selection of samples, including joints cut using robotic manufacturing methods.
Three times stronger than concrete, stone also requires much less energy to produce and we can turn to more history buildings to see evidence of its longevity. The display highlights new stone architecture, as well as the tools and craftsmanship of Lincolnshire stonemasons who hand-shape blocks for sustainable construction.
Through the work of contemporary architects including Material Cultures, Waugh Thistleton, and Groupwork, visitors can follow the journey of these materials from fields, forests and quarries to cutting edge buildings.
"This display explores the possibilities of natural materials in a way that engages not just professionals but the general public, because popular perception can play a key role in shifting industry standards," explains Justin McGuirk, Director of Future Observatory at the Design Museum. "The result is a fun and sometimes surprising look at the homes of the future."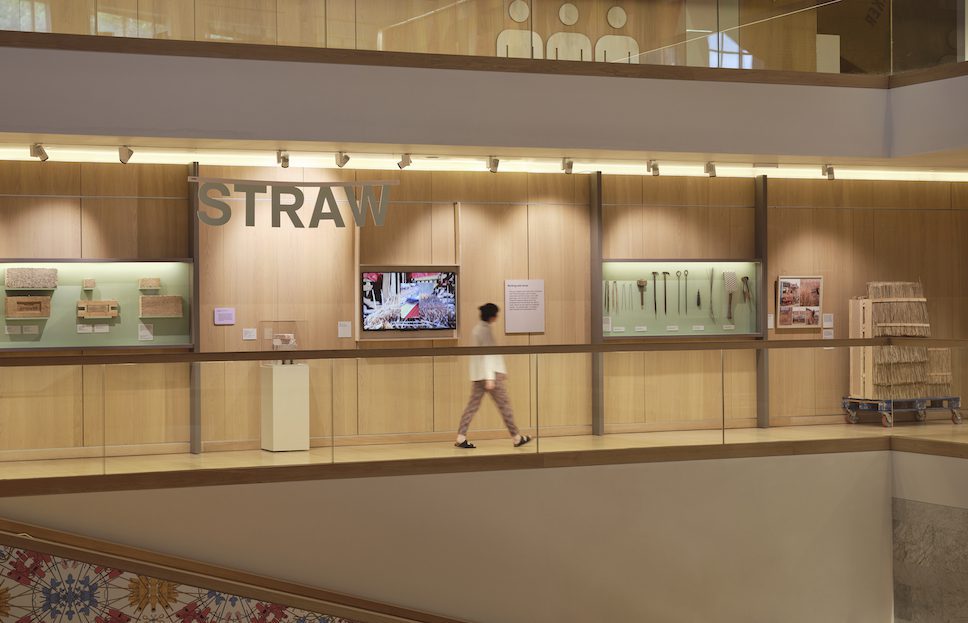 Photos are all by Felix Speller for the Design Museum, unless otherwise stated in the caption.
How to Build a Low-Carbon Home is free to attend and will run from July 2023 until March 2024 at London's Design Museum.
If you want to read more, take a look at the guide to post-carbon architecture that Material Cultures has written and released titled 'Material Reform'.
Discover more architecture and industry news and the latest sustainability stories here on enki.