An upcoming exhibition at V&A Dundee titled 'Plastic: Remaking our World', will put the spotlight on one of the most contested materials in our now more sustainable-focused world.
Plastic has shaped our daily lives like no other material and has come to symbolise a carefree consumerism that we are now seeking to find an antidote for. Deep diving into 150-year history of this material, this exhibition considers the journey from the invention of a material that now has global dominance through to ubiquity.
Asking the important question 'how did we get here?', the thought-provoking exhibition will encourage visitors to rethink how we use and consume man-made chemicals. Featuring prototypes, new technologies, and cutting-edge materials, it takes a look at how designers are grappling with a material that has changed our world.
Today's research into plant materials and waste is similar to early 19th century experiments in plastics, according to V&A Dundee. "Designers, architects, and scientists are exploring how natural materials such as algae, mycelium, and agricultural waste can be used to produce plastics from renewable resources that are also biodegradable," they explain.
We take a look at some of the highlights to discover at the exhibition:
Plastic: Remaking our World
First up, a team of designers, makers, and scientists at Shellworks have been experimenting, and have launched a new material created by microbial fermentation called Vivomer. This completely vegan and compostable material is designed to degrade and won't leave behind any microplastics, making it a sustainable packaging alternative. (See the jars pictured above).
Adding further layers of interest to what's explored throughout the exhibition is the inclusion of Precious Plastic. This open-source recycling project, initiated by Dutch designer Dave Hakkens, offers free plans and support to build machines that mechanically recycle plastic. As the project has grown it has helped raise awareness of plastic as a precious resource, not to be thoughtlessly wasted.
Learn more about Dutch designers Klarenbeek & Dros who have been developing algae-based biopolymers since 2015 (pictured above). They have set up seaweed cycle which includes "growing seaweed in the North Sea, using the wastewater from the drying seaweed in organic farming, producing biopolymers in their laboratory, and the manufacture of biodegradable products", according to V&A Dundee.
Mycelium is getting more attention as a green substitute for plastic and synthetic textiles. One of the exhibits is an item of tailored clothing made from compostable, lab-grown mushroom mycelia (pictured below). The seamless jacket is made using a manufacturing process called MycoTEX, which creates garments from moulded mycelia which results in no offcuts or unnecessary waste.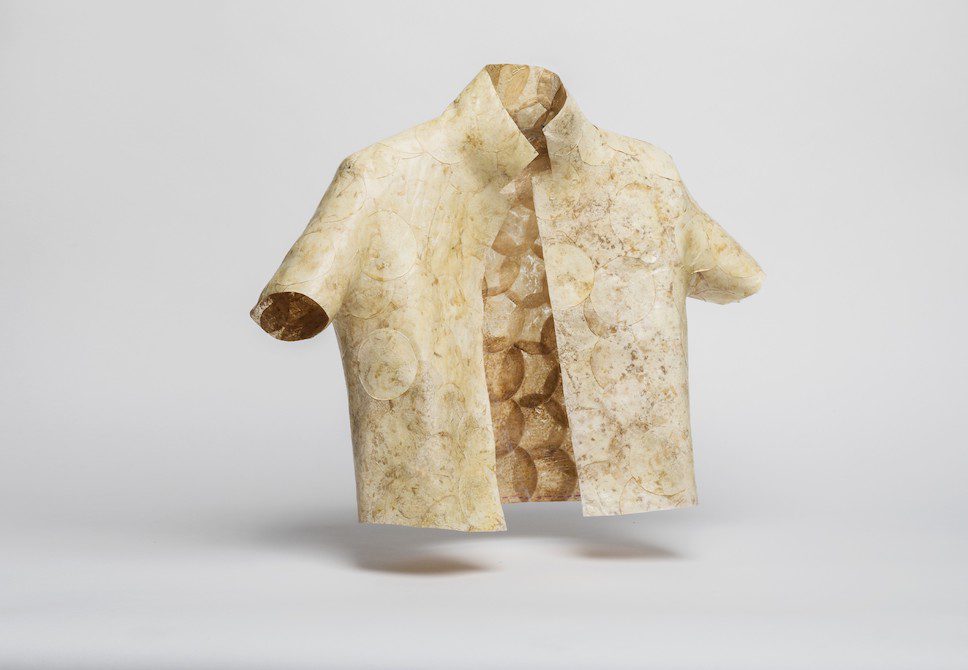 Photos courtesy of V&A Dundee.
Plastic: Remaking our World will feature product design, graphics, architecture, and fashion from the collections of the V&A and Vitra Design Museum, as well as collections all over the world. It's open from 29th October 2022 – 5th February 2023 at V&A Dundee.
Discover more interesting designs that explore the use of natural materials and the reuse of plastic: step inside the bio-design workshop Otrivin Air Lab, and meet the maker Mari Koppanen to learn all about her fungal material research.