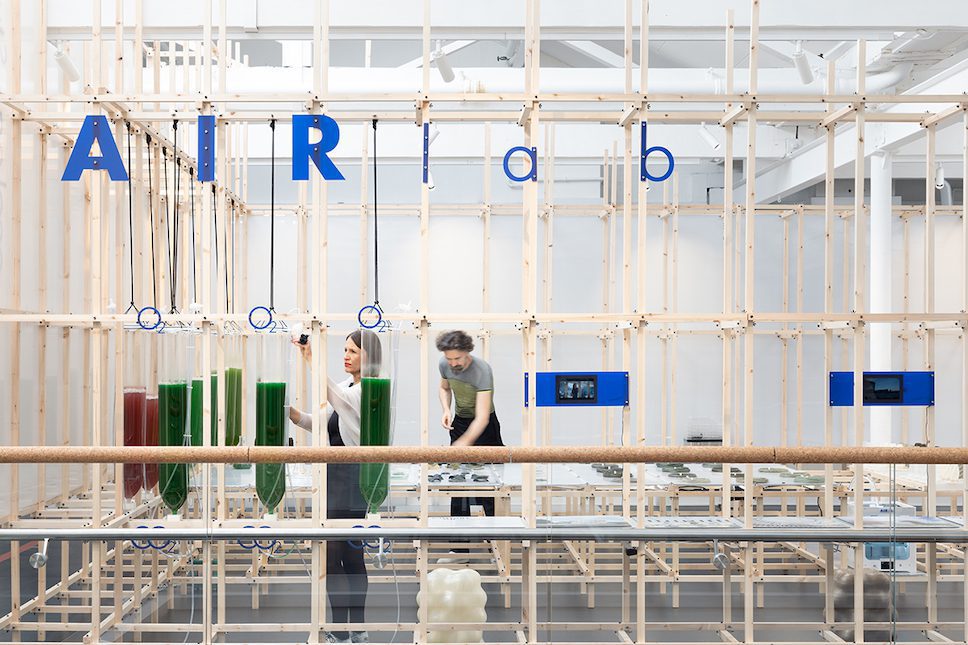 Presented inside London's Building Centre, the Otrivin Air Lab is a living showroom and bio-design workshop that invites visitors to learn about the benefits of algae-based air purification.
The idea for this open laboratory was conceived by the pioneering duo Claudia Pasquero and Marco Poletto of ecoLogicStudio, who are experimenting with innovative nature-based solutions to mitigate the impact of urban air pollution on breath health. In collaboration with nasal healthcare brand Otrivin, the design and innovation firm have created a space where visitors are engaged in ways we can reduce air pollution and CO2 in a beneficial way.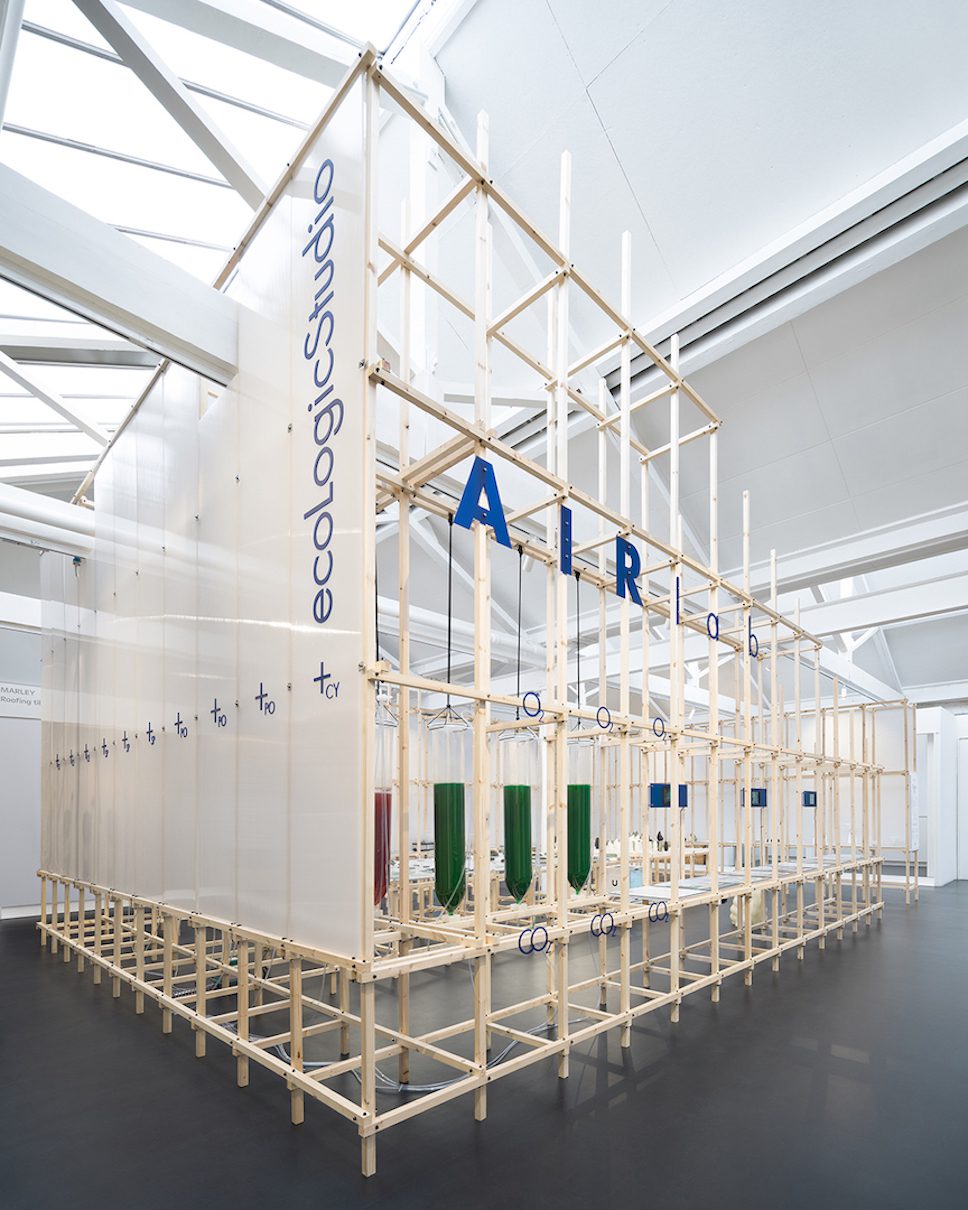 Within a lightweight and reversible timber structure, the living laboratory contains all the systems involved in different phases of air purification and biomass transformation. It houses a series of 12 one-metre-tall photobioreactors, each filled with 10 litres of living photosynthetic microalgae. By observing this open display, visitors can visibly see how the microalgae can re-metabolise air pollution into a biodegradable material.
"We want to enable urban dwellers to design new nature-based circular economies. At the lab we harvest carbon dioxide, purify polluted urban air, and we 3D-print plastic-free biodegradable products. Essentially, we convert air pollution into products that help protect our breathing," explained Claudia Pasquero and Marco Poletto, co-founders of ecoLogicStudio.
Through the application of the PhotoSynthetica technology, pioneered by ecoLogicStudio, the Otrivin Air Lab tests the feasibility to build a circular production flow. The bespoke lab grade glass vessels, known as photobioreactors, hold four strains of living photosynthetic microalgae, and they are said to be able to absorb 240 grams of CO2, release 180 grams of oxygen, and produce 84 grams of biomass daily.
In the lab, "ecoLogicStudio bio-designers will craft a catalogue of material samples with various properties derived directly from the daily harvest," Claudia Pasquero and Marco Poletto continued.
"From bioplastics and bio-rubbers, to 3d printing algae filaments, they will be testing various algae strains resulting in a catalogue of beautiful colour gradients. These crafted filaments will be employed in a live 3D printing process to produce carbon neutral products."
A notable product is the nasal spray biodegradable bottles called Fibonacci NetiPot, conceived as "a line of product opportunities that updates the historical evolution of nasal cleansing and respiratory wellness." With the production of each NetiPot, they say that 15 grams of CO2 is removed from the air. It could in fact pose a new opportunity for the evolution of products, shelf displays, and packaging in our consumer and manufacturing society.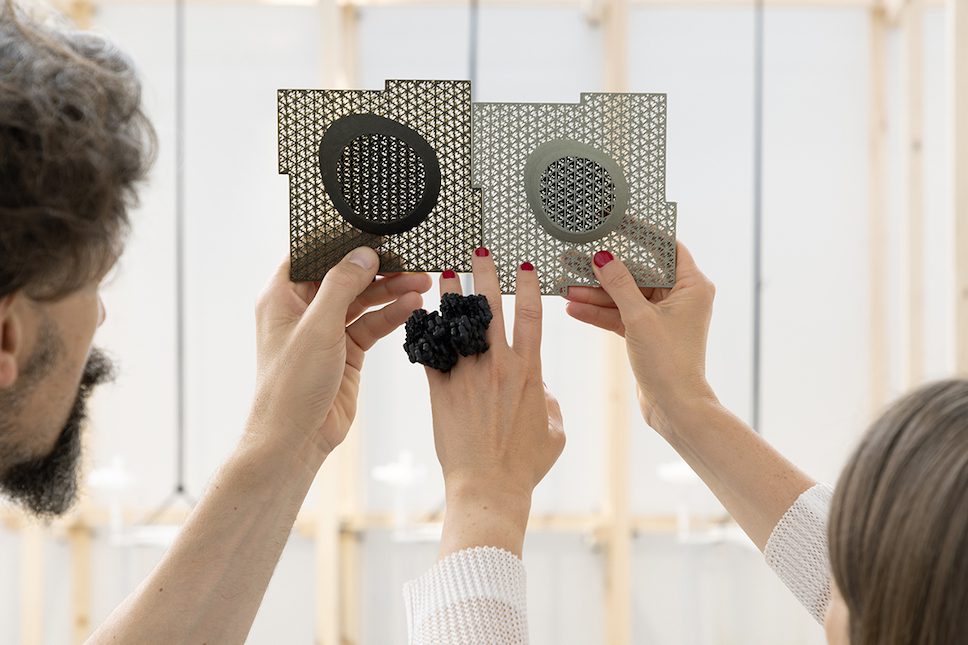 Photography by NAARO.
The Otrivin Air Lab is open to the public at the Building Centre in London until 17th September 2022.
Take a look at other pioneering projects by ecoLogicStudio, including the inflatable AirBubble air-purifying eco-machine, first deployed in Glasgow during COP26.
Read all the latest sustainability news on enki.