"I believe natural ingredients are precious and I find it fascinating that throughout history the simple touch of oil on the skin has been believed to connect the physical to the spiritual."
Amy Wright, founder at Londe Botanics.
Renowned for making ethically sourced skincare and hand-blended oils for well-being, Londe Botanics brings the beauty of natural ingredients to the forefront of self care.
Founder Amy Wright draw on her love of the natural world, having grown up on a pistachio and sandalwood farm in Western Australia, to start up her own business in the UK. Working with UK growers and experienced skincare experts, she is passionate about all the natural ingredients that she works with and blending beautifully scented and restorative oils.
We sat down to talk to Amy and learn more about the role of botanic and essential oils in self-care rituals, how she supports British growers, and what the future holds for the brand…
Can you tell us a little bit about yourself and what inspired you to start your own business?
I moved to the UK in 2016 with my young family, previously I'd lived in Australia working with Aboriginal communities to support their rights to traditional lands and sacred places. I've always been drawn towards the connections between land, self, and culture.
Starting my own business here was my way to find a healthy balance between working life and family life. It has also allowed me to connect with the natural world in the UK and I love learning about the folklore and historical uses behind the botanicals in our blends.
Where did you grow up and has your childhood influenced your work today?
I grew up in Western Australia; my family have a pistachio and sandalwood farm which they've been slowly rewilding over the past 15 years. It gave me an appreciation of botanical ingredients, as well as the natural and human resources that go into creating them. When I started my own business, ethically it was important for me to know where the ingredients were coming from and how they were harvested.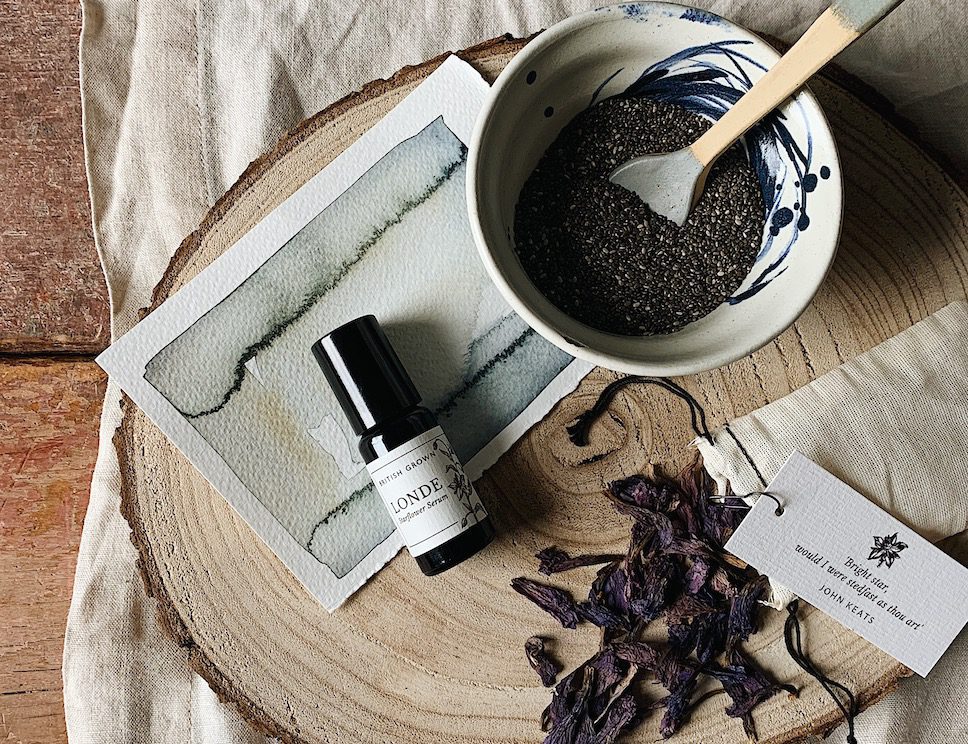 What inspired the name Londe Botanics and can you tell us more about the ethos behind the brand?
Londe (rhymes with blonde) is a 14th-century word for land; everything we do is driven by the botanicals. Ingredients are decided by local availability, the blends are based on how they work together. We don't use any additives so the dark glass bottles and packaging are the best way to preserve the freshness and potency of the oils. The botanicals are always the focus and each decision is based on letting them work their magic.
Can you describe your studio and what a typical day there involves?
I'm on the fourth floor of an old Georgian building so it starts with a lot of stairs! On a typical day, I spend the morning packing orders or working in the stockroom, the afternoon emailing suppliers, stockists and customers, and then off for the school run at three. I'll often jump back online in the evening to tie up any loose ends.
Can you tell us about the process of your work, from sourcing ingredients and choosing scents through to production?
I source the ingredients myself, always on the lookout for anything new and locally grown. I play with scent and oil ideas in the studio, then work with a small team of natural skincare specialists to finalise the blends. The products are hand-bottled in Dorset and then sent to me where I finish the labels and packaging in our Bristol studio.
Why is it so important to support UK growers and producers?
For me, at first, it was to ensure I had ingredients that were grown and produced under clear environmental and labour laws, but there are so many other positives! Supporting local and rural economies, no air miles, shorter supply chains. Because our packaging is also produced in the UK we've been quite protected from supply problems over recent years. UK-grown can be more expensive but the quality makes it worth it.
How do you think botanics and essential oils can benefit our lifestyles and be a natural/healthy option too?
Botanics and essential oils are simply beautiful to use, they can lift the mood; lavender has been shown to reduce cortisol levels for example, and the unscented oils we use have a range of skin health benefits.
I believe natural ingredients are precious and I find it fascinating that throughout history the simple touch of oil on the skin has been believed to connect the physical to the spiritual. From Ancient Egypt to the present day, royal coronations, caring for the sick… so many cultures use oils for blessings and healing. Our blends were created to share some of these gentle practices to bring peace and well-being.
Are there any ingredients that you haven't worked with yet but would like to and why?
I've been searching for UK-grown rose oil for years; it seems it hasn't been grown here since the 20th century so that's high on the list. Violet would be wonderful too. I've heard rumours of saffron in Cornwall so I'll be seeking that out later this year!
How do you support sustainability through your business?
As well as a commitment to UK grown, we use organic ingredients wherever available, bee-friendly crops and fruit oils that are byproducts of the beverage industry. With the exception of our pump tops, all of our packaging is plastic-free and I'm always looking for new ways to lessen our impact on the planet.
What role do you think self-care can and should play in our lives?
It's a term that can be overused but in essence, I believe self-care is replenishing some of the energy we give out in day-to-day life.
I first started using body oils for self-care as a new mum in a new country; I was quite isolated and couldn't access my usual social and exercise routines. Taking time to slow down for a face, neck or foot massage was a simple, gentle way to feel centred again.
There's an Ayurvedic term for self-massage which means 'to douse oneself in love' and I've had so many customers write to share stories of how our products helped them in similar ways. Self-care is perhaps just an awareness of what we need to give back to ourselves.
What do you enjoy most about your job?
I'm grateful that I can work in harmony with family life (most of the time!) and the connection it gives me to the natural world. It's been a way for me to grow and share my appreciation of the UK countryside and its beautiful botanicals.
What are your hopes and plans for the rest of 2023 and beyond?
Right now I'm enjoying working with massage and skincare professionals to expand the range into spas and hotels, then it's always a busy time with gift shops over winter. After the challenges we've all had in recent years, the business has finally reached a happy place so I want to just appreciate where I am now and sustain this into the future.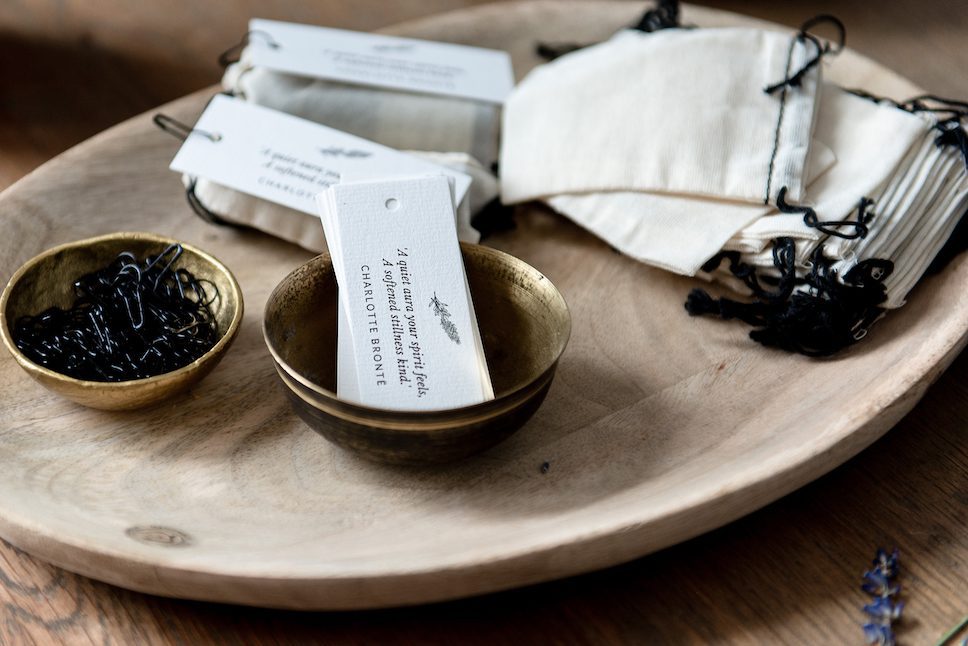 Photography courtesy of Londe Botanics.
Take a look at the full collection of hand-blended botanical oils from Londe Botanics.
Read more Meet the Maker interviews here on enki, including abstract ink and watercolour painter Emilie Van Camp.