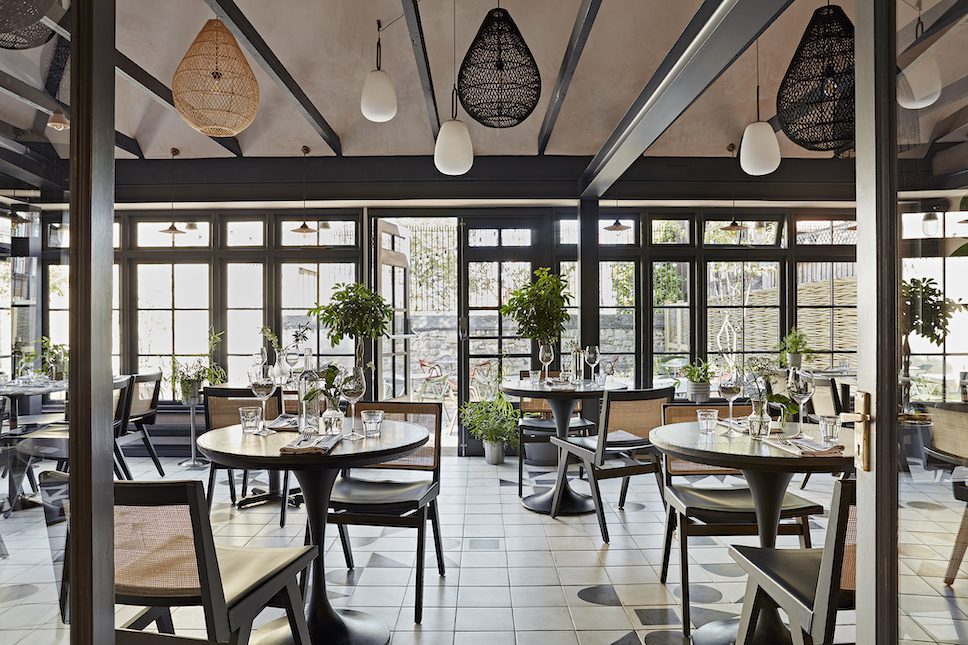 Bringing out the beauty of original period features, interior designer Sally Conran has designed a rustic interior with an industrial-style edge for organic wine bar Wilding in Oxford.
With a desire to go back to the bare bones of the building, Sally Conran stripped back layers of the old interiors (believed to previously have been a Café Rouge), to reveal beautiful Victorian features. This historic charm, along with its setting in the charming bohemian area of Jericho, provided a starting point for the design aesthetic.
The Wilding organic wine store offers more than first meets the eye with its interiors leading into an adjoining café, bar, restaurant, conservatory, and outdoor dining space. Each space has its own ambience but there is a sense of continuation, with one area flowing into another. Organic crackle glaze tiling, glossy black Zellige tiles, and verdant green-painted walls are mixed with soft leather touches and industrial metal finishes to complete the overall look.
With so much detail and thought in the design, we spoke to Sally Conran about her process, her choice of materials, and she tells us all about the "hidden" space on the first floor…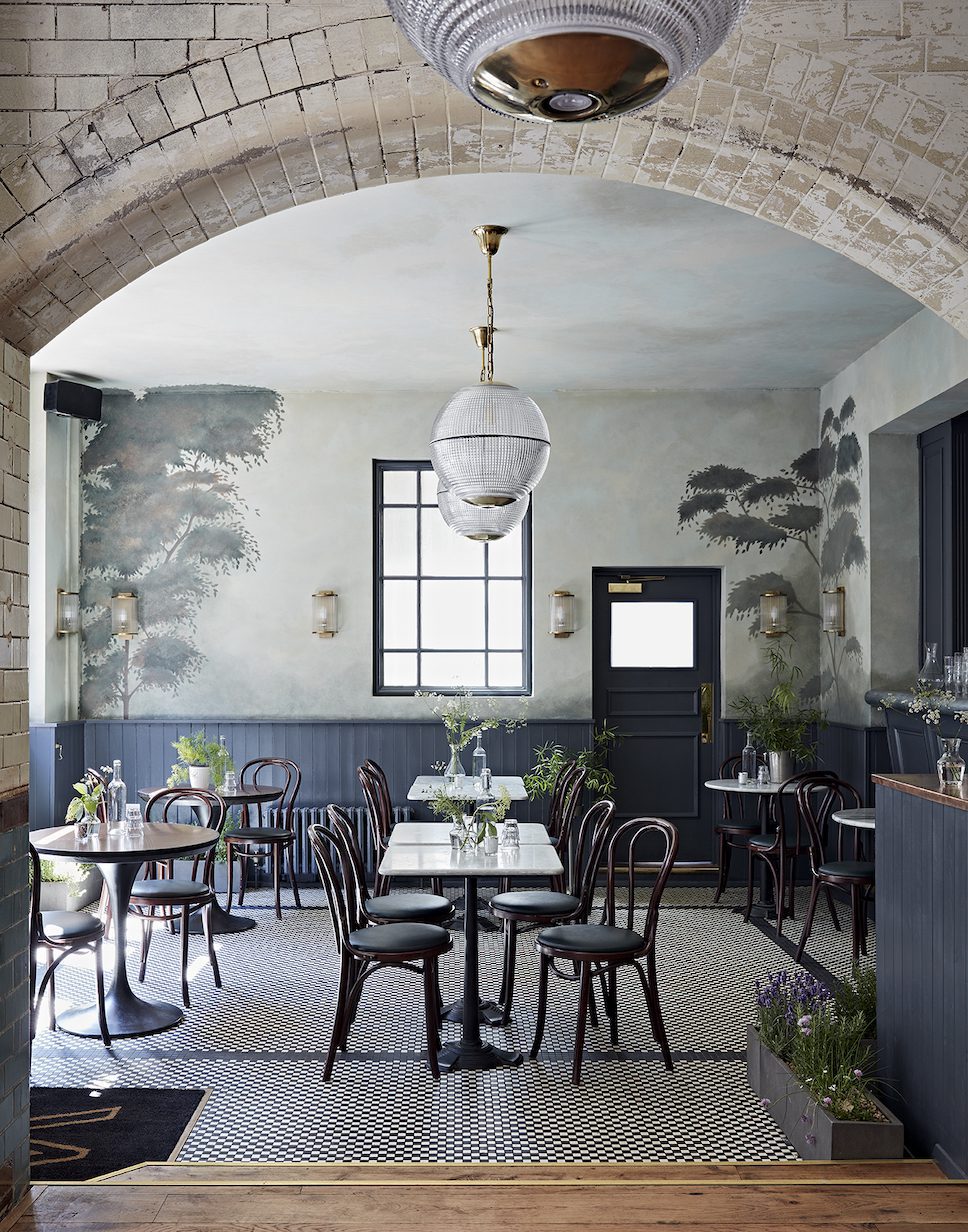 How have you brought the sustainable ethos of the wine store and restaurant out in the interior design?
We started by stripping out all the old Café Rouge interiors which consisted of dated faux panelling, false ceilings, and cladding. We wanted to go back to the bare bones of the building; this revealed beautiful original Victorian tiling, high ceilings, arched entrances, and industrial concrete pillars in the modern extension at the back.
We decided this was too good to cover up again, so this industrial, rustic backdrop was the starting point for our design aesthetic. We embellished these historic and industrial textures and finishes with original and upcycled light fittings such as holophane glass globes, statement retro copper pendants, and twinkly glass wall lights.
We chose to keep the conservatory walls at the back in an unpainted plaster finish for a natural, honest look and worked with a charity who designs and produces furniture made from original recycled and salvaged timbers for key pieces such as the sharing table and stools for wine tastings in the shop.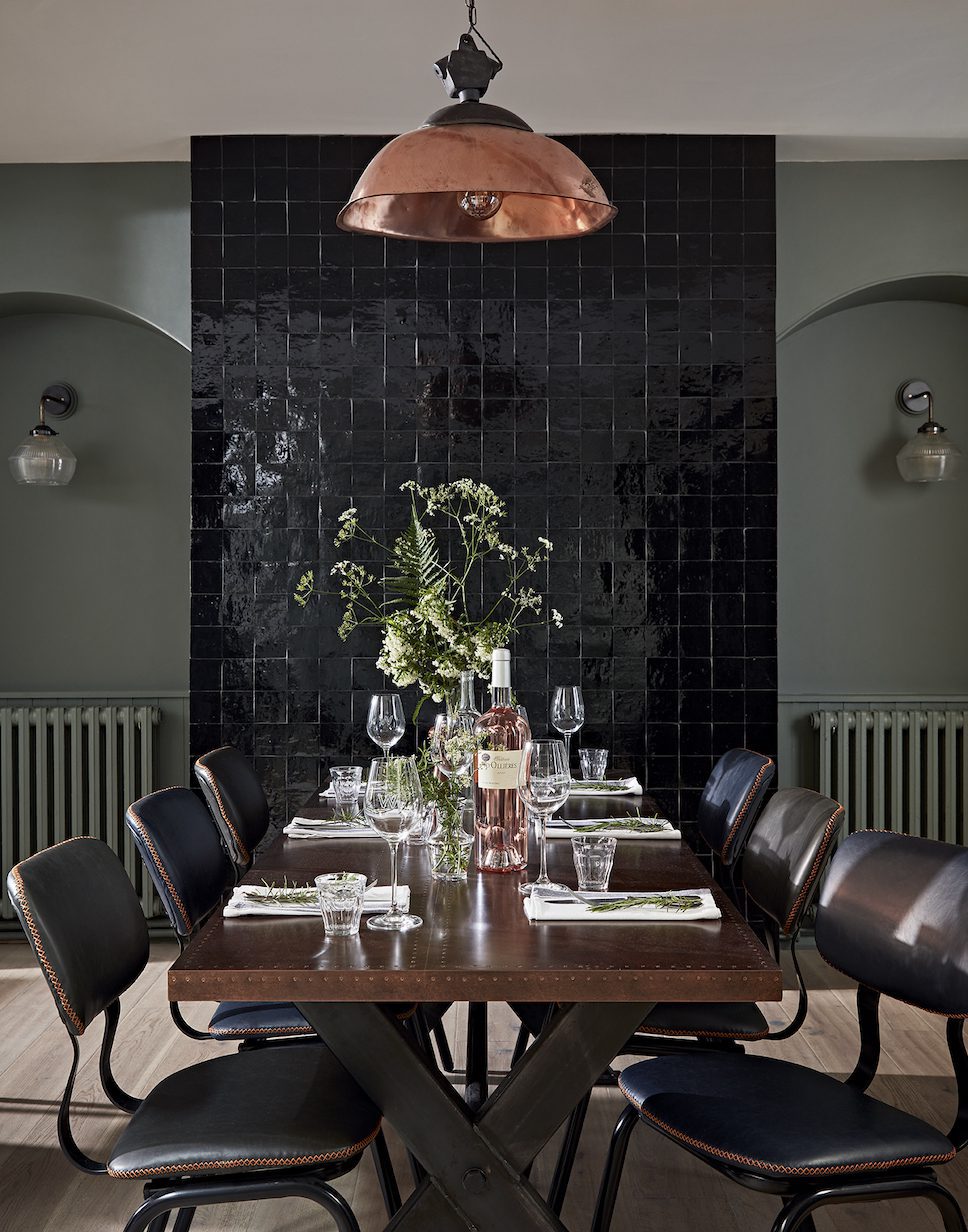 Can you talk us through the aesthetic and what ambience you wanted to create through the design?
We wanted to design a series of rustic interiors that flows casually from café and bar, to shop, restaurant, conservatory and outdoor dining space. Each space has a distinct atmosphere while also feeling complementary and working as a whole.
For example, in the café there was a classic black and white tiled floor and a magnificent yet dated bar. We chose to work with interesting metals such as zinc, copper and pewter to upcycle the bar; cladding the bar top in zinc and the back shelves with copper sheet, and choosing statement pendant lights overhead.
Classic café tables with beautiful marble tops and bentwood chairs, left over from the Café Rouge days, were cleaned and upcycled. All the chair seats were re-upholstered in soft leather in classic midnight blue to create a stylish look.
In contrast, the restaurant area in the middle section of the building had a lower ceiling height. We chose to paint the walls in a verdant green and we placed the open kitchen serving hatch here, with it's traditional brick pizza oven for a more cosy intimate dining experience. Shadowy trees were hand-painted on the walls by a local scenic artist to create relaxed ambience by bringing a sense of the outdoors in.
How have you balanced the rustic and upcycled elements with contemporary touches?
In the conservatory building we opened up the ceiling to create a lofty airy feel. We used this space to hang numerous mis-matched pendant lights for a rustic and bohemian look and a cool, monochrome palette is established with the modern graphic floor tiles.
Woodwork, windows, and beams were also painted in black and contemporary chairs in black-stained wood, leather, and rattan were selected to complement the industrial style tables, which feature copper and zinc tops and stud detailing. Individual tables are stylishly set with sprigs of fragrant herbs in recycled glass bottles, bespoke engraved wine glasses, and recycled french linen napkins. The furniture, together with the blush of the plaster walls, creates an overall look that is both relaxed and chic.
Are there any hidden details or surprises in this space that you can tell us about?
There is a private dining room on the first floor which can be hired out for special events, celebrations, and wine tasting evenings. Here, the ceilings are high with period features, grand windows, and an impressive fireplace.
We commissioned an especially long banquet table made from reclaimed floor boards and curated a grand vintage, marble-topped credenza. Holophane glass wall lights adorn the walls and add twinkle around the perimeter of the room and and two enormous boat-shaped copper pendants light the table. This room has a nostalgic feel of rustic faded grandeur as if you have stepped into someone's glorious chateau and are about to taste the produce of their old family vintage wine estate.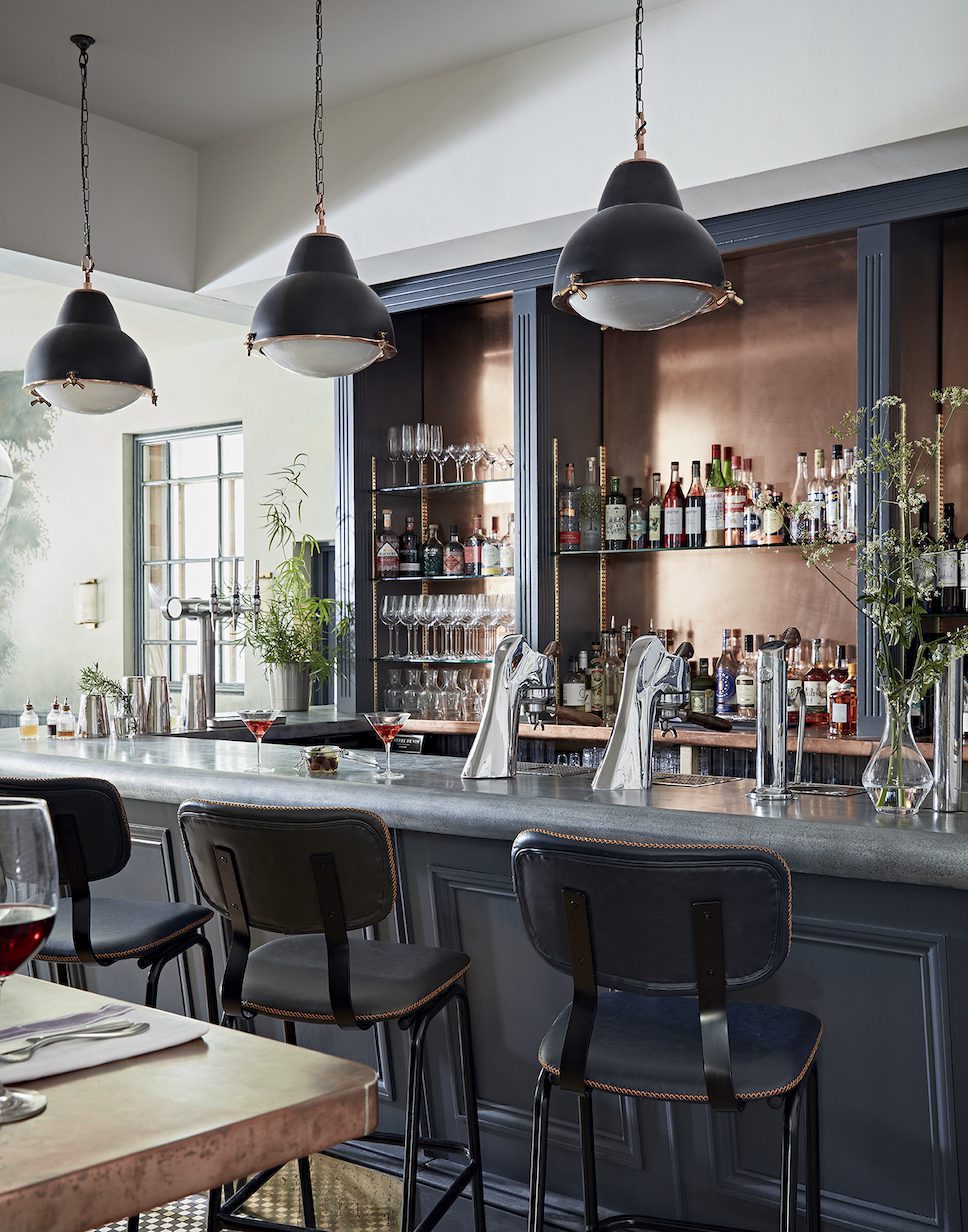 What is your favourite part of the space and why?
My favourite part of the space is a stool at the bar. It's classically cool and would be where I would love to start my evening with a cocktail or a glass of wine and some olives. I would then move to the rustic oversized sharing table in the shop area for a sociable impromptu evening of wine tasting and small bites.
This sharing table is my favourite piece in the whole design; a traditional A-frame table constructed entirely out of salvaged, recycled solid wood joists and held together by wooden pegs with matching A-frame stools. It's made by The Wood Store in Brighton, which is a charity that gives opportunities to anyone finding it difficult to get back into mainstream employment and those who are from socially isolated backgrounds. What better way to spend an evening than sitting at this table enjoying and sharing good food, wine, and company?
Photography by Jon Day.
Discover more inspirational design-led projects by the Sally Conran interior design studio.
Read more design news here on enki.