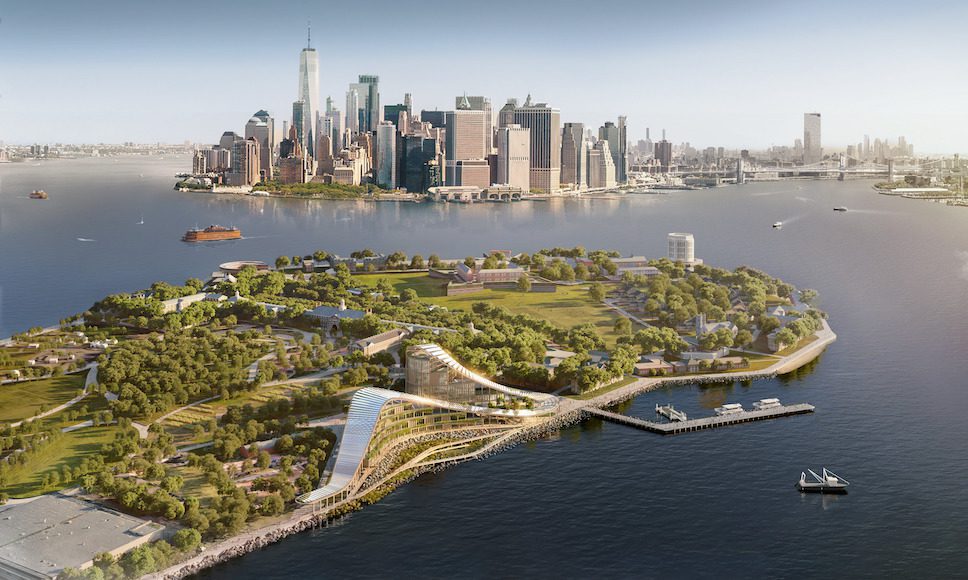 Architecture studio SOM has revealed plans for the New York Climate Exchange, a mass-timber, net-zero 'living laboratory' to be built on Governors Island in New York City.
The new campus, designed by SOM in collaboration with Stony Brook University, aims to become a model for sustainability, deploying energy positive strategies and facilitating research, education, and important conversations around climate solutions.
As a first-of-its-kind international centre, it leads by example with its mass-timber construction and on-site solar power generation. The site will include an interactive living laboratory with 400,000 square feet of building spaces that include research labs, classroom spaces, exhibition areas, greenhouses, mitigation technologies, and housing facilities.
"Our design for this new campus embodies the stewardship necessary to solve the climate crisis by weaving sinus mass-timber pavilions through the rolling landscape of the park and reusing the historic building fabric of Governors Island," says Colin Koop, SOM Design Partner.
"Together, these spaces will cultivate advances in climate research and pilot new technologies that can be deployed across the city and eventually the world," Koop adds.
The New York Climate Exchange "not only sets the stage for our post-carbon world, but also centres a compelling new public realm for all New Yorkers," according to SOM.
For example, activities hosted on campus will include green job training and skills-building programs for local residents, and the Exchange will also partner with local institutions on addressing the social and practical challenges created by climate change.
With this effort, it aims to become a place where locals can learn and engage with the environment and the hope it that "this historic centre will cement New York City as the world leader on climate change", according to Stony Brook University President Maurie McInnis.
In fact, the new campus will be one of the first projects in the US to receive the True Zero Waste green building certification and will meet all non-potable water needs with rainwater and recycled wastewater.
At its tallest, the sloped building will be eight-storeys high and its roof will be entirely covered in solar panels in order to generate power for the all-electric facilities across the campus. Structurally, it features sloping pavilions and buildings, constructed using sustainably sourced timber.
Its façade will consist of grids of timber beams and glazed windows, punctuated by lush green planting, and the development will also enjoy views across a 'living shoreline'. The flood-resistant design will be complemented by its creatively designed surroundings, which will involve work by Mathews Nielsen Landscape Architects.
UK design consultancy Buro Haploid, local firm Langan Engineering, and the Governors Island Trust, are also partners on the Exchange project.
Discover more about the New York Climate Exchange designed by SOM architects in collaboration with leading public research institute Stony Brook University.
Read more sustainability news on enki, including plans by Mecanoo to build a 'green artery' in Amsterdam, which is a mixed-use development for the living and working community.