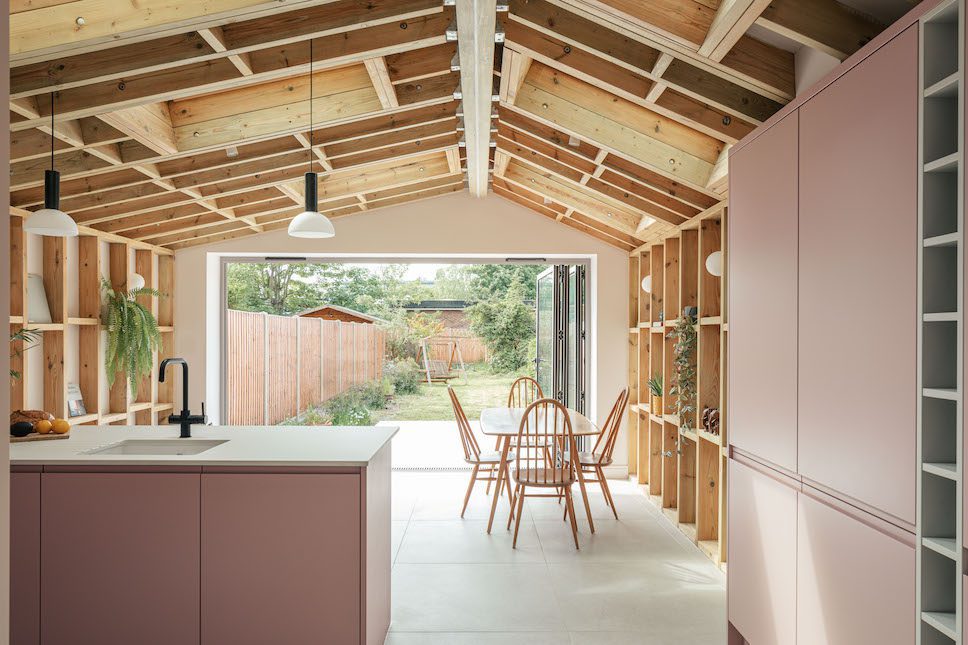 Through an imaginative use of exposed timber construction, ROAR Architects has designed a structurally decorative rear extension for a terraced house in Walthamstow, London.
The project involved a reconfiguration of the internal spatial layout, creating a sociable kitchen for entertaining with doors that open up directly onto the patio and garden. To bring plenty of natural light into the space and maximise the ceiling height, the form of the extension is expressed as a simple pitched roof, reaching three metres internally from floor to ceiling at its highest point.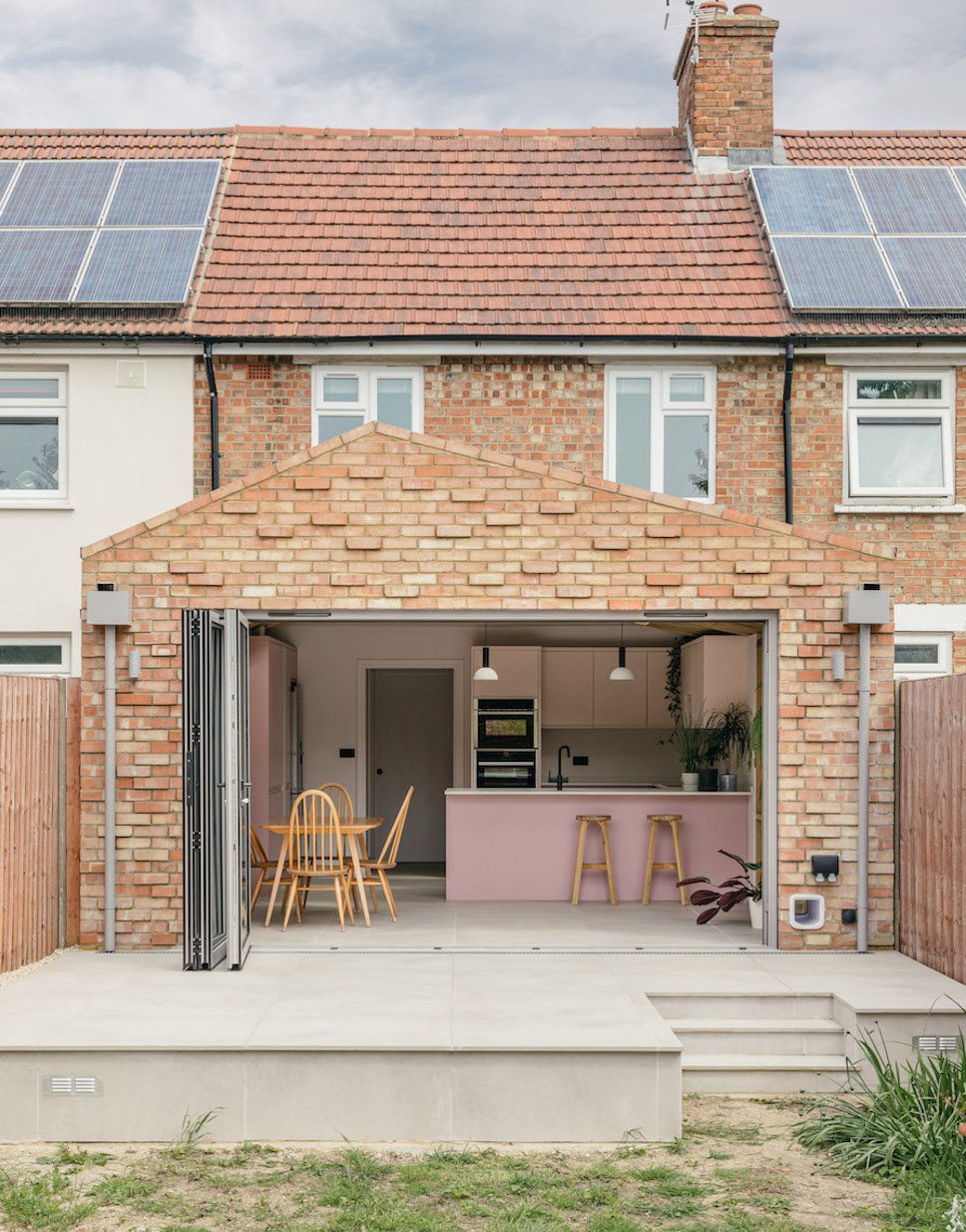 Externally, the extension is clad in red-toned bricks that match the existing house, and a sense of playfulness is demonstrated through the way the bricks project outwards and catch the eye. The protruding bricks are organised in a randomised order through the rigid stretcher bond.
The element of playfulness in the architectural expression is continued internally where the architects have utilised exposed timber construction to create a texturally interesting interior walls. By keeping the timber on show, director of ROAR Architects Shaun O'Brien explains: "We were able to minimise the use of materials and to provide a purposeful, dynamic, and playful space for the owner to inhabit."
Focusing on the craftsmanship and details, O'Brien adds: "We created niches formed of vertical and horizontal studs that are both structural and decorative. These niches have provided the owner with a playful and bold backdrop to display objects in such way that it has become an adaptable gallery for her everyday life."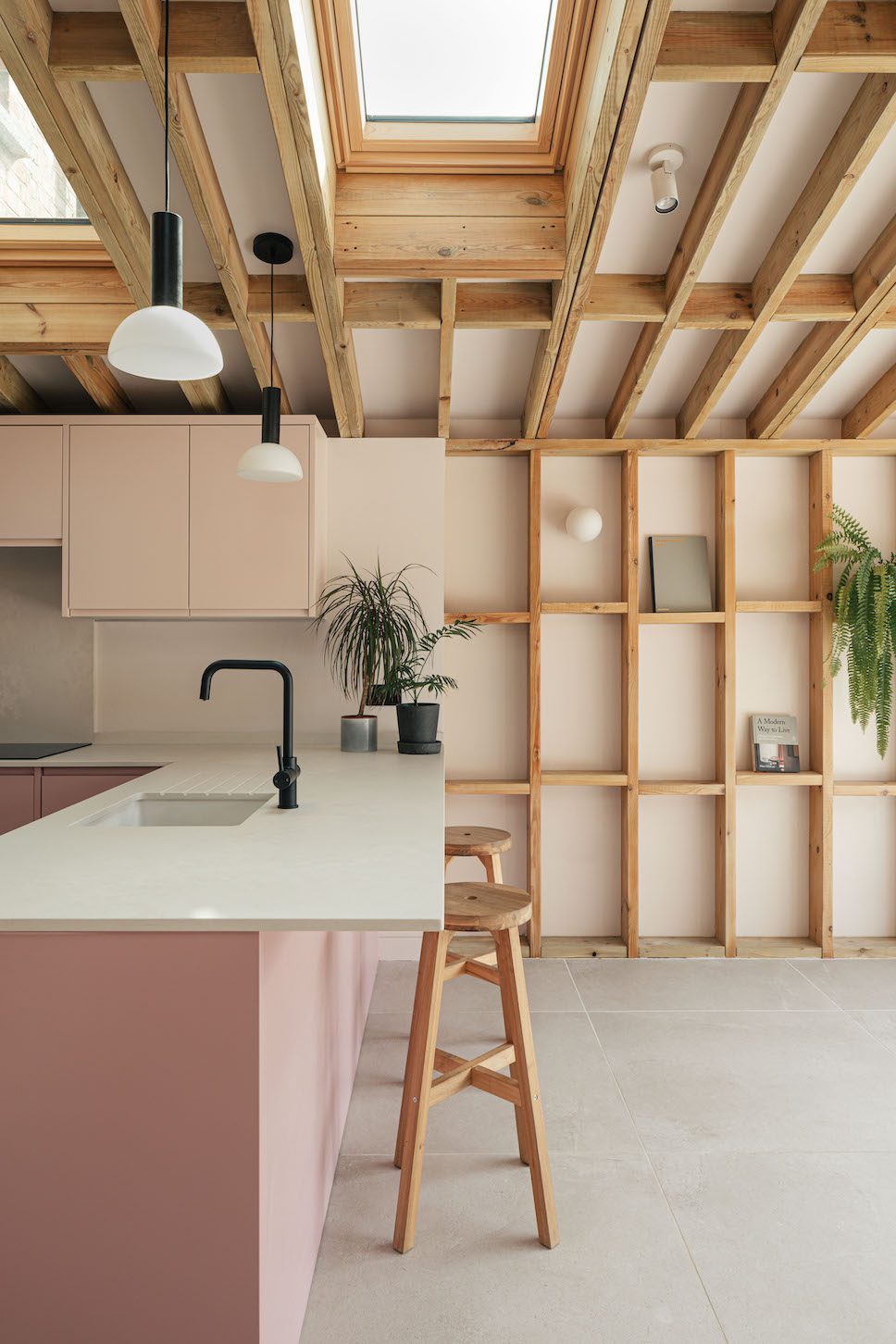 This decorative backdrop has been carefully balanced with a two-tone pink kitchen, which reflects the homeowners' love of colour. Working aesthetically with the timber, the rose-coloured cabinetry brings warmth and personality into the entertaining space.
Offering definition between the kitchen and dining spaces, the island features a sleek white worktop with a flush-mounted sink and on the out-facing side an extended countertop creates a seamless breakfast bar overhang.
Demonstrating both structural detail and decorative touches, the design of this extension brings a lot of potential to what is a modest space. Intentional architectural interventions make all the difference, including the different sized roof lights. These were purposely offset on plan when designing the space to provide the means of framing natural light on key activities that take place in the space over the course of a day.
Project details
Architects: ROAR Architects
Location: Walthamstow, London
Gross external area: 26m²
Contractor: BM Lofts
Folding doors: Southern Windows
Kitchen: Panelven Kitchens
Kitchen work surfaces: Caesarstone Quartz
Flooring: Tower Ceramics
Photography: Chris Wharton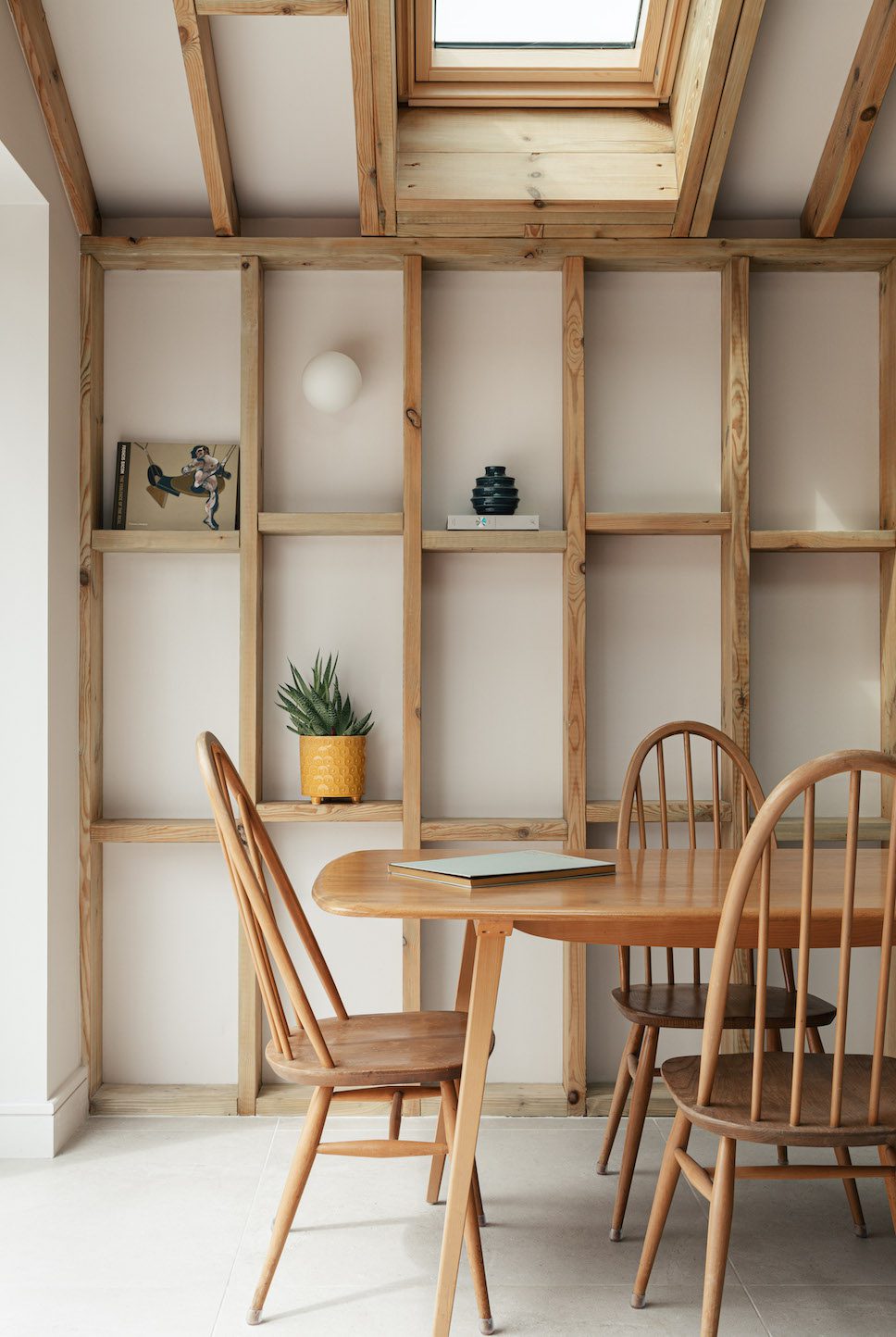 Discover more playful and carefully crafted architectural projects by ROAR Architects.
Get inspired by lots more residential architecture case studies on enki, including the visually engaging pink extension and terraced landscape by Unknown Works for Pigment House.