Welcome to Enki's Eco Edit: May 2023, our monthly sustainable lifestyle news series which will round-up our curated selection of the best eco-friendly brands, shopping ideas, and places to visit.
This month, we discover a new recipe book filled with wholesome food ideas along with a London restaurant and wine bar that's a must-try for eco-conscious foodies, plus we learn about a new charity that aims to regenerate the UK's temperate rainforest, and sustainable ideas to save water.
1. London's Eline restaurant is adorned with natural charm
Oh là là, what do we have here? A few steps from Hoxton station in East London, you'll find Eline – a new-build that has been transformed into an inviting Nordic-style space with textured wall finishes, raw concrete columns, and pale beech furniture.
Restaurant and wine bar Eline, which opened in September 2022, is the first eatery from chef Alex Reynolds, and his partner, both in life and business, Maria Viviani. Named after Alex's late French grandmother, Eline showcases French techniques, seasonal produce, and a selection of natural wines.
Design group Not Limited, of which Bert & May's interior consultant Louise Curnuck is co-founder of, took cues from the seasonal and organic menu and wine list when choosing the colour palette of soft neutrals and dark greens. Green is carefully introduced through eye-catching accents in the Bert & May fennel floor tiles, upholstery, and heavy linen drapes.
The menu changes each month to respect seasonality and to offer the freshest ingredients – it's also a great excuse to go back again! To find out more and make a booking online visit restauranteline.co.uk.
2. A mouthwatering read: Recipes to Connect by Anna Boglione
Inside this recipe book with a difference, there's more than just methods to follow – there are thought-provoking conversations with inspiring thinkers and writers paired with a selection of seasonal recipes to inspire a better way of eating and living.
Various themes are explored, ranging from gut health, sleep, fasting, and mental health through to rewilding, soil, farming, mushrooms, and microbes.
Throughout the beautifully designed pages, author Anna Boglione reveals conversions that address ways we can reconnect with the planet that feeds us. Among the recipe and conversation pairings are Harry Boglione's discussion of regenerative farming followed by Jeremy Lee's foraged dishes, and Simon Rogan's mushroom recipe which are inspired by Merlin Sheldrake's passion for fungi.
Published by Octopus Books, it's available to buy from Amazon and all good booksellers, from £30 in hardback.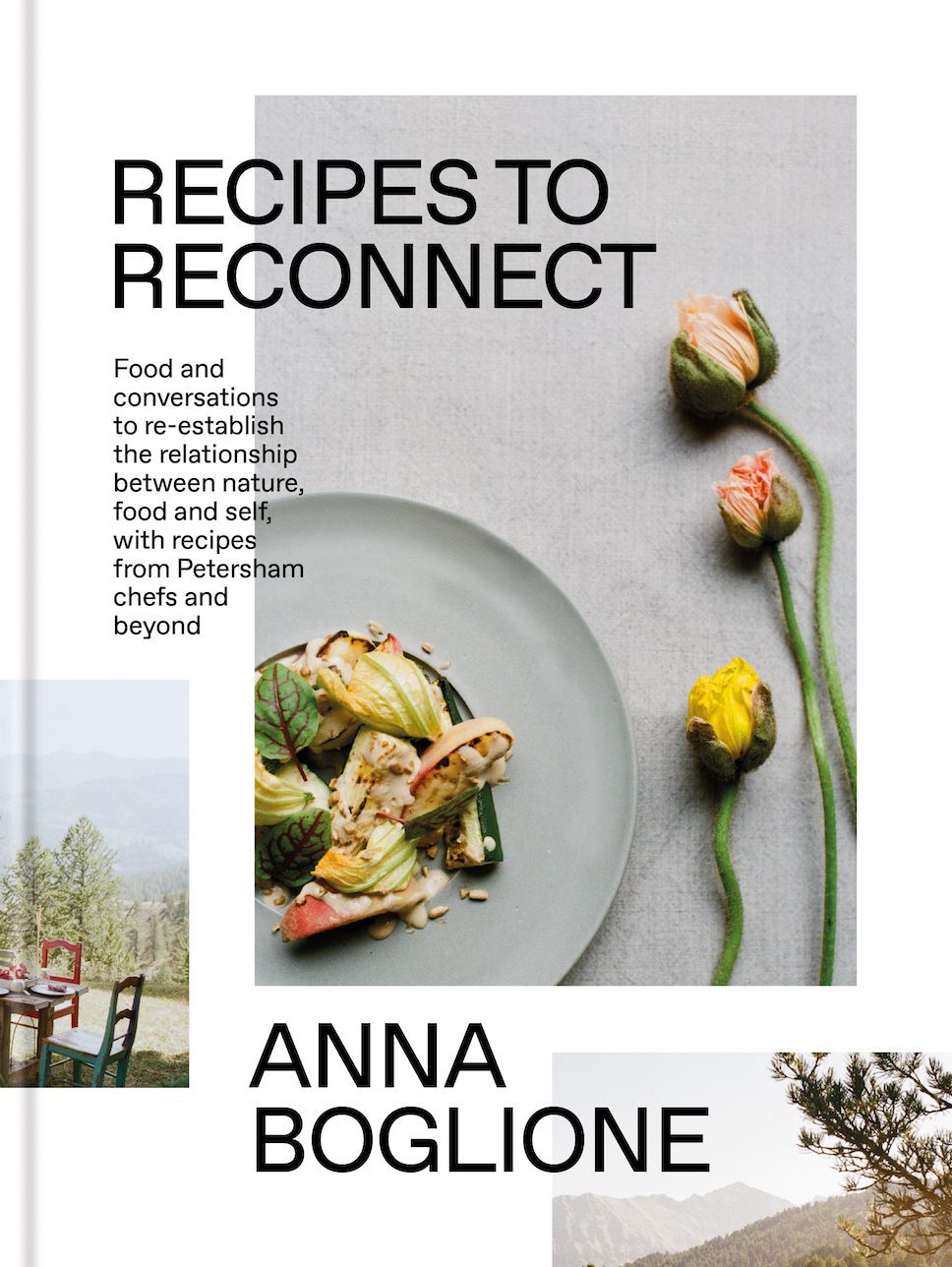 3. Thousand Year Trust aims to triple UK's temperate rainforest
The just-launched Thousand Year Trust – the first and only charity in the UK dedicated to the restoration of Atlantic Temperate Rainforests – is one of 10 projects to have been awarded up to £15,000 as part of Rewilding Britain's latest Innovation Fund.
In its mission statement the Thousand Year Trust's intention is clear: "To triple the amount of Atlantic temperate rainforest growing across the UK over the next 30 years from the current assessed 330,000 acres to one million acres."
The first project site is at the heart of Bodmin Moor in the Cabilla Valley and it is currently the largest active rainforest restoration programme in England and Wales. Working with local farmers, landowners, and charities, there will be a focus on identifying suitable land, tree planting, and habitat restoration.
"We often think of rainforests as only existing many thousands of miles away, in tropical climates, but in the UK they are our oldest and most culturally romantic habitats," says Merlin Hanbury-Tenison, Managing Director at the Thousand Year Trust. Hanbury-Tenison took over in his family farm, Cabilla, in Cornwall five years ago and found respite in countryside living.
To learn more about this restoration project and to pledge a donation if you're able to, visit thousandyeartrust.org.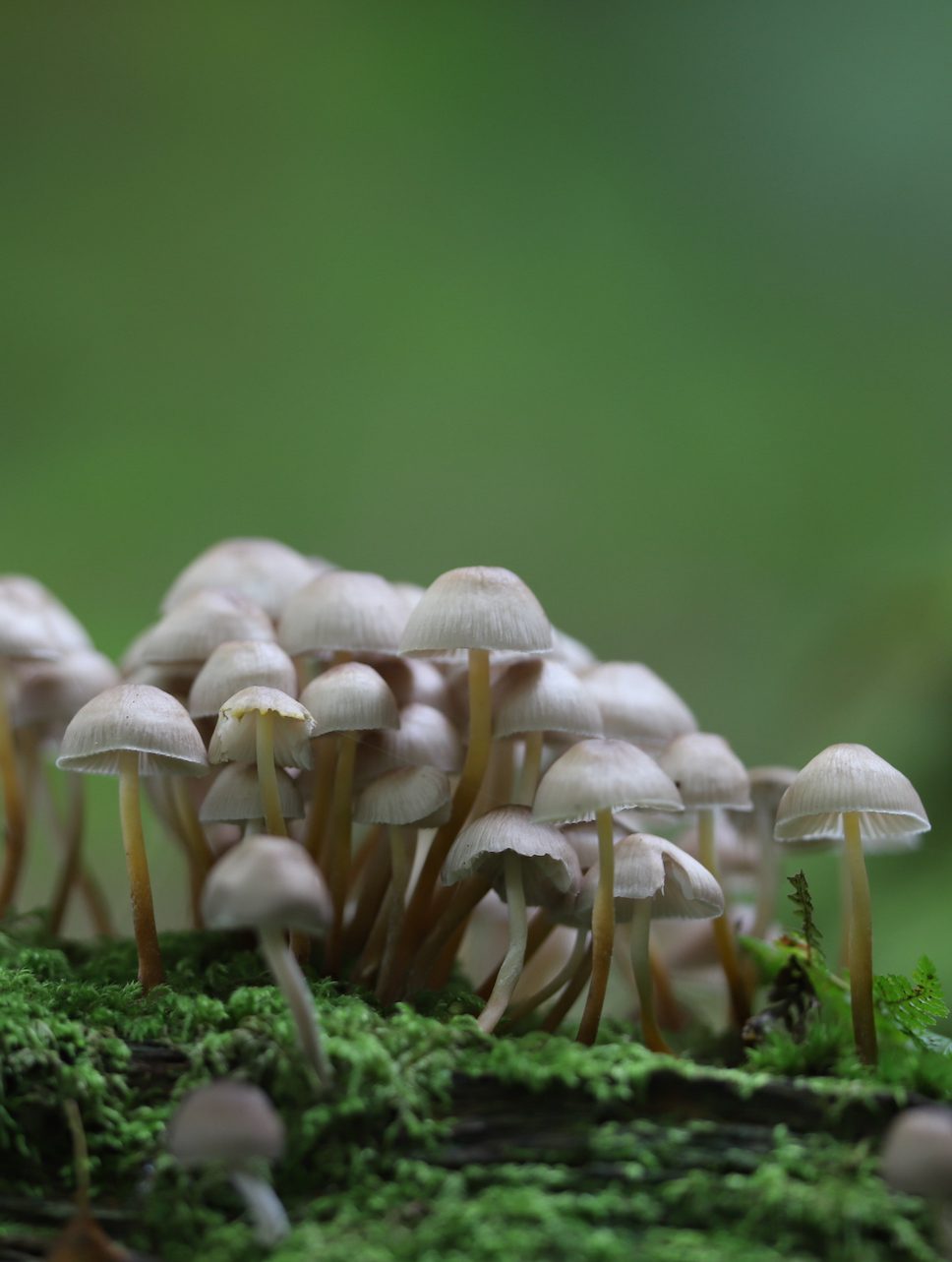 4. Hansgrohe introduces its Pulsify Planet Edition collection
At a time when we are all looking at ways to lower our energy bills and reduce our water consumption, the new Pulsify Planet Edition hand shower by Hansgrohe has come along with a conscious use of resources at the heart of its design.
During the design process, innovators at Hansgrohe asked themselves: "what impact does the production, use, and disposal of a hand shower have on the environment?" This then led to the use of recycled materials in its design and an uncompromising approach to its function, which means it only has six litres of water flowing through the hand shower per minute whilst also providing that revitalising shower experience we all desire.
"Taking a hot shower for one minute consumes about as much energy as driving an electric car full throttle on the road for the same amount of time – so, with Pulsify Planet, we had to make sure this high energy usage was being addressed," explains Steffen Erath, Head of Sustainability at Hansgrohe SE.
Complementing the Pulsify Planet hand shower, there's a collection of WallStoris accessories and a textile shower hose. The Pulsify Planet Edition will be available in the UK from September 2023 and you can find out more at hansgrohe.co.uk.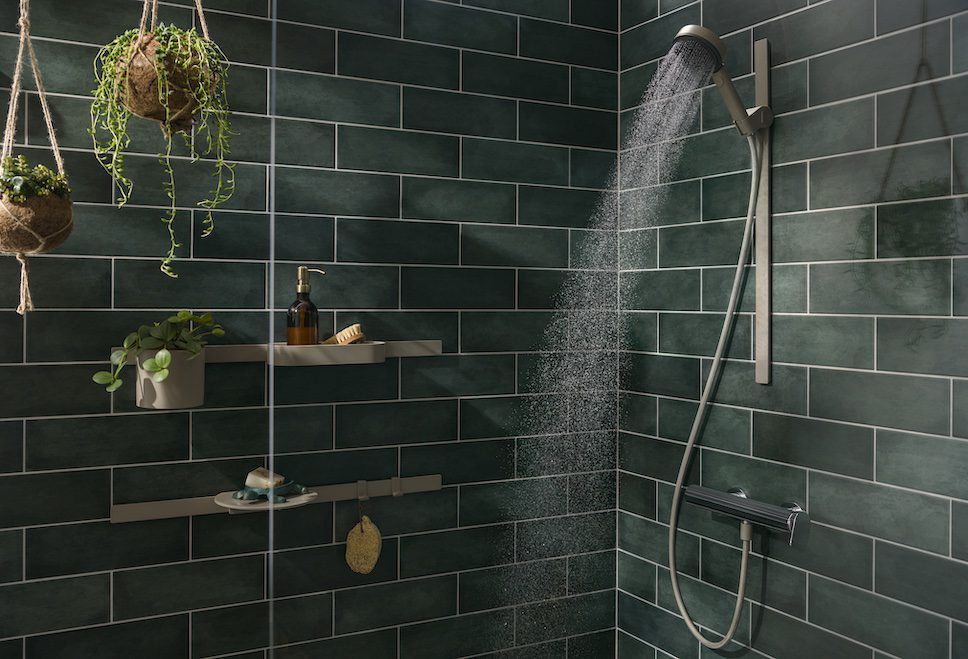 Last but not least in Enki's Eco Edit: May 2023 is something for beginner yogis or anyone wanting to deepen their at home practice…
5. Bolia launches Lenya yoga series made from recycled materials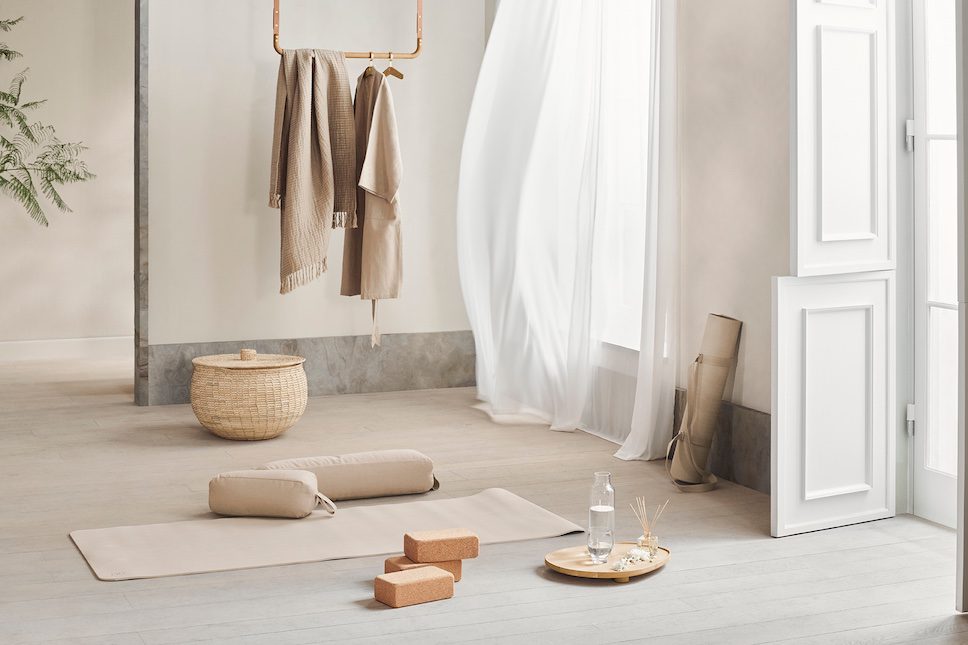 Focusing on what's good for the mind and for the environment too, the new Lenya yoga series of yoga accessories from beautiful Danish brand Bolia is made from cork, linen, and recycled foam.
Consisting of a yoga mat and carry strap, two meditation cushions, and a yoga brick, the designs speak to your senses and invite you to take some moments to relax and recharge. German designer Meike Harde has brought her signature clean lines and subtle detailing to the collection, which is coordinated in its earthy neutral colourway.
The Lenya yoga is made from 30% post-consumer recycled materials (polyethylene, cotton, and linen) and designed to offer comfort and support for all yogis alike. For those who enjoy a Vinyasa yoga flow practice, the lightweight cork brick offers a comfortable grip for help with transitions between poses.
Prices start from €67 (around £58) for the Lenya yoga brick, and the whole series is available online at bolia.com.
We really hope you've enjoyed reading Enki's Eco Edit: May 2023, and if you want more stories like this we recommend checking out all of our sustainability news online.
In case you missed it, check out Enki's Eco Edit: April 2023.
For more of the sustainable design stories and inspiration, be sure to subscribe to enki magazine and get every issue delivered straight to your door.