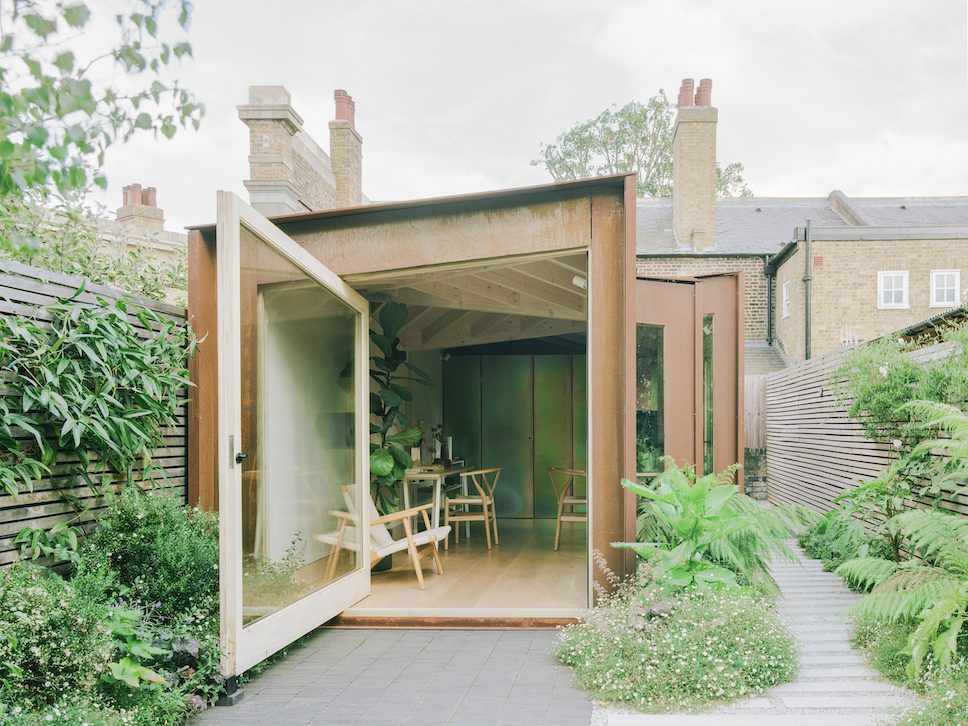 Testing new ideas and ways to use concrete-free construction, emerging architecture practice ByOthers has hand-built their own Garden Studio in Peckham, South London.
The Garden Studio, positioned at the rear of a terraced plot, is characterised by the angular geometry of its roofline and custom corten steel panel cladding. This design was born out of the practice's desire to explore new ideas of building without the use of concrete and to deliver environmentally beneficial architecture.
This experimental approach has resulted in a building made from a lightweight timber frame set atop a timber raft, which hovers lightly on the ground and is supported by deep screw-pile foundations. Designed in a step form, the three tapering blocks each offer space for different functions, from work and meetings to utilities.
Referring to this space as "an incubator for our ideas", director of ByOthers Richard Keys explains how this project marks their first completed work and provides a focus for how the practice hopes to change the direction of the architecture industry for the better.
Commenting on how important he believes concrete-free construction is for the future of our built environment, Richard Keys said: "Limiting the use of concrete within buildings is one of the best ways to reduce the embodied carbon."
"Buildings typically outlive their designers and constructors so it is vital that we take a low-term view on the materials we assemble. This means that a simple change of material can have exponential benefits when extrapolated over the lifetime of the building."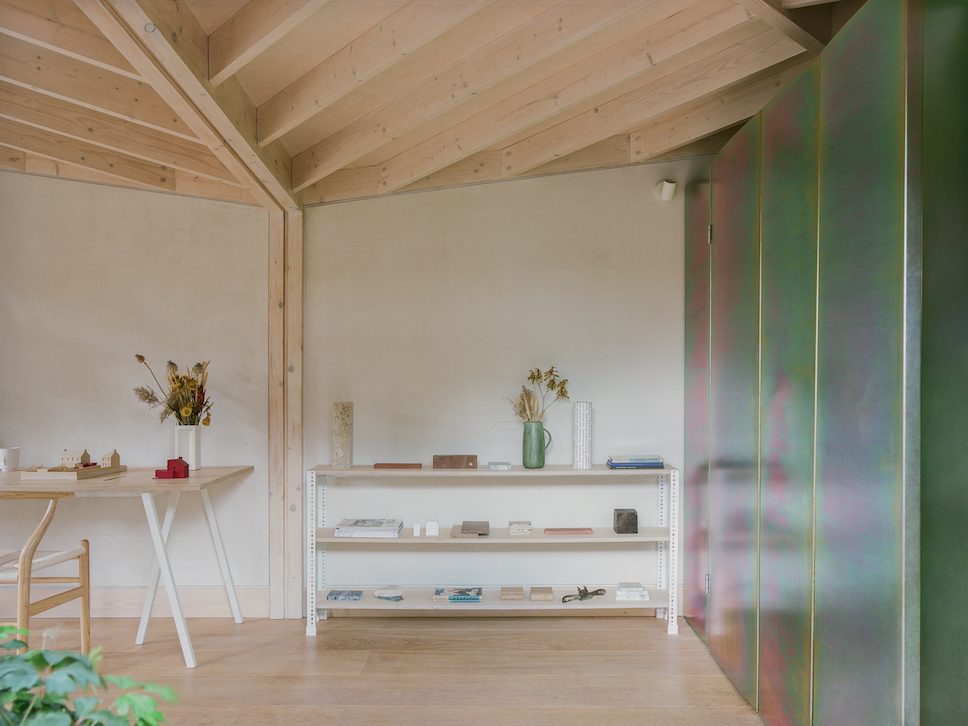 The Garden Studio is accessible only through the house at the front of the site, through a narrow hallway, and this challenge meant ByOthers had to carefully consider their methods without compromising their design values.
"It was essential for us to construct something that was low impact and could be carried by hand. We learnt how to manually install screw piles to omit the need for any concrete. We also designed ensuring all the building parts could be carried by hand and focused on having as little waste as possible," Keys explained.
Cladding the studio in a series of custom corten steel panels, with each U-shape beam inverted to show the method of fastening, brings the quality of architectural craftsmanship to the forefront and also allows for the beauty of weathering on the exterior façade.
Due to the angular roofline, each steel panel features a unique measurement and dedicated placement on the studio's exterior. Intricacy and detail were pivotal, with ByOthers designing a geometric code of triangles and laser-cut lines into the panel bases to ensure they were installed in the correct location.
Not only was material experimentation important on the exterior but also on the interior, which allowed the architects to test the application of materials such as Clayworks plaster and a natural, vegetable-based timber oil.
"We were focused on creating an environment that is passively healthy," enthused Keys. "We wanted the space to have passive air quality improvements. The Clayworks plaster self-regulates the humidity and it does not omit VOCs. The breathability of a natural plaster also worked with our vapour permeable wall construction."
Heavily insulated with sheep's wool to reduce heat loss, the Garden Studio is designed to offer a comfortable internal climate all-year-round.
With such a dedicated focus on natural materials and an aim to deliver positive change within the built environment, we asked Richard Keys if there are any other materials they are keen to experiment with?
"As a studio we prioritise prototyping and testing new materials. We're currently experimenting with rammed earth for use in the uk for smaller buildings but also investigating the use of secondhand steel for some of our larger projects. There are so many exciting opportunities out there, beyond what's in the typical builders merchants." So, watch this space!
Project details:
Location: Peckham, London, UK
Architects: ByOthers
Gross internal floor area: 20 sq.m
Gross external floor area: 4 sq.m
Construction cost: £50,000
Structural engineer: London Structures Lab
Landscape consultant and main contractor: ByOthers
CAD software: Rhino + Grasshopper
Photographer: Lorenzo Zandri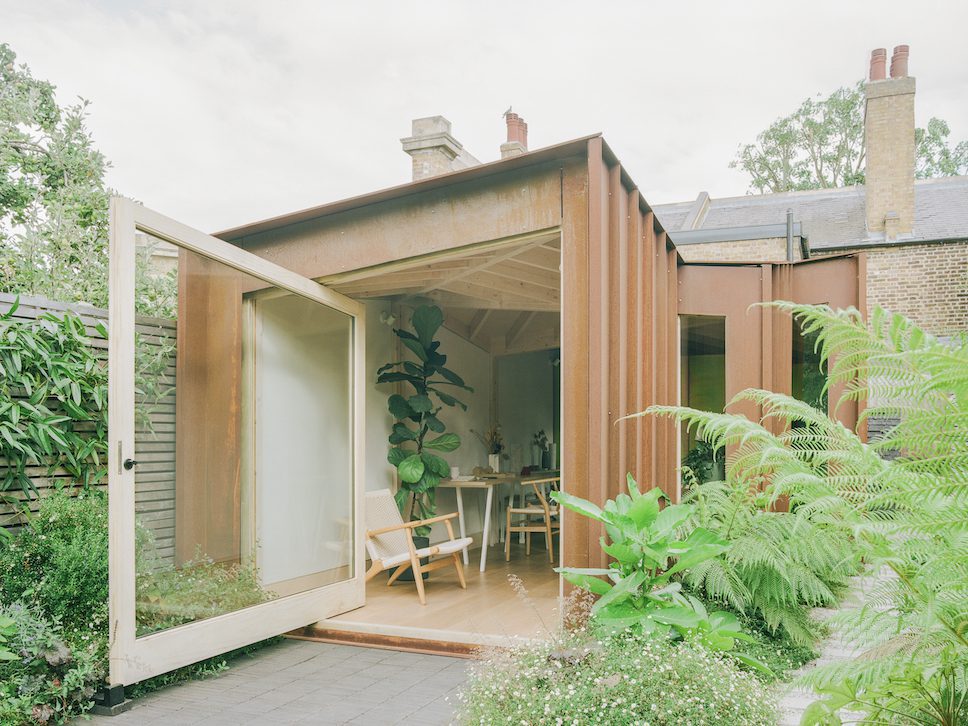 Learn more about the work of experimental architecture practice ByOthers, and read more about how Clayworks uses 'building biology' principles in another featured case study here on enki.
Take a peek at lots more residential case studies, and don't miss our brand-new May/June issue (our Home & Garden special) on sale now!