Seeking a toxin-free home, the owners of a converted Victorian ground-floor flat in London approached Clayworks to help with the design of contemporary style, healthy living spaces.
Yazen Hasi, owner of design and build firm Gestalt Developments, and his wife Nooreen chose to redesign their first home with a completely holistic approach. Their vision was to turn an awkwardly configured flat into a high-end modern home, guided by the principles of 'building biology'. This involved using non-toxic building materials methods that are designed to support health and wellbeing.
Within the building fabric itself, natural materials with low or no VOCs (volatile organic compounds) were chosen. In all external original walls in the home, the walls were stripped back to brick and re-plastered with an insulating lime and cork plaster. This has massively improved the thermal values, while allowing these walls to remain breathable as they were originally designed.
Internally, Yazen and Nooreen chose to finish the walls with a combination of natural clay and lime-based plasters from Cornwall-based Clayworks. "Clay plaster has been used throughout the project in various colours and textures," explains Clare Whitney, marketing and sustainability manager at Clayworks.
"A soft, luxurious smooth white finish creates a calm and fresh atmosphere in the kitchen and living areas. This contrasts dramatically with the study's deep, rich olive colour. In contrast again, an unusual coarse textured plaster has been used in the bedroom and carried through to the exterior as a seamless finish," Clare Whitney adds.
Considering the layout and flow of the home was also important and, despite being constrained by a relatively small footprint, the aim was to create a light and airy feel. The home's asymmetric zinc-clad rear extension is deliberately shaped and glazed to allow significant natural light to filter through to the north-facing open-plan kitchen and living area. Indirect daylight helps to support the body's natural circadian rhythms, so this supports the design of a healthy environment.
To delve a bit deeper into what is involved in creating a healthy home, we asked Clare Whitney of Clayworks to explain more…
What does creating a healthy home mean?
Building biology principles call for materials with proven sustainable environmental performance. As well as promoting building materials that reduce air pollutants and irritants, building biology also strives for a well-balanced ratio between thermal insulation and heat retention as well as indoor surface and air temperatures, use of humidity-buffering materials and the optimisation of room acoustics.
We spend around 90% of our time indoors, and more and more studies are showing that building materials directly affect our health. We can use building materials to create healthier homes, primarily through eliminating chemicals of concern. Chemicals in wet-applied finishes and composites turn into gasses released into the air. For example, as plastics break down they also release chemicals. All of these chemicals enter our bodies through inhalation and dermal absorption, so using natural materials is always going to be better for our overall health at home.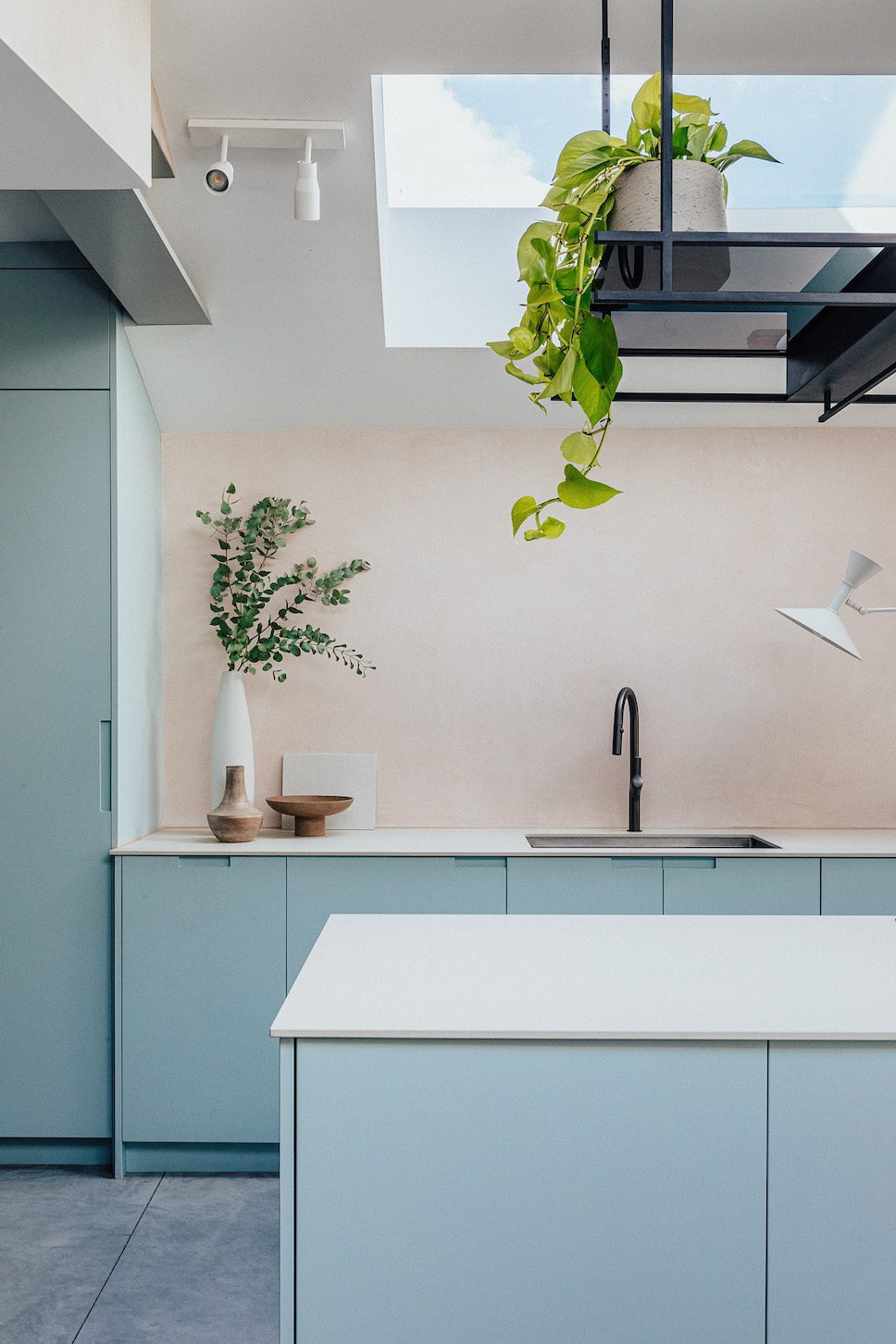 So, how achievable is a healthy home?
Incorporating wellness into the very fabric of the building is easy with simple, natural materials. Even where altering the fabric of a building in a renovation may not be feasible, a few minor changes in interior finishes and furnishings can have a significant impact.
We can do a lot to avoid chemicals and plastics by seeking out natural materials and demanding transparency. Clayworks products have VOC emissions certificates and Health Product Declarations. Many other natural materials can be used within buildings for floors, wall build-ups, and insulation that can all contribute to keeping a space toxin free.
Another way clay contributes to interior health is by absorbing and de-sorbing moisture–breathing. Unlike other finishes, clay does not 'cure': it remains a raw, porous material that constantly breathes, helping to maintain indoor air humidity at a level that promotes optimum health.
The colours and textures in this home are very different, leading to a differentiation of space. For instance, when you leave the bright and airy kitchen and dining area, a short corridor leads through to a more atmospheric home office and bedroom space with an alluring deep texture.
In the bathroom, Clayworks created custom Tadelakt finishes which have a shinier surface appearance than clay. Tadelakt originates from Moroccos and is a polished natural, lime-based mineral plaster for water-resistant interior surfaces.
The flooring choice was also thoughtfully considered, using concrete with a water-based sealer for the living spaces. This acts as a huge thermal store, and in the areas of the home where underfloor heating wasn't possible, Yazen and Nooreen utilised Nature clay water-based heating panels. These are installed on the ceilings, and finished with clay plaster and paint.
Project details:
Project type: Ground floor conversion of a Victorian flat
Location: London, UK
Architecture: Gestalt Development
Materials: Clay plasters by Clayworks Clay Plasters; Clay heating panels by Naturbo; Wood fibre insulation; Insulating cork and lime-based plaster.
Photography: Taran Wilkhu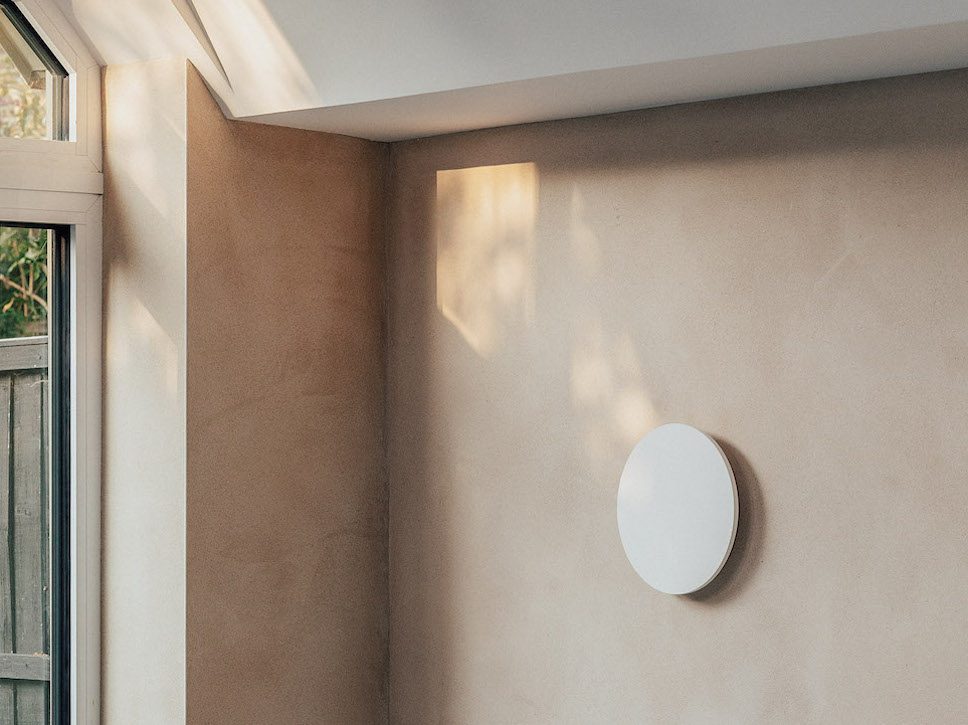 Find out more about the high-performance natural clay plasters by Clayworks.
Read lots more sustainability news on enki.