Architects Frank Maali and Gemma Lalanda have designed Vipp Garage, an industrial-style cultural destination for Danish design brand Vipp.
Vipp Garage is the newest addition to the ever-evolving brand's portfolio of design experiences, which also includes five hotels and a supper club. This multifunctional hub brings a whole new encounter to the table, opening up to play host to various events, from art exhibitions and concerts to supper clubs and talks. The scene is set against a backdrop of steel-clad walls and polished concrete floors with an air of confidence and composure.
Situated in the courtyard at the Vipp headquarters on Islands Brygge in Copenhagen, the building was originally constructed in a 'patchwork' of old and new building fabric. It was once a 1950s auto garage but now it's been given an overhaul by Frank Maali and Gemma Lalanda whose work has been informed by the old working class neighbourhood and its industrial vernacular.
"The result is a playful, new structure of stacked blocks that pop up and vary in scale – like bursting buds on a tree that frame the inside of the garage with its 4.5 metre-high vaulted brick ceiling and "pulpit" staircase that add a sacral feeling to the space", explains Frank Maali.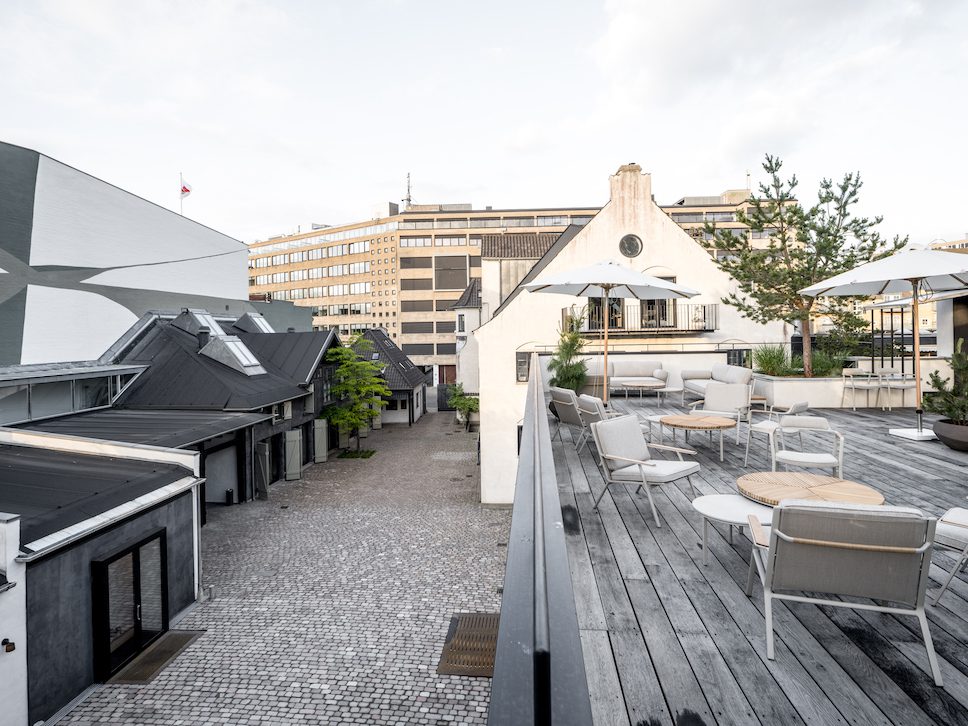 Drama and intrigue is created throughout the unassuming interiors through the architectural detail and the detail in the fabric of the building. Natural and rough-finished textures combined with sleek finishes bring out the industrial character, with the architects adding a few personal touches too. "The brick ceiling by Randers Tegl is a homage to Holger Nielsen, who founded Vipp in 1939 in the city of Randers," revealed Frank Maali.
Set against the textured and unfinished fabric of the building, formed out of steel, concrete, brick and glass, Vipp's own furnishings are brought to life. The entertaining space is punctuated with iconic pieces such as the V2 kitchen, Vipp484 stool, and Vipp 488 lounge chair.
Revealing why it was important for a design brand like Vipp want to tap into the experience economy, Vipp CEO and third generation owner, Kasper Egelund explained: "It is an analogue response to a digital world and a wish to move Vipp closer into the fields of design, architecture, art, food, and music, and embedding a social side into the brand DNA."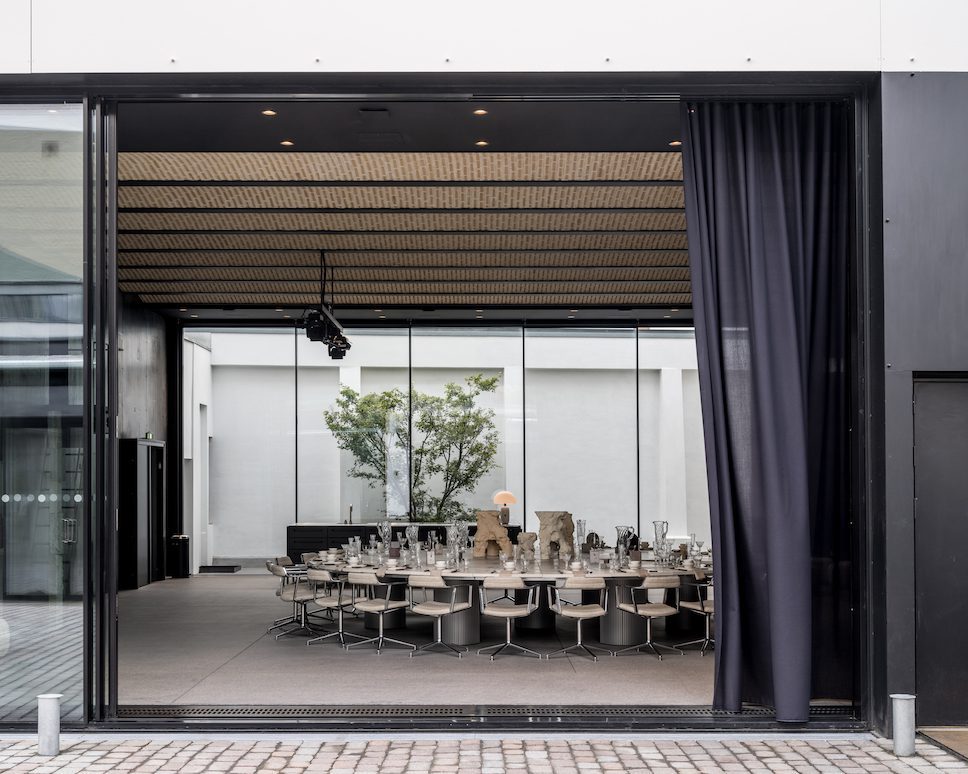 The renovation work involved a floor plan extension and the addition of large glazed windows to open the space out onto two separate courtyards. By cutting through the existing structure, the architects have brought daylight deep into the interior and visitors can feel closer to nature whilst looking out at a perfectly positioned tree.
For extra 'wow-factor', the architecture duo created a rooftop terrace with a greenhouse-style room. Inside, a Vipp kitchen is showcased in all its contemporary sleek style, and from this spot guests can soak up the Copenhagen skyline and harbour.
Opening the Vipp Garage in spectacular style is an art installation reimagining the artful dining table curated by interior designer, Julie Cloos Mølsgaard, with help from concrete masters Pettersen & Hein, and glass artist Alexander Kirkeby. So, if you are in the area, make sure you pop by to see it!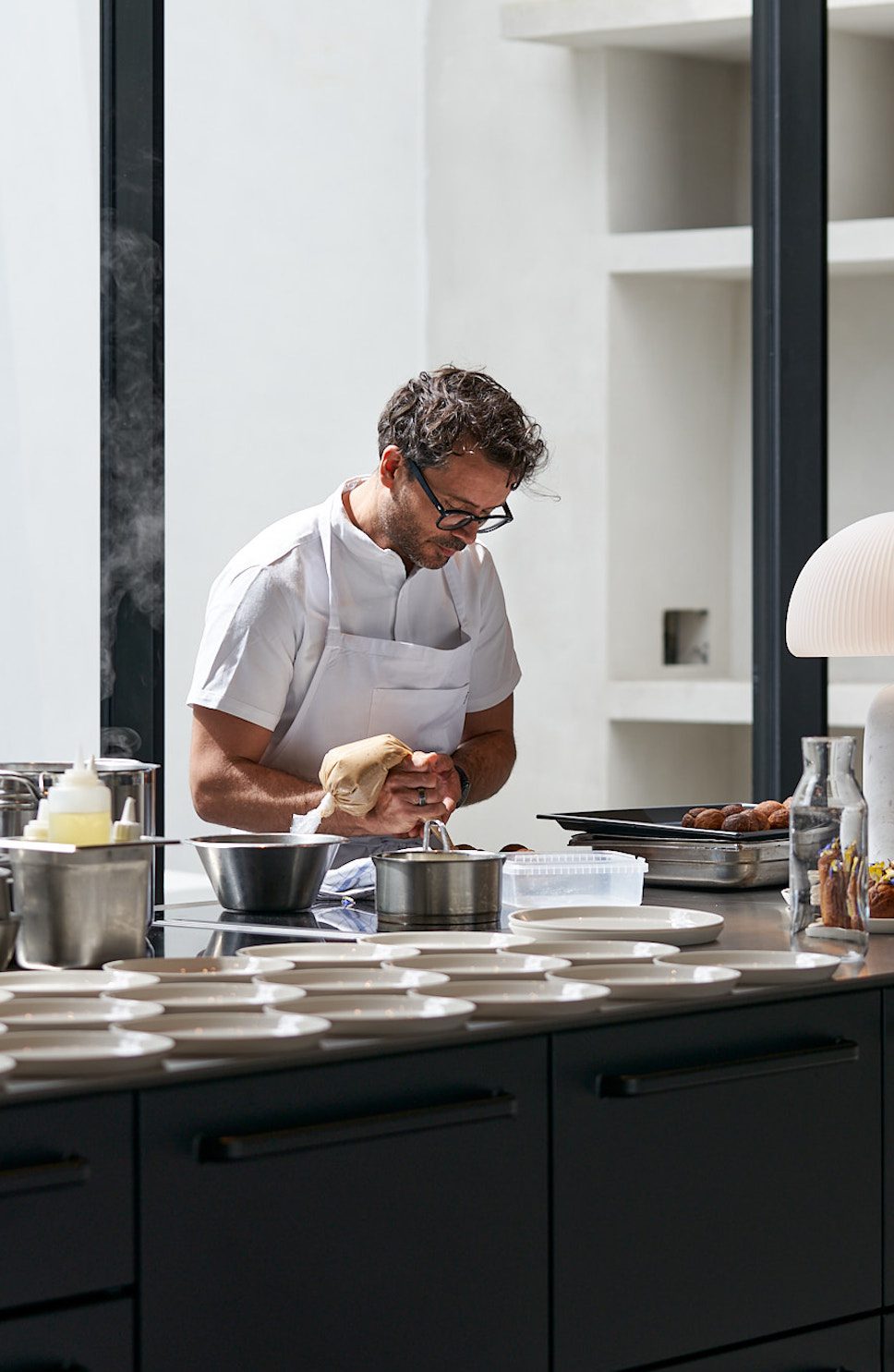 Photography by Rasmus Hjortshøj.
Find out more about Vipp's newest venue and check out the complete furniture and kitchen range online at vipp.com.
Discover more about Vipp's supper clubs and two of the brand's hotels – the Bolder Sky Lodge and the Vipp Pencil Case. There's also plenty more architecture news to enjoy on enki.