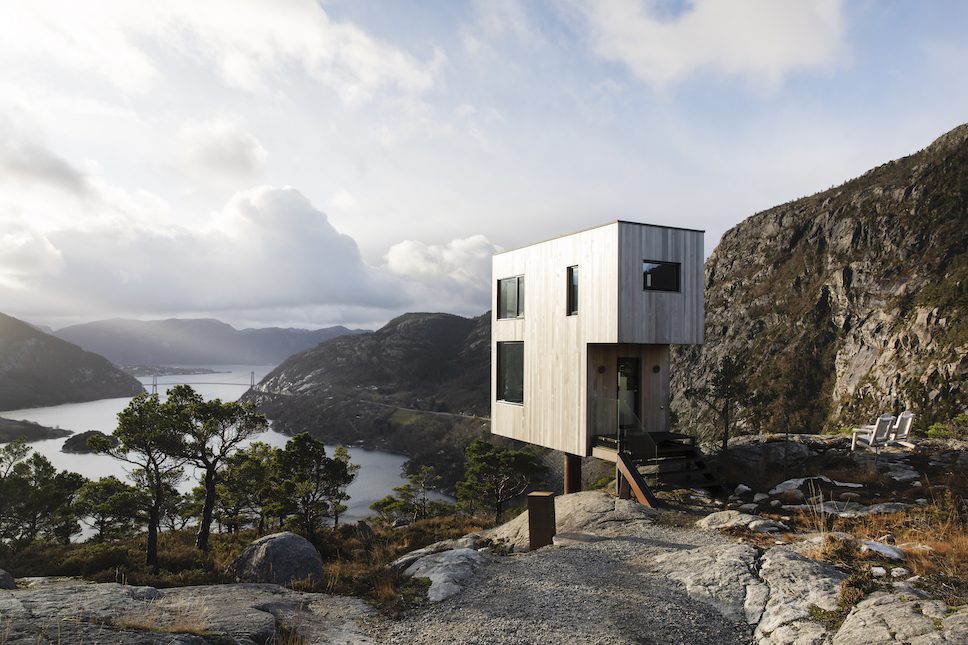 Balanced on one single column at 600 metres above sea level, The Bolder Sky Lodge offers unparalleled views across Norway's Lysefjord in a unique and daring new tourism concept.
When owner Tom Norland bought 170 hectares of untouched land over looking the magnificent mountains in Western Norway, he originally planned to build a series of smaller hermit huts. His thoughts soon turned to more adventurous ideas that would reimagine the potential of the plot and inspire a whole new appreciation of the unforgettable fjord.
Architect John Birger Grytdal from Norgeshus took the reins of the ambitious project, and came up with a two-level cube wrapped in Canadian cedar wood with floor-to-ceiling glazing. The structure sits unobtrusively in its surroundings, balanced on one steel pillar which has been drilled 3.5 meters into ground. By building on one single column, the footprint of the building in the landscape has been minimised.
"The cubes are intentionally placed on the edge of the sloping mountain. It's like standing in a glass elevator with the familiar sinking feeling," says architect John Birger Grytdal. It is an experience unlike no other, and one that gives guests an authentic experience of the nature and elements that embrace the Norwegian fjords.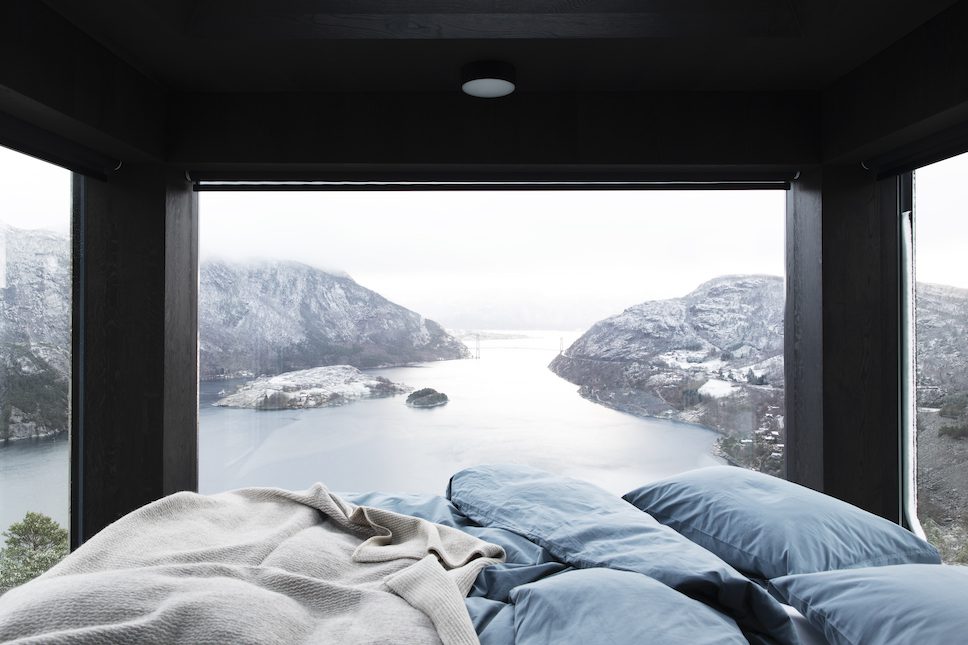 The fully equipped accommodation is compact but cosy, offering a private and immersive stay. Measuring 22 square metres, the living space includes a kitchen and dining space, as well as two double bedrooms and a bathroom. Whilst the expansive, dual-aspect windows bring the breathtaking views into the forefront, the curated interiors provide the luxurious space to sit back and relax in.
Dark oak ceilings and walls create a cocoon-like atmosphere for warmth, whilst the concrete flooring and freestanding kitchen by Danish design company Vipp add practicality and a touch of modern style. Tom Norland says he chose Vipp, not just to supply the kitchen but also the furniture, lighting, tableware, and accessories, because the aesthetic "fits well with our concept of architecture in nature". The timeless and functional essence of the Vipp design pieces is just what was needed to impress guests everyday.
"My intention was to give visitors a front row view to one of the best-known fjords in the world. The border between inside and outside had to be blurred to convey the feeling of floating in nature," adds Tom Norland on one final note.
Project details:
Location: Lysefjorden, Norway
Architect: Norgeshus
Owner: Tom Norland
Styling: Maria Hove Vestre
Photography: Anne Bråtvit
The Bolder is one of twoSky Lodges situated on this site. Prices start at3,700 NOK per night (around £310), and for weekends(minimum 2 nights) from6,900 NOK (around £575).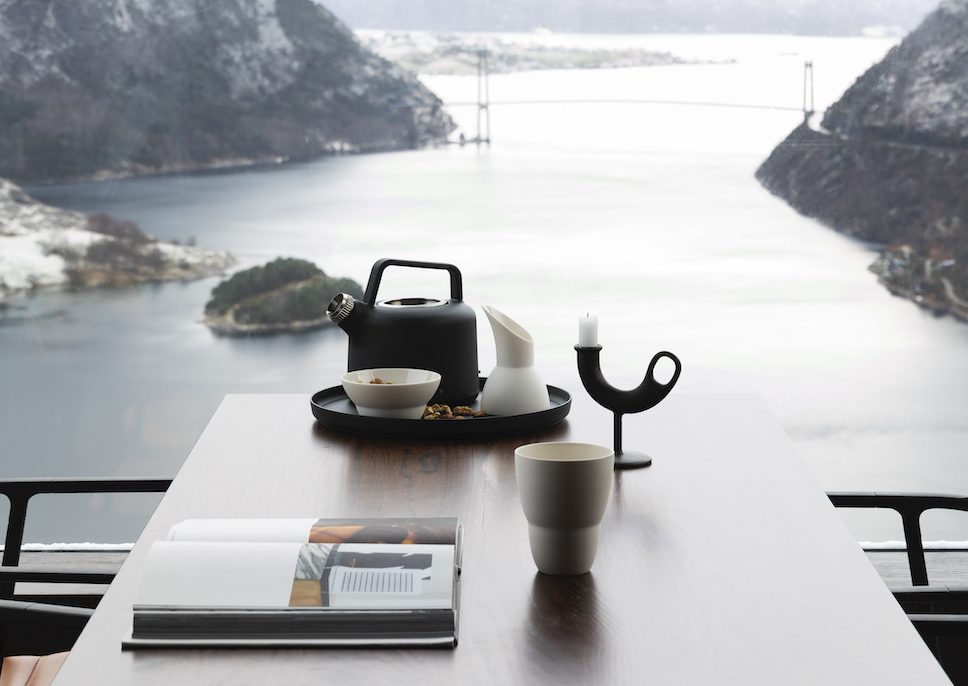 Find out more about The Bolder along with booking information and all the Vipp hotels.
Discover more architecture and design stories on enki.