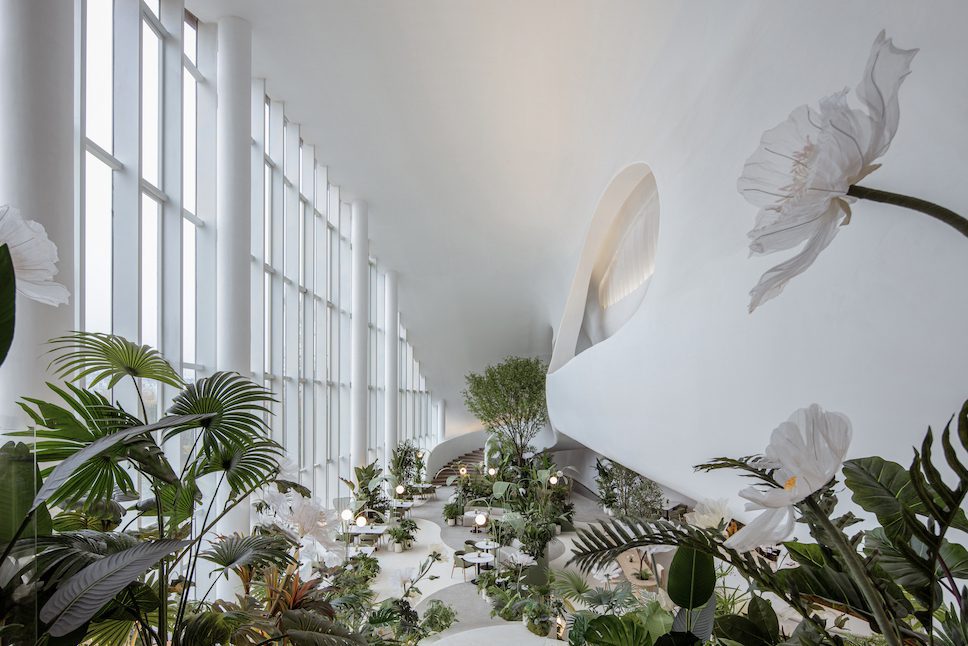 With a fluid architectural expression, the tranquil Spring Feast restaurant translates its encompassing natural waterscape into a dynamic spacial experience.
The zen-like interiors, by the German-based multidisciplinary firm Ippolito Fleitz Group (IFG), are designed to feel gently embedded into the stunning surroundings in Chaohu, China. The area is known for attracting lots of tourists and those seeking a wellness retreat, and the restaurant provides a spacious and light-filled dining space.
Referencing ripple-like effects and sweeping curves, the architecture is informed by shapes found in nature and it acts as a flowing continuation of the terrain. The organic curves are a repeating patten throughout the space, even on the exterior, creating a harmonious feel.
"We transport the organically curved form of the architecture, which from the outside makes the building look like a natural continuation of the landscape, into the interior. Here and there, we create cavernous niches that are reminiscent of the inside of a mountain and the source of the spring water," describes the team at IFG.
The entrance to the restaurant is on the upper level, and this leads into two paths that meet in the restaurant. There's a direct path that meanders down a wide staircase, or diners have the option to wander down past a lounge that offers spectacular views of the restaurant from above.
A full-height window wall forms a striking focal point, letting natural light flood in to the impressive all-white dining space which is adorned with lush jungle canopy. There's a mix vibrant, verdant green featuring potted plants, raised beds, and tall trees, adding depth and interest.
Earthy tones in the bi-colour flooring mark out the different zones and stylishly distinguish the walkways and seating areas. Most guests are there for the full dining experience, however for those who only have time for a brief sojourn, there's an informal bar where coffee is prepared by a skilful, small robot.
"Spring Feast serves western-inspired cuisine with a particular focus on regional spring water," adds IFG. "The restaurant's signature dish, for example, is spring water eggs served with truffles and porcini mushrooms." The water of the famous local springs is used in the food preparation and served as drinking water. This all seamlessly ties together the overarching themes of nature and culture, used throughout the restaurant.
Project details:
Project name: Spring Feast restaurant
Location: Hefei, China
Client: OCT Group
Size: 1,405 m2
Architects: Ippolito Fleitz Group – Identity Architects
Collaborators: Change Architects (architecture) and KOYI Design (FF&E Design)
Photography: One Thousand Degrees Image
See more work from the multidisciplinary design studio Ippolito Fleitz Group (IFG).
Read more architecture news stories on enki, and see other inspiring restaurant designs including A-nrd studio's Milk Beach Soho and check out Enki's Eco Edit for the new plant-based restaurant opening by architect-turned-restaurateur Elly Ward.