Haptic Architects and Oslo-based PIR2 have won a competition to design Tårnkvartalet, a new school and cultural centre on the site of Norway's first airport.
With plans still to be finalised, the Tårnkvartalet proposal involves a new 16,000m² civic landmark building, which will regenerate the decommissioned airport site located in the emerging neighbourhood in Fornebu, on the border of Oslo.
The civic hub will co-locate a secondary school for more than 900 students, and will also feature a cultural centre, black box theatre, sports centre, library, health clinic, and a café at ground-floor level, with the teaching spaces enclosed in a series of light timber-framed structures with glazed façades above.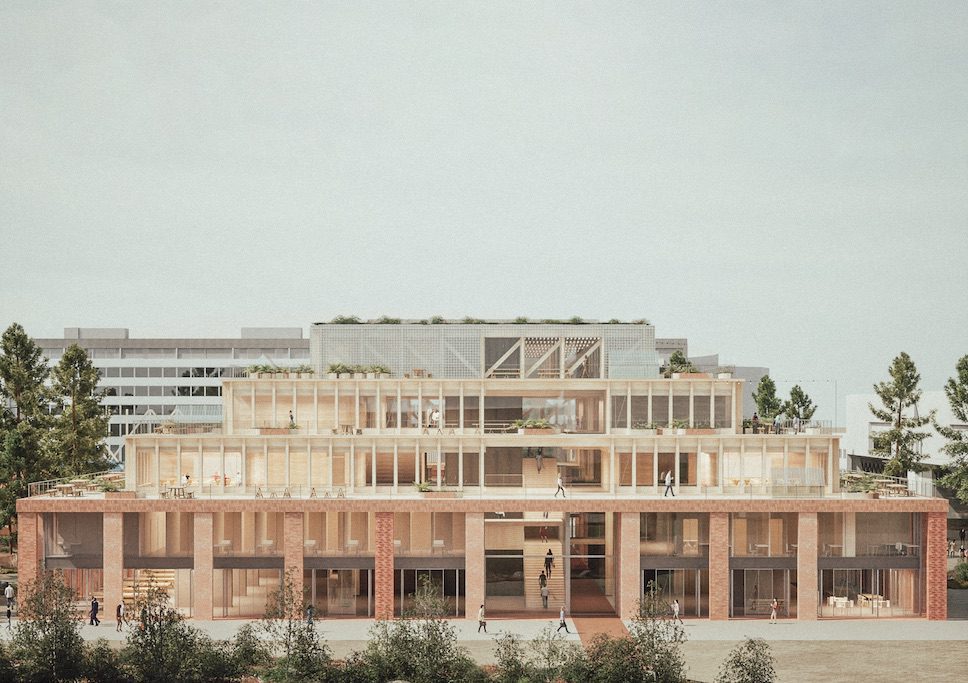 Selected from a five-strong shortlist that included international competitors from Copenhagen's Bjarke Ingels Group (BIG) to NORD Architects, the Tårnkvartalet project was recognised by the jury for its "clear urban approach" and "strong identity which will harmonise with the existing buildings on the site".
Meaning 'tower quarter', Tårnkvartalet works as a continuation of the large-span 1940s airport hangars, which have been repurposed during the redevelopment to house creative workshops, artist studios, and TV production facilities.
The stepped brick and timber building is set to create a socially and environmentally sustainable cultural centre, which will be at the heart of the area's wider masterplan. This masterplan has been under development for over two decades, since the airport was decommissioned, and its population is set to grow to 25,000, according to Haptic Architects.
With a focus on the environment and making minimal impact, the construction will involve re-used materials and sustainably sourced timber. This will allow the building to be reconfigured over time to reflect the community as it grows and evolves.
"This piece of city regeneration represents a bold and progressive investment in education and culture to spearhead the placemaking process," commented Scott Doig, design director at Haptic Oslo. "We have enjoyed responding to this aspirational brief, and the unique historical heritage of the site."
A voluminous amphitheater will be at Tårnkvartalet's centre, facing onto a new civic square, via a large hangar door opening. There will be an inner 'street' running over the central atrium, and this will open up to a series of spacious open-plan volumes surrounding it. These spaces will house the centre's dynamic programme of public-facing amenities, creating a welcoming and convivial ground level.
Locally recycled brick will form an envelope around the ground floor spaces and, from here, visitors are naturally led onto the curated planted landscapes. There's plenty to explore, from an urban plaza to a sheltered park area, and wide-open green areas.
Set within a series of stepped, lighter timber-framed structures is the world-class learning environment, comprising interconnected classrooms and teaching areas. These spaces lead out onto the sheltered outdoor space, enjoying raised views over the peninsula.
Glazed façades are a feature of the upper levels of the building, having been designed to reflect the lantern of the adjacent air traffic control tower, whilst also offering light and bright rooms for the students.
"We have tried to keep Tårnkvartalet human scale, and sympathetic to its unique surroundings, while at the same time offering an architectural centrepiece, and civic focal point, for this exciting new neighborhood district," added Philip Stensrud, Design Director of PIR2 Oslo.

"Co-locating the school and cultural facilities has given way to a new and dynamic scheme, using a mix of materials, architectural forms and spaces, and indoor and outdoor settings."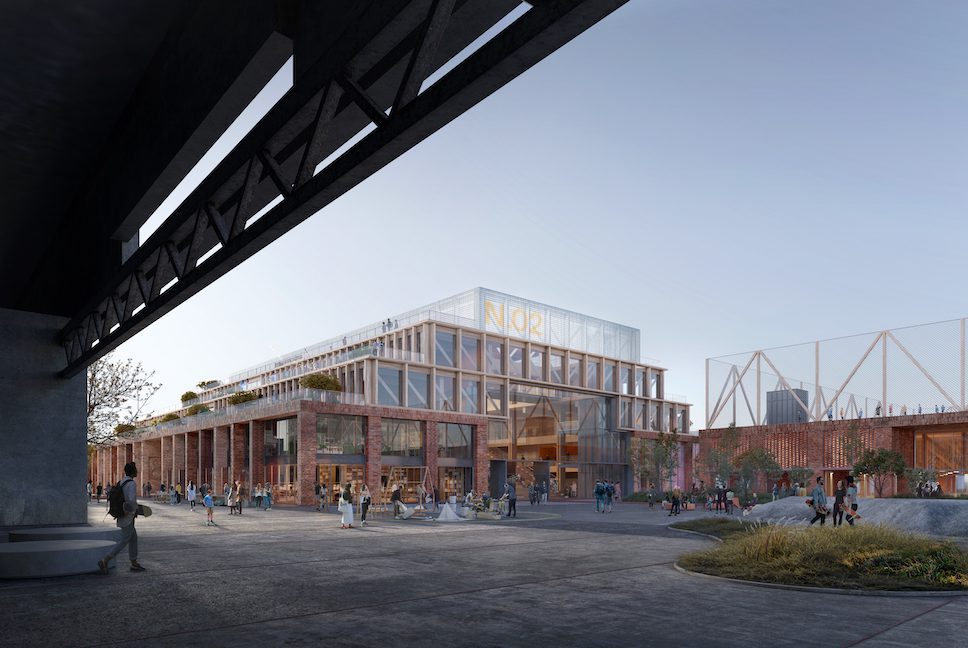 Project details:
Architects: Haptic Architects and PIR2
Landscape Architect: PIR2
Client: Bærum Municipality
Visuals: Courtesy of Haptic Architects and PIR2
The development is expected to open to the public and students in August 2027.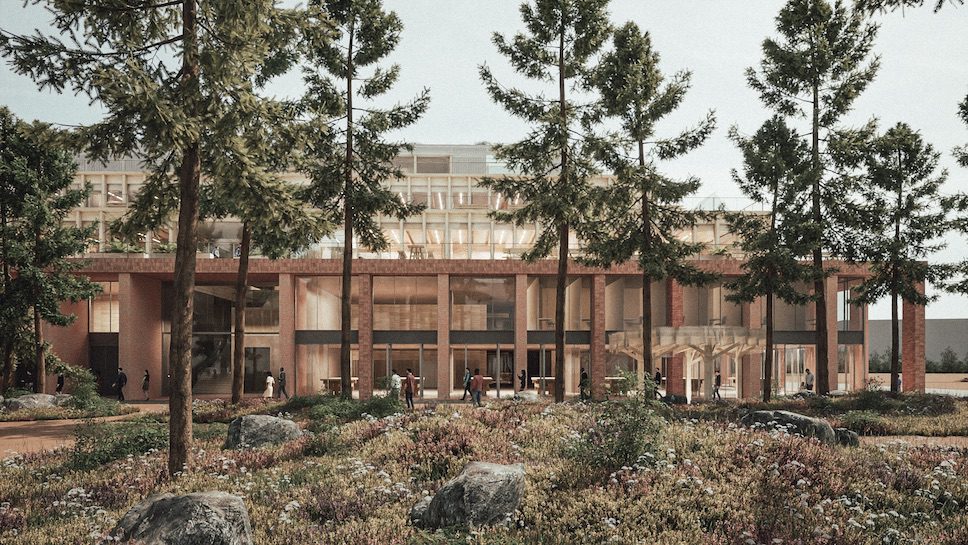 Discover more community projects and architecture by Haptic Architects and Oslo-based firm PIR2.
Read more of the latest architecture news on enki, including the inspiring build of the Sumu Yakushima regenerative residence in Japan by architect Tsukasa Ono.