With the design of new restaurant and night-time hotspot Milk Beach Soho, A-nrd studio has combined a pinch of Australian laid-back living with a dash of Art Deco style.
Continuing the vibe of the original Milk Beach eatery in Sydney, the pared-back interiors of this brand-new London destination are informed by Sydney Harbour's waterside architecture and beachside atmosphere.
Stepping off the busy streets of London's Soho, visitors are charmed by the relaxed, coastal aesthetic that characterises the lime-washed, high-ceilinged space filled with natural textures. It sets the tone and ambience for diners to enjoy the contemporary Australian cuisine, along with signature cocktails or freshly brewed coffee.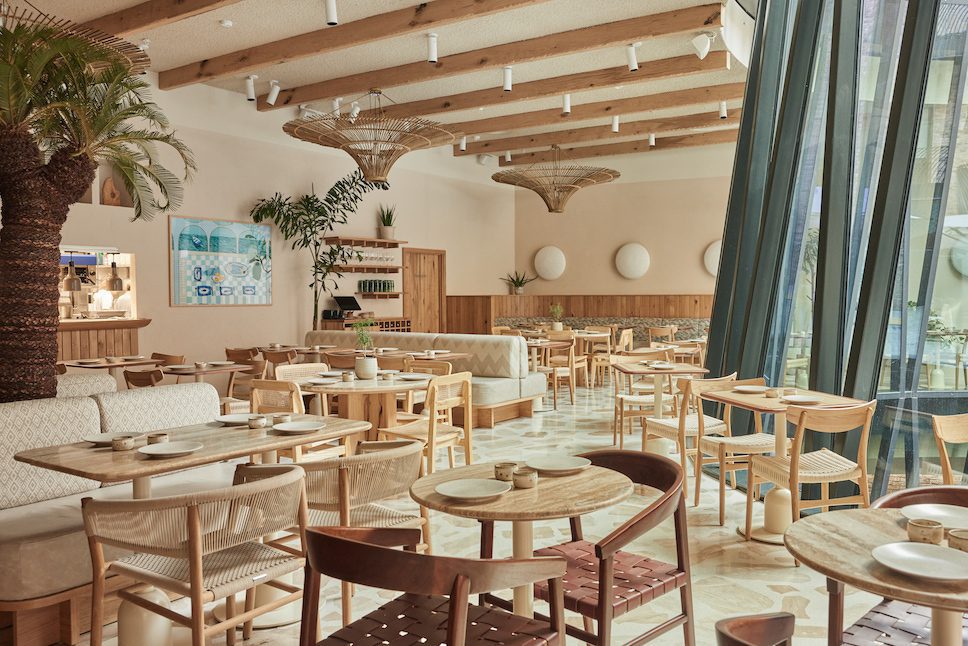 This well-considered palette of textures and materials for the 150-seat modern Australian restaurant and cocktail bar was something that interior design studio A-nrd worked closely on with Sydney-born restauranteur and founder of Milk Beach, Elliot Milne.
"We wanted to create a transportive environment with the design concept for Milk Beach Soho. Our love of natural materials and pared-back yet warm interiors really shows through in the project. There are no gimmicky beachside or nautical aspects, instead it's a successful mix of laid-back authenticity with an elevated sophistication," said A-nrd founder Alessio Nardi.
"We have played with tonality and texture throughout the space and used the project as an opportunity to showcase a mix of our own studio's bespoke furniture design alongside some incredible lighting and contemporary fine artists."
The building's architectural light well heavily informed the layout, with seating positioned to offer outdoor views and a cosy corner booth nestled where the light well narrows. There's a well-balanced mix of intimate tables for two and larger placings for groups fo friends and families. Bespoke solid travertine tables with sculptural oak legs is complemented by a rich mix of seating, from cognac toned woven leather to natural undyed rattan and solid timber.
Grounding the interior is a strikingly elegant Palladiana terrazzo floor, which was laid in-situ with each large piece of tonal marble arranged within the cement mix to achieve a balanced design and an organic natural look reminiscent of walking across rocks by the ocean.
"Native Australian plants, including two tall Foxtail Palms, add character and life across the space and break the tonal material palette, whilst artworks by Australian Janey Forbes, and UK-based Frankie Throp and Ceicilia Reeve add splashes of vibrant colour to walls," adds Alessio Nardi.
All the details have been considered to bring "a little slice of Sydney to London", and there's certainly plenty on the menu to delight in. The dinner menu is filled with sharing plates that are inspired by the diverse cultures that make up modern Australian cuisine, and there's also a delicious all-day brunch. Complementing the food, there's a choice of speciality coffees sourced from around the world and a list of organic wines. Sounds delightful!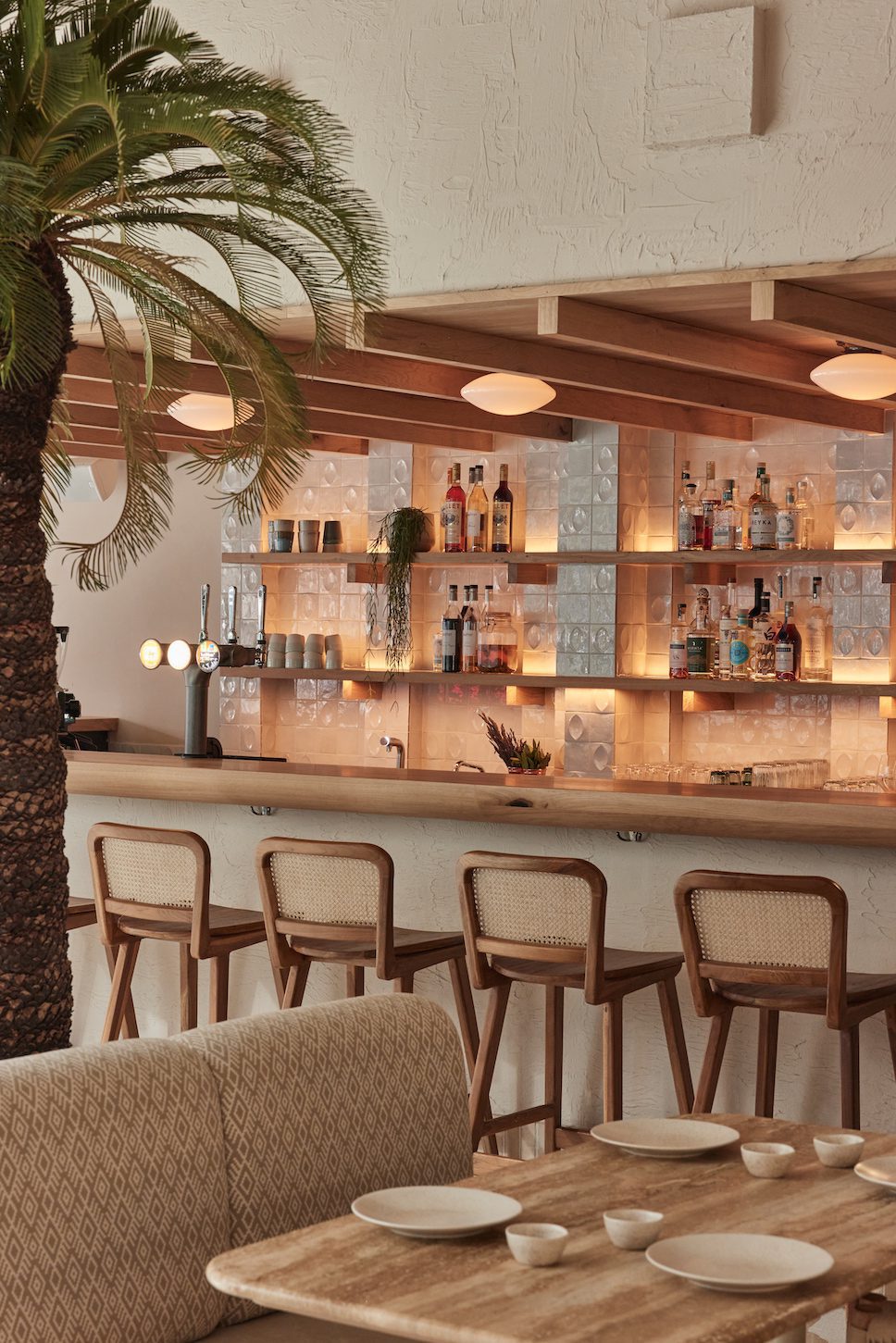 Project details:
Project title: Milk Beach
Location: Ilona Rose House, Soho, London W1
Interior design: A-nrd studio
Area: 220 square metres
Lighting: Japanese paper wall lights by artist Celine Wright; Abaca fibre pendant from Pinch; Bespoke bamboo pendant lights by David Barker of Lion Iron Lights
Artwork: Janey Forbes (Australian); Frankie Throp, and Ceicilia Reeve (both UK)
Furniture: All bespoke-made by A-nrd Studio, except for the timber and rattan bar chairs which were handcrafted and sourced in Indonesia
Photography: Charlie McKay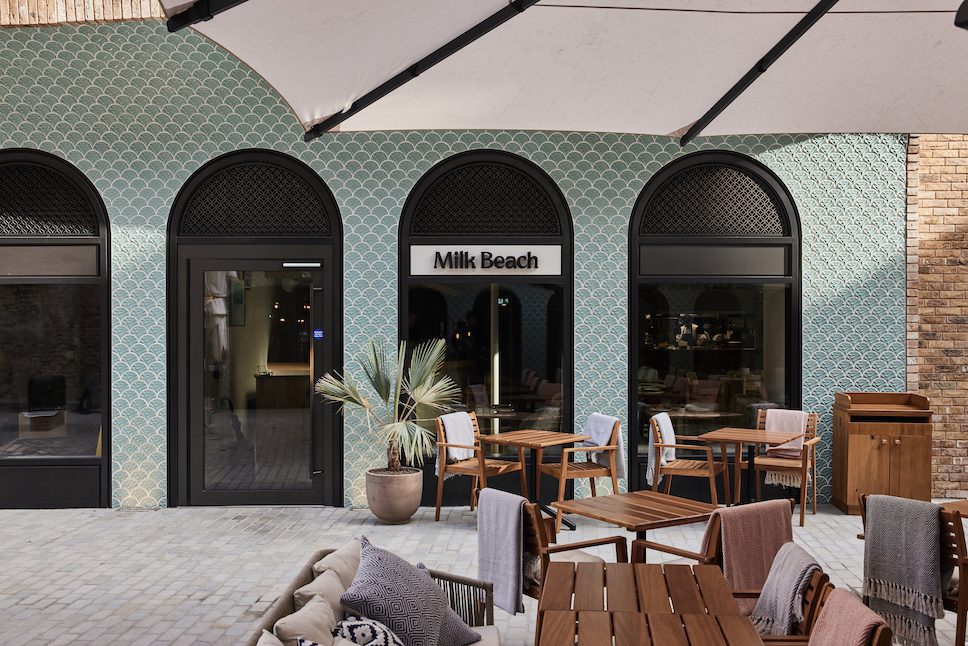 Discover more interior design projects by London-based A-nrd studio.
Be inspired by more design news stories here on enki, and don't forget to subscribe to enki if you want your regular dose of all the latest architecture, design, and technology news.