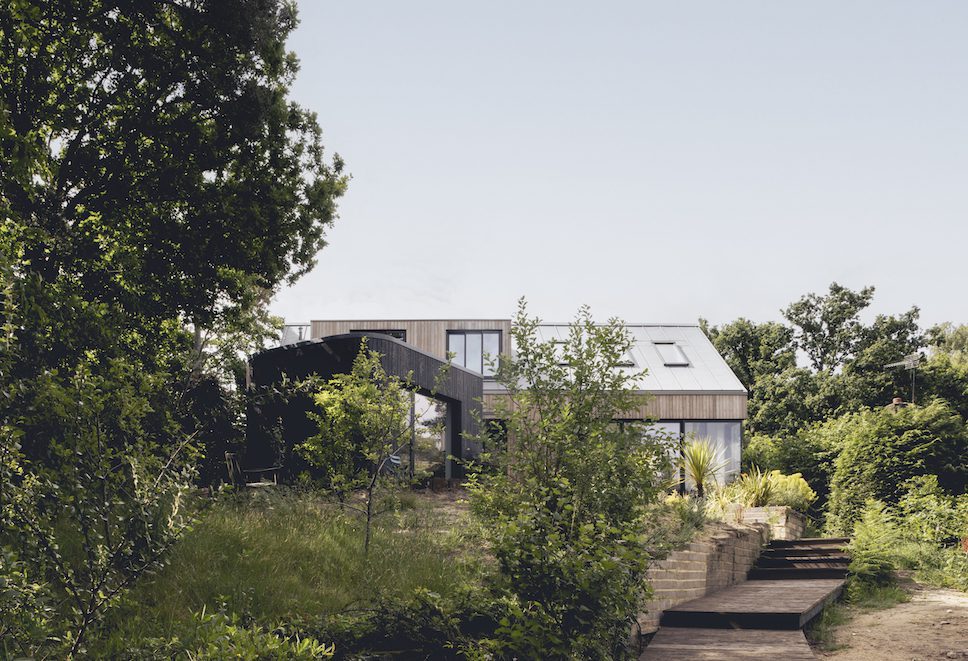 A sustainable new-build home has been built by Sketch Architects in the Surrey countryside, with a focus on modern materials and thermal efficiency.
Set on a steeply sloping site in Farnham, the two-storey house replaces a disused bungalow and is constructed with environmental design at its heart. A fabric-first approach has been used for the new, eco-friendly and modern building, which incorporates renewable technology and natural materials to ensure it makes minimal impact to its surroundings.
The clients and architects both agreed on a sustainable design which responds to its verdant and secluded setting, incorporating large glazed openings to take advantage of the elevated views over the surrounding countryside.
Blending into its natural landscape, the main building's exterior is clad in natural larch wood with a zinc standing seam. A conjoining snug room is located in a 'pod' structure, which is clad in a darker, more distinctive, charred timber, and connected to the house by a glass link.
The building fabric and its construction on site was hugely important, using recycled blockwork, Cemfree concrete and timber throughout. Will Dewar, architect and co-director at Sketch Architects, explains: "The building envelope was designed to be super-insulated, with an increased level of air-tightness."
"On the south facing façade, photovoltaic cells have been positioned on the pitched roof, and these are linked with other key elements of the building's mechanical infrastructure, including an MVHR system, an air source heat pump, and a battery for the storage of energy generated on site. The building therefore is entirely electric, much of it from the integrated renewable sources, and uses no natural gas."
The glazing and interior layout have all been thoughtfully considered, with sight lines out to the landscape being a main priority, giving the owners 360-degree views from all angles. The floor plan fits into a traditional format, consisting of open-plan living spaces arranged over the ground floor.
A pared-back material palette complements the light-filled home, with a double-height ceiling above the living area bringing in an abundance of natural light from above. Rather than mask the supporting steel beam and column, it is painted in a moss green colour to make a feature of it.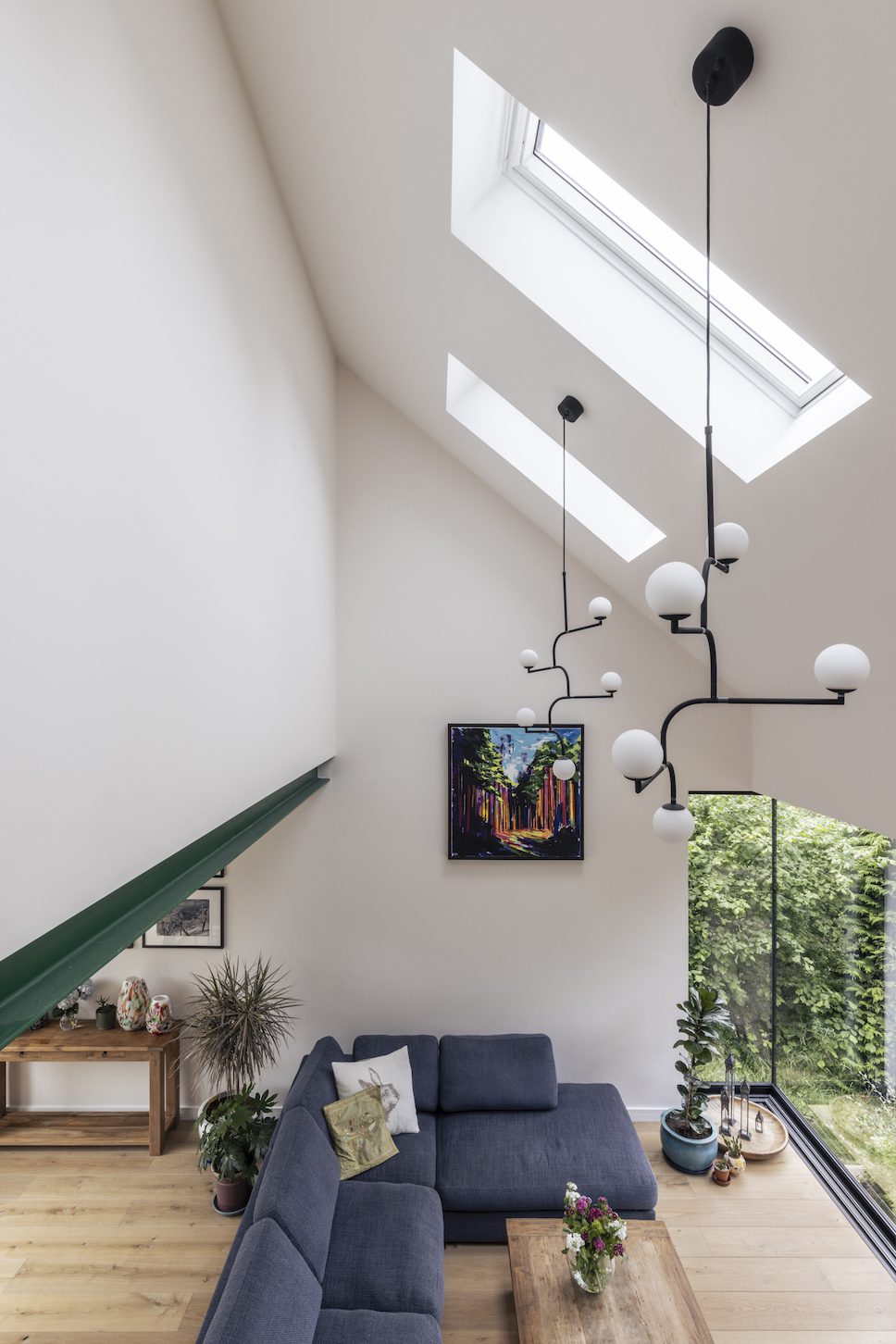 A bespoke steel and timber staircase which leads up from the ground floor, through the double-height space and over the living area. This leads up to the first floor where the bedrooms are housed.
Adding another sustainable point of interest, a sedum roof has been installed on top of the charred timber-clad pod studio and this living green roof is visible from the bathroom window. The pod studio can be transformed into a guest bedroom with a utility space and bathroom, which further helps to future-proof the family home.
Project details:
Project name: Black Pond Lane
Project type: New-build family home
Location: Farnham, Surrey
Build time: 1 year
Building materials: Natural and charred larch cladding; recycled blockwork; Cemfree concrete; exposed Glulam beams; bespoke steel and timber (staircase); zinc roofing, and sedum roof.
Windows: CDA Glazing
Photography: Billy Bolton
Take a look at more environmentally conscious projects by London-based practice Sketch Architects.
See more sustainable projects and residential case studies on enki.