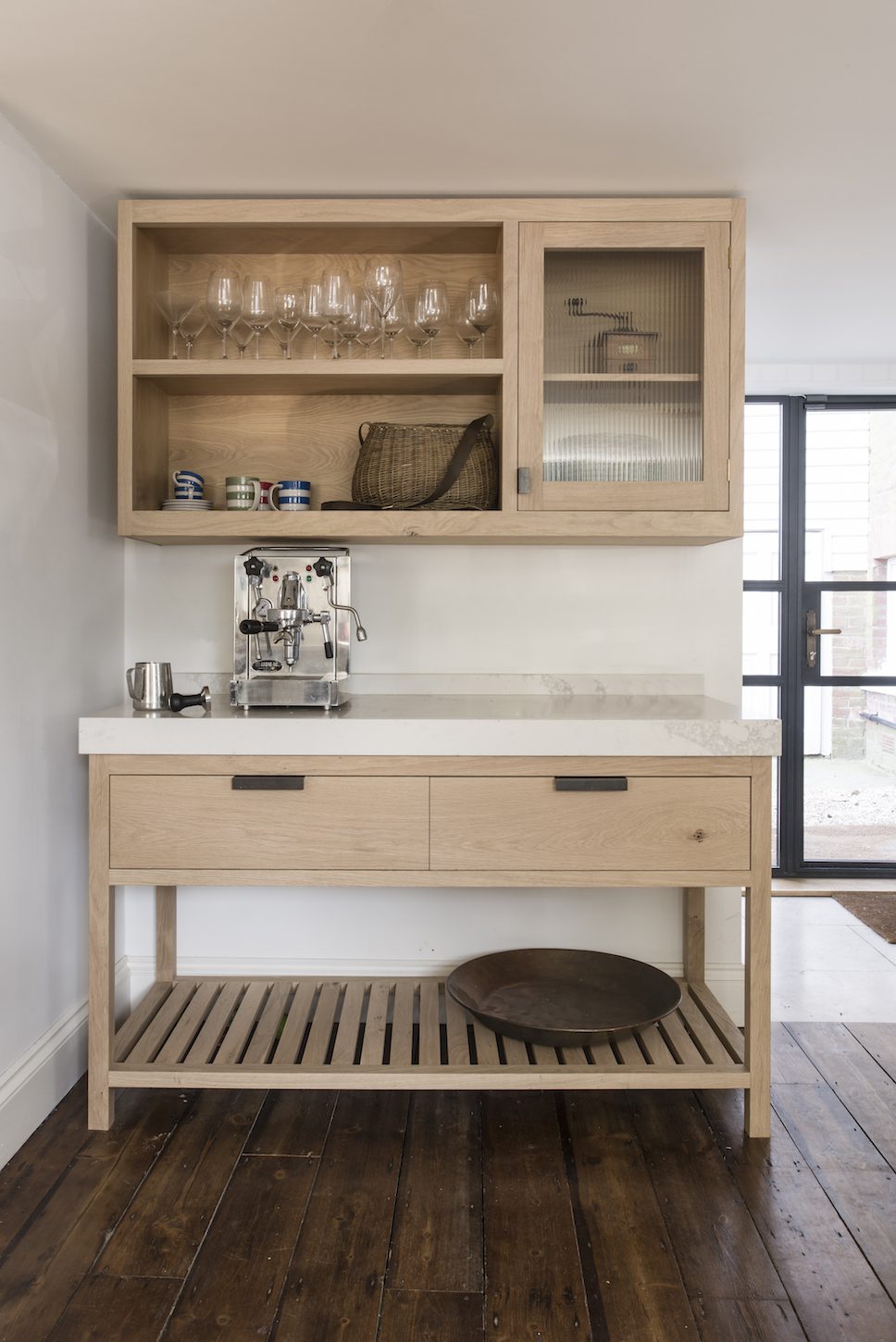 Inglis Hall are renown for their beautiful bespoke kitchen designs, not to mention their attention to detail, dynamic team of craftsman and dedication to sustainability. By building and creating kitchens that last a lifetime, in terms of both durability and aesthetics, the brand ensures their kitchens will stand the test of time and outlive any trend – something, here at enki – we applaud.
enki's digital team caught up with Toby Hall, Inglis Hall's Managing Director to discuss everything from how the brand started to the inspirational threads and ethos that run throughout Inglis Hall's unique bespoke service which make it what it is today. Plus, we also explore three of their most intriguing kitchen designs and the clients' initial briefs behind them…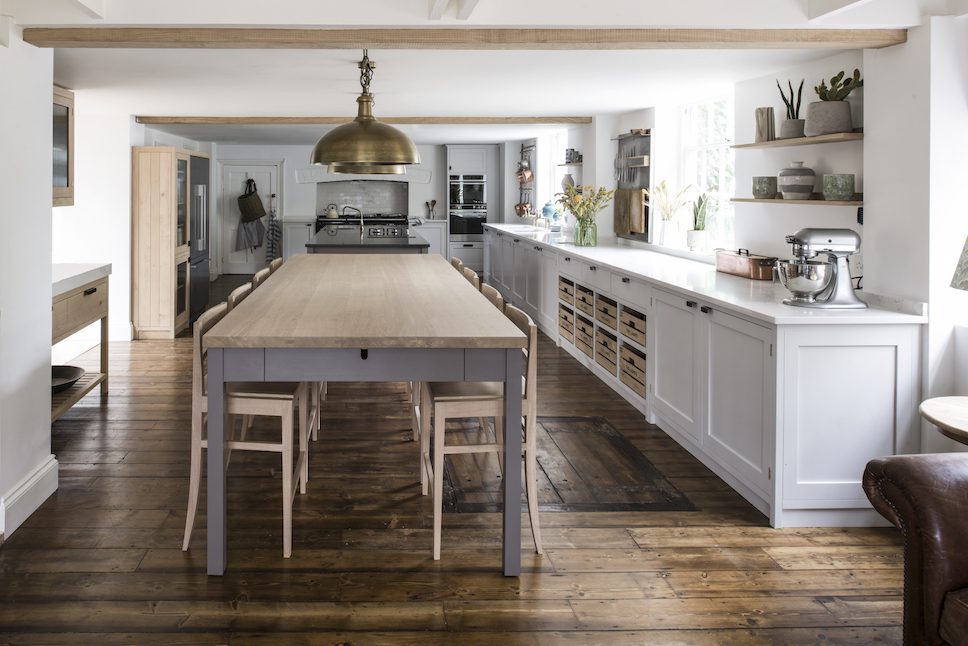 #1 Tell us a little bit about the history of Inglis Hall. How did the brand start?
"With a mission to become one of the best kitchen makers in England, Toby Hall launched Inglis Hall in 2013. Before this, he had spent many years honing his craft and workmanship, culminating in a two year project building a huge house in Pulborough from the ground up. This was a 100% timber solution, with every element designed and built on site from building the oak timber frame, to making the kitchen, internal and external doors and six bathrooms. Having managed the entire project along with ten carpenters, he decided to continue to work in this way and launched the business."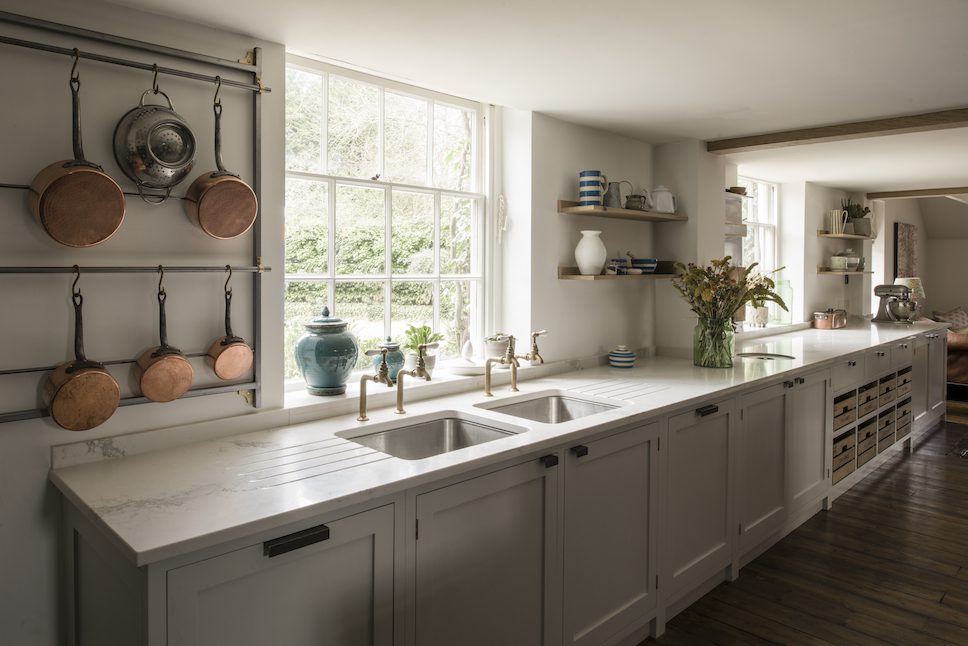 #2 Talk us through the process which occurs when a client approaches you for a bespoke kitchen. What phases do you work through to create the design and then build it?
"When a client first approaches us, we invite them to our showroom, where we gather as much information as we can. This includes their lifestyle, family, cooking, entertaining, pets – everything we need to get a clear picture of the essentials that will inform and underpin the project.
The first stage of working on any project is quite simply to get to know our clients and to let them get to know us. A bespoke design tailored around an individual or family requires a personal touch, so this is the only way to begin. Every project is different for this simple reason – every client comes with a different story and is looking for their own unique outcome. We want to put our clients in the best position by having a strong understanding of how we work and what motivates us, and we then also know who we are designing furniture for, what their habits are, what they feel is important in life and how they want their new kitchen to support them in their daily lives.
We begin with a set of initial plans exploring all possible solutions before developing a series of designs to present. These first designs are either drawn up based on architects' drawings that the client already has or from our own survey of the space, which is generally free of charge. Then it's a process of refinement as a design is honed and the details developed. Materials, appliances, colour, hardware etc are chosen, all of which happens over a series of design meetings leading up to a workshop start date to fit in with the project's overall schedule."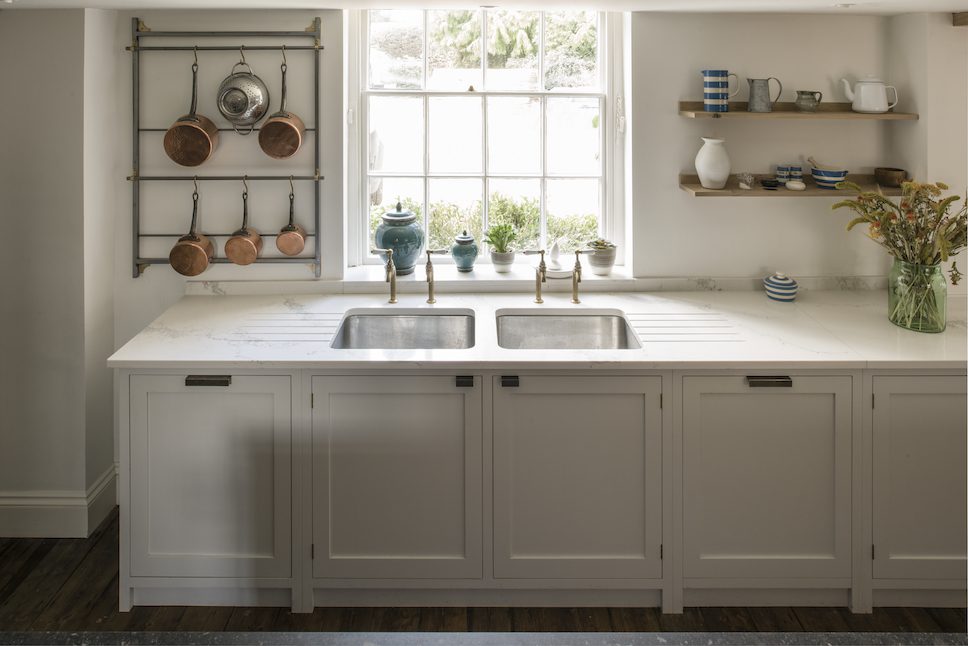 #3 What are the brand's greatest influences? How do these manifest in the overall work of Inglis Hall as a brand?
"Our biggest influence is our client. Nobody ever gets an Inglis Hall kitchen, they get their kitchen, interpreted and built by Inglis Hall. Beyond that there isn't any single oeuvre that influences our design, though we are big fans of kitchen designer, Johnny Grey. Johnny championed the concept of the 'unfitted' kitchen, treating kitchens as a series of pieces of furniture rather than just cabinets. A principal we still follow today.
We adhere to a basic set of principals grounded in a deep appreciation for quality materials, a love of well-made furniture and respect for simple design. These steer us on every project and whether modern or traditional, always remain at the forefront of our minds. This manifests itself in designs that enrich the everyday tasks and take joy in simple daily routines.
Toby worked as a timber frame carpenter for ten years and was lucky enough to work with some of the country's most exceptional craftsman. This influence can be seen in many of the joinery methods we utilise. We are also making furniture with raw sawn timber, a practice not usually associated with furniture."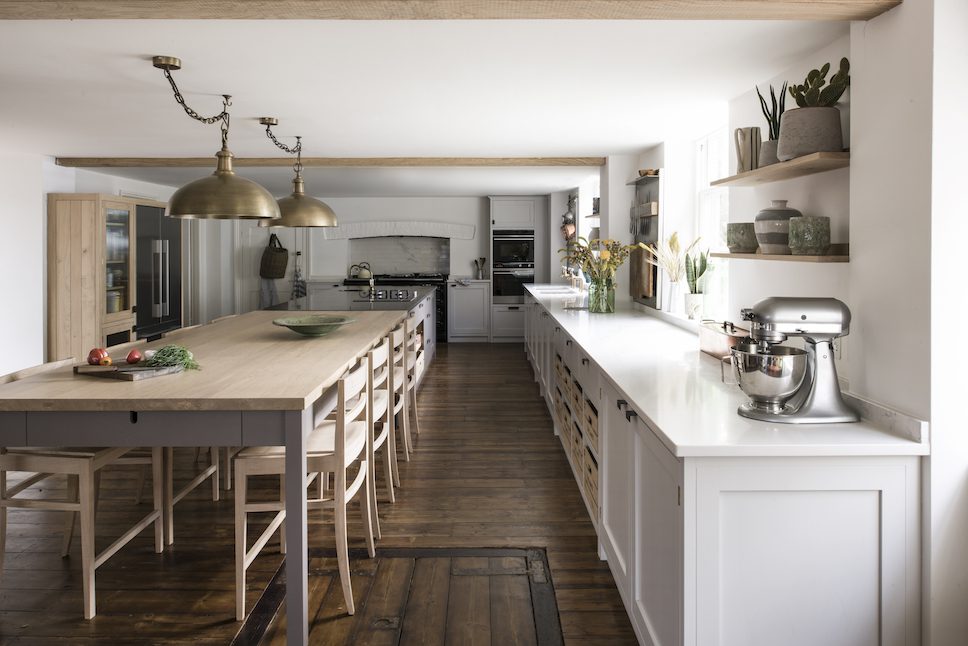 #4 We like that Inglis Hall creates kitchens and designs that last a lifetime, talk us through the importance of sustainability to the brand.
"The most sustainable practice we use is that we make kitchens that last a lifetime, with designs and materials that ensure each one will be a thing of beauty for many years to come. We source our timber responsibly and recycle as much as we can, such as burning offcuts to keep warm in the workshop and our homes in the winter."
#5 What does Inglis Hall offer that other kitchen makers don't?
"Every kitchen we make is unique, designed and made in our workshop, from scratch. We listen carefully and we don't work from a range or set of pre-defined rules. We have developed systems to accomplish individual solutions, not to provide a one-size-fits-all product. We work to rigorous standards but are unshackled by convention, always willing to explore new methods and processes, and to this day Toby still oversees the manufacture of each and every project."
#6 What can customers rely on Inglis Hall for?
"Our customers can rely on us to get to the heart of what they are looking for as they are at the centre of the process. We immerse ourselves in the project and execute it to a very high standard, which is why we confidently guarantee our kitchens for life."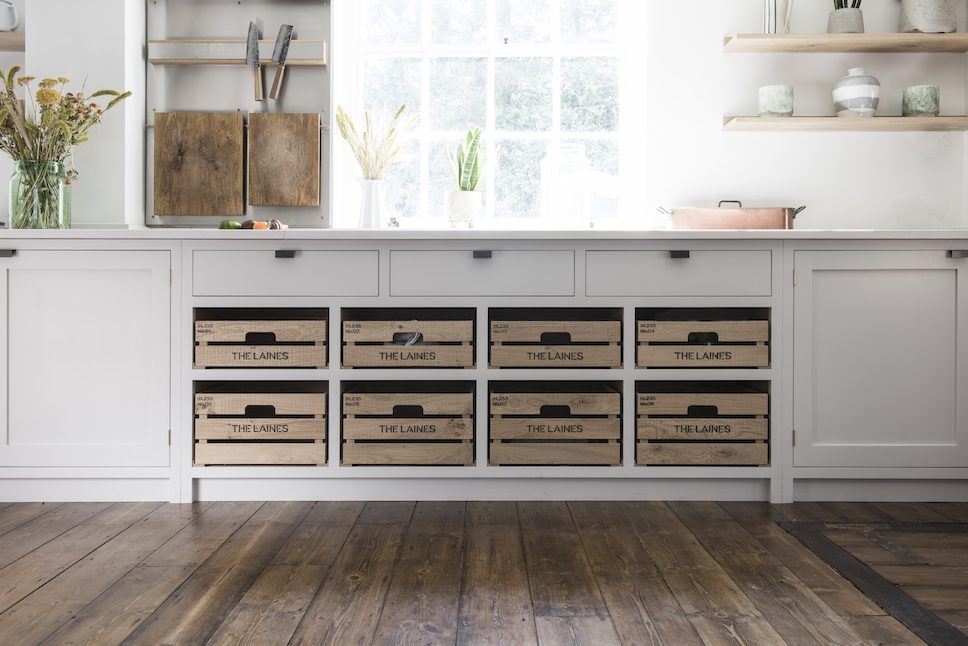 PROJECT #1: INGLIS HALL – THE LAINE'S KITCHEN
We like the clean-lined yet rustic appeal of The Laine's project. Talk us through the client's initial brief for the design.
"The initial brief was a description of how our clients saw themselves living in the space at the end of the project and as a family, having relocated from Australia after a long stint of traveling. There were some references for style, but the conversations were based more around mood and atmosphere and we were given a lot of freedom to lead them.
It is a substantial country house with a heritage that was important to respect, so we wanted the kitchen to play its role in the functioning of the whole house, and not just operate in isolation. This meant coping with a stream of fresh produce coming in from the walled garden. The large pantry was key for dealing with this, which links off the main kitchen and leads to the wine cellar.
The Laine's Kitchen

The Laine's Kitchen
The project extended through the kitchen and into the scullery and wine cellar, how did you create fluidity of design throughout these spaces?
"We didn't want the main kitchen to read as a completely fitted kitchen, so instead broke up the design with some freestanding pieces – a fridge-freezer housing with glasses cupboard and a barista station. This allowed us to introduce a new material to the space, English oak, which complemented the painted cabinets of the kitchen and then appeared as the main material in the pantry and wine cellar. The worktops in the pantry were the same light quartz as the majority of the main kitchen, and lastly matching aged brass taps were a small but significant link. The overall feel was of a simple modern kitchen that gently referenced its past."
What challenges arose during the project, and how did you overcome these?
"The proportions of the room were an interesting challenge at 12 meters long, and we were very keen to avoid it looking like a long galley kitchen. We wanted to find a balance between fitted cabinets and freestanding cabinets, to bring rhythm and interest to the space. We also had to complete the project in an extremely short timeframe as the family had been travelling for a year and were keen to get into their new home."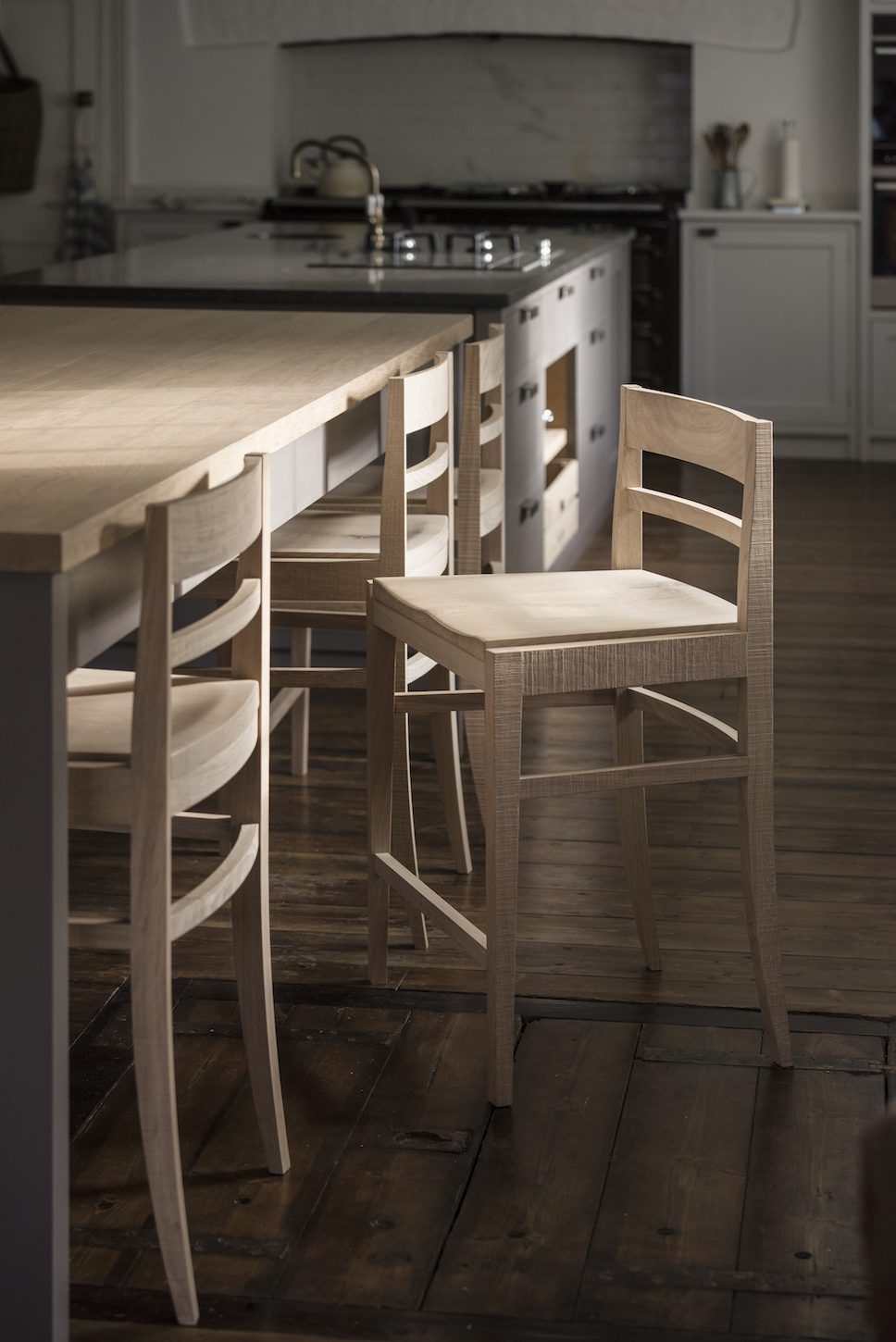 Talk us through the choice of material palette for the kitchen. The cabinetry breathes a welcomingly rustic, yet contemporary appeal. We especially like the integration of the wooden crates and clean, marble worktop.
"Materials, as always, were key. The space had very low ceilings but fantastic natural light, so it was crucial we found a balance that could make the most of this. We chose Caesarstone Statuario Maximus quartz for the worktops to help reflect light into the room but then opted for a bolder natural Belgian Bluestone for the island worktops. As the island was darker, it contrasted less with the refinished oak floor, drawing attention to the edges of the room. Our paint selection was Little Greene's French Grey Pale on the walls, French Grey Mid on peripheral cabinets and then Knightsbridge for the island. We didn't want too large an expanse of painted cabinets, so chose to break runs up with the inclusion of band sawn oak crates as points of interest as well as practical additions."
In terms of the free-standing furniture and the specific designs you created for the project, what influenced the creation of these? Are these pieces now available to purchase?
"The first free-standing piece we made was the dining chair, the height of which was directly influenced by the height of the table. We were determined to create a tall chair that was comfy enough to not just eat supper but to relax in afterwards. To do this we created a shaped single board oak seat and back with the exterior shell made from band-sawn oak. This play on texture gives a tactile dimension to the furniture. We also incorporated some traditional timber framing joints that don't often appear in furniture, such as a pegged saddle joint on the armrest of the carver.
The Laine's chair then inspired a small collection of standalone furniture using the same materials and forms, including a barstool, a standard height chair and table. We are currently completing our first set of standard height chairs."
---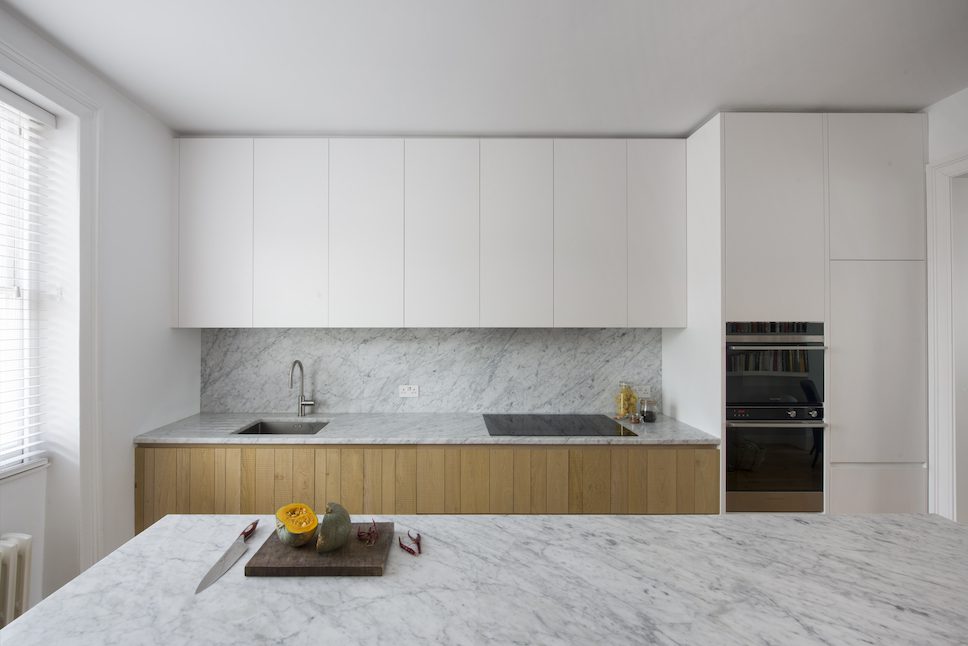 PROJECT #2: INGLIS HALL – HOVE KITCHEN
Talk us through the initial concept for the Hove kitchen design, what the client was looking for?
"This kitchen was for a family who split their time between New York and Hove. A dynamic and creative couple, who run a design agency in New York, they wanted the kitchen to be a streamlined and social space, with an emphasis on natural materials and minimalist clean lines. The design was led by our client and the starting point was to create a kitchen that worked in a relatively small space and could work around the stringent listed planning restrictions in this Regency seafront property."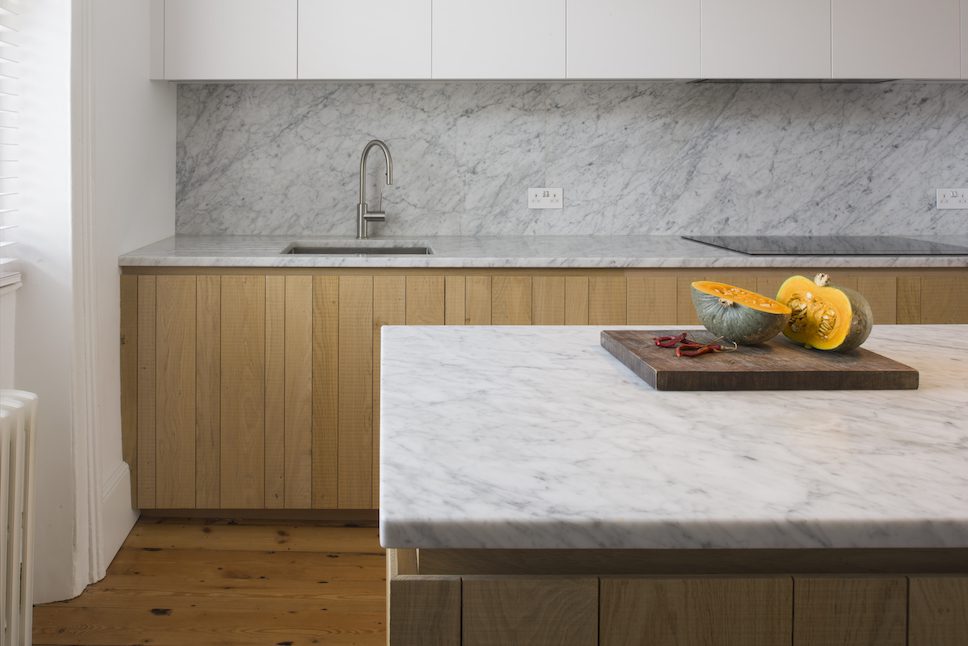 The kitchen space is quite unique with the fireplace aspect and alcove shelving. How did you create a sense of openness and space, while integrating lots of worktop space into the project?
"We maintained a feeling of space with the modest dimensions of the central island, the simple run of units to one wall and the almost empty wall opposite. This 'light touch' helped preserve the original architecture of the rooms. We also wanted to preserve a clean island that wasn't interrupted with appliances. Instead, these were tucked away along the wall run leaving an unbroken slab of Carrara on view and ready for prep-tasks."
Hove Kitchen

Hove Kitchen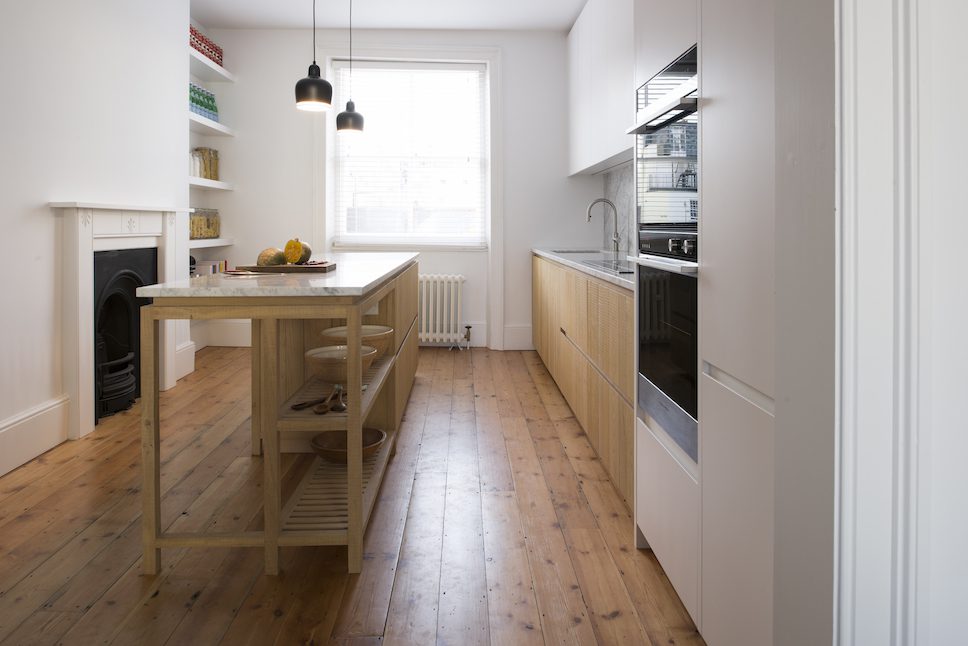 We like the introduction of the beautifully curated inset cutlery drawer, what other space-saving techniques and furniture designs did you implement within the Hove kitchen?
"All our kitchens tend to include a drop-in cutlery drawer and a utensil drawer with built in dividers. We like the idea that two of the most heavily used elements of a kitchen are especially beautiful. And, in this kitchen, where space was at a premium, we integrated an extensive run of drawers to house pots, pans and other kitchen equipment."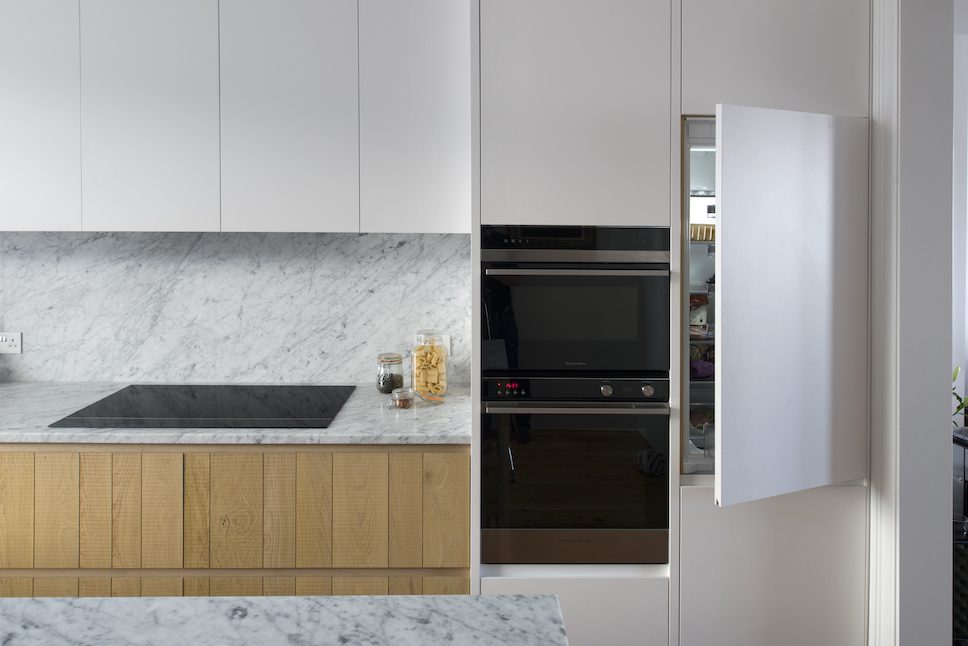 ---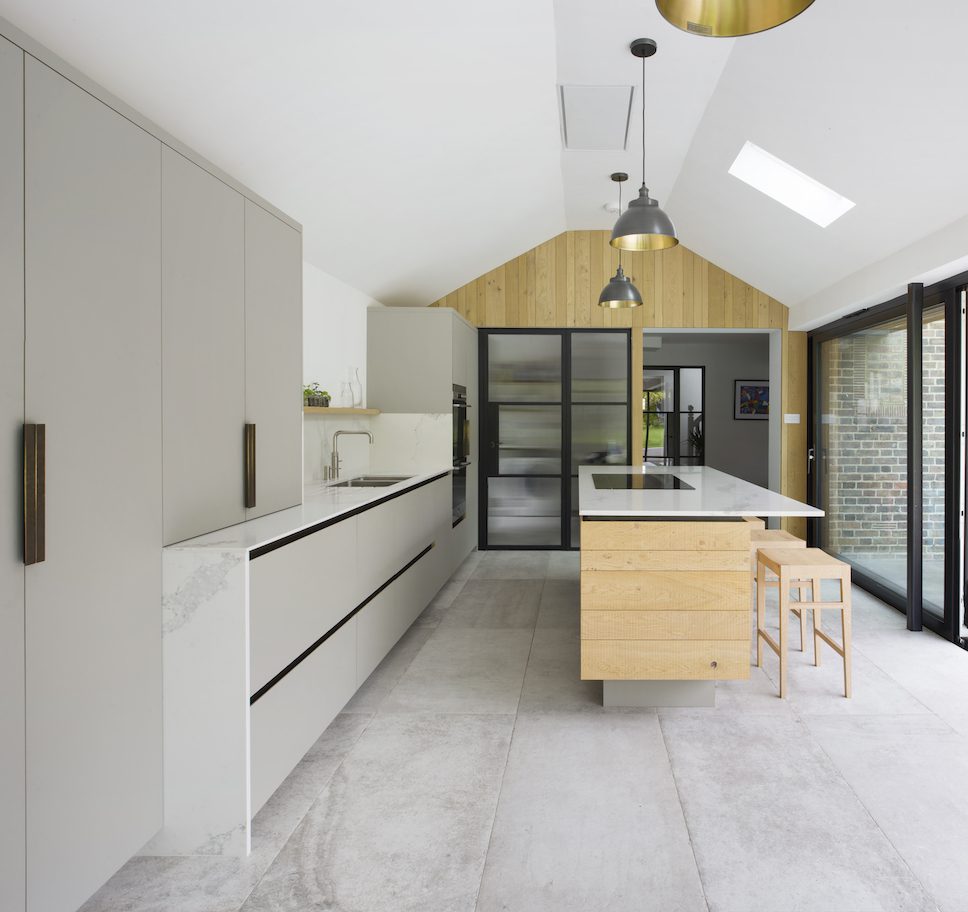 PROJECT #3: INGLIS HALL – THE LINDFIELD KITCHEN
What was the clients initial brief for this kitchen project?
"This was a development project, where all elements of the upgrade needed to add value. Our brief was to create a large family kitchen with broad appeal in a modern extension to a large Arts & Crafts property. The kitchen became the main selling point in the property's sales literature, and helped our clients sell the property within weeks of going on the market. We are now in talks with them for designs to go into their new property."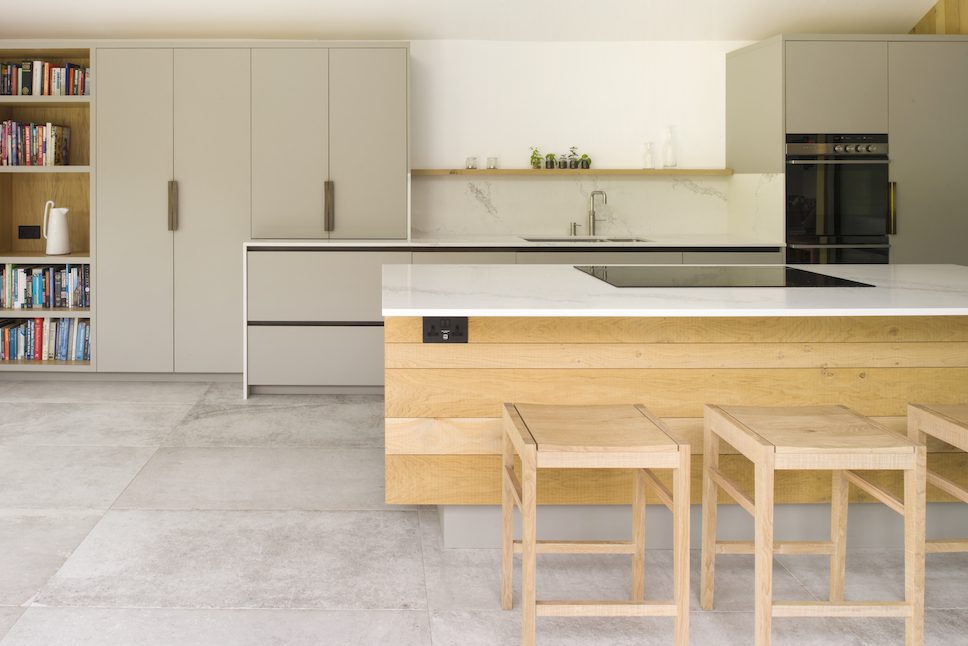 Lindfield Kitchen

Lindfield Kitchen
How did you take advantage of the space on offer?
"To avoid filling the space with cabinetry, we decided to use the entire back wall of the extension to accommodate everything needed and to move laundry essentials to the new utility room, behind the internal glazed screen. This allowed space for a band-sawn oak island complete with Inglis Hall designed stools, and a spacious seating area at the garden end of the kitchen where there is the strongest link to the outside."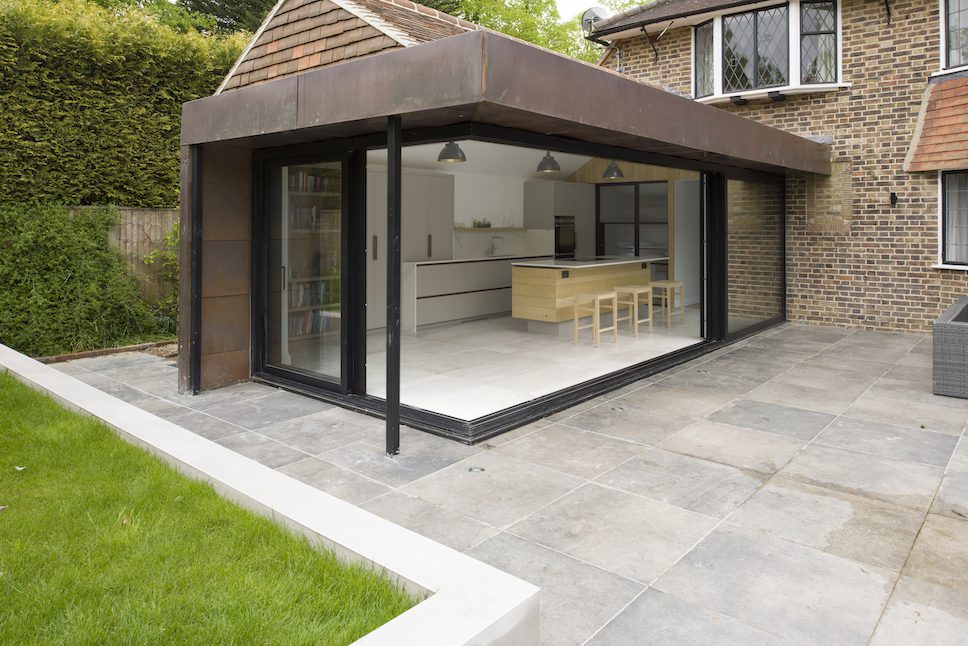 Materials used?
"The materials used for this kitchen included Caesarstone Statuario Maximus quartz for the worktops. All our cabinets are made with oak veneer birch ply, and in this kitchen we included a patinated brass recessed handle detail complemented by a patinated brass edge-pull handle, from bespoke handle maker Ged Kennet, for the fridge and larder cupboards. The doors and end panels were finished with Forbo Furniture Lino in pebble."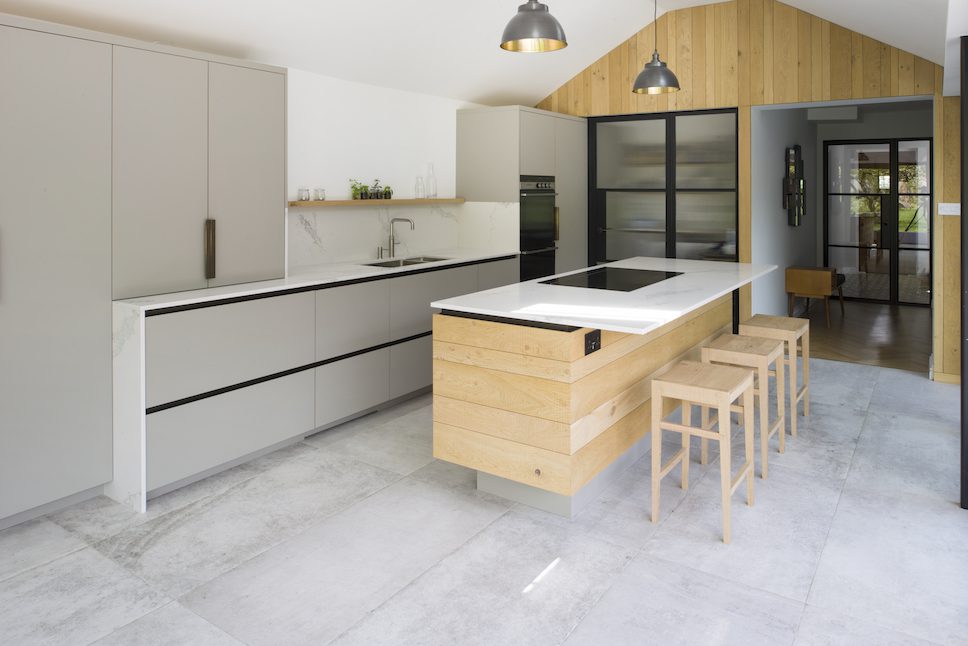 Discover further information on Inglis Hall and their bespoke projects at inglishall.com. Plus, discover their Instagram here.
Photography by Leigh Simpson
For more design inspiration on enki click here.