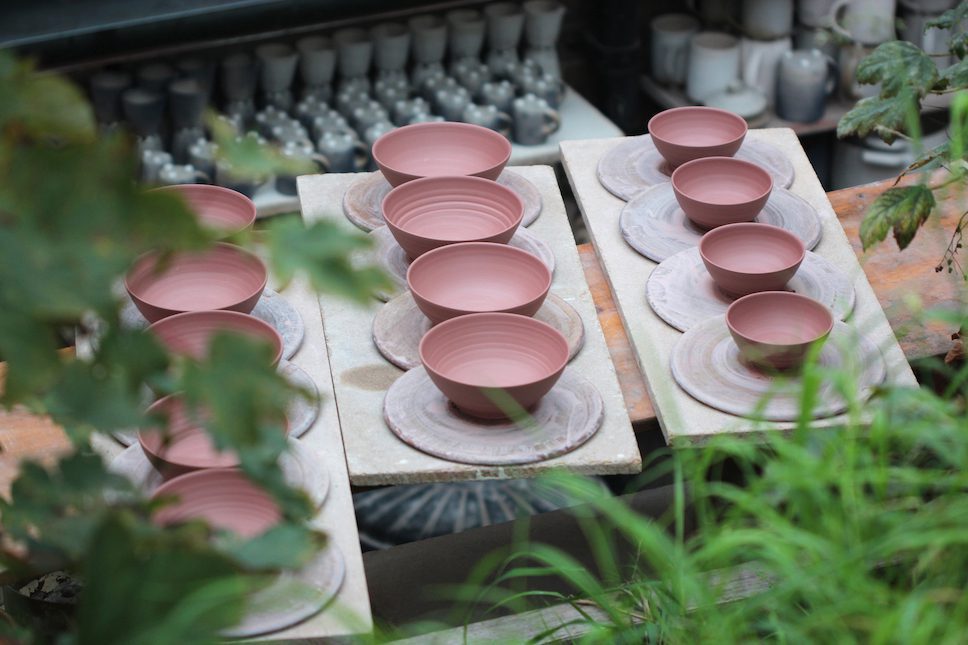 "There's nothing quite like making your own mugs and plates to eat breakfast off of each morning. It makes your ritual of drinking coffee or tea all the more meaningful." Florian Gadsby, ceramicist.
Norfolk-born potter Florian Gadsby is dedicated to his craft, through turning his hand to ceramics, and finding his flow in throwing and glazing tableware and decorative vessels. Retelling his story, he reveals that pottery might have been the first real thing he was ever good at. He first stepped into a pottery studio during his studies at a Waldorf Steiner school, where working with clay materials ignited his love of throwing pots.
"I've been hooked ever since," he smiles, and his experience since then has only seen him flourish. He worked alongside Lisa Hammond MBE at Maze Hill Pottery, and apprenticed with Ken Matsuzaki in Mashiko, Japan, before setting up his own studio.
Recently, Florian has been a guest judge on Channel 4's 'The Great Pottery Thrown Down, and he has been busy working on a top-secret project, but in-between all of this he generously took some time to sit down with us. Read on to discover more…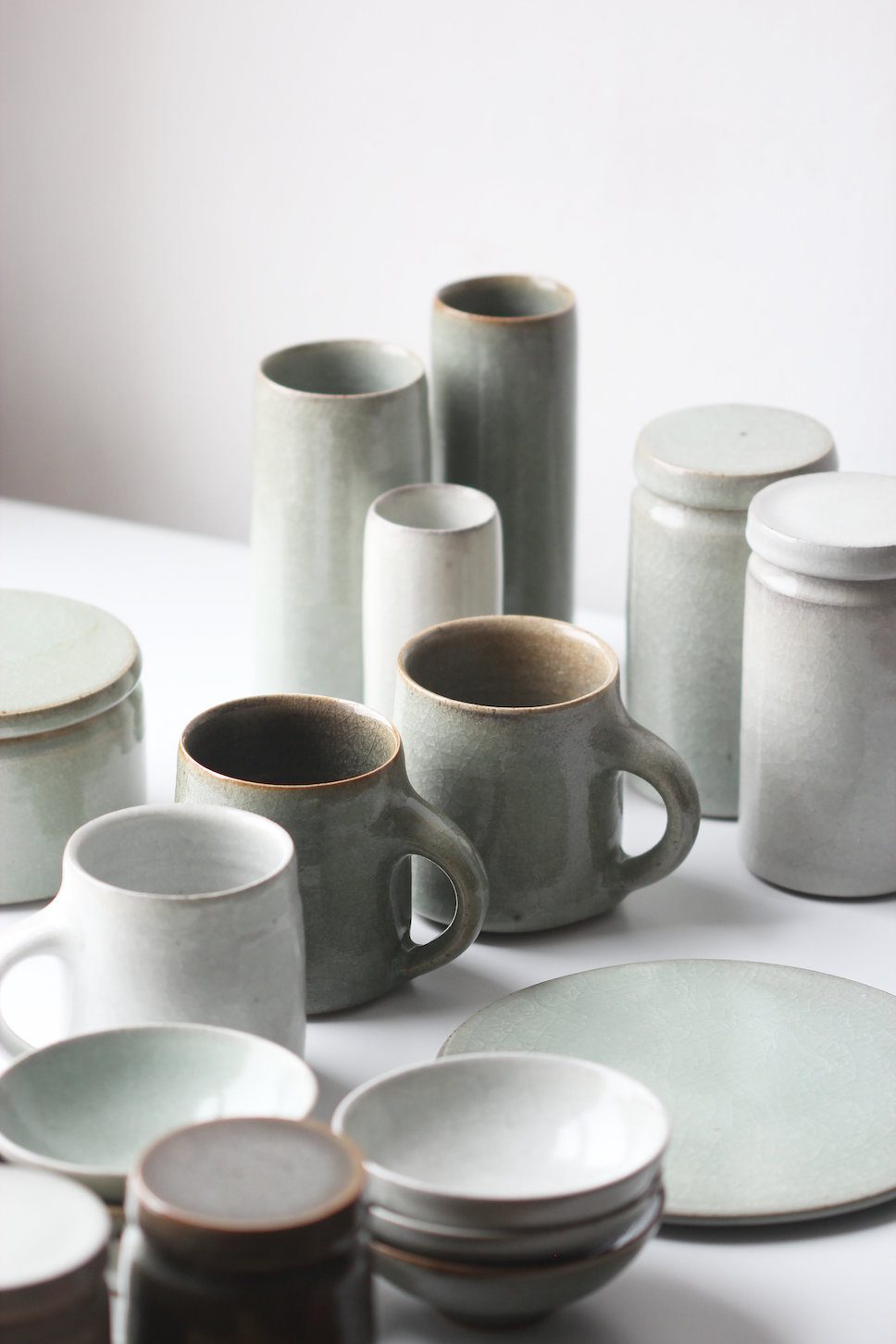 What inspires you and how is this evident in your work?
I'm a sucker for simplicity, in my own work at least. Maybe I'm lazy or maybe I just naturally steer away from decorative and fiddly design. I prefer sleek pots, minimal vessels with straightforward function, and perhaps more sculptural design seeping in carefully at points.
I don't find inspiration in the landscape or nature, not directly so at least, instead I find myself more taken in by creations in other crafts, metalwork especially, which I'm constantly infatuated by, albeit from a distance.
In reality, I think it's so easy to find inspiration when you scroll endlessly through thousands of pictures of pots online. I'm sure some of that does sneak its way into my work eventually, but I try my best to keep that out of the workshop. The pots I make are influenced more by my actual drawings and the pots in front of me and around me.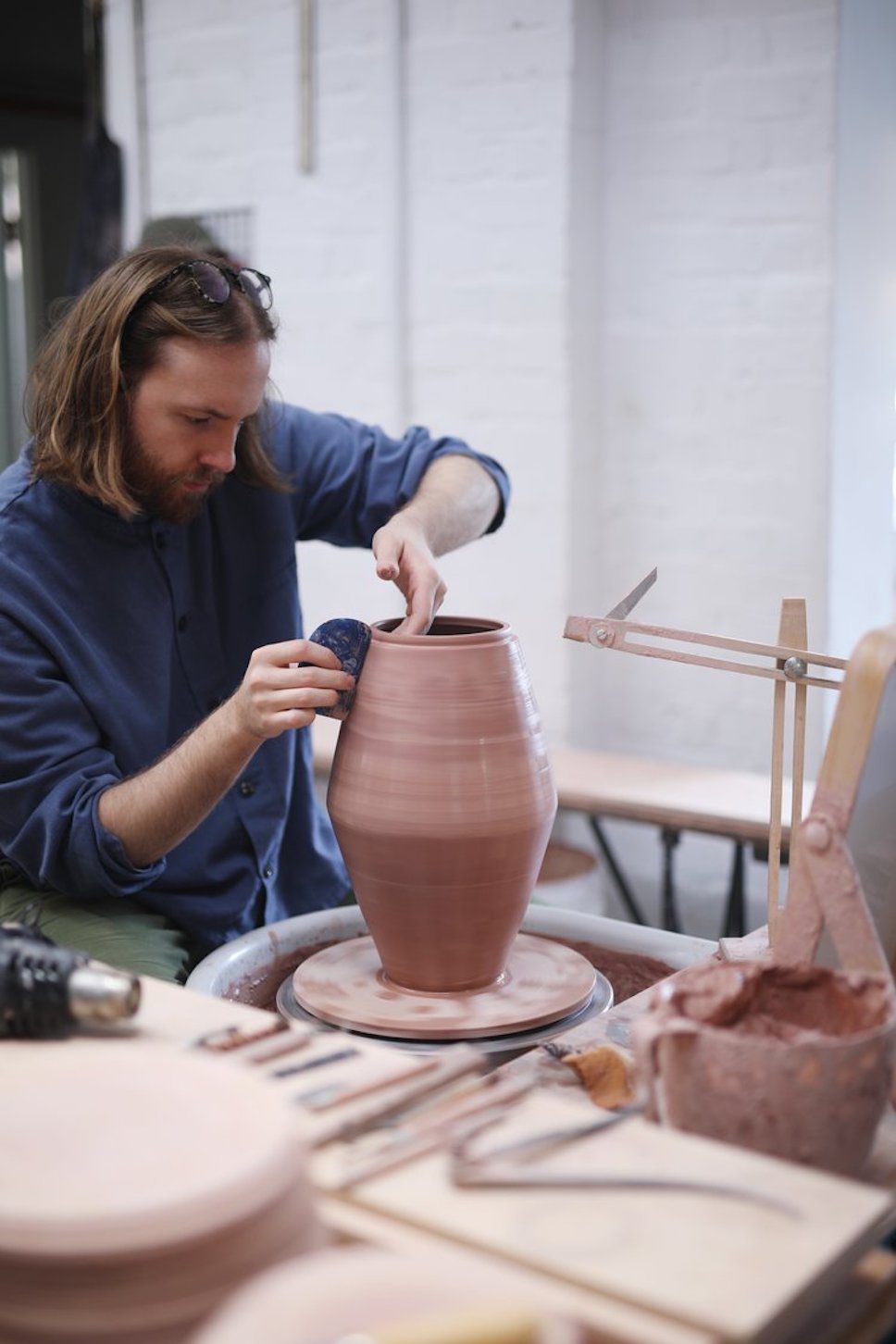 Can you describe your studio to us?
It's situated in an old industrial laundry on the outskirts of London. It's quiet, the roof leaks occasionally and my neighbours coat nuts in chocolate, so it smells glorious much of the time.
I searched for almost two years to find a space in London that I liked. A place that had ground floor access for my gas kiln, water access, and a landlord who was happy for me to put a chimney through the roof. It all happened very quickly and without much difficulty once I finally found it – and it is perfect! It's airy and light, with tall ceilings that culminate at a pitched roof and it has odd, painted-over windows that lead to nowhere as the building was sliced up into a selection of unusual work units years ago.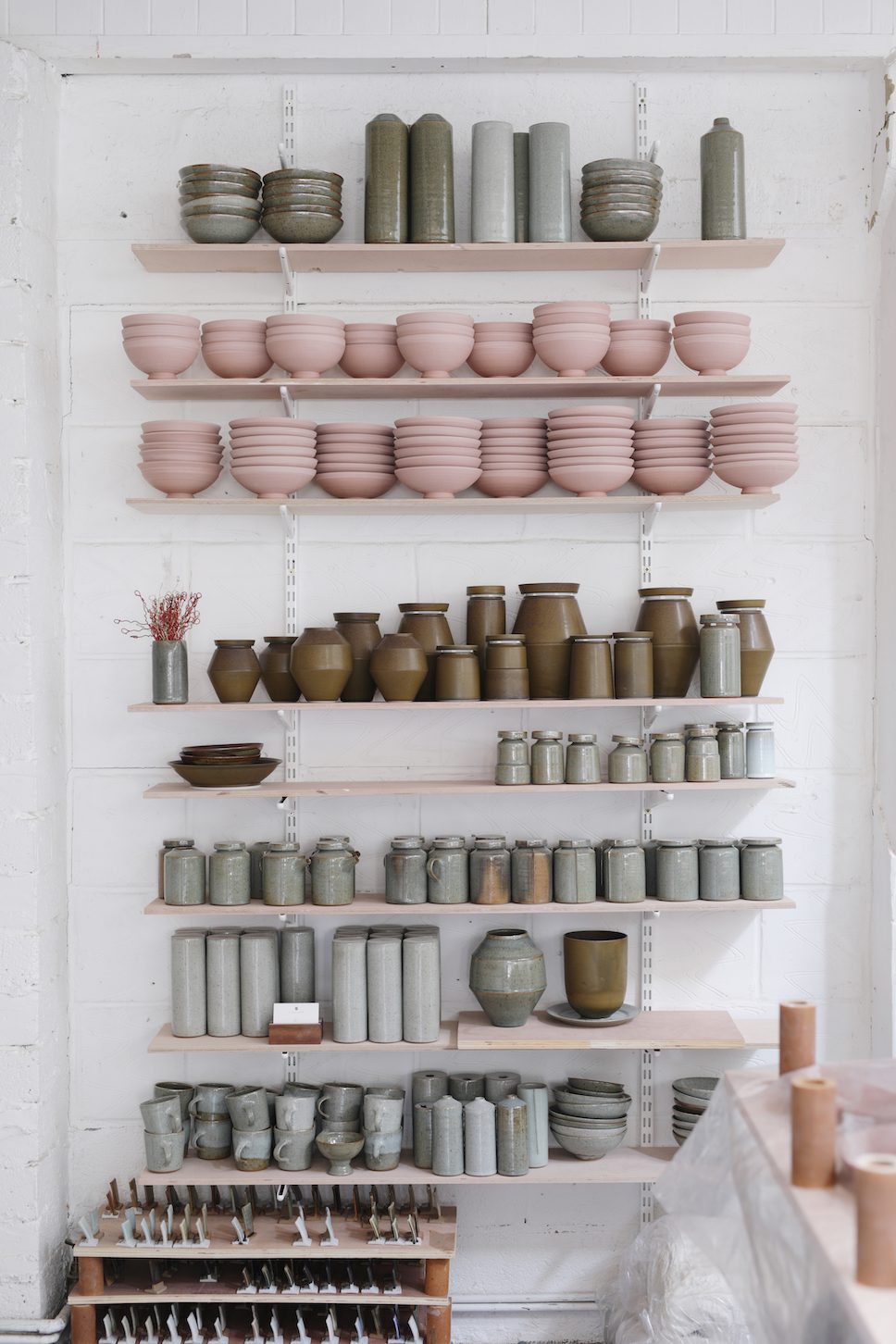 As a small business, how do you support conscious shopping and minimal waste?
I've switched to using only recyclable packaging materials and often reuse every box that comes into my studio by sending it back out into the world, be it for shipping pots in or even just lining the walls of others for some added protection.
It's tricky, really, as I send my pots all over the world but I'm still small fry in regard to how many products I actually create and if I can persuade a few people to purchase pots from me, as opposed to having a factory somewhere produce them, then that'll be a bit better for the planet. Ultimately though, who really needs new pottery? Or clothes for that matter? I'm sure there's enough in the world already for all of us, but life isn't that simple.
In your opinion, is the design industry taking sustainability seriously?
There's peaks and troughs. Industrially made ceramics are often fired in gigantic gas kilns, hundreds of times a year, and I'm certain there's a colossal amount of waste. Producing ceramics creates a difficult situation as fired clay isn't easily recyclable. It is on a small scale, like I'm doing, where the shards are taken and used for an alternative art, but on an industrial scale that doesn't happen and you'll find mountains of shards outside pottery factories around the world.
There are individuals though who are looking at ways of correcting this. Most of the small potters I know take it very seriously, and there are a lot of us nowadays; I hope our practices work their way into the larger world.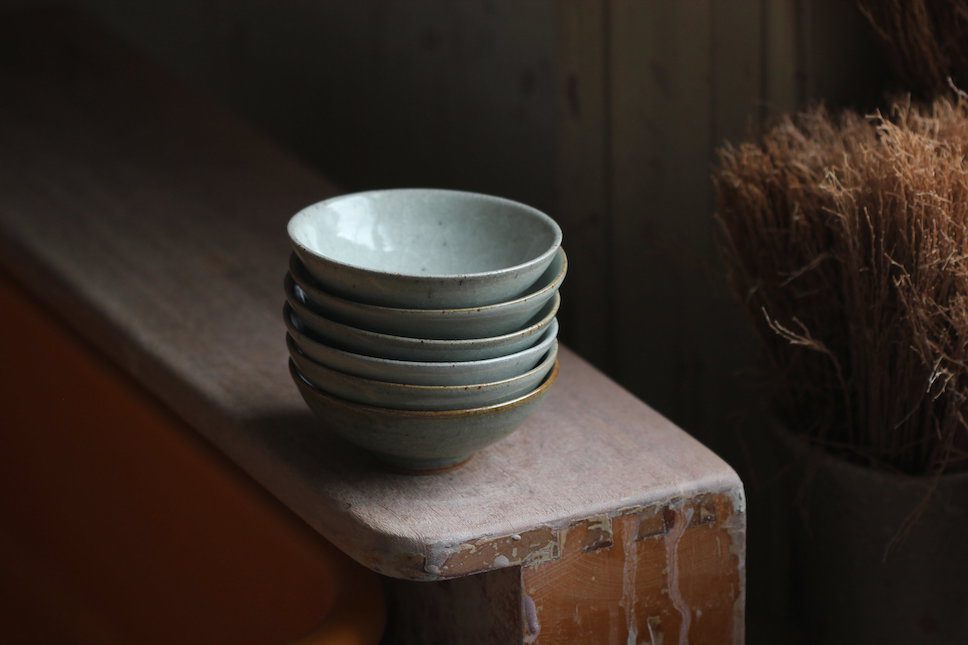 What is your favourite piece in your portfolio and why?
A piece called 'Rinse and Repeat' (pictured below, right) that I made for Make Hauser & Wirth Somerset. The title of the exhibition was the 'Impossibility of Repetition,' based on a quote and the idea that potters often spend much of their lives making hundreds of the same pots. This piece took the same base form and altered in numerous ways from shelf to shelf with a selection that were specifically oxidised so that a yellow-green mark brushed its way up through the central column of pots.
Are there any other materials you are interested in experimenting with?
Metal and glass and ceramic go together so gloriously. If I ever found a free year I'd be delighted to learn the rudimentary amount required to incorporate it into my practice, glass especially. Iron and other metals also react in interesting ways when combined with clay, especially in a reduction atmosphere and I've been developing ways of using found iron and rust in my pots to save pieces that were previously deemed seconds.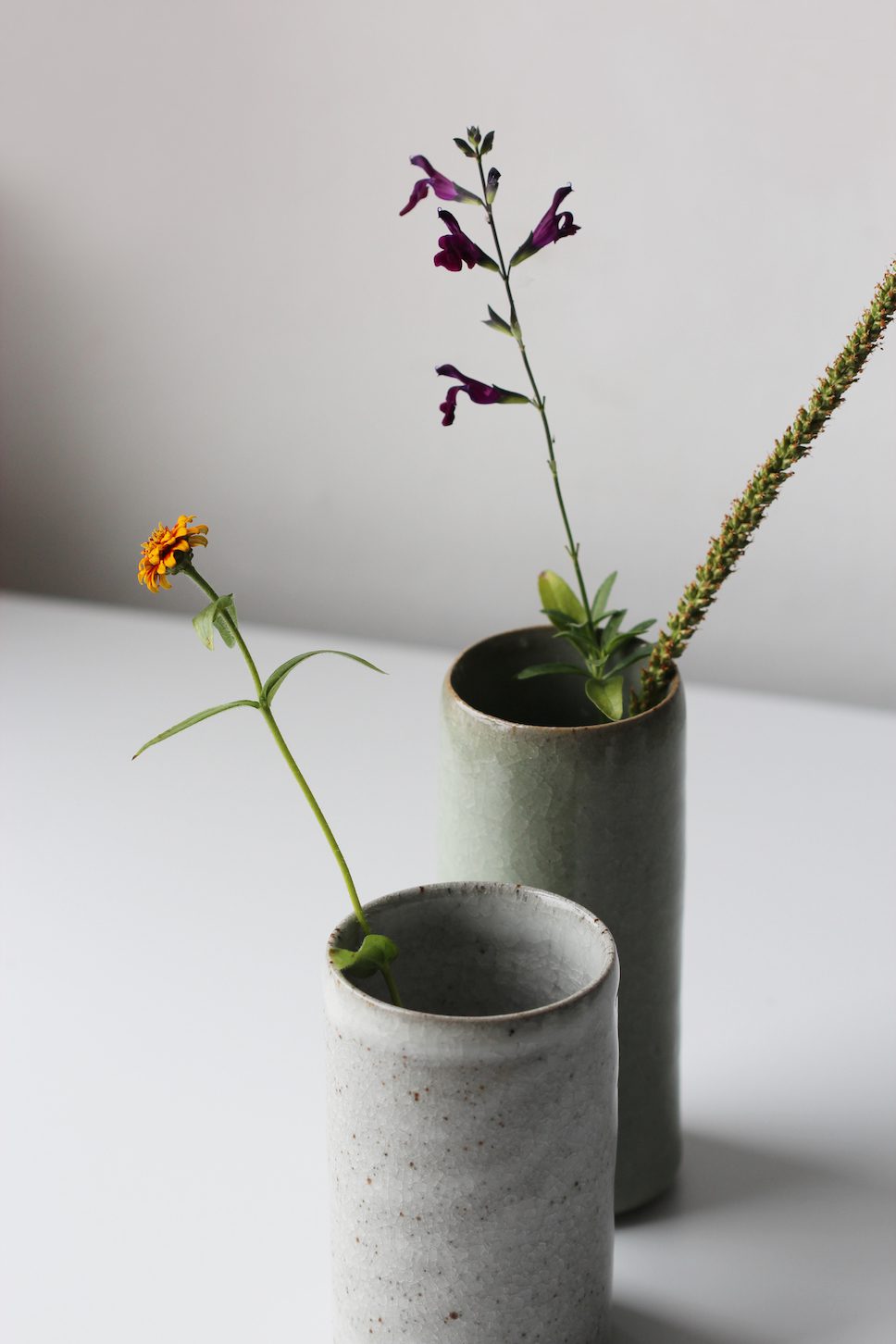 What would you say to inspire anyone who is tempted to try pottery for the first time?
There's nothing quite like making your own mugs and plates to eat breakfast off of each morning. It makes your ritual of drinking coffee or tea all the more meaningful, rather than sipping it from a factory made, lifeless cup.
You'd be surprised by just how quickly you can begin making usable pots too. They might be clunky and a little heavy at the start, but they'll grow legs and you'll soon look back at those early pieces you made with a warm heart.
What are your hopes and plans for 2022 and beyond?
My short-term plans are a secret for the time being, so I can't reveal those right now. In the long-term, I'd like a larger studio with a myriad of different kilns so I can clothe my pots in new attire.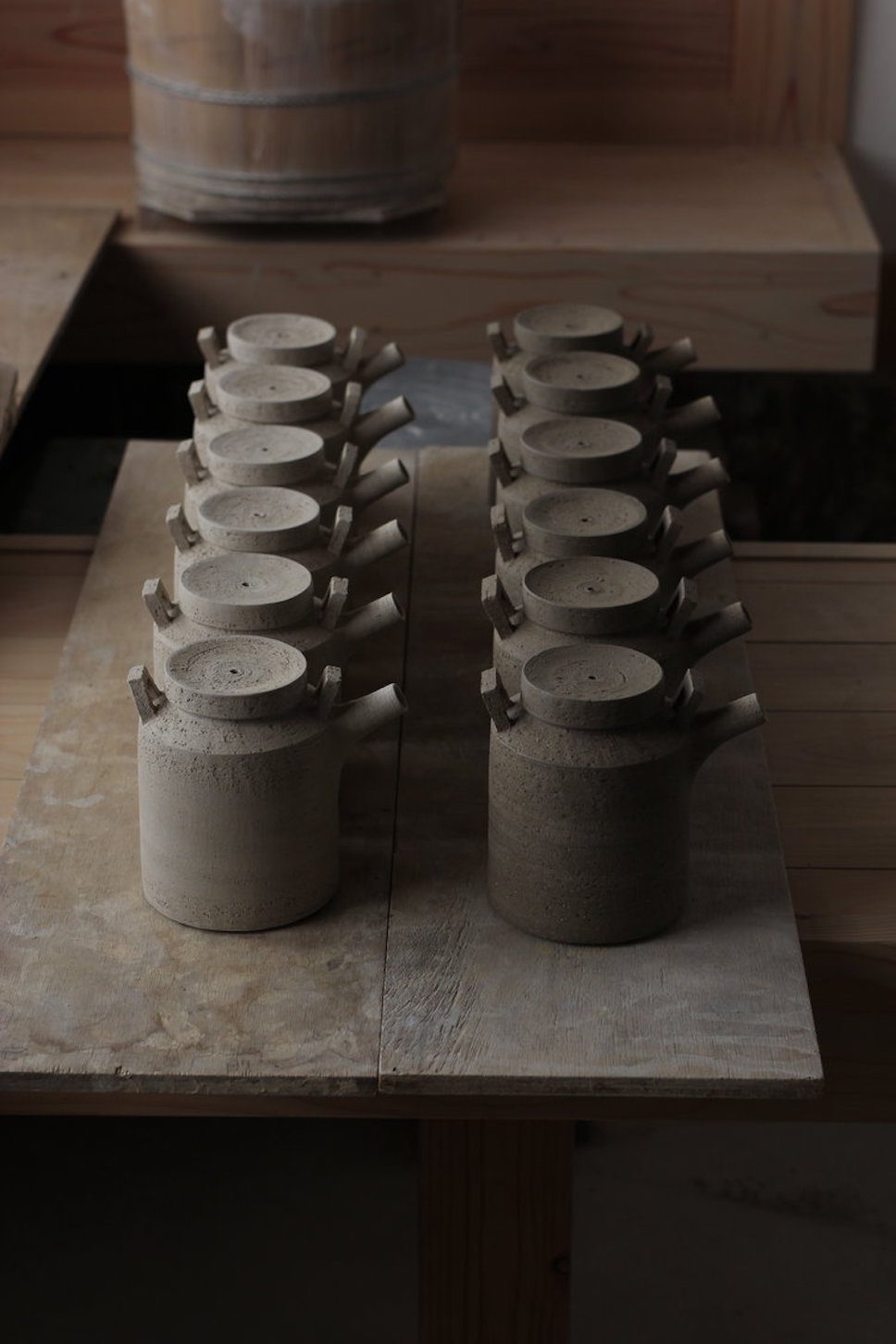 All photography is courtesy of Florian Gadsby.
You can find all of the beautiful ceramics made by Florian Gadsby online.
Dive into our other Meet the Maker interviews on enki, and discover Finnish designer Mari Koppenen's pioneering eco-friendly material research.