*Sponsored Content*
If it's a hardwearing but beautiful surface solution you're searching for this 2019, the latest design-led offerings from CRL Stone's Quartz and Ceralsio collections are the ideal solution.
With 20 years of experience, CRL Stone continually proves its status as one of the top surface brands at the forefront of the stone industry by unceasingly delivering on dynamic materials and surface solutions that can instantly transform a space within your home.
The brand's hardwearing engineered Quartz collection will not only meet your requirements when it comes to functionality – the range brings beautifully designed, non-porous, stain, scratch, heat and shock resistant surfaces to the table that make it ideal for use within kitchens and bathrooms – but our current penchant for cool, minimal lines and fresh marble styles too. Built with the modern kitchen in mind, it's important to note that there are none of the usual maintenance issues often associated with natural materials or concrete. Simply wipe with a soft damp cloth and mild detergent.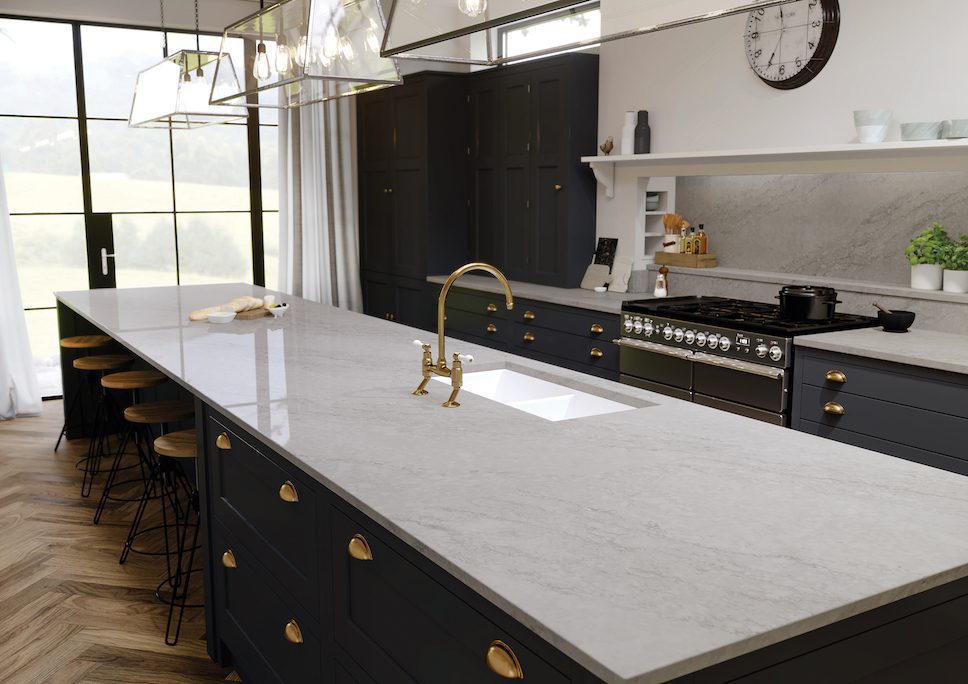 With six new materials being added to the CRL Quartz collection for spring, renovating that kitchen or bathroom just got much easier. Included amongst the new arrivals is the brand's contemporary twist on what has become something of a design – and brand – classic: CRL Quartz Antonella. Debuting a distinctive grey and brown veining throughout the material, it's the ideal surface to soften a material palette of timber or metal if you're building a more industrial-style kitchen this spring or summer. The range's Pacific Grey surface also showcases a similarly subtle marble-influenced patterning, which will instantly lift a previously lifeless kitchen.
For the magpie's amongst you, opt for the magic of a CRL Quartz gentle glimmer in the form of their Silver Shimmer and Grey Shimmer surfaces. Alongside these, Calacatta and Pearl Grey (a tonal grey classic) also join the new arrivals.
Equally versatile, are the new nature-inspired materials and neutral colours from CRL Stone's Ceralsio ceramic surface collection. Inspired by the industry's lean towards raw materials, the range includes everything from a ceramic surface that mimics the appearance of poured concrete called Ferro Vecchio, to Ceralsio Cervino, a marble-influenced patterning on a fresh white background with a satin finish. Other arrivals in the new Ceralsio line-up include Calacatta Extreme, Cosmopolitan Grey and Cosmopolitan Silver, ideal porcelain surfaces for the urban space.