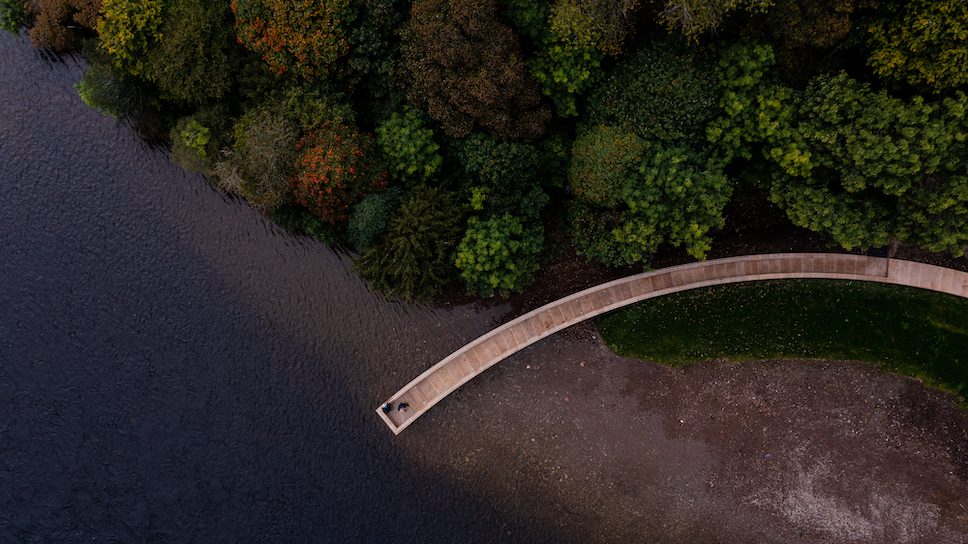 The Gathering Place by artists Sans façon and architects KHBT for the City of Inverness is a new public artwork designed to reconnect the city with the river.
Bringing architecture, art, and landscape design together, the collaboration was focused on not only reinforcing the river's social role within the fabric of the city, but also on creating a place for meeting or contemplation. Its gently sweeping, semi-circular form echoes the shape of the river banks and draws attention to the charming character of the River Ness.
The sculptural appearance and tactile materiality of The Gathering Place are embodied in Clashach stone. This material was "chosen for its beauty and the proximity of its origin in Moray to the site" the architects explain, putting further emphasis on locality and community. The simple contour of stone acts as a transitioning place, taking visitors on a journey as they experience the Scottish landscape, transforming from a bench, to walkway, and eventually to a pier-like platform that offers enduring views upstream.
"After the intense research including the collection of many stories of from the people of Inverness, it felt appropriate to create a minimal gesture that enhances the notion of the river being the main actor whilst creating a tangible connection between the spectators from both embankments," adds KHBT director and Berlin International University of Applied Science professor Karsten Huneck.
Showing sensitivity to the riverside site was an important consideration throughout the project. So as not to dominate the landscape, the artwork echoes the shapes of the banks and maintains a low, horizontal presence with unobstructed views to emphasise the focus on the river itself.
Liaising closely with NatureScot (formerly Scottish Natural Heritage), SEPA, Historic Environment Scotland, Scottish Forestry and Land and the flood risk management team, the project team have ensured that The Gathering Place "has the durability to withstand use and weather events with minimal or no impact on wildlife, natural habitats, or trees," as they confirm.
Enshrouded by dense trees and immersed in the natural soundscape of the flowing water and singing birds, this is now a place for all to embrace and enjoy.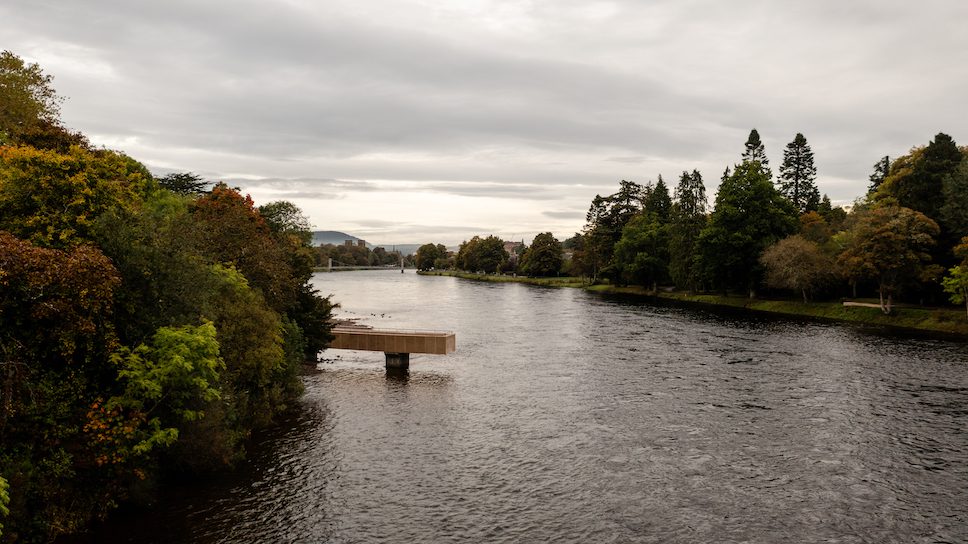 Learn more about artist duo Sans façon and architects KHBT.
See more architecture stories on enki.