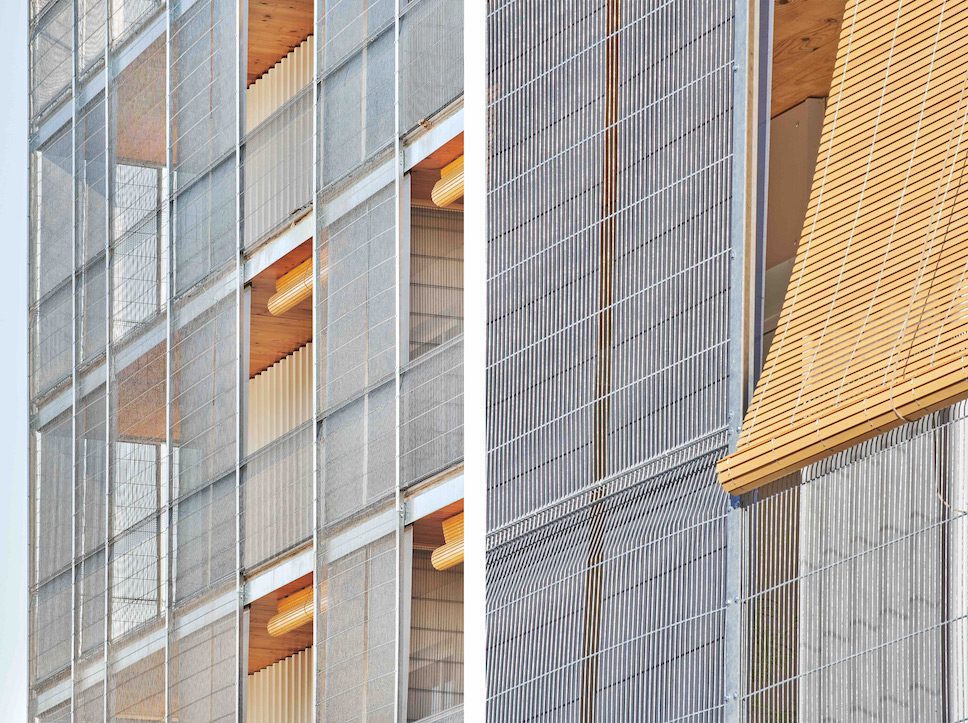 Barcelona-based studio Peris+Toral Arquitectes has completed the largest timber-framed residential building in Spain.
Built from 8,300 cubic metres of timber harvested from the forests of the Basque Country, the freestanding building comprises five wood-framed floors supported by a reinforced concrete structure at ground level. Its purpose is to provide a social housing project with 85 units for flexible living, using a construction method with low environmental impact.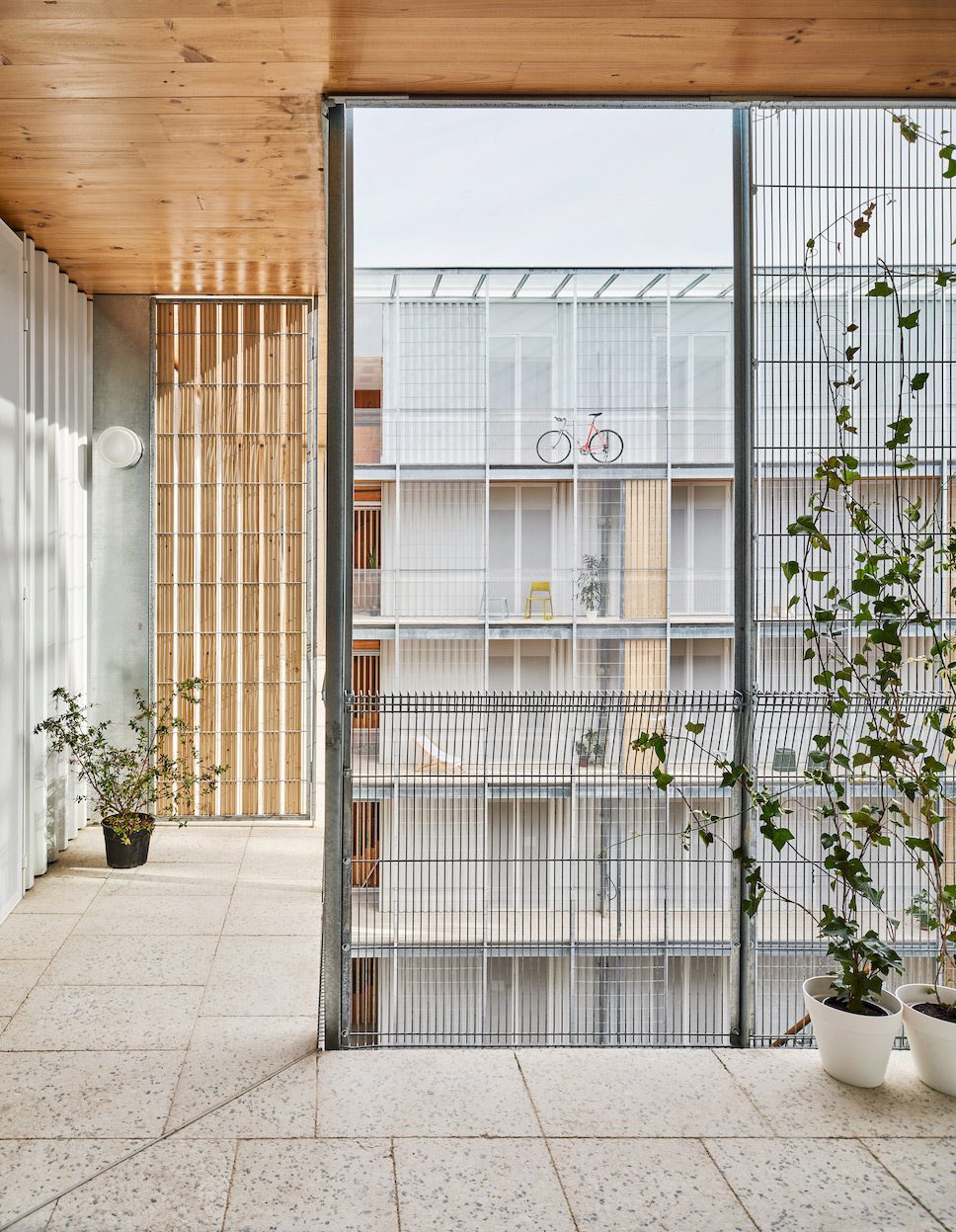 "We chose to work with wood due to the possibilities it offers for industrialising the structure of the building and improving both the quality of construction and the time it takes, and the positive reduction of emissions you get with a totally sustainable material," explains José Manuel Toral, architect and co-founder at Peris+Toral Arquitectes.
Positioned on the site of a former cinema in the Cornellà de Llobregat municipality, the 10,000-square-metre building is arranged around a communal courtyard that acts as a meeting place for the residents. The architects also describe this space as "a portico open to the city", where the ground level contains shops and public amenities.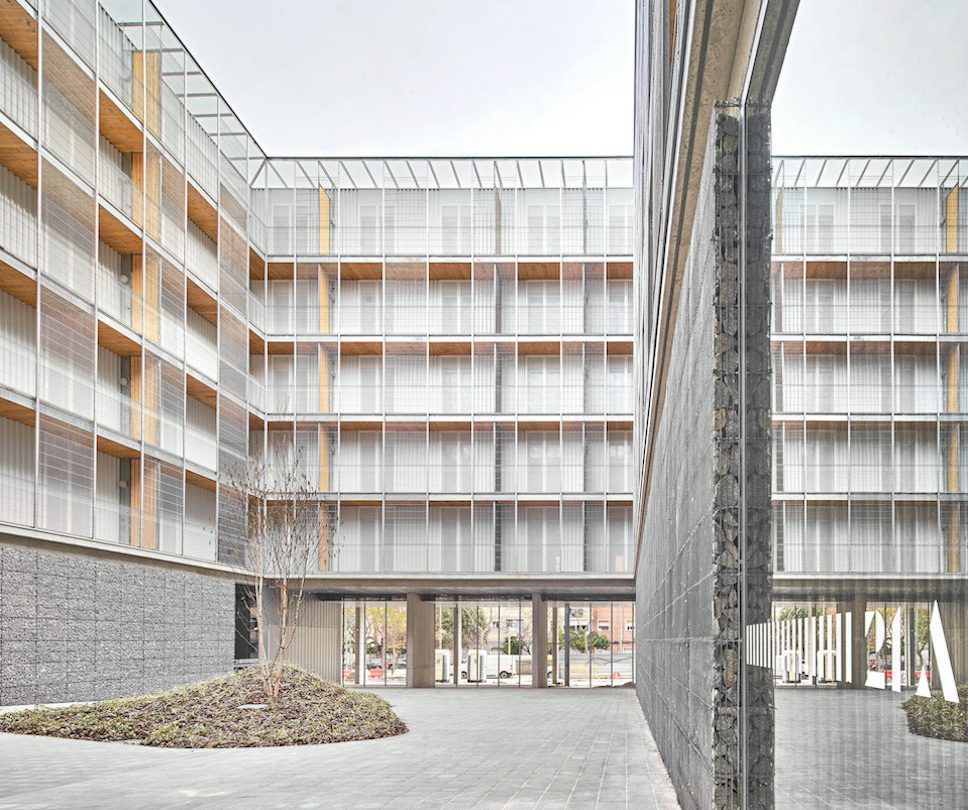 For the multifamily construction, the design was focused on maximising the floor area with a plan organised around a series of covered terraces encircling the courtyard with access to the apartments. This eliminates the need for internal corridors and offers more space inside the modular homes.
Solid timber-built stairs are positioned at the four corners of the central plaza and lead up to landings on each of the five floors. There are a total of 18 apartments per floor, where "four or five homes are laid out around each nucleus, so that all typologies have cross ventilation and dual orientation," the architects explain.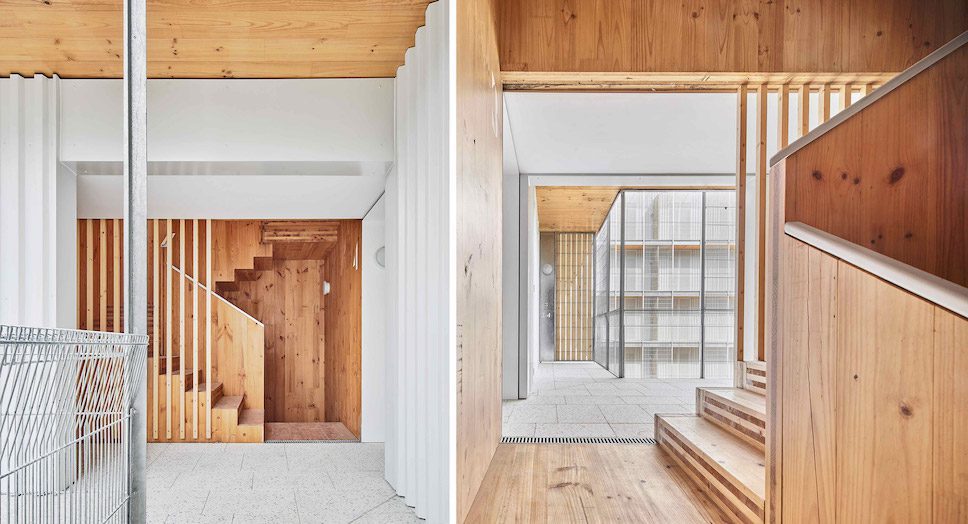 Each contemporary apartment consists of five or six modules, depending on whether they have two or three bedrooms. Each home has a light and airy atmosphere, with the flow of the spaces enhanced by seamless wooden flooring. Centrally positioned open-plan kitchen modules, with built-in appliances and sleek handleless cabinetry, replace corridors as the main circulation space.
A close connection between indoors and outdoors is formed, with the addition of sliding doors that open the living area up to a second layer of terraces that are wrapped around the external elevations. Aside from the use of wood, which has been optimised to 0.24m³ per square metre of built area, corrugated metal and metal mesh add to the industrial feel.
Project details:
Project: 85 social dwellings in Cornellà
Client: IMPSOL, lnstituto Metropolitano de Promoción de Suelo
Architects: Marta Peris and José Manuel Toral (Peris+Toral Arquitectes)
Consultants: Bernúz Fernández (structures); L3J Tècnics Associats (fluids); Joan March i Raurell (works management); Societat Orgànica (environmental advising); Àurea Acústica (acoustics); AB Pasatgistes (landscape)
Photography: José Hevia
The project has been recognised as one of five finalists for this year's Mies van der Rohe Award which honours the best European architecture project.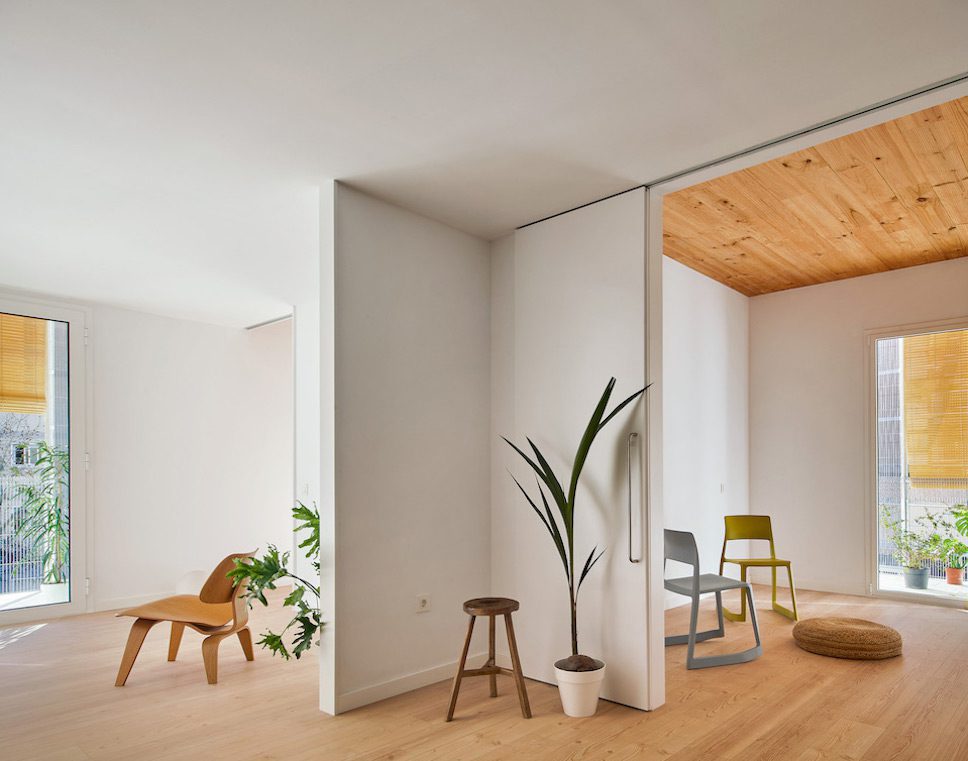 Discover other public housing and urban spaces by Peris+Toral Arquitectes.
See more inspirational and sustainable residential architecture on enki.