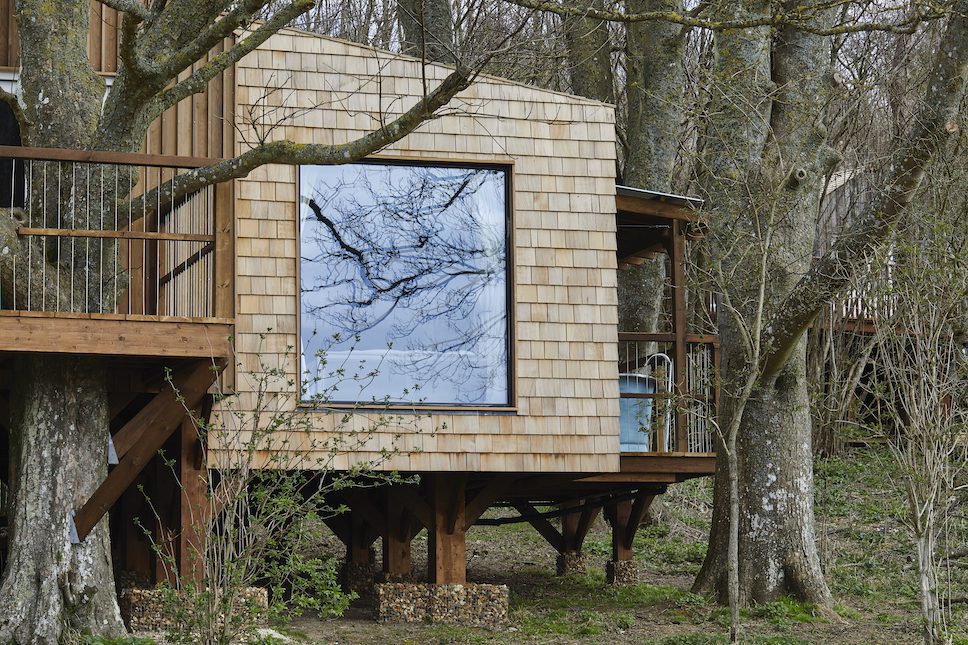 A boutique staycation experience with a difference, Wild Escapes offers the first set of treehouses ever to be built on a UK vineyard.
Owner and designer, Will Hardy took the opportunity to transform 1,000 acres of disused farmland into a viable venture that would encourage re-wilding and biodiversity. Fullerton Farm is now the home of four luxury forest dwellings overlooking award-winning Hampshire vineyards.
The treehouses are spaced approximately 60 metres apart through the woodland, and each one has been built without digging to preserve the homes of the badgers who live below.
We had a conversation with Alex Main, director of The Main Company, who recently worked on the four beautiful, bespoke-designed treehouses. He delves into the sustainable tourism project and reveals the story behind the character of each treehouse…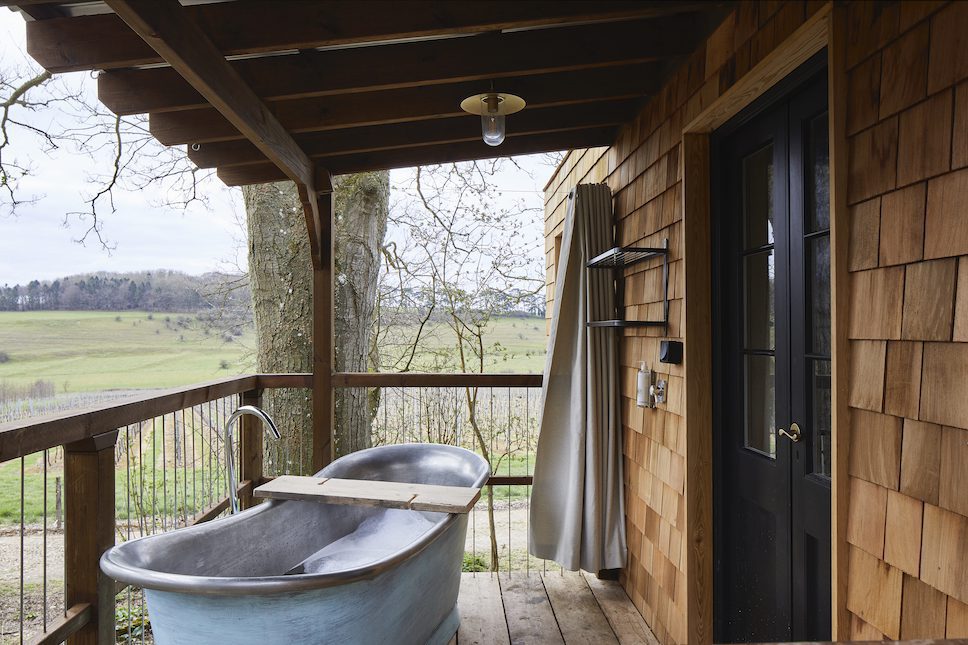 What inspired you to work on the Wild Escapes project?
"After speaking with developer Will Hardy we were lucky to be given the opportunity to work with him on this exciting project to create a desirable staycation retreat. We worked with Will to bring his vision to life, providing kitchens and cladding for four luxury treehouses; sustainability was key and the values and passions held by Will and the Wild Escapes team aligned perfectly with our own."
What are the roles that sustainability and craftsmanship play in this project?
"We provided cladding for three of the four treehouses (Poppy, Fallow, and Perigord) to contribute to the rustic, raw look and feel of the space. We like to use reclaimed materials as it adds character to the space, with the inherent cracks and holes helping to create a natural and relaxing environment. Many of our planks are reclaimed from old mills and barns, before being restored in our Yorkshire workshop."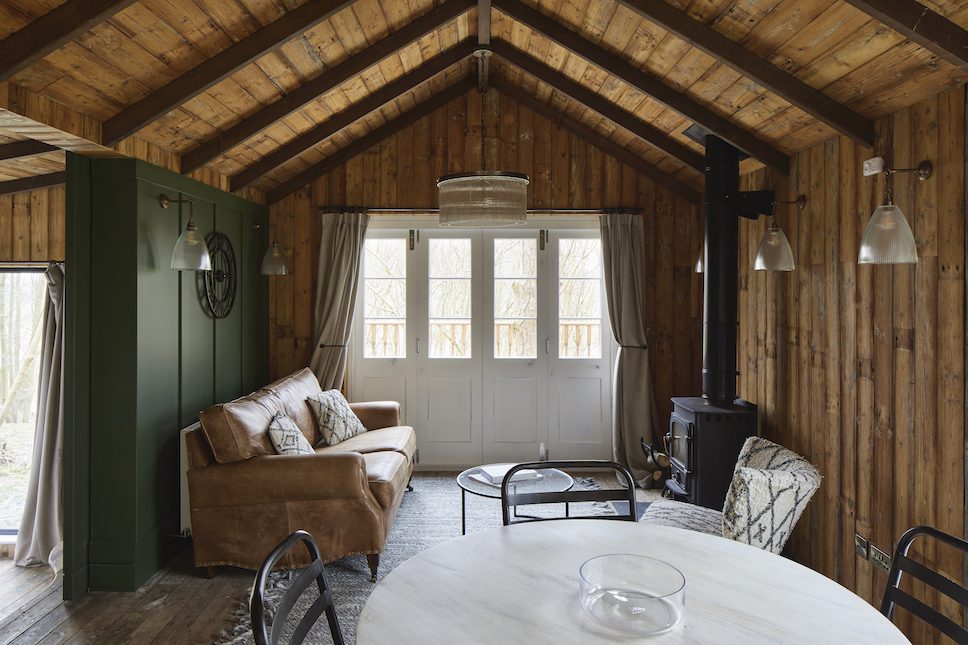 In what way does each treehouse take on its own individual personality?
"It was important for us to create a different ambience and aesthetic within each of the treehouses, so therefore when it came to design, we made sure that all four spaces offered something truly unique."
"Fallow, for example, has a warm retro feel, with orange accents and rattan-fronted cupboards with a classical herringbone floor. Whereas Poppy truly embodies all of our values at The Main Company, by utilising a variety of organic materials – for instance, reclaimed pine has been used alongside black accents to elevate the interior."
Perigord Treehouse
Dark cladding gives the Perigord Treehouse its bold personality and makes it stand out from the crowd. "Perigord has a stylish, Scandinavian feel – this design scheme is much cooler than the others and more minimalist to suit contemporary lifestyles," says Alex.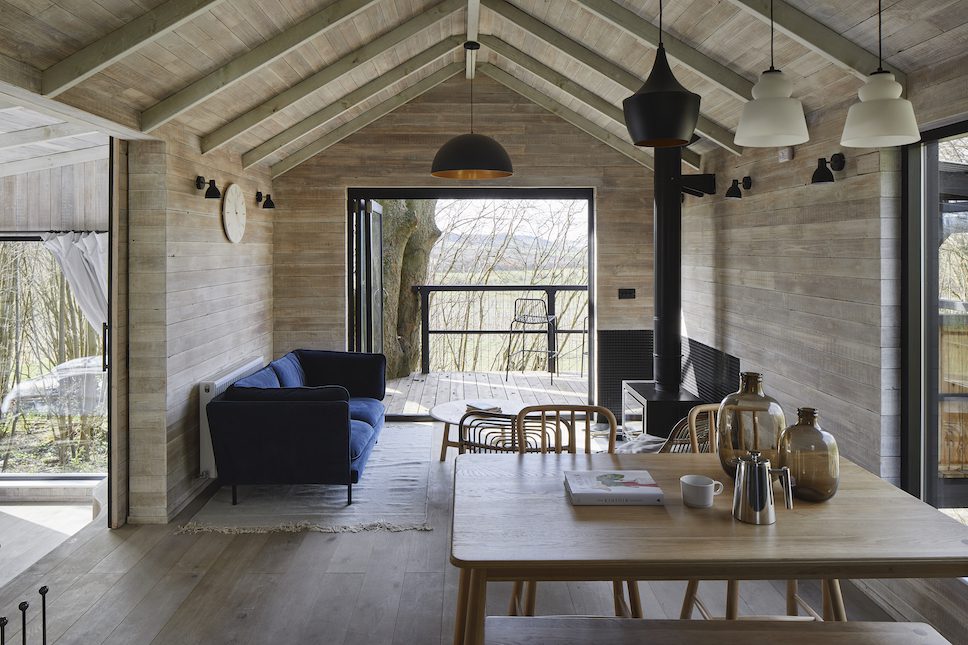 Reclaimed old white mill board interior cladding sets the tone inside, with minimalist styling and comfortable furniture for a relaxed stay. In the kitchen, there's a beautiful reclaimed oak worktop and and handleless cabinetry for a streamlined finish.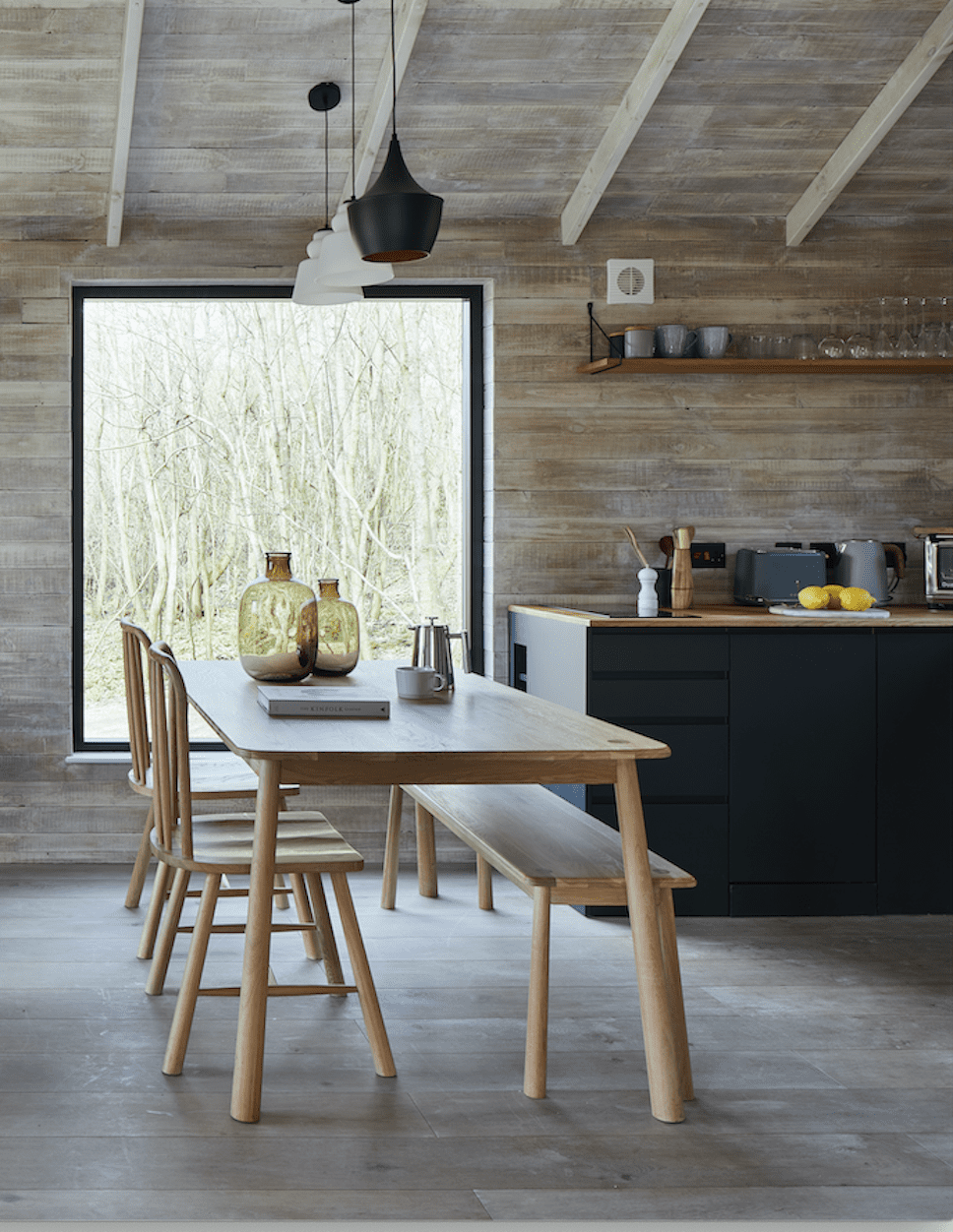 Damselfly Treehouse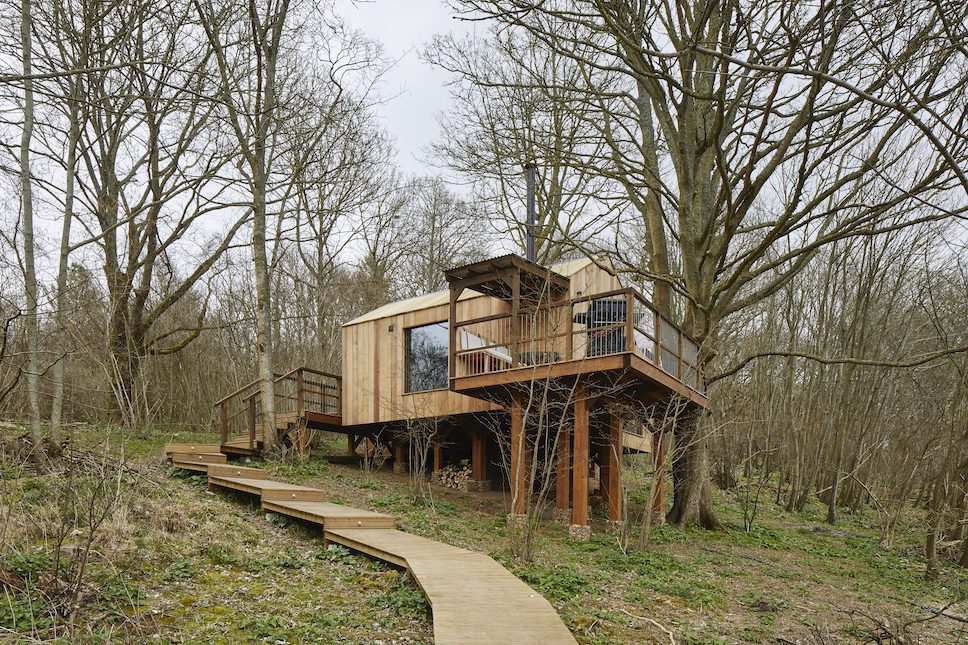 A stepped wooden pathway leads up to the Damselfly Treehouse which has a more conventional aesthetic, as its exterior façade blends into its woodland surroundings.
You can really immerse yourself in the wild here, with the decking area offering a luxurious copper bath and an outdoor shower supported by a towering sycamore tree.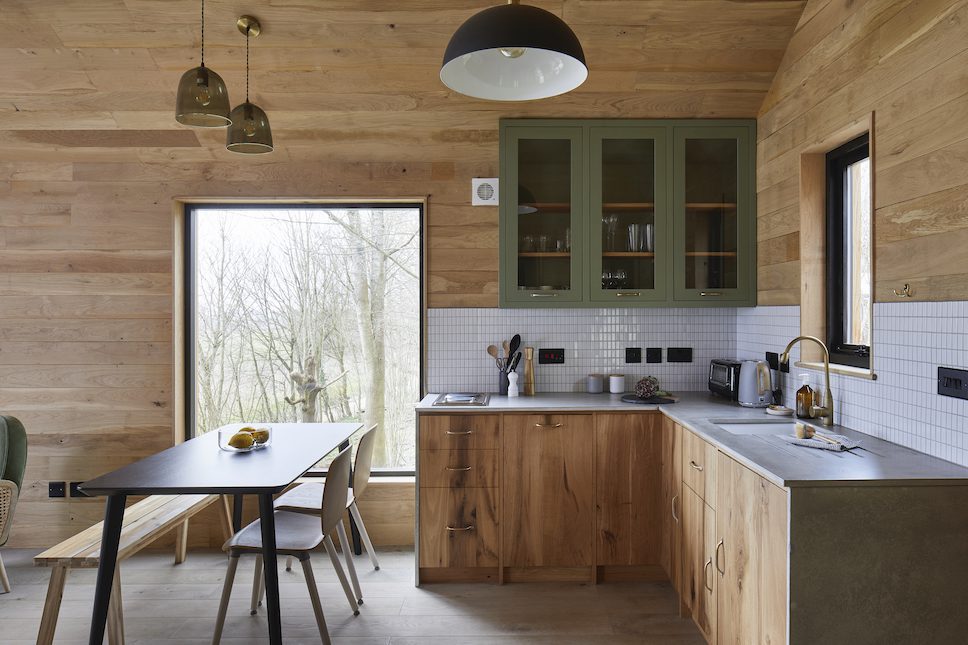 "Damselfly exudes luxury living," adds Alex Main. "Its pared-back colour palette and elegant features, including characterful green cabinets, contribute to the sumptuous yet on-trend feel of the space."
After a full day of adventuring in the great outdoors, there is a fully-equipped kitchen and sumptuous king-size bed to return to, with handmade toiletries in the bathroom as a thoughtful touch.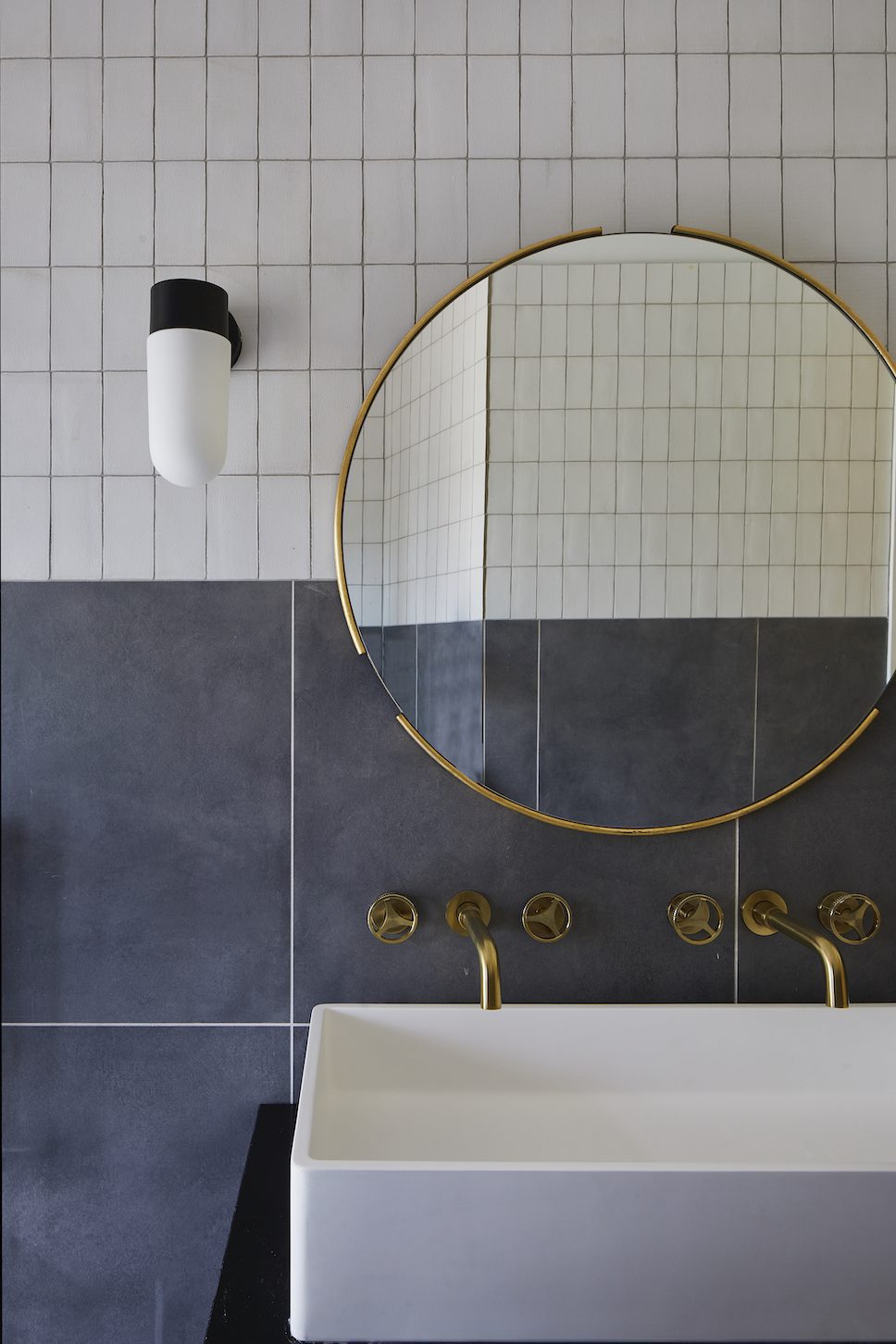 Photography by Chris Snook.
You can book a stay at Wild Escapes online.
See more extraordinary hotels around the world, from the The Bolder Sky Lodge to the Glass cabin retreat under the stars.