Located in the rural countryside of Oosterwold Almere, lies an unusual project: nine homes built in a one-hectare potato field for a group of pioneers with the dream of turning the plot into a community.
Behind the initial dream was Frode Bolhuis who aspired to create a new and alternative way of living and working. He asked architects Peter van Assche and Mathijs Cremers at bureau SLA and ZakenMaker respectively to design this dream build on a limited budget. In order to make the project viable, the architects agreed to the build under two preconditions: that Frode find like-minded people to join the project (as it would be cheaper to build several houses at the same time), and that they would only design the exterior of the property, allowing the families of the build to have complete freedom and control over the interior.

Happily for Frode Bolhuis, he found eight friends who shared his architectural dream. What resulted from the project, was an authentic piece of architecture. Not only does the 100 meter long project make quite the statement across the rural landscape, but at the same time the structure accommodates nine completely unique homes. The architects decided to raise the framework of the design above the ground, so it appeared to float above the land. This decision also allowed for the residents to choose where the sewage system and water pipes would be situated.
In terms of a material palette – which aimed to achieve high-end insulation within the tight budget – the architects decided to allow for the floor, roof and adjoining walls to be built as hollow wooden cassettes in which insulating cellulose would be pumped into. All in all, this process and planning allowed for the project to be exceptionally well-insulated.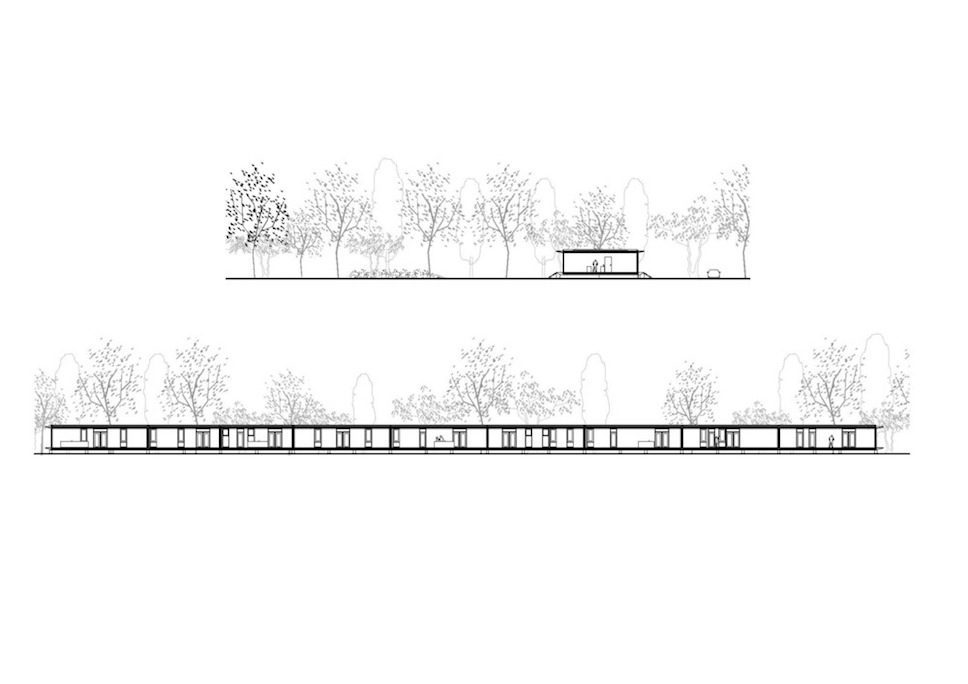 Not only did this unique build demonstrate that it's possible to create a standout piece of architecture on a small budget (that, in the end, became a key feature of the project itself), but it also shows the success of the architects and their ability to meet the expectations and requests of nine different clients. The architects made sure the build left an expanse of room for a community garden, where the co-living complex residents not only share the landscape but have created a vegetable garden. The sociable nature of this project is extended further by the communal porch which runs alongside the property, allowing for easy access for the families and a neighbourly environment.
Project Notes
Architects: bureau SLA and ZakenMaker
Photography credit: Filip Dujardin
Project sourced from: v2com