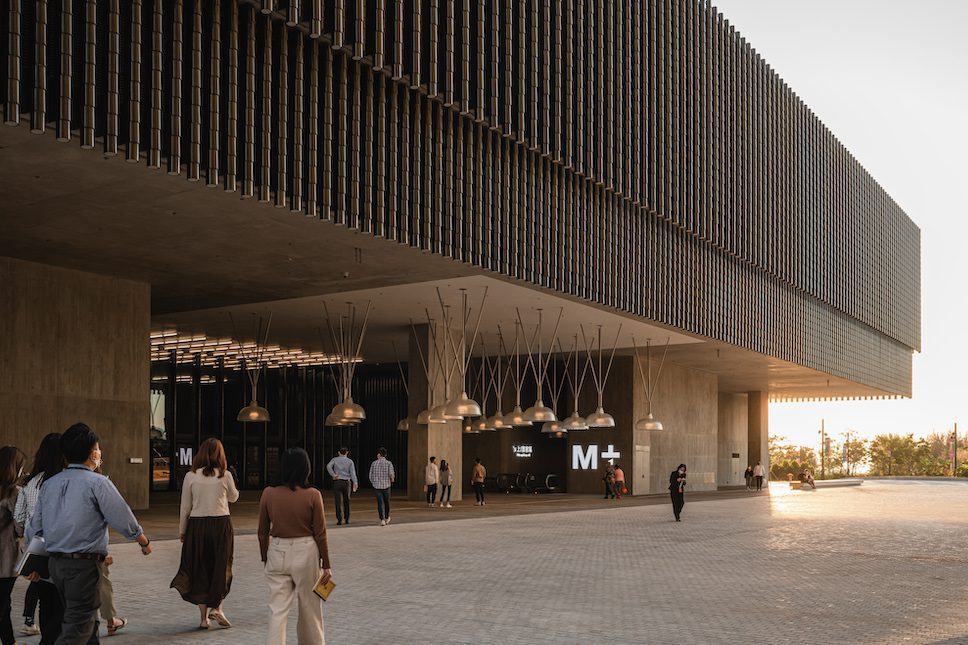 Dubbed as Asia's first global museum of contemporary visual culture, Herzog & de Meuron's M+ Museum is now open to the public.
Now a standout destination in Hong Kong's West Kowloon cultural district on the Victoria harbour waterfront, the M+ Museum is dedicated to visual art, design, architecture, and moving image. It is "a built platform for the exchange, encounter, and activity of people and art", as the design consultants describe.
Designed by Herzog & de Meuron and architecture studio Farrells, the museum is formed from two monumental volumes, one horizontal and one vertical, which intersect to create an inverted T shape. Inside, there are 33 galleries as well as multi-purpose halls, shops, eateries, a research centre, a cinema, and offices.
The expansive M+ Podium and striking M+ Tower reiterate the iconic character of Kowloon's skyline and stand their ground within the city's architectural landscape. The horizontal space houses the more conventional design spaces, where all the galleries are arranged on an orthogonal grid. A central plaza provides direct access to the entire exhibition area. The M+ Tower provides research facilities, artist in-residence studios, and a curatorial centre that enjoys expansive city views.
A point of departure for the design came about when dealing with the engineering challenge that the pre-existing MTR airport express and Tung Chung line beneath the building presented. The excavation around the railway tunnels produced a "Found Space" that provides an anchor for the building for hosting rotating installations.
"By uncovering the tunnel, a spectacular space is created for art and design, installation and performance; the excavations reveal nature of a "second order", a "Found Space" this is a challenge to artist and curator alike, a space of unprecedented potential," commented Herzog & de Meuron.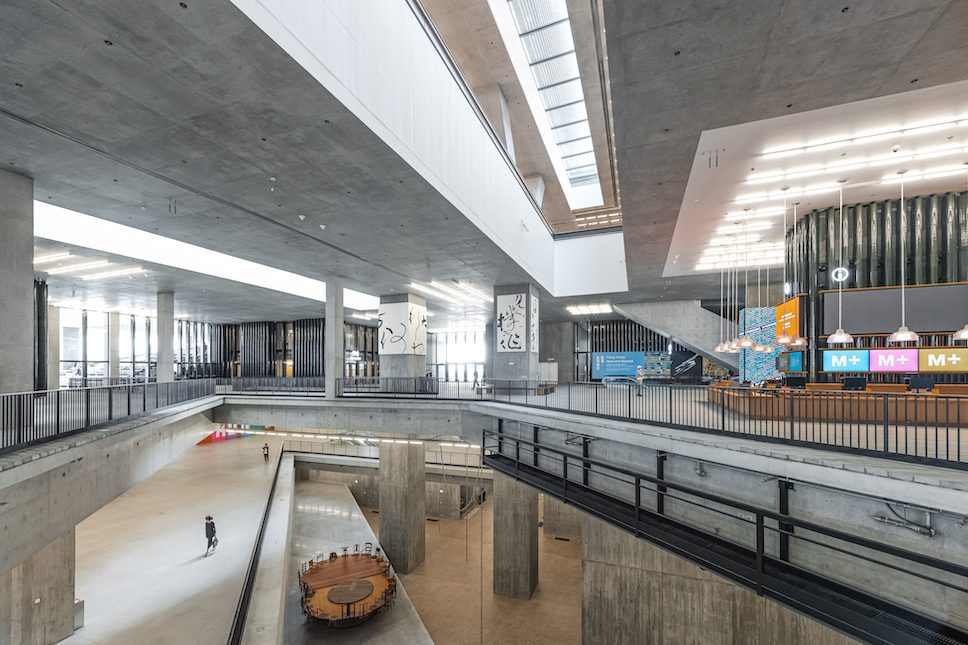 "In the joint between the "Found Space" and the lifted horizontal exhibition building, there is a spacious entrance area for the public," Herzog & de Meuron continue. "Instead of building a solid object that blocks off access, light and views, this covered area forms a bright, welcoming platform that can be entered from all sides and levels: open and transparent yet shielded from direct sunlight. It is a forum and focal point between the West Kowloon Cultural District and the Park, the newly built Avenue and Victoria Harbour."
Visual appeal plays a significant role throughout the architecture, with panoramic city views taken advantage of and focus also drawn to contemporary art and its forms. The inner organisation of the museum in fact displays openness and transparency. Also, impressively integrated into the sun-shading horizontal louvers of the harbour-facing façade, an LED lighting system "activates the building as a course-grained, over-sized display screen for selected or especially commissioned works of art" and establishes M+ as part of the Victoria Harbour skyline."
Project details:
Location: West Kowloon Cultural District, Hong Kong
Site area: 25,000 m²
Client: West Kowloon Cultural District Authority (WKCDA)
Design consultant: Herzog & de Meuron, Switzerland
Executive architect: TFP Farrells, Hong Kong
Structural engineering: Arup, Hong Kong
Landscape design: Vogt Landscape Architects AG, Switzerland
Sustainability: BEAM Plus Gold (pending final approval)
Photography: Kevin Mak (unless otherwise specified in image caption)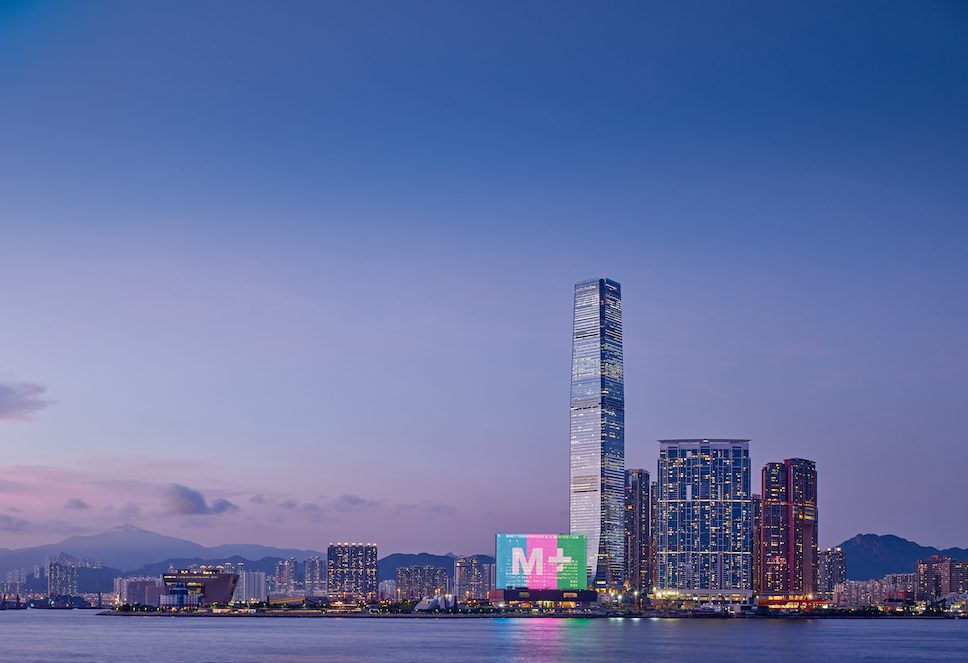 Discover more of Herzog & de Meuron's architectural projects, and take a look at the events and exhibitions at the M+ Museum.
Read all of the latest architecture news on enki, including the major upgrade of the National Gallery in London.