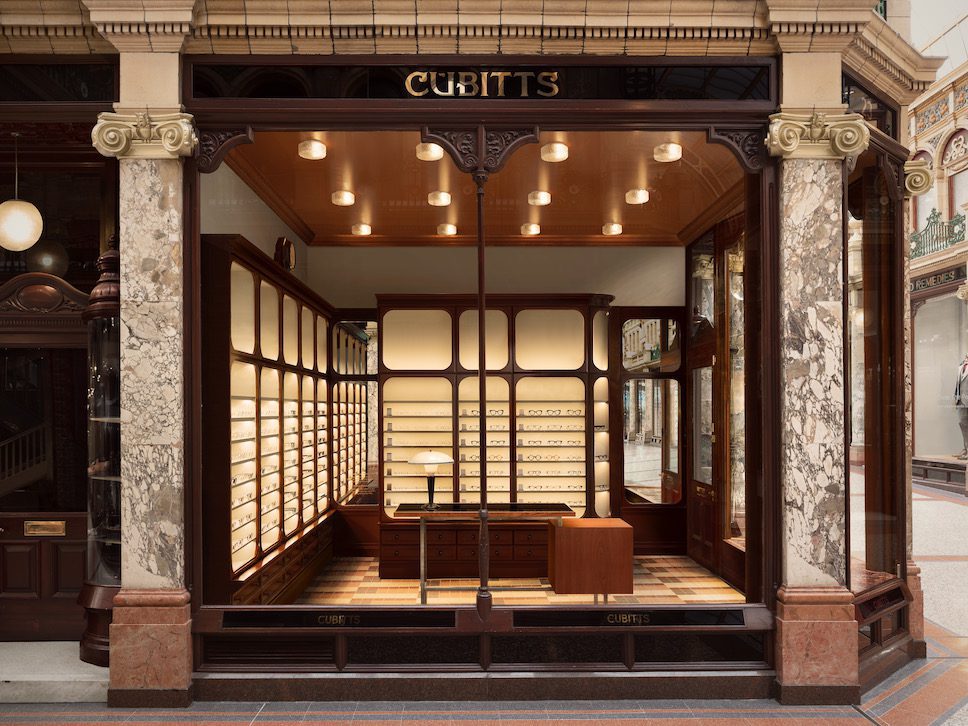 Child Studio has completed the sophisticated store interior design for British spectacle makers Cubitts, drawing on the nostalgic architecture of its Victorian shopping arcade setting in Leeds.
The ornate Grade II-listed Victorian arcade, originally built in 1898 by renowned theatre architect Frank Matcham, provided plenty of inspiration for the London-based design studio who are known for creating nostalgic and cinematic spaces. Pink Sienna marble columns and gilded mosaic ceilings offset the mahogany shopfront with curved glass façades with an air of opulence, but the studio has found a way to inject their own contemporary interpretation.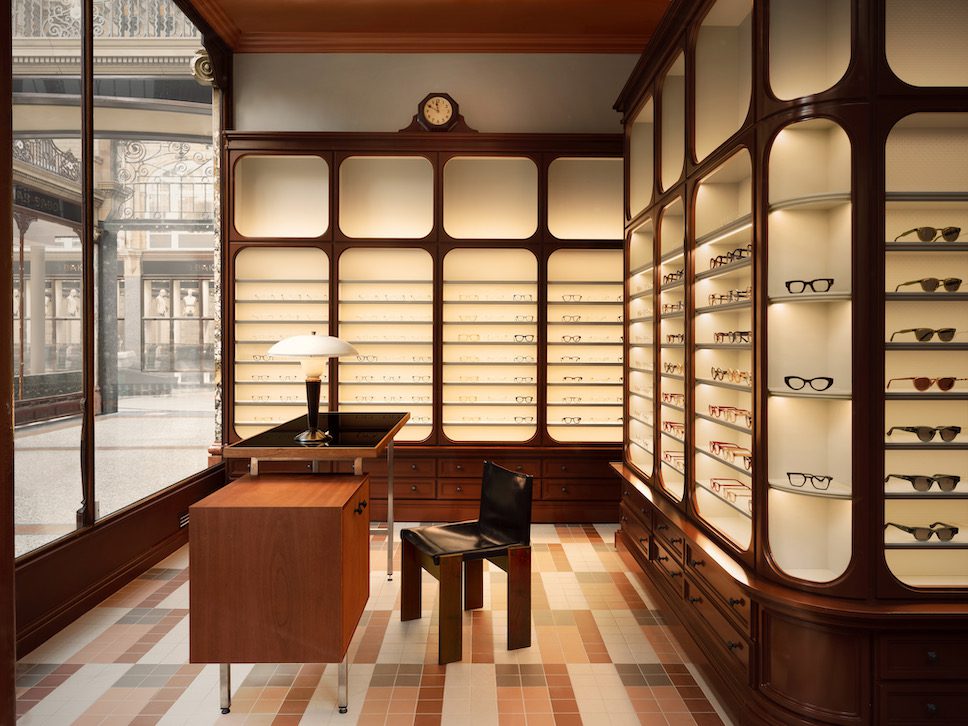 "New interiors within historic structures often fall into a pastiche or offer a sterile minimalist look that doesn't attempt to engage with the context," commented Child Studio founders Alexy Kos and Che Huang. Introducing a series of dramatic three-metre tall display cabinets that mirror the geometry of the original shopfront has allowed them to tie the historical detailing into the design.
"We wanted to take a more subtle approach and to build a layered narrative that would acknowledge different chapters in the building's history. We tried to imagine how the space could have evolved organically over time, fusing the Victorian cabinetry features with the Art Deco interior elements and Modernist references."
It's the attention to detail that catches the eye, for example on the cabinet displays the chocolate brown gloss lacquer finish subtly contrasts with the off-white textured wallpaper that is used to line the illuminated display shelves, Also, a custom-made cash desk made to resemble a traditional writing desk, adds further emphasis on the fine craftsmanship.
Another talking point is the interesting geometric floor pattern, designed from clay tiles in various shades of terracotta, sand, and anthracite. Child Studio revealed that it "was inspired by the arcade's original architectural faience detailing produced by the local Burmantofts Pottery Company." It creates a sense of continuation as you walk from main shopping centre into the Cubitts store, making it feel right at home.
Photography by Felix Speller & Child Studio.
Also on enki, read all about the multifaceted New Mags bookstore designed by Norm Architects.