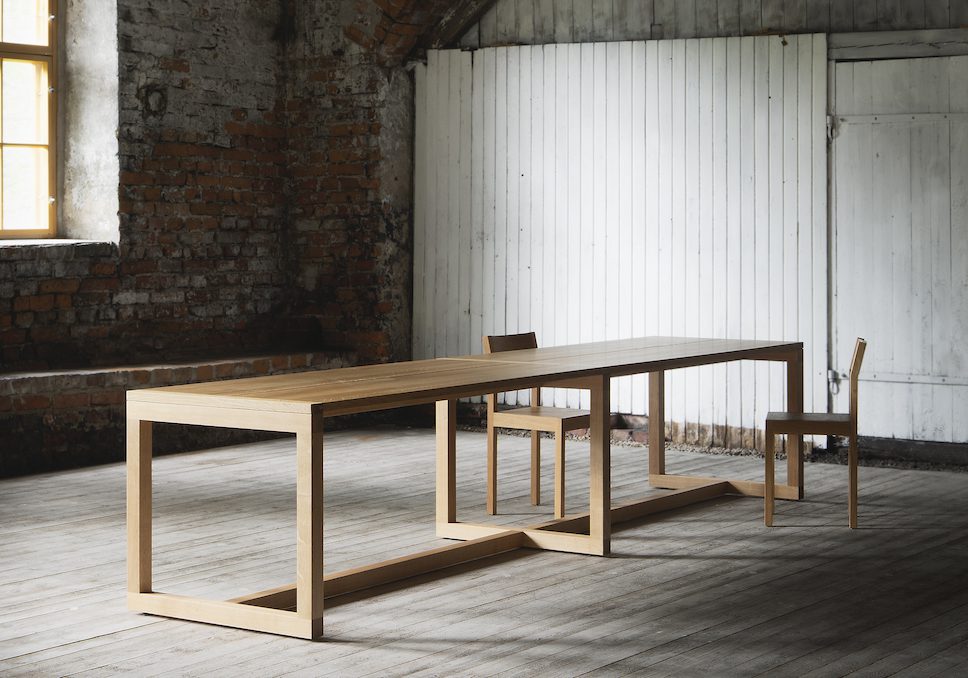 Architectural designer John Pawson has created the timber Frame table for Nikari based on a dining table for his own family farmhouse in the Cotswolds.
A master of design that is modest in character yet speaks volumes through its warm minimalism, John Pawson has skilfully crafted the dining table from sustainably grown wood. Its clean linearity and balance of form are complemented and strengthened by traditional joinery.
Talking pragmatically about his methods and thoughts behind his work, Pawson reveals: "Whether at the scale of a monastery, a house, a saucepan or a ballet, everything is traceable back to a consistent set of preoccupations with mass, volume, surface, proportion, junction, geometry, repetition, light and ritual. In this way, even something as modest as a fork can become a vehicle for much broader ideas about how we live and what we value."
Built from solid ash or oak, the Frame table is made to last through generations and form a much-loved furniture piece in any family home. Its surface is treated with natural wood oil mix which is known to be a more eco-friendly and healthier choice for the craftsman, environment, and user.
For Finnish studio-workshop Nikari, what Pawson has achieved is something quite beautiful. Explaining how he "handles both the positive and negative spaces in his designs" in the Nikari Journal. Additionally noting that "mastering the art of empty space is the exceptional skill of deeply understanding proportions and harmony."
Discover more beautifully crafted furniture by Nikari and architectural designs by John Pawson.
Take a look at other design stories on enki.