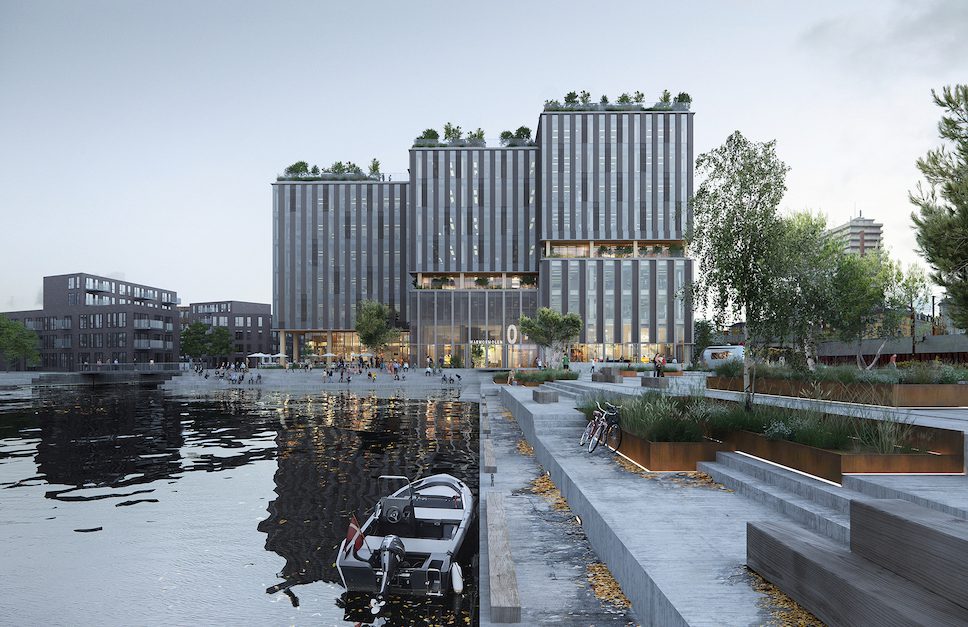 Henning Larsen has revealed plans for a large, entirely timber-built workspace, to create a vibrant market place and inspire biodiversity on the Nordhavn waterfront in Copenhagen.
As part of the redevelopment of the Marmormolen wharf, formerly an industrial area and now an up-and-coming vibrant waterfront and business district, the eight-storey building measuring 28,000-square metres is constructed entirely from solid timber and designed to be more than a simple office block. Unlike typical closed office environments, the idea was to naturally embed the building into its green urban space, whilst opening up the ground floor to the public.
Even though it is formed as one large volume, the building is divided into smaller cubes that can express the variety of tenants within. Each cube has its own rooftop area, providing access to open-air terraces and gardens. These green spaces incorporated into the design are exemplary of how urban architecture can support local biodiversity. The gardens will feature beehives and butterfly hotels, and encourage vegetable production to supply the canteen with fresh ingredients.
The solid timber construction by Henning Larsen and global consultingengineering group Ramboll marks a notable move away from concrete and a step towards using more sustainable alternatives. "The construction industry is a major emitter of CO2, and we therefore also have great opportunities to make things better. We're excited to be working with AP Pension on a project that puts sustainability and sustainable strategies such as the UN's Sustainable Development Goals first," says Søren Øllgaard, Partner & Design Director at Henning Larsen.
Situated on the waterfront, Marmormolen soaks in its natural surroundings with green urban spaces on three out of four sides. With a green plaza to the south and a future waterfront park to be developed, it's the ideal location for the large-scale modern workspace that will also incorporate urban life, shops, and restaurants.
"With Marmormolen we want to create more than a great office building," says Mikkel Eskildsen, Associate Design Director and Lead Design Architect on the project. "We also want it to give something back to the city and makes the building come alive – even outside office hours."
The open and inviting ground floor is designed as a sustainable setting for a vibrant marketplace, with amenities for the tenants such as a large canteen and auditorium which will double up as a public eatery and venue for theatrical performances and street markets. On the upper levels, workspaces enjoy access to a large courtyard and charming views of the Copenhagen skyline.
Work is due to commence on Marmormolen in early 2022, and it is expected to open in 2024.
Visuals by Sora.
Discover more architectural projects by international studio Henning Larsen.
Keep up to date with the latest architecture news on enki.