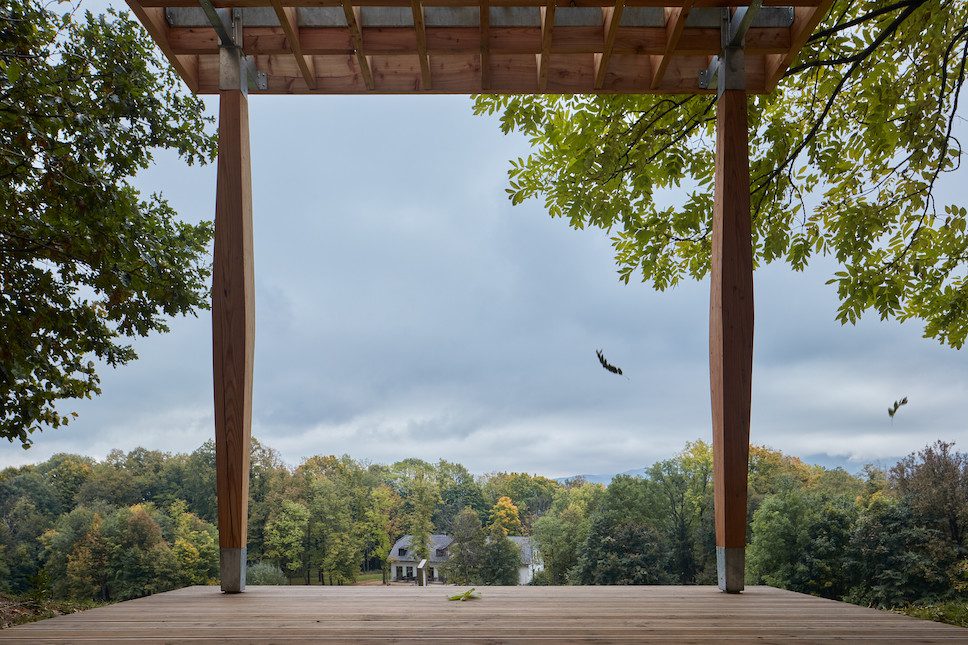 In response to a strategy to strengthen and enhance public spaces in a region of the Czech Republic, KLAR has designed a prefabricated structure called Yogapoint that offers a place to practice yoga or relax.
The brief from the Moravian-Silesian Region called for "a universal, easy to construct, unique object" that could be placed in the landscape, and KLAR has responded with a small, lightweight wooden pavilion that can be replicated and placed in various open landscapes. The materials and construction draw parallels with craftsmanship typical of the Beskydy and Jeseníky Mountains regions.
Aptly named Yogapoint, the idea behind the pavilion is to encourage the public to spend more time relaxing and exercising outside, but also to enjoy the surrounding natural landscapes. Four solid columns stand on a square platform and carry a wooden plank grid, offering a sheltered space and comfortable floor area for yoga practice.
"Working on the concept for this brief, we saw particular basic elements associated with yoga as key motifs," explain KLAR. "That is why our design tries to reflect stability, lightness, simplicity and – by choice of used materials – a certain sense of belonging with nature too."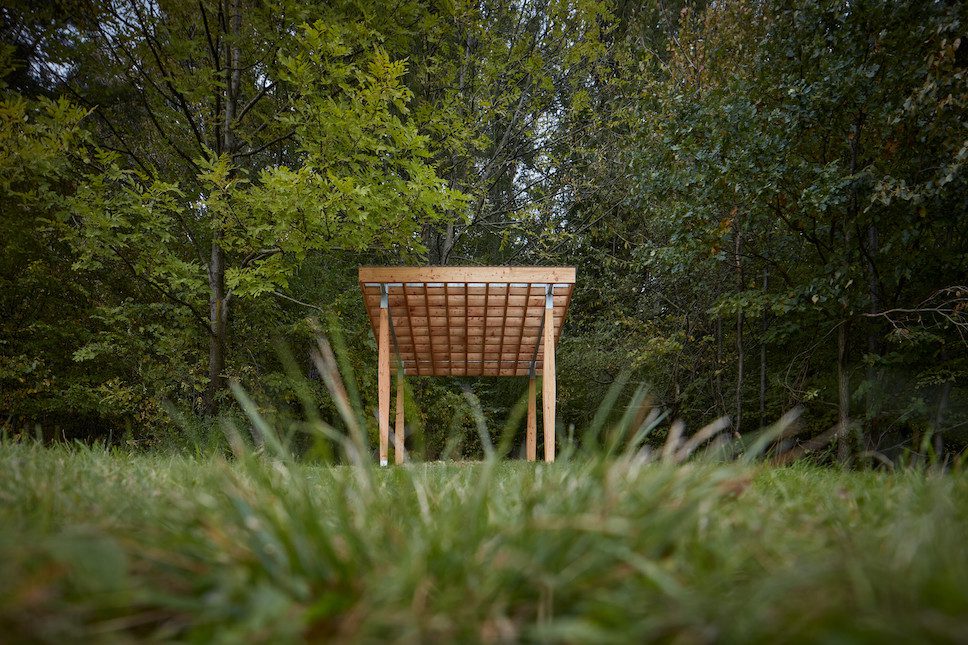 Architecturally the structure achieves a feeling of lightness through the shape of the symmetrically placed columns, whilst representing stability and balance. The columns carry the roofing grid which provides shade and shelter, but also can be covered with a light, transparent roofing material. The shading slats are arranged perpendicularly and inserted within the main horizontal steel grid which consists of a pair of square hollow sections.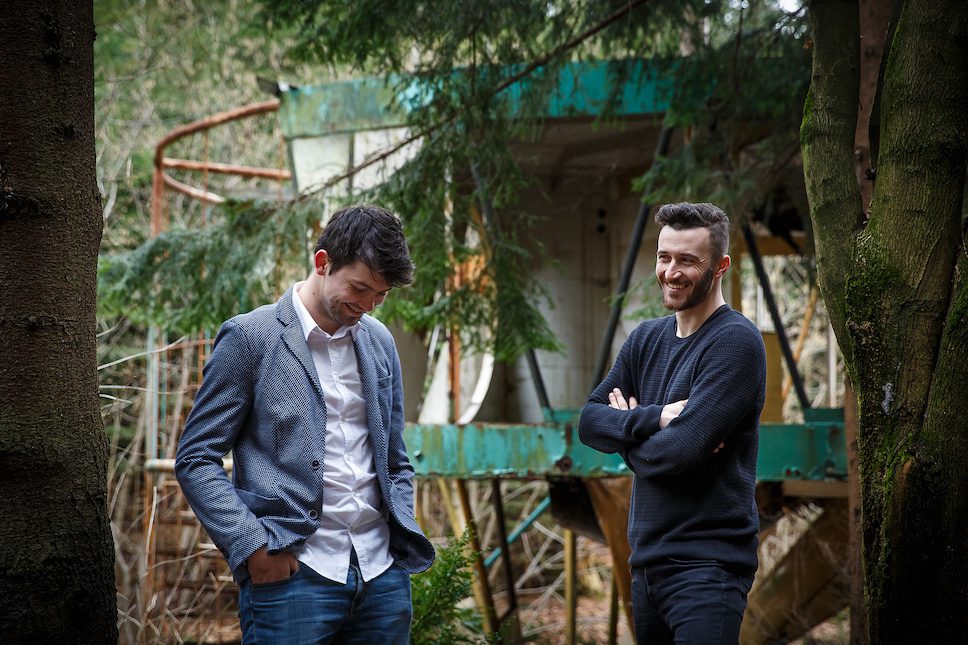 The prefabricated Yogapoint structure required precision and focus on its balanced form to sit harmoniously in nature. As architects Zdeněk Liška and Václav Kocián explain: "The steel grid is carried by four wooden columns of a variable square cross section. Together with the steel grid, the columns provide stability to the pavilions. Widest at their centre, the columns gradually reduce in width towards their ends. Steel sleeves facilitate the transition between the columns and the steel grid following the shape of the columns. The columns are anchored to the reinforced concrete foundation footing using a sleeve post base."
The design includes two sizes of the pavilion, the larger version could house up to six yogis and the small version comfortably fits two.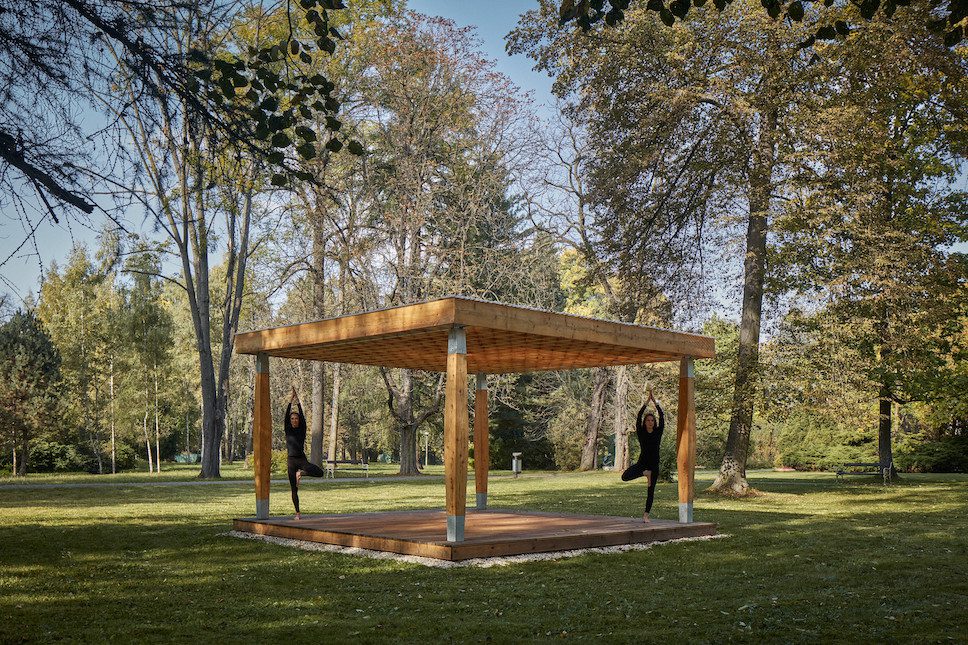 Project details:
Location: Areas in Czech Republic
Client: Moravian-Silesian Region
Built area: 8.4 m² (27.4 m² for the larger version)
Structural engineer: Tomáš Kocich
Contractor: Michal Vajtr
Photographer: BoysPlayNice
Project sourced from: Linka
Learn more about architecture studio KLAR.
Discover other architecture news stories on enki.