Showcasing an array of vibrant and playful designs alongside community focused commissions, 'Yinka Ilori: Parables of Happiness' embodies the creativity and inspiration behind the British-Nigerian designer's work.
Parables for Happiness is the first time Ilori's creative practice has been examined in a museum display, and it skilfully intertwines architectural projects with graphic design, furniture, and textiles, for a visually engaging look into West African culture.
Offering an uplifting burst of colour and personality, the solo exhibition looks at the inspiration by Ilori's vibrant aesthetic and displays highlights of some of his most important work to date.
"Over the years, my work has gained recognition for the strong use of colour, pattern, and narrative that comes from my Nigerian heritage," Yinka Ilori said. "However, it has often deviated from design trends and has been misunderstood. This display charts my inspirations and creative journey as I transitioned from furniture design to community driven public installations."
For example, visitors have the chance to watch a short film on the 'Laundrette of Dreams' which was built from over 200,000 Lego bricks. Then there's the journey of discovery into the now-dismantled 'Colour Palace' Dulwich pavilion, and a display of some of Ilori's own personal items – a beautiful insight into his humble upbringing in North London. One of these items includes his gold name badge from his time working at Marks & Spencer, reminiscent of a time when he used to dream about opening his own studio.
In essence, the exhibition looks at the importance of the world's of architecture, art and design being more inclusive and accessible to all. Priya Khanchandani, Head of Curatorial at the Design Museum explained: "The diasporas of Britain are still finding their place in the cultural canon even though in-between spaces are essential to the fabric of who we are."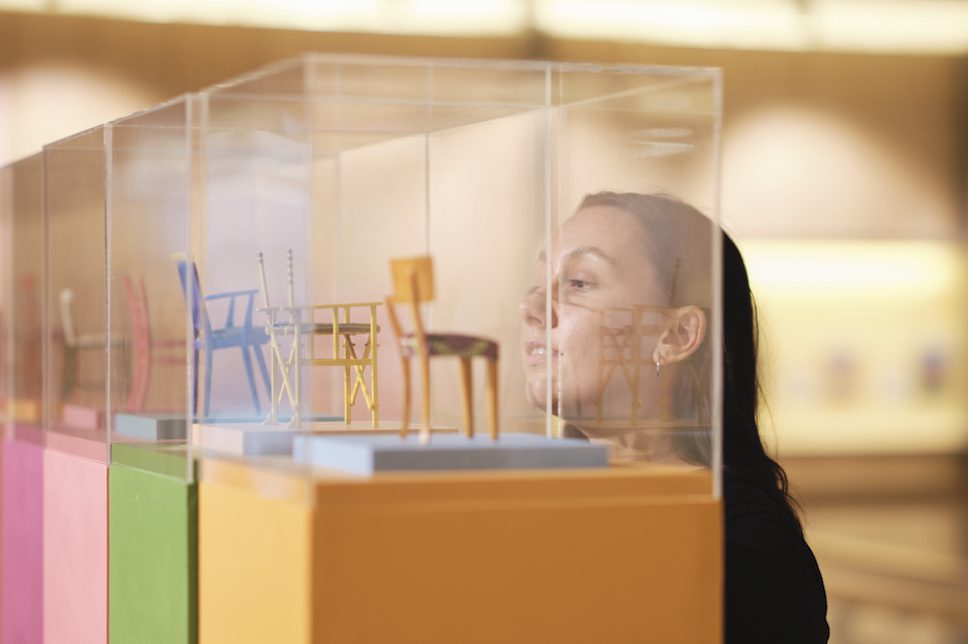 "A fast-rising star of contemporary design, Yinka Ilori's unique aesthetic – drawing on Nigerian textiles with a nod to postmodernism – employs a mix of visual references that come together to inspire joy. This display is a testament to how cultural fusions, frissions, and juxtapositions can be rich fuel for creativity and for generating more inclusive architectures in the city."
With this exhibition, the Design Museum continues to produce a programme that champions contemporary designers. In fact, last year, the museum announced its new initiative titled the Ralph Saltzman Prize, an annual prize recognising emerging product designers – and the inaugural winner Mac Collins was celebrated for his experimental furniture design.
Photography by Felix Speller.
'Yinka Ilori: Parables of Happiness' is on view at the Design Museum until 25th June 2023, and entry is free.
Read about more industry events and design news here on enki.