An extensive refurbishment of London South Bank University by WilkinsonEyre has involved the adaptive reuse of its existing 1970s concrete-framed building.
This transformation project is part of a wider regeneration of St George's Quarter at LSBU, and the redesign of the four-storey building adds 1,000 square metres of accommodation and creates a new open-plan library on the two upper floors. As the largest academic establishment on the university's main campus, it also provides a welcoming hub including lecture theatres, fitness facilities, teaching rooms, and informal learning spaces.
WilkinsonEyre undertook a feasibility study in 2018 identifying "the negative impact the blank external façades, warren-like interiors, and poor accessibility provisions were having upon the building's users." This was key in directing the design path towards creating a more communal and collaborative building, whilst retaining the large key volumes of the building on the constricted site.
"It is often easier to design buildings from scratch rather than work with the existing fabric," said Toby Rolands, Director of structural engineering firm Eckersley O'Callaghan. "However, the adaptive re-use of existing structures is a key method of reducing carbon to aid us in meeting impending net zero targets."
"At LSBU, the project team has worked hard to retain the existing structural frame and has been able to make some impactful interventions both large and small that totally transform the building. Per m2 of floor area LSBU is one of our lowest embodied carbon projects. It is a shining example of successful adaptive reuse in action," he adds.
Largely retaining the existing structure has made a significant impact, with a saving of 65% on embodied carbon. On areas that needed further reinforcement, carbon fibre strengthening was applied. From the outside, visitors will see how the existing blank tiled façade has been overclad with insulation and brick to increase thermal performance and future-proof its appearance.
Working collaboratively, WilkinsonEyre and Eckersley O'Callaghan designed two main structural interventions that would see a move away from the traditional tight corridors and repetitive room typologies. This involved hanging two new floors to infill the existing two outer light wells, creating two large double-height spaces. One is above the sports hall, and the other is above the lectures theatres on the Keyworth Street side.
"These new floors are supported from large steels beams that span at roof level, and therefore required no new foundations or columns at the lower levels," explain the team at WilkinsonEyre.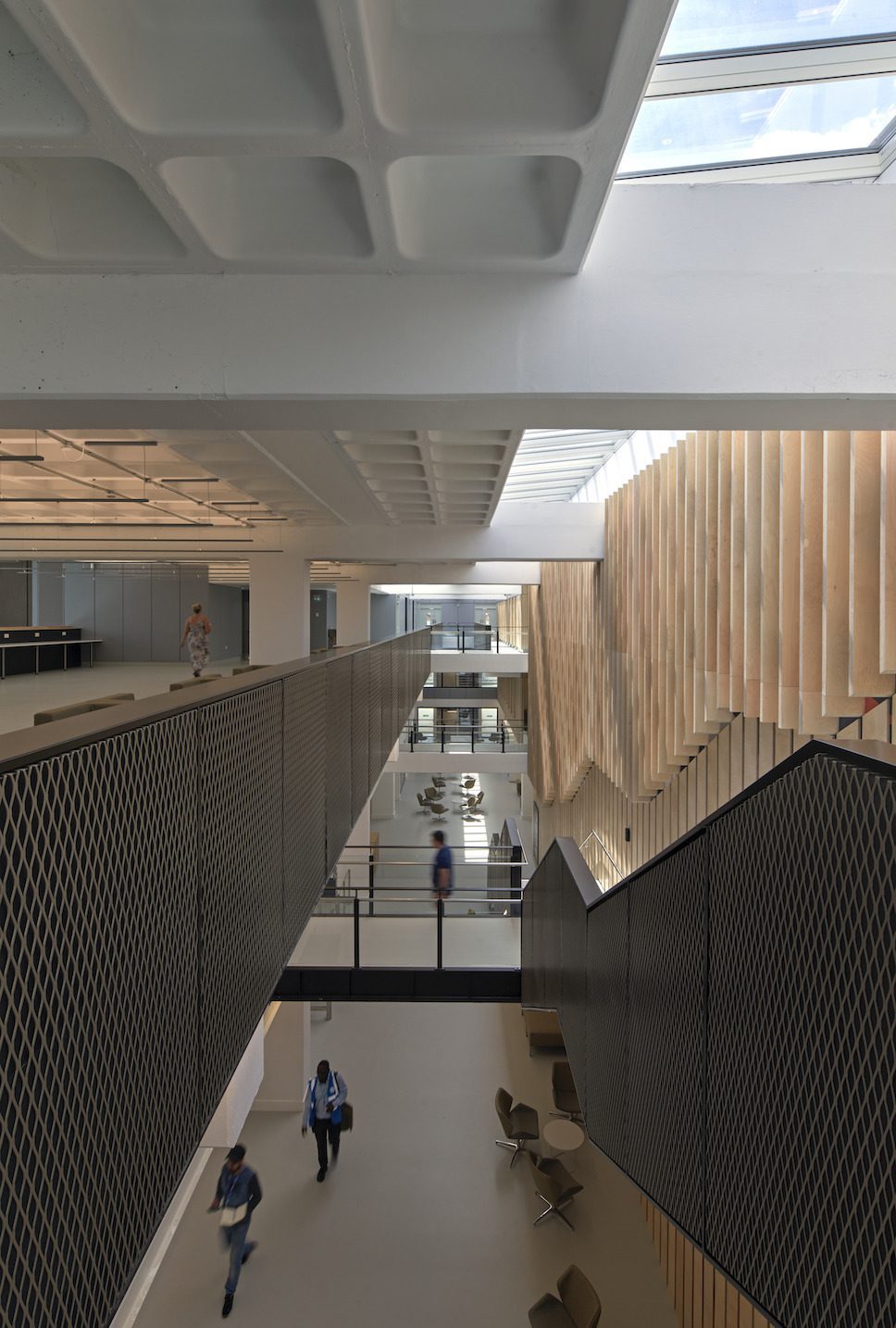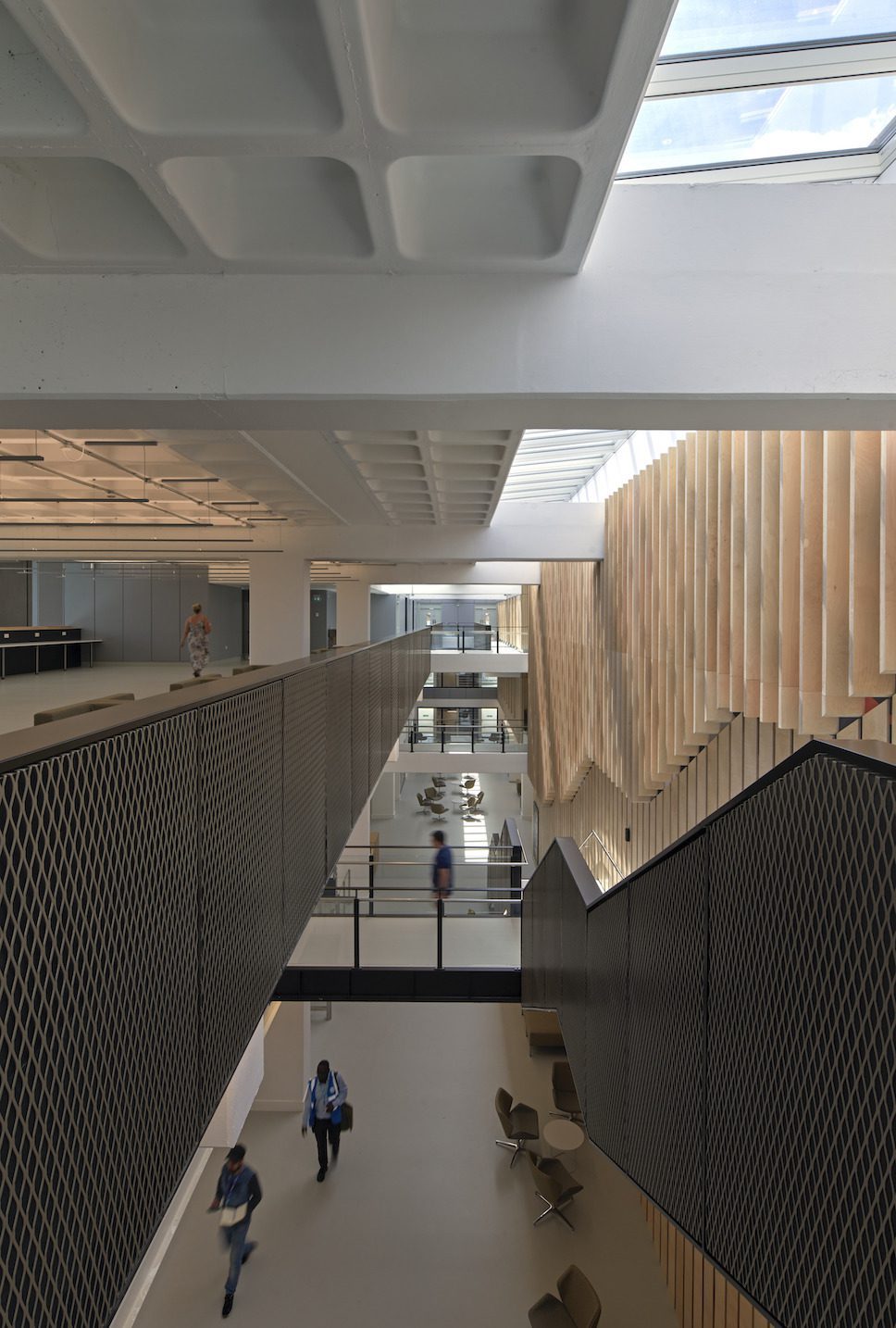 "Our design for the LSBU Hub demonstrates how a building that was having such a negative impact on the campus can be totally transformed to meet 21st century standards, extending its design life significantly while minimising the building's embodied carbon," commented Nat Keast, Associate of WilkinsonEyre.
The 20,466m2 space now has a new and improved user experience, and will act as an open and inviting centrepiece for LSBU's main Southwark campus. The building, which has achieved BREEAM Very Good rating, is set to open to students at the start of the 2022-23 academic year.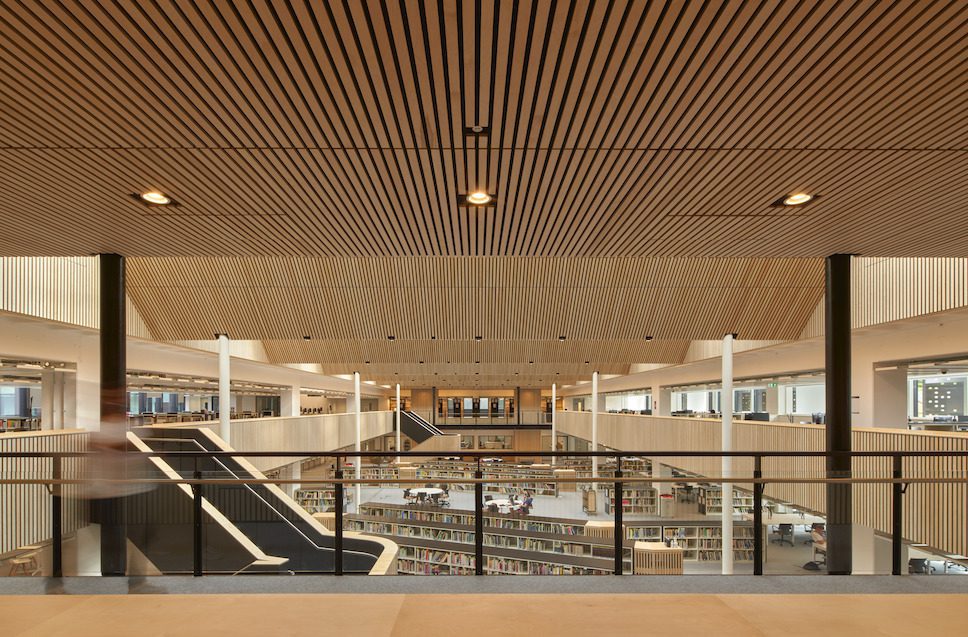 Project details:
Architect: Wilkinson Eyre Architects
Client: London South Bank University
Gross internal floor area: 20,466m2
Structural engineer: Eckersley O'Callaghan
M&E consultant: BDP
Landscape consultant: Churchman Thornhill Finch
Sustainability Consultant: BDP
Main contractor: Wilmott Dixon Interiors
Photography by Edmund Sumner
Take a look at more sustainable, restoration and landmark projects by WilkinsonEyre.
Discover more architecture stories and the latest sustainability news on enki.