Polish practice Wiercinski Studio has repurposed two shipping containers, connecting them together to form a portable year-round home and remote workplace that will adapt to its surroundings.
Currently positioned in a community garden next to the Szelągowski National Park in Poznań, Poland, the dwelling called Portable Cabin is a response to the need for temporary architecture and a call from a "brave couple who are interested in searching for interesting and difficult spaces to adapt."
Portable Cabin is formed of two cargo shipping containers, connected together along their long edges to create a 12.5 metre-long, nine metre-wide space. For now it has been placed atop another pair of containers that are being used for garden storage, however in the future the clients plan to relocate the cabin. The idea is to eventually make it possible for the prefabricated structures to be installed above water.
Due to the sloping terrain, the two containers that form the upper level have been shifted slightly, creating a 25 square-metre terrace on the roof of the lower containers and this also lowered the height to the entrance. On approach to the Portable Cabin it appears inconspicuous and unassuming. "The characteristic façade made of thick trapezoidal sheet metal was intentionally left to show the sincerity of the raw construction material," explains Wiercinski Studio. They added a painted finish to all four containers, using a consistent olive green shade to shroud the cabin within its natural surroundings.
Within the insulated walls formed from spray foam, there's a kitchen, working space, bedroom and bathroom. Birchwood ply interior cladding adds a contemporary warmth and softness inside and complements the pared-back design that suits this style of remote living.
"By using appropriate materials, it was possible to obtain 2.6 metres of internal height in the light and to hide the lintel created when connecting container frames," add the architects. "On the side elevations, windows have been placed in the middle of the wall height to leave as many interior arrangement options as possible. They are squares that stylistically fit perfectly into a simple shape and, depending on their function, combine into double and triple configurations."
Light enters the dwelling through multiple sides of the building, keeping it airy inside and maintaining a close connection to its location. Double doors open out onto the terrace area that overlooks a nearby river.
The cabin, which was constructed off-site and then transported to the community garden in Poland, is completed with external steel stairs and an arched balustrade on the terrace.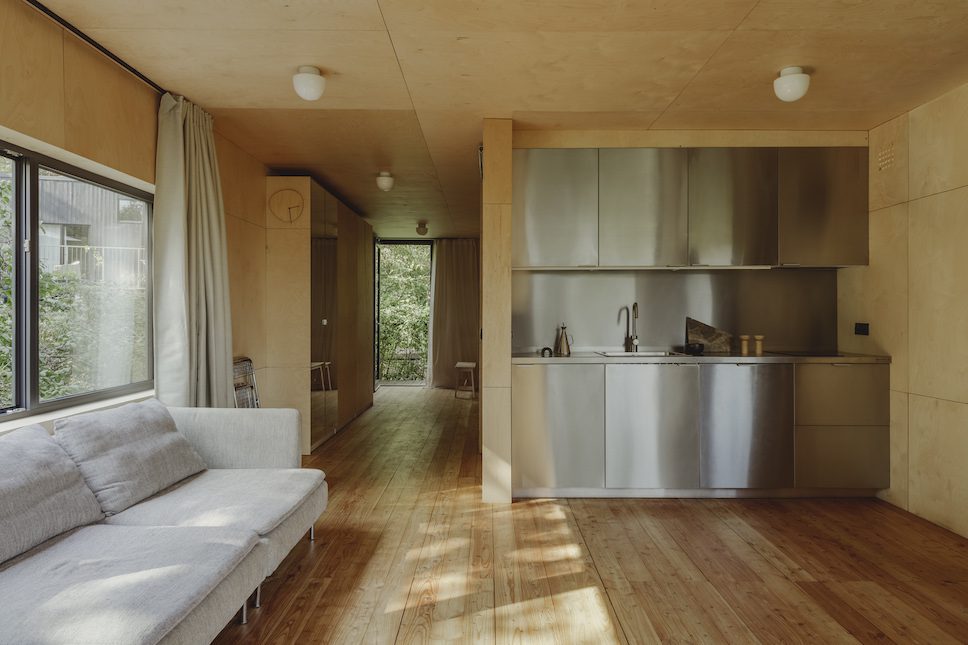 Project details:
Area: 60 m²
Location: Poznan, Poland
Contractor: Modulo
Photography: Oni Studio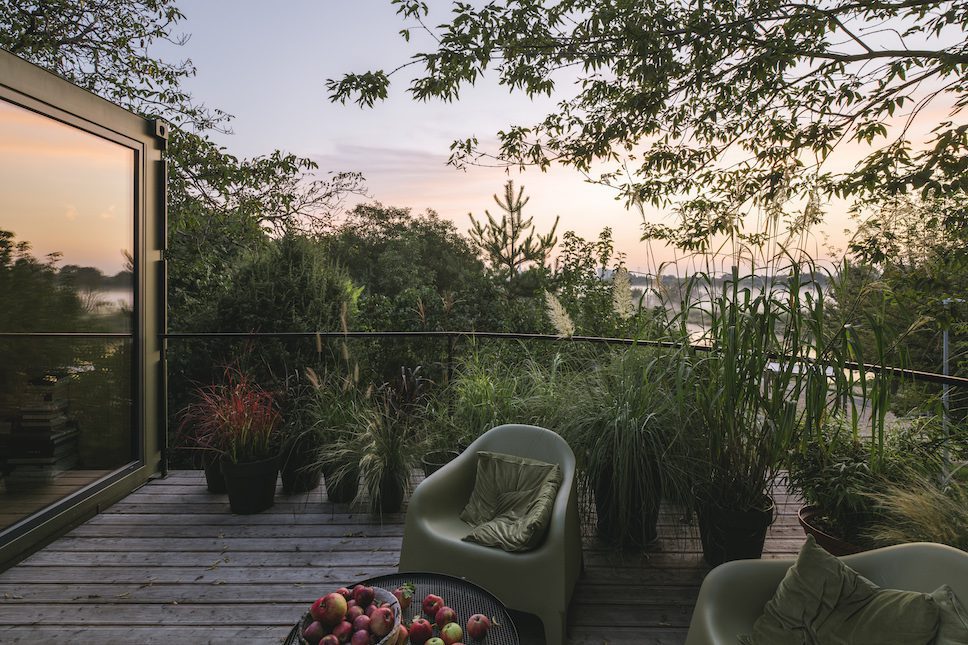 Take a look at more inspiring residential architecture on enki.