Interlocking cork-rendered extensions completed by Whittaker Parsons make use of recycled materials to transform and upgrade a four-storey Georgian townhouse in East London.
The two interconnecting extensions are steeply sloping, with faceted pitches which are expressed internally, lined in FSC ash-faced plywood and generous skylights. The project involved this ground floor remodel to effectively meet the owners' brief, which asked for an enhanced connection to the garden and improved circularity through the property.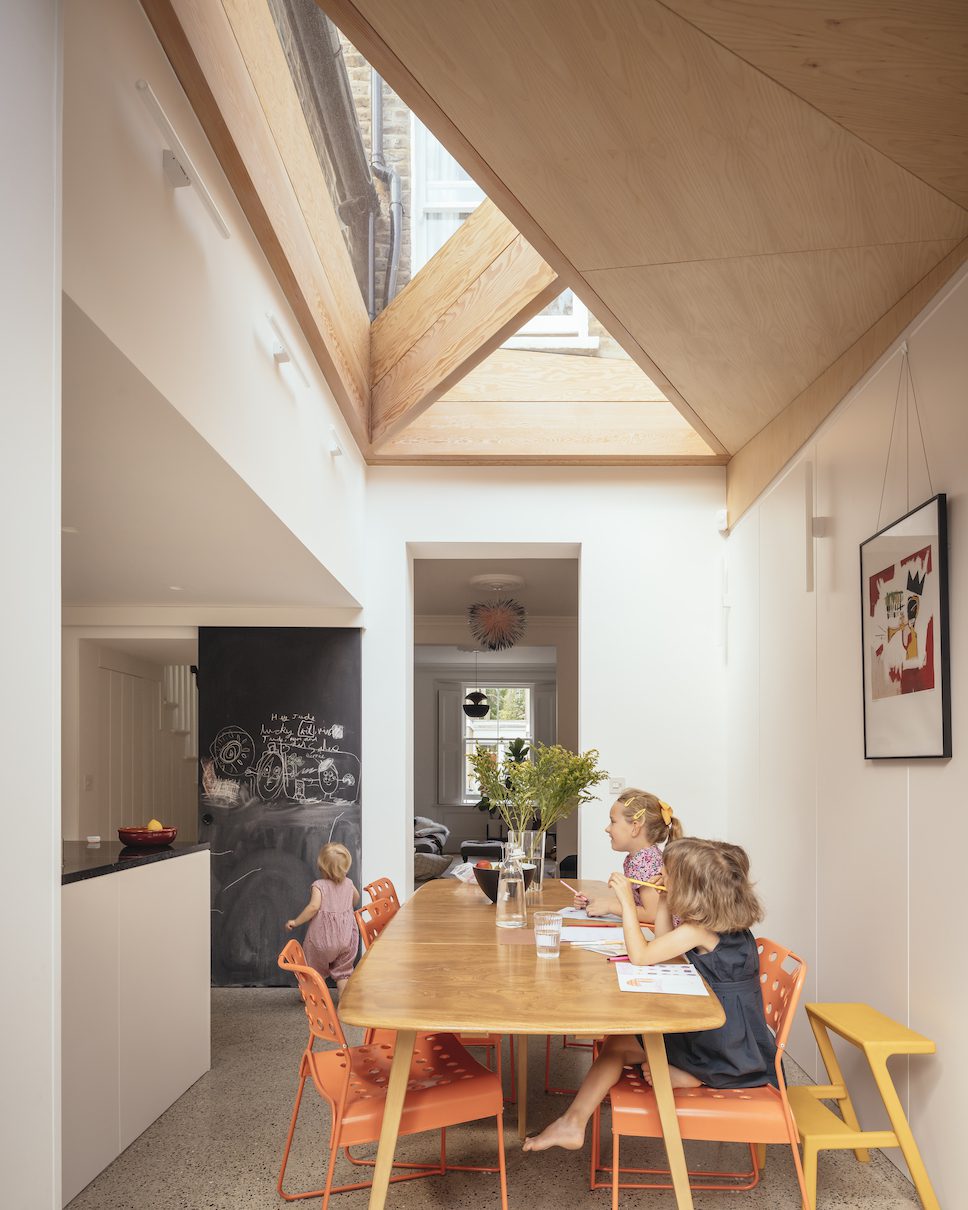 Interestingly, clients Anna Mansfield and Ian Warren are an architect and CFO, and they happen to be friends with Whittaker Parsons founders Camilla Parsons and Matthew Whittaker. So, why did an architect appoint another architect to complete their home renovation?
"We decided that Whittaker Parsons are the ones we would trust the most to work on our home, and enjoy working with, and we are so glad that we did," explain the owners
"From the outset they were really easy to work with, bringing imaginative ideas grounded by their experience of delivering projects. They anticipated the needs of our young family, and we felt listened to throughout. It was a fun and supportive process."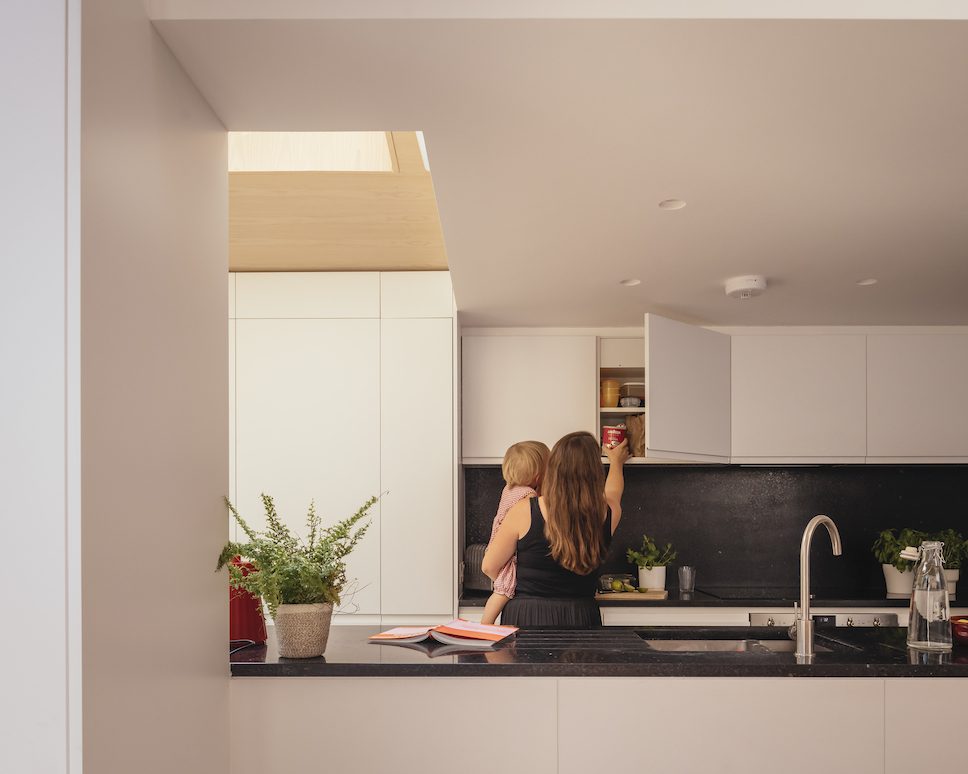 The property's location in the Graham Road and Mapledene Conservation Area was one of the design challenges for this project. However, with a focus on "building less, but better", architect Camilla Parsons explains that "emphasis was placed on improving and upgrading the existing fabric and providing as much rear garden as possible, limiting the footprint of the extensions."
The extensions are constructed using aerated blockwork, wood fibre insulation, and the façade is rendered with a matte black hand-applied cork render. "The render is a sustainable, ecological building product, a blend of cork and natural hydraulic lime. Not only is the cork finish beautiful but it also contributes to the thermal and acoustic performance of the new walls," Camilla Parsons adds.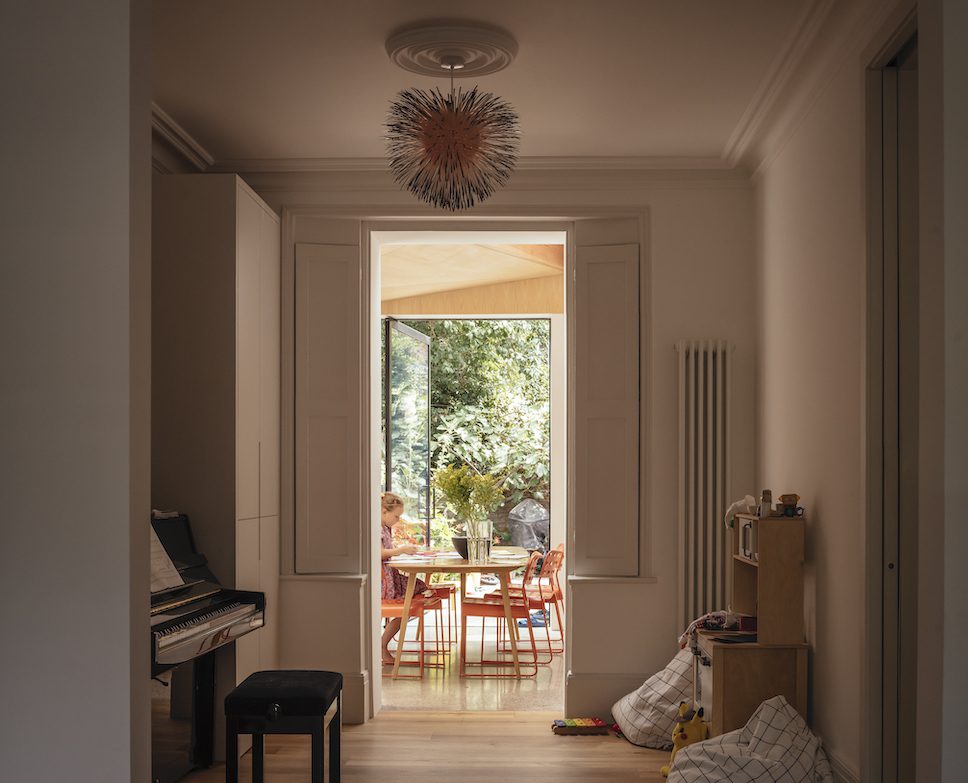 Keeping sustainability at the forefront, the architects chose to limit the use of plasterboard and instead lined the new space with painted timber panels and bespoke ash joinery. Along with the durable polished ground concrete floor and hardwearing terrazzo worktop in the kitchen, the warm and robust material choices take into consideration the wear and tear that can be expected in a busy family home.
A spacious open-plan kitchen is arranged along the length of the rear party wall, in line with the existing staircase, and is centred around a practical kitchen island. With doors leading directly out onto the garden, this family space is flexible, ergonomic, and brings an abundance of natural light into the home – just as the owners wanted.
In addition to this widening of internal openings, Whittaker Parsons incorporated generous roof lights into the architecture, in the kitchen-dining space and also in the pitched slate roof on the upper level.
Upstairs in the original outrigger, the architects built a new family bathroom which, although compact in size, has a light and airy feel with its skylight and thermally upgraded walls, roof, and floor.
Spanning the three upper floors, there are five generous bedrooms, all of which have been restored and retain their original Georgian details. Splashes warm colour have been used on the walls, demonstrating the vibrant personalities of the owners and their young children.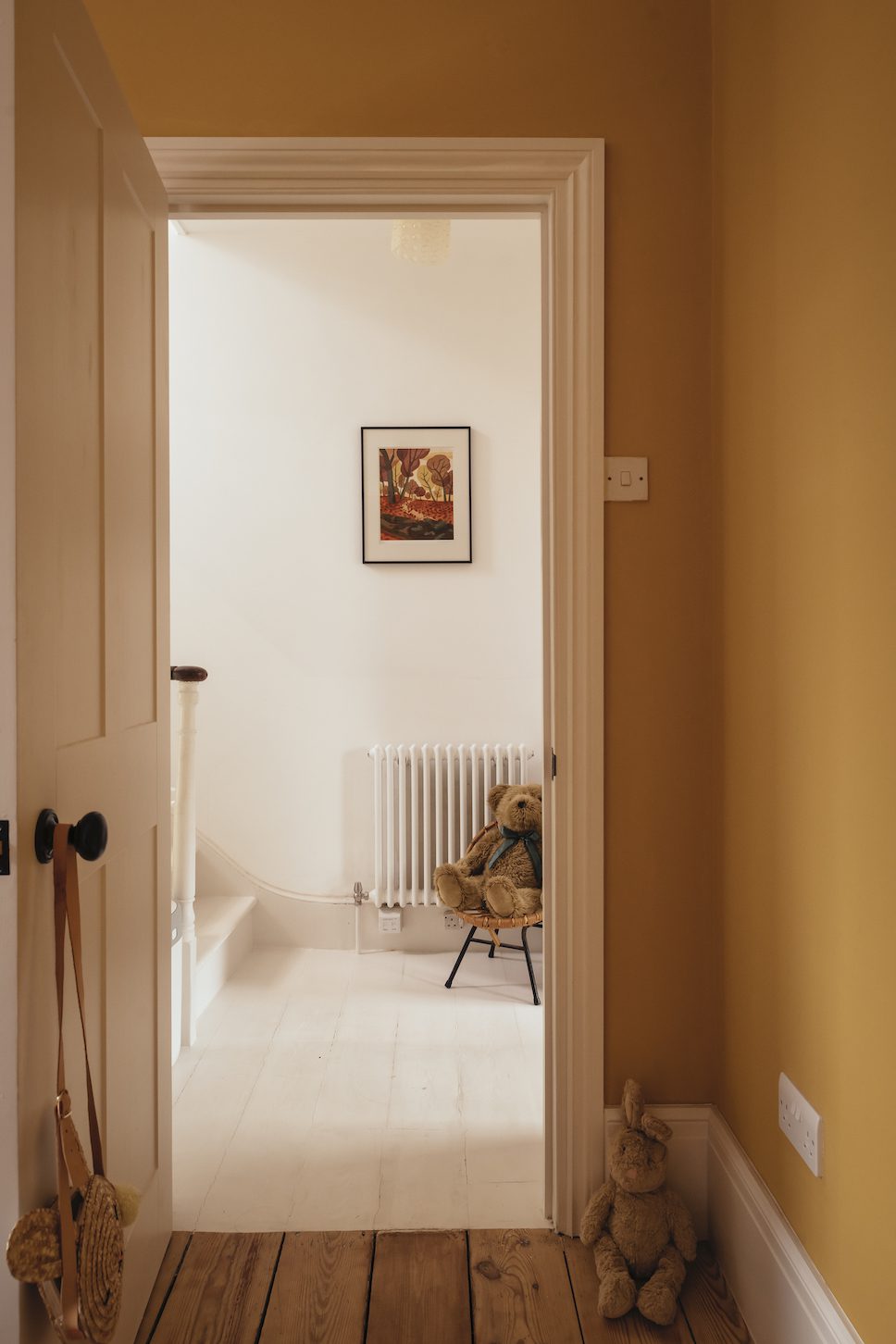 Project details:
Architects: Whittaker Parsons
Project: Five-bed Georgian townhouse
Location: Hackney, East London, UK
External render: Matte black hand-applied cork render
New wall insulation: Woodfibre
Internal lining: FSC ash-faced plywood
Flooring: Sustainably sourced oak engineered floor
Floor insulation: Jute floor insulation made from old coffee bean sacks
Kitchen worktop: Diespeker Terrazzo work surface
Photography: Jim Stephenson
Project source: BowerBird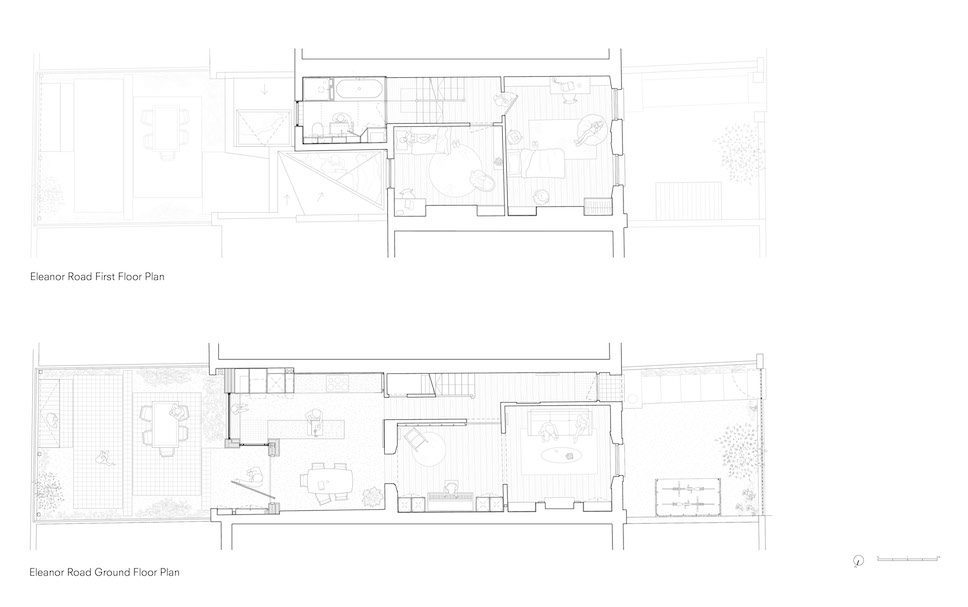 Discover more one-of-a-kind buildings and sustainable architecture projects by interdisciplinary practice Whittaker Parsons.
Take a look at more residential case studies here on enki, and keep up to date with all the latest architecture news.
If you want to see lots of other inspiring architectural designs, projects, and news, be sure to subscribe to enki magazine and get every issue delivered straight to your door.