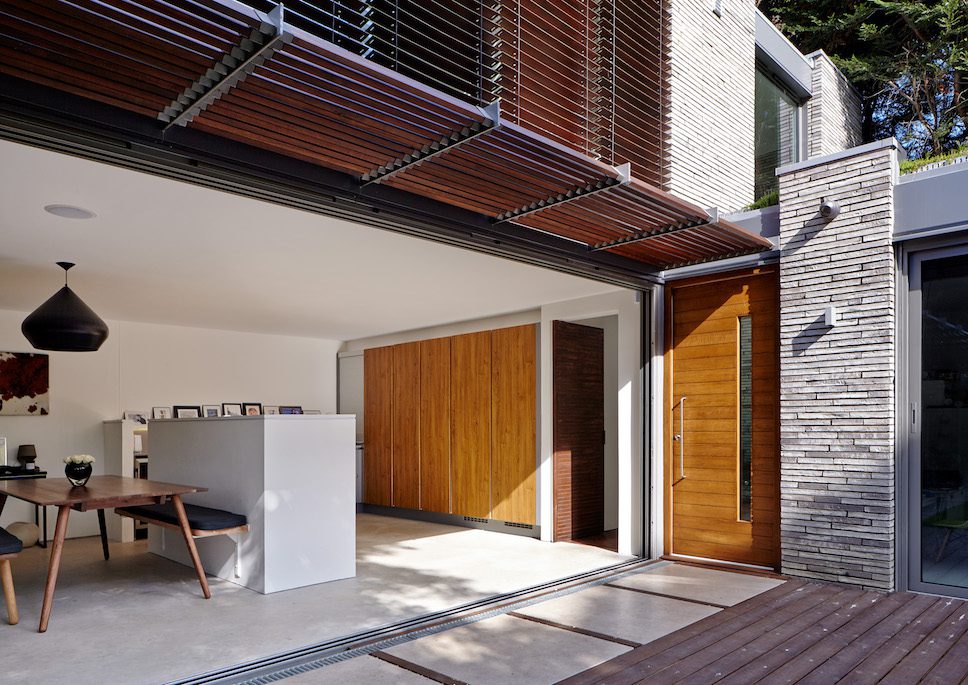 Your front door, be it clean-lined and minimalist or traditionally designed to suit the period of the property, is the first sign that you're back home. Recognising this, as well as the importance of a beautifully-designed door or garage door, led designers Elizabeth and Nabil Assaf to found Urban Front, a dynamic, family-run business specialising in doors with a unique, design-led philosophy. By carefully handcrafting natural hardwood doors in their Chesham-based workshop, as well as offering bespoke options and shipping their creations worldwide, Urban Front is fast becoming the brand to covet.
We managed to catch-up with Elizabeth Assaf to talk all things Urban Front, from the brand's conception and inspiration, to their signature details and which Urban Front design would most fit the enki offices…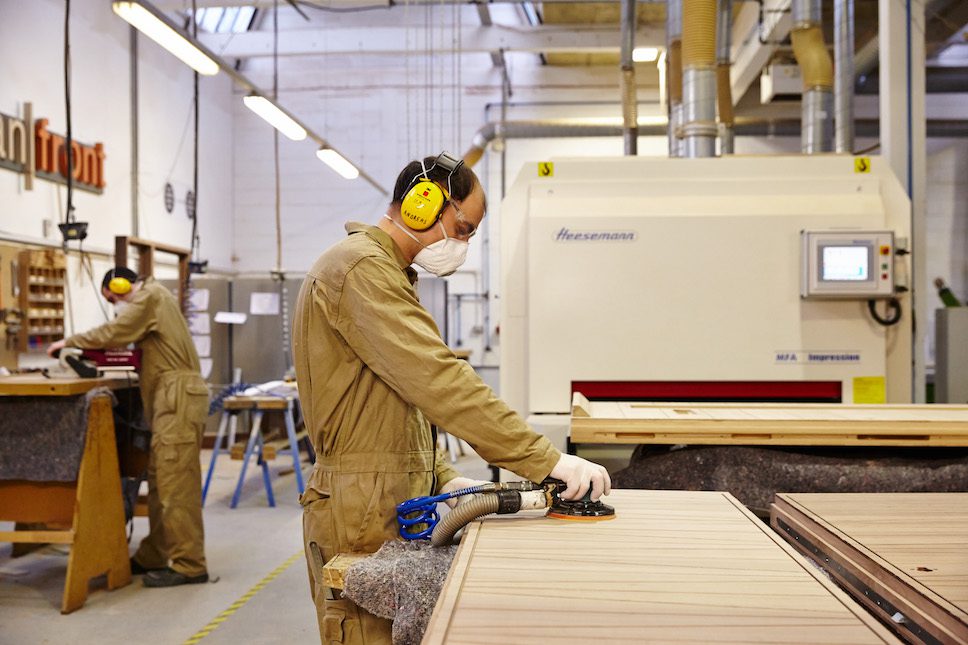 #1 We've read that you have a design background, having worked on the likes of Changing Rooms and Property Ladder. Talk us through your design journey and studies. What inspired your career direction?
"With a BA in Communication Arts and an MA in Documentary Research, I worked in television for seven years, initially working on documentaries and then moving into design shows because Nabil, my husband, and I were very interested in design and were doing up a house a year as a way to climb the property ladder. Our first flat was in Bayswater, London and, as we had no capital, the only way to move to a bigger property was to renovate. We found we had a talent for spotting potential and for using space. As a side thing we also took a design course together to help us do it better.
The practical work gave us a lot of experience in spacial design, as well as working on a budget with interesting textures and items. We regularly had our homes mentioned in magazines and our house was actually featured on Property Ladder at the time too. Working on design shows meant I had to identify good projects and helped me spot great design and potential too."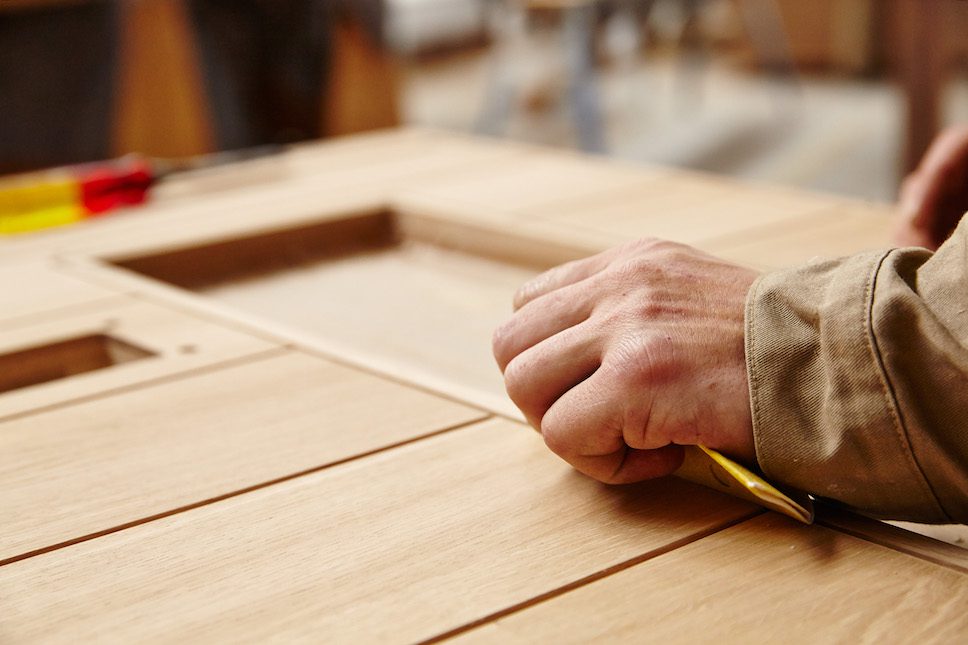 #2 Nabil and yourself make quite the dynamic design duo! How did the conception of Urban Front come about?
"Thank you! We were doing up a bungalow and couldn't find a door for it. So, Nabil made one out of Western red cedar himself (despite being a banker at the time – he is quite handy). People started knocking on our front door asking where it was from and we experienced a light bulb moment. We'd been wanting to start a business but didn't know what to do and realised there was a niche in doors. Because of our design background we thought we could design doors and decided it was what we wanted to do even though all of our friends thought we were mad! We also work very well together (although we don't always agree on everything)."
#3 What's the ethos behind your brand and your work?
"Our UF Vision Statement, which is 'to reinvent the hardwood door through continuous innovation,' and our Mission Statement: 'to handcraft innovative, sustainable hardwood doors that defy expectations and leave a legacy that is uniquely Urban Front."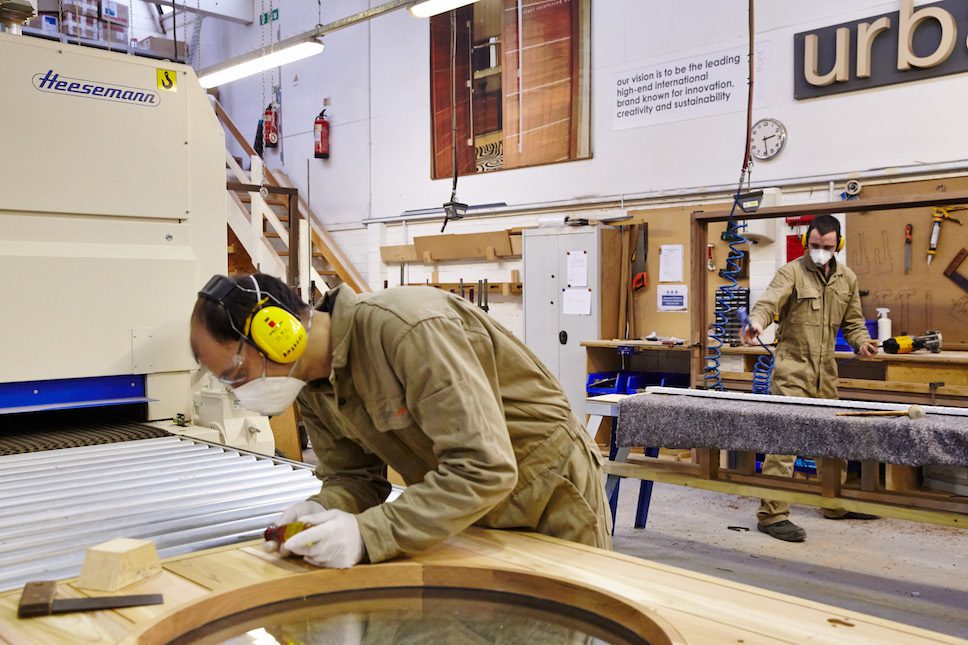 #4 Describe a regular 9-5pm work day. What does this often involve?
"A lot of different things usually…
8.30am Drop off my son at school.
8.45am Arrive at work and check out what's being made in the workshop so I can story on Instagram.
9.00am Check emails, chat with staff etc.
9.30am – 1pm Deal with a variety of different things including: organising shoots, answering clients, showroom visits, accounts, strategy planning with the Digital Marketing Manager.
Lunch at my desk always – never have time to go out!
1.30pm Meeting with printer regarding new brochures.
2.00pm Chat about new door designs with Technical Designer.
2.30pm More email responding usually to journalists writing about doors.
3.30pm Leave to pick up son from school."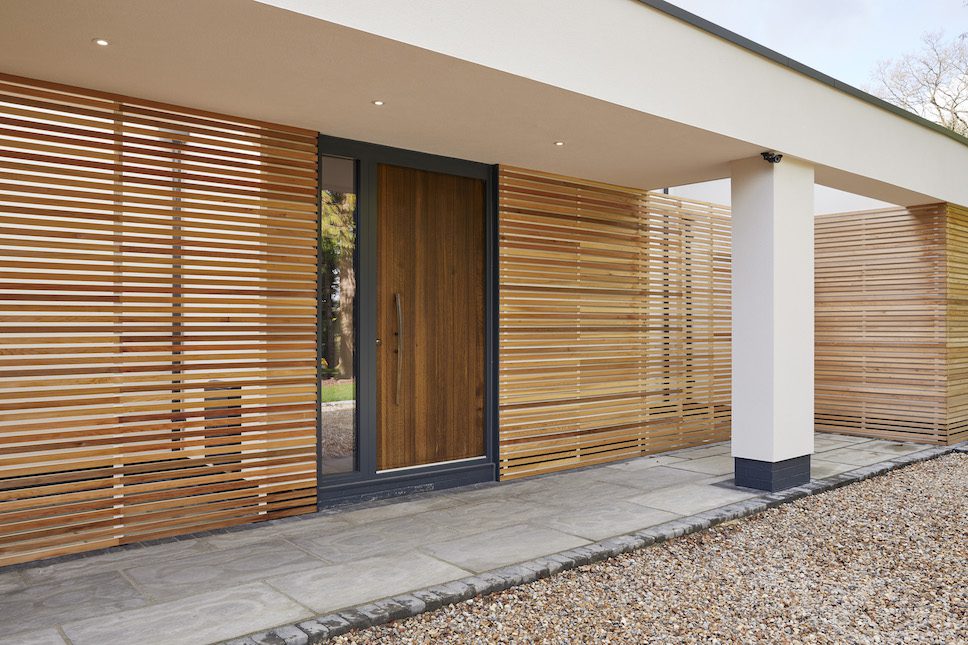 #5 In terms of material palette, what materials prove to be most popular? What would you say is your signature detail as a brand?
"Our signature detail is definitely hardwood – we are all about hardwood and natural material. There are a lot of companies who make doors but no one does a hardwood door to our quality nor do they do the steel reinforcement as well as the design and performance. Our most popular materials are Oak, Fumed Oak (which is a lovely, very dark chocolate brown) and Walnut."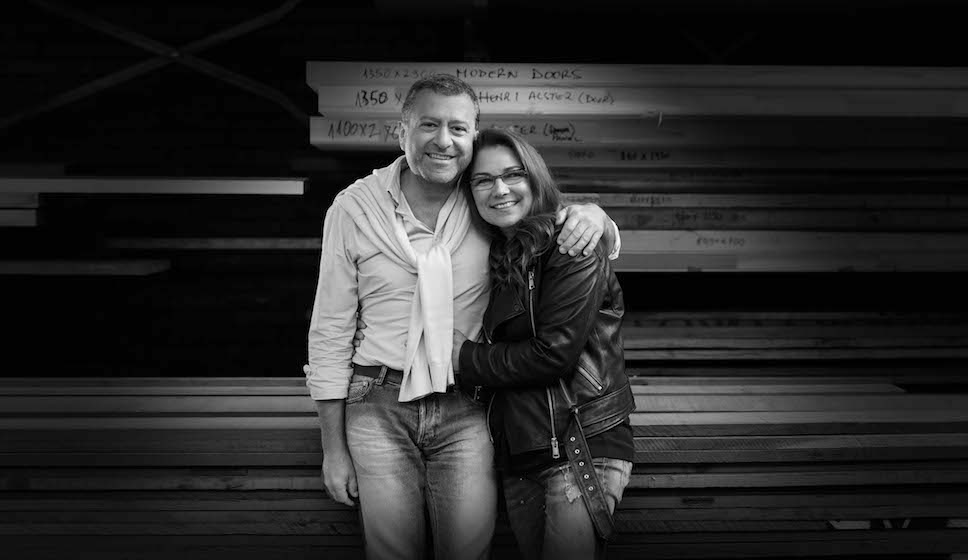 #6 In terms of the steel reinforced core, what benefits does this bring homeowners?
"Hardwood doors are notorious for warping. So, we specialise in a steel reinforced hardwood door that minimises warping and movement even on very big doors up to the 3 metres tall and 1.5 metres wide. Our doors also have a ventilation system that allows air to rotate with the core of the door as this helps reduce movement."
#7 Talk us through your latest designs, how has your design direction evolved over time? What has it been influenced by? The need for more sustainability?
"We are currently designing a new door with a faceted surface design which is actually going to be our own front door. We are always looking for designs that are simple yet interesting with clever detail because our clients don't like fussy design. We've definitely moved away from detail like stainless steel inserts and tend to create designs with depth and texture more than anything else. We also always work on where the timber is from. Is it sustainable? Is it serving a good purpose? Our designs also move with the times, so we look at what's trending and adapt to that too but still like to have classic contemporary options that can still look good after a certain amount of time."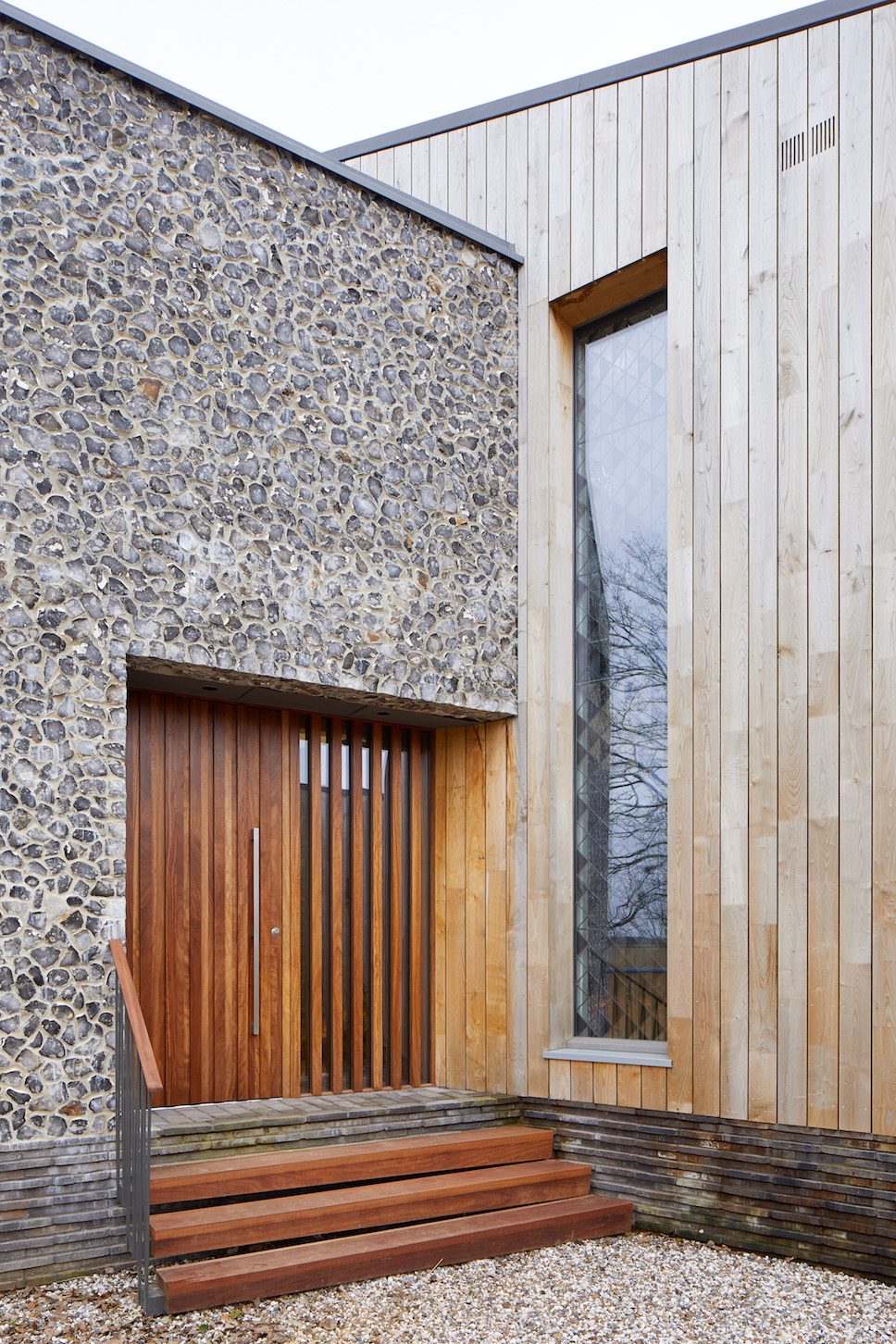 #8 What draws you in in terms of aesthetics? Who or what inspires you?
"Funnily enough we are inspired by all sorts of things. I'm influenced quite a bit by fashion, once I designed a door based on a Gucci bag! It could be a landscape, a dress, materials like bronze and gold, the shape of a building. Nearly anything can inspire us."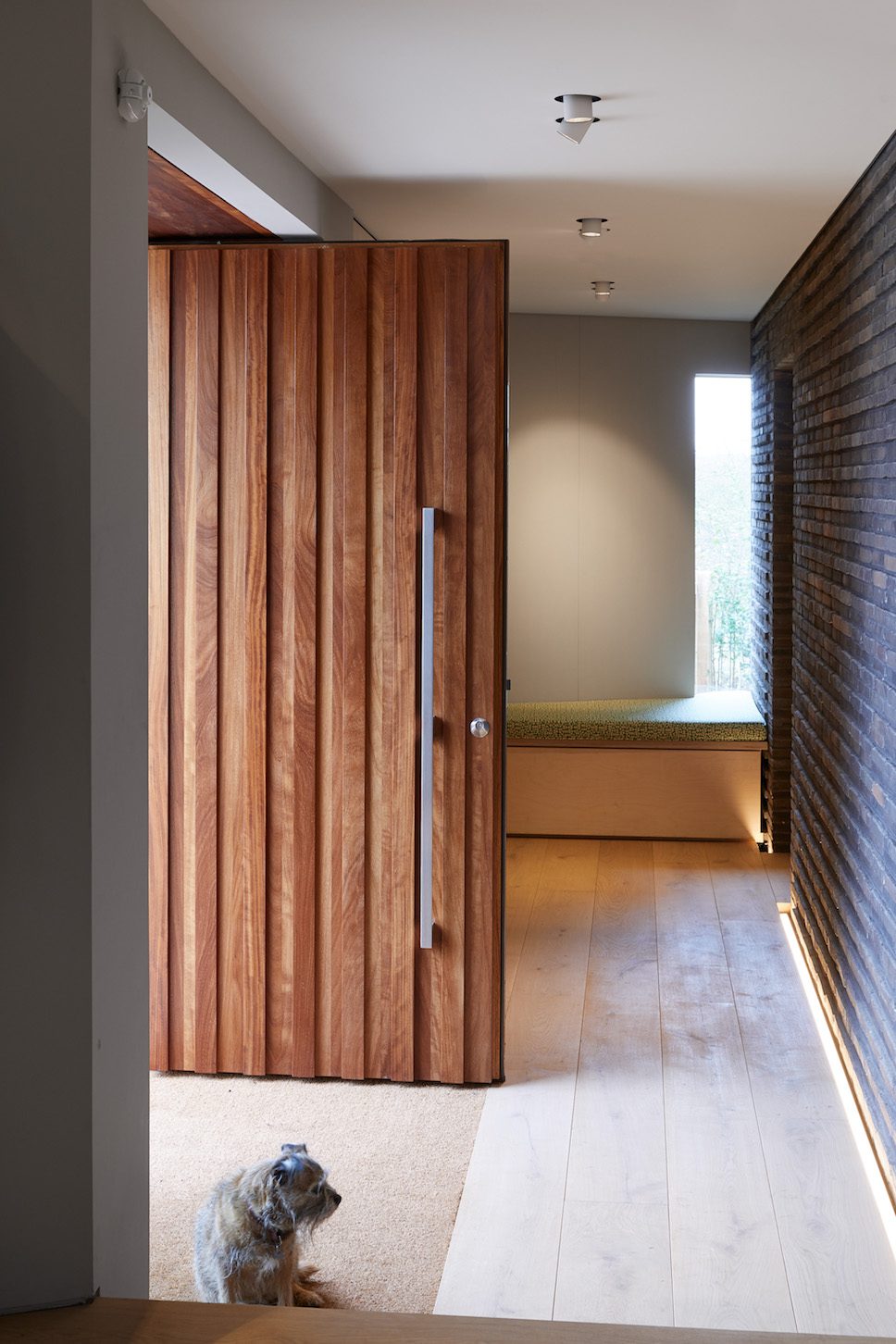 #9 We love the innovative design of Urban Front's bifold garage doors in natural hardwood. What's the benefit of a bifold garage door when compared to the traditional up and over design?
"Bifolds are particularly great for garage areas where the ceiling is low, or there is a steep entrance to the garage door and an up and over doesn't work. They are also perfect for areas where the home owner doesn't want the garage cluttered with the doors internally or above as the doors open to the side and outwards."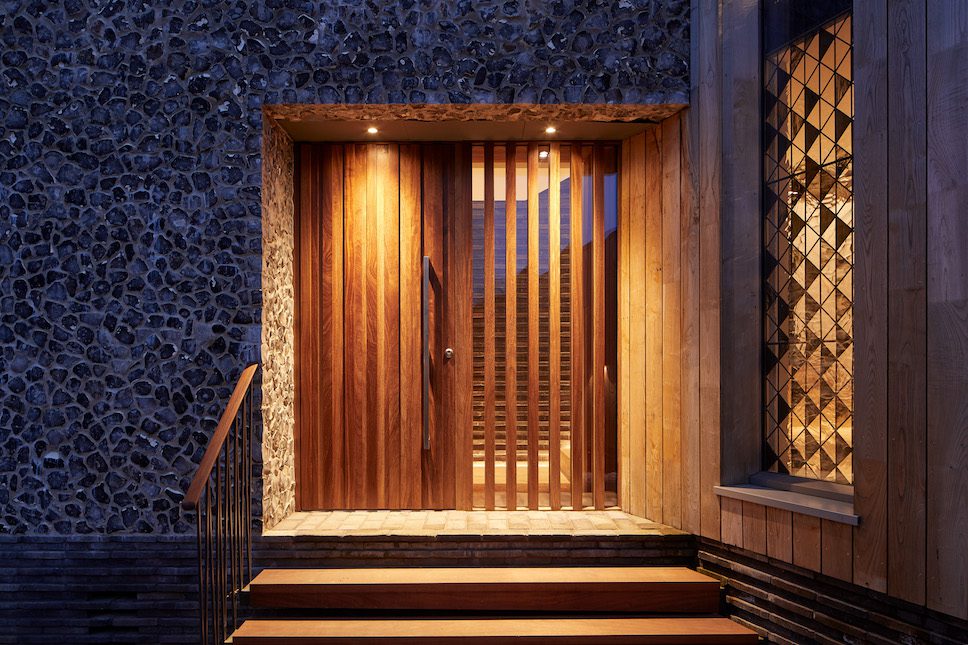 #10 How have you delivered a modern, Urban Front twist to the traditional up and over garage door?
"We've tried to match the garage doors to our front doors as that's really what clients are looking for. But essentially, we wanted to create doors that weren't your standard vertically or horizontally boarded doors which is what most people go for. A garage door can take up a large part of the frontage of a house so it shouldn't just blend in if it can stand out. Hardwood doors in the interesting designs we do adds a bit of personality and fun."
#11 We love that yourself and Nabil still sign off every Urban Front door produced. What is the thinking behind this?
"We are so big on quality and the product that clients actually receive so we are very picky and want to make sure the doors go out perfect or as close to perfect as can be. We also wont send anything out that we wouldn't accept ourselves."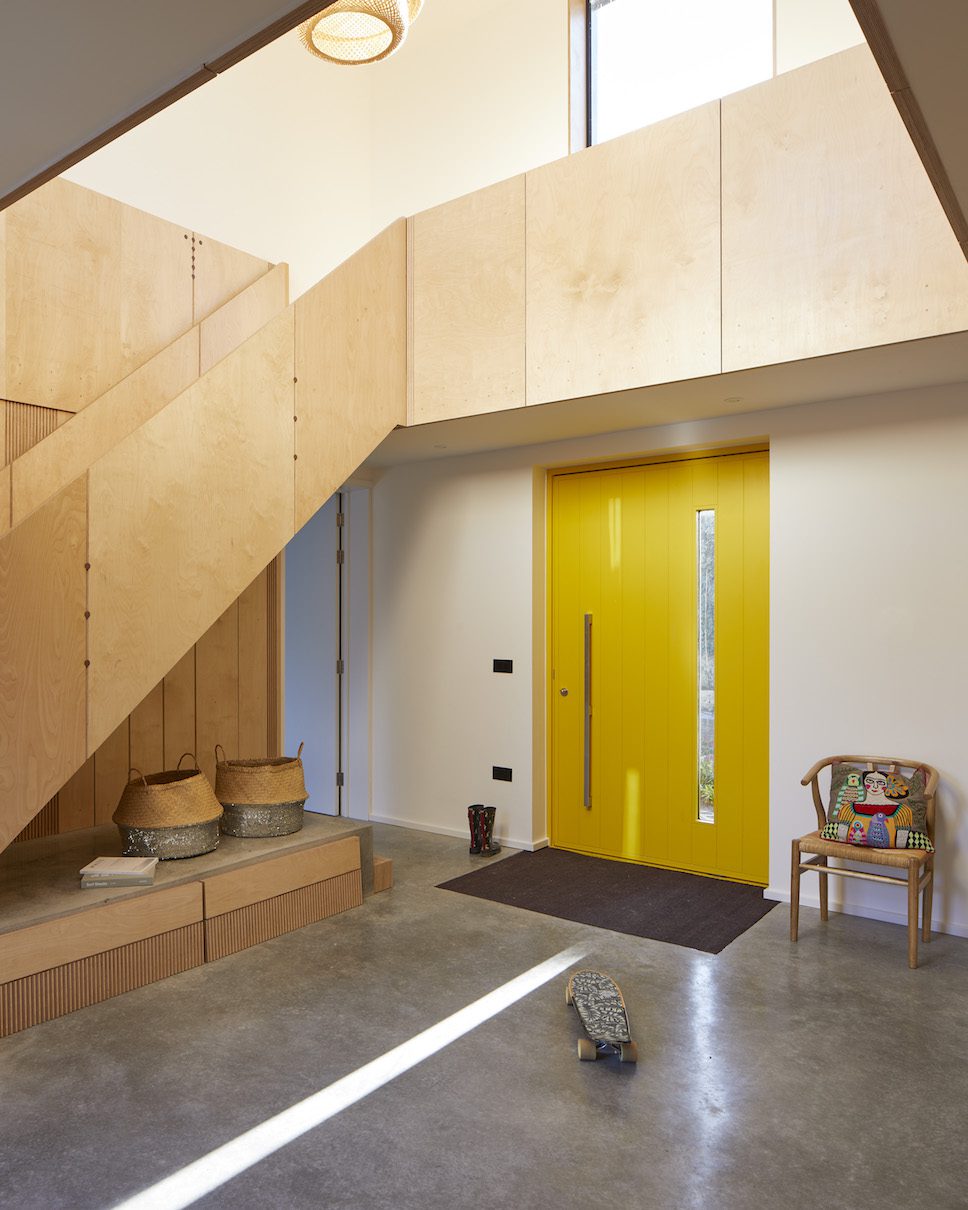 #12 In terms of your bespoke service options, how do you work with a client on this? What's the process?
"All of our bespoke options have to be achievable within our production abilities, however we can do quite a lot. Our clients usually email us their plans and ask us what's possible. We then discuss it as a team, go over the drawings or sketches we are supplied with and check it's achievable. We then go back and forth with the client a bit until we all agree on the desired end result. Sometimes we have to do various drawings for the client first, or send off samples and lots of imagery – this process can sometimes take a year of toing and froing with occasional meetings in our showroom. The end result is usually worth all the hard work."
#13 Which of your designs could you imagine fitting the enki magazine offices with, and why?
"Very easy to answer this one. I'd go for the Raw flush doorset in a white oiled Oak with a concealed handle. This is because everything about Enki is soft and very Nordic-influenced. So, pared back design with clever detail is what I'd suggest."
#14 If you could collaborate with another brand, architect or maker, who would it be and why?
"This is a tough one, because there are so many brands out there that we'd like to collaborate with. If I had to choose it would be Zaha Hadid Architects. I think they'd be great at working on a project with something a little daring and outrageous with unusual shapes and lines. I'd also be interested in working with Tom Dixon lighting on a door with lighting in it because I love their products."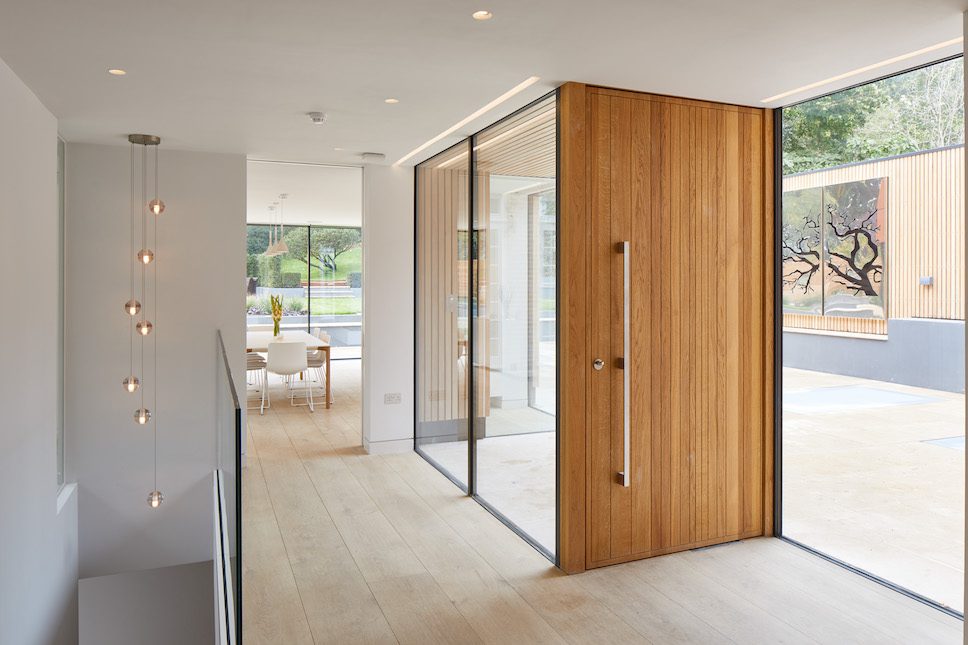 #15 What's the best thing about your job(s)?
"The creativity and the ability to be involved in so many different things from design to sales to marketing. Every day is exciting and new. Also, the flexibility of running my own business. I have a daughter who is home-schooled and I can still manage that while working."
The Quickfire Round
#1 Natural or metallic? "Natural."
#2 Vibrant colour or pale neutrals? "Pale neutrals."
#3 Pendant light or chandelier? "Chandelier."
#4 Tea or coffee? "Coffee."
#5 Perfect getaway? "Beach, Mexico or Brazil."
#6 Favourite book? "Pride and Prejudice by Jane Austen or anything by Elizabeth George."
#7 Favourite way to relax? "Bath and a book."
#8 Favourite wine? "I don't drink."
#9 Dream house and location? "By the sea, a contemporary glass-fronted house."
#10 Favourite thing about social media? "Creating a community, the people and building relationships."
#11 Least favourite thing about social media? "When people are unkind and the amount of time it takes up."
Discover more about Urban Front by clicking here.
For more Meet the Maker interviews on enki, click here.