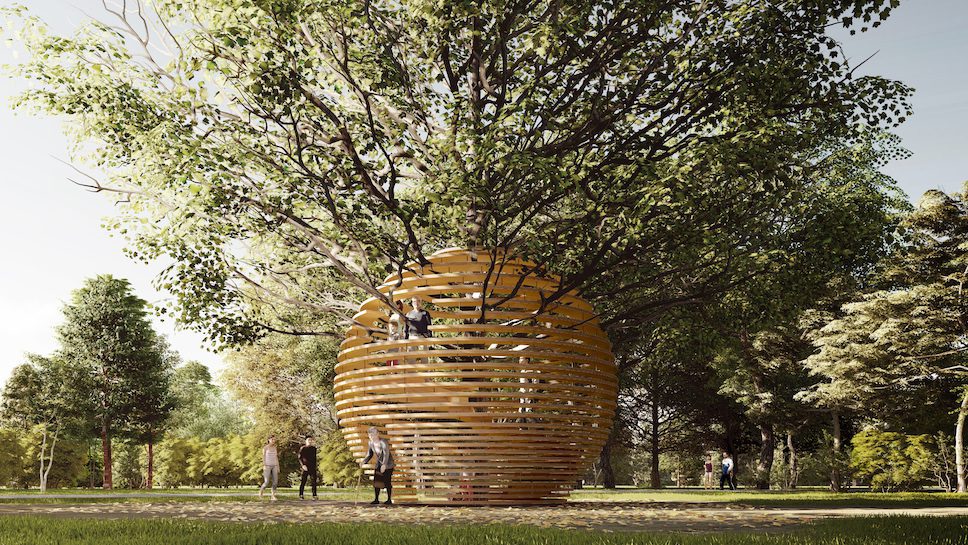 The Royal Botanic Gardens, Kew, and the Museum of Architecture have announced the winners of their international competition, seeking out exceptional treehouse designs that will be showcased at the Treehouses at Kew exhibition in 2023.
Responding to the brief set out for the two-stage competition, entrants sought to create "inventive, accessible, and innovative" treehouse designs. The focus was on highlighting the importance of Kew's 14,000 trees and the sustainable use of materials in architecture. Each entry was required to concentrate on a specific tree and theme to sit within the beautiful Kew UNESCO World Heritage Site.
The three winners were chosen from a shortlist of 10 inspiring entries, and a total of seven treehouses will be built for the spectacular outdoor exhibition that is set to run from April to October 2023. Alongside the winners of this competition, there will be three separately commissioned treehouses, and another that will be built in collaboration with young people.
Winners of the Treehouses at Kew design competition:
Linden Thing by Patrick Fryer, Thomas Randall-Page, and Xylotek
Designed for a silver lime tree, showcasing the use of sustainable materials
Polypore / Play that Fungi Music by India Aspin and Amy Jenkins Smith
Designed for a Norway Maple, focusing on the spirit of celebrating play
An Audience with Nature by Kevin Kelly Architects + and Stand Engineers
Designed for a pine tree, highlighting nature's architecture and biomimicry
The judging panel included Kunle Barker, Manijeh Verghese, Oliver Wainwright, Morag Myerscough, and Simon Allford. "The entrants had really considered how we connect with trees, how we can interact with them, and how we can views the trees in a different way," commented judge Kunle Barker. "The competition is a breath of fresh air, a much needed project that connects us with our surroundings."
Read on to discover the project details and visuals of the exceptional winning designs: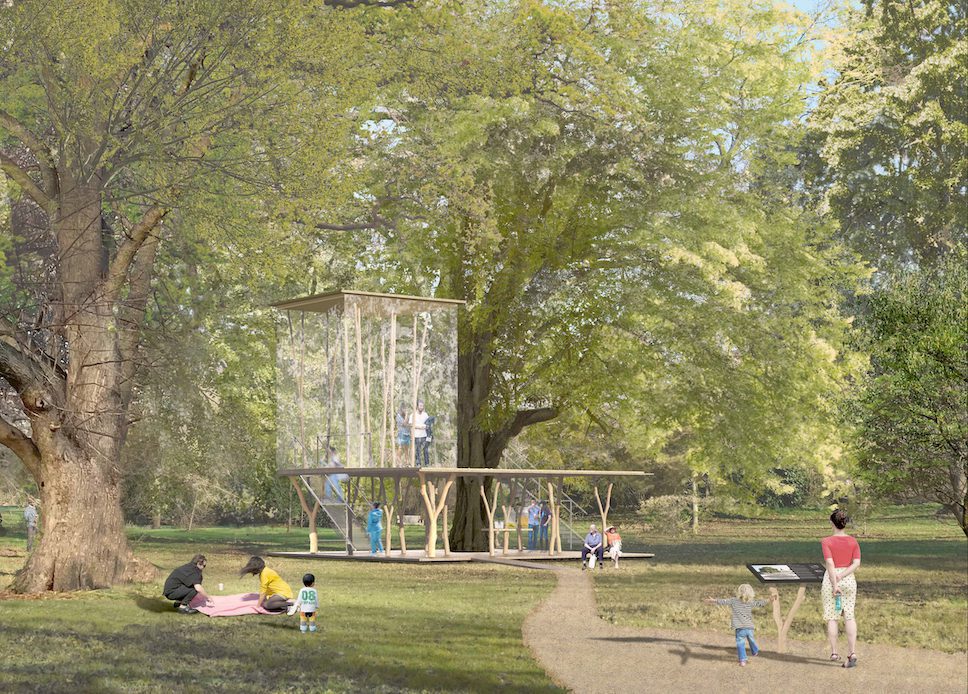 Linden Thing by Patrick Fryer, Thomas Randall-Page and Xylotek (pictured above) is designed as both a treehouse and a teahouse. Not only can visitors gather here and appreciate the silver lime tree's sculptural trunk and enjoy the dappled light created by its canopy, but they can also be enchanted by the aroma of Lime Flower Tea which will be offered inside.
Commenting on their creative use of sustainable materials, the design team said: "We propose carefully selecting and harvesting forked branches in the forest, to create a grid of 'Y' shaped columns. These will support the delicate CLT slabs whilst bracing the structure, a synergy of low and high timber technologies."
Polypore / Play that Fungi Music by India Aspin and Amy Jenkins Smith (pictured above) references the role of mushrooms in popular culture and plays with colour and scale to form an interactive space. A sensory play landscape brings the area surrounding the tree to life, with interactive play mushrooms for children.
"As a play space, the treehouse aims to be accessible to all," explained the design team. "The cascading polypore-inspired steps create a tactile and accessible ground space. Those that can venture to the top of the stairs are rewarded with the fungi-inspired treetop platforms."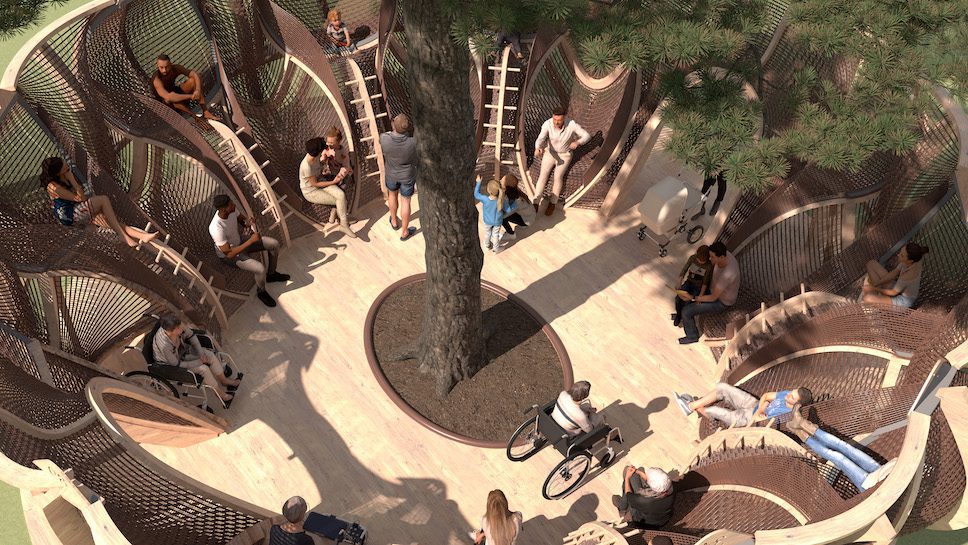 An Audience with Nature by Kevin Kelly Architects with Stand Engineers (pictured above) is organised over two tiers, and is a space where you are invited to sit down and look up in order to draw attention to nature all around us. The design looks beyond the typical treehouse to give it a fresh interpretation that uses a combination of modern technology and traditional craftsmanship.
"We used digital programming as part of our design process and applied it to a centuries old construction technique and material," described the design team. "This re-frames willow weaving and elevates it beyond the realm of craft to contemporary architectural discourse. Our woven willow is choreographed into digital patterns inspired by Kew's research into the DNA and genome sequences of conifer trees."
The other finalists on the shortlist for the Treehouses at Kew design competition (scroll to see the selection):
The Treehouses at Kew exhibition will run from April to October 2023 at Kew Gardens. There will be seven treehouses, a gallery exhibition, and an accompanying visitor programme, as part of the main showcase for visitors.
You can find out more about the Treehouses at Kew design competition online at the Museum of Architecture.